Where is it?

The Air France Lounge is located airside in the Schengen area of terminal 2. After passing through security control you make a right turn. The entrance is close to gate D26.
As the Schengen and non-Schengen areas are completely separated, even with different boarding pass controls and security controls, it is not possible to enter the lounge flying to non-Schengen destinations.
How do I get in?

Standard Skyteam access rules apply with access for passengers travelling on Air France, KLM or another Skyteam carrier in business class or holding a Flying Blue Gold or Platinum or a Skyteam Elite Plus card when travelling the same day on any of these airlines.
According to the sign at the entrance the lounge is also used by Icelandair.
The lounge is also accessible using Priority Pass.
What's it like?

The lounge is fairly spacious and has the standard Air France lounge design with most of the furniture in wood and beige colours. The design itself is nothing special but the Air France retro pictures on the walls are rather cool, highlighting the latest Air France campaign "France is in the air".
The lounge is divided into several different seating areas with a dining area with chairs and tables next to the buffet area.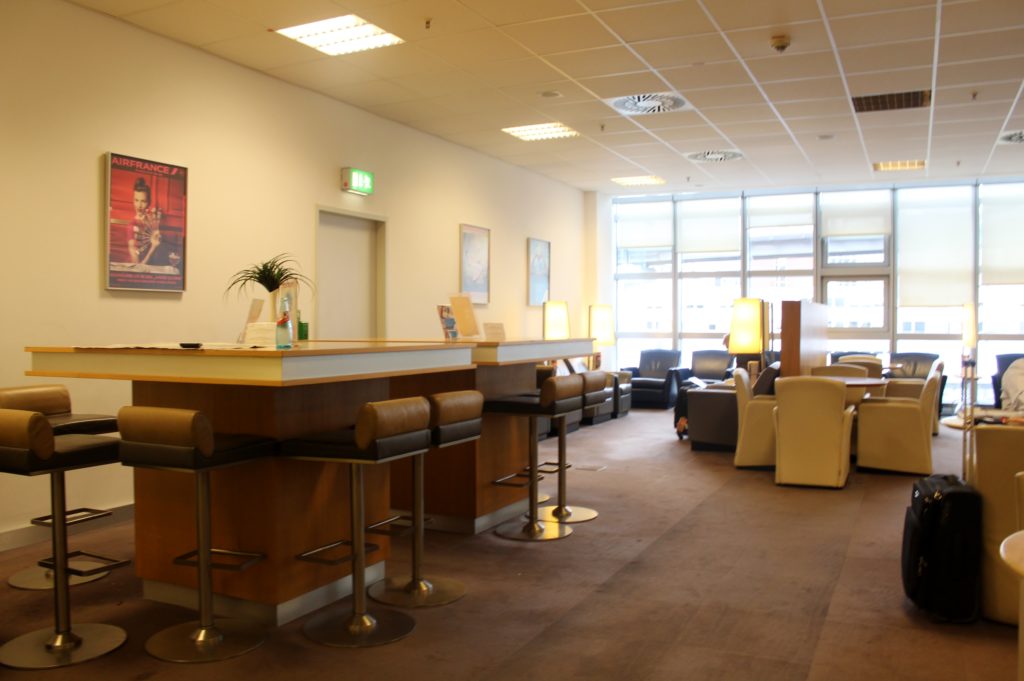 The rest of the lounge offers different seating aras with armchairs and sofas. There are also areas with work desks for those who want to work in the lounge.
Food and drinks

The self-service buffet offers a standard selection of snacks which varies depending on the time of the day. This includes for example sandwiches, croissants, muffins, cakes, yoghurt and fresh fruits. There is little substantial to eat and no hot food.
The drinks selection includes red, white and sparkling wine, different beers, a standard selection of spirits, juices, soft drinks and a coffee machine.
Facilities

Free wireless internet is available and there are two internet computers in the lounge.
There are several TVs and a good selection of newspapers and magazines.
Boarding calls are made in the lounge for Air France and KLM departures, so passengers can usually wait in the lounge. The reception desk can assist with enquiries when travelling on these airlines.
Final impression

A standard Air France lounge with the standard Air France lounge design and amenities. Reasonable selection of snacks and drinks. The lounge is fine but nothing special.