This is the second part of my Christmas visit to the Air France La Première Lounge at Paris CDG in December 2015. You can read the first part here which includes the late lunch in the lounge.
This is one of the very best lounges in the world with possibly the best lounge food available in any airport lounge in the world, created by Alain Ducasse who holds 21 stars in Guide Michelin.
I had about seven hours between my two flights in Paris. A bit more than I had wanted but the next available connection would have meant just 80 minutes between flights, barely enough time to make it to the lounge at all and definitely not enough time to have a proper dinner in the lounge restaurant. I was not in a hurry and went for the longer connection, with enough time to enjoy both a late lunch and a proper dinner.
After a very late lunch in the lounge I had a nap and then left the lounge for half an hour to have a walk around the transit hall to look in some shops. Although there is a separate entrance and exit for transit passengers and a separate route for departing passengers there is also a lift in the lounge going down to the main transit hall. And the staff in the lounge will happily keep an eye on any hand luggage while you are away, as long as you bring your passport and boarding pass with you.
I was back in the lounge just after 7 pm and it was time for dinner. During Christmas they have a special Christmas menu in the lounge, beside the regular menu, which is also available.
The Christmas menu is a three courses meal with a starter, a main course and a dessert and a specially selected wine for each course. I had the delight to try it also a year ago and it was the best food I have ever eaten in an airport lounge. The expectations were huge for this visit and this dinner. Fortunately Air France did not disappoint this time either.
There had been a change of staff when I got back. A new assistant was to take care of my departure and the staff working in the restaurant had partly also changed. As I had a seat I was immediately approached and asked if I wanted something to drink and I was also at the same time given the menu. Naturally I had already seen the menu earlier when I ordered my lunch. The regular menu can be seen here (starters) and here (main courses, cheese and dessert). But this time I already knew what I wanted to eat.
I had a small glass of champagne to drink while waiting for my table to be prepared with the starter. There is also a proper bar in the lounge in an adjacent room. It has a very stylish design but since you order nearly all drinks from the staff it is not used very often in the proper sense. But you can always help yourself to a glass of champagne at any time from the bar counter and of course you can have a look at the bottles and the brands available.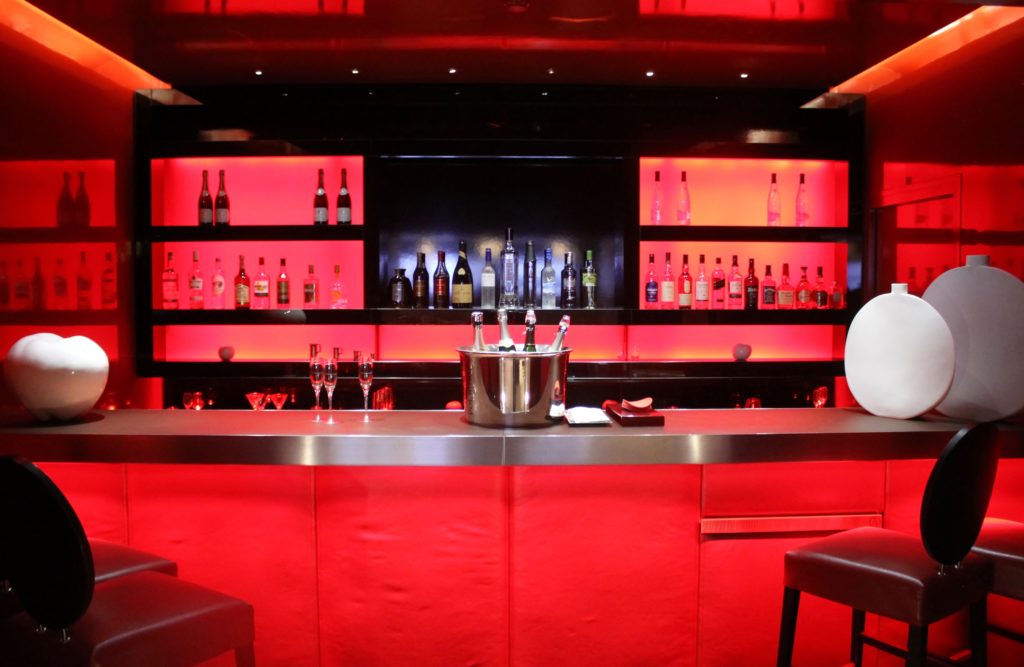 After a few minutes the waitress returned and told me the table was ready and I left my hand luggage and moved to the table they had prepared in the restaurant.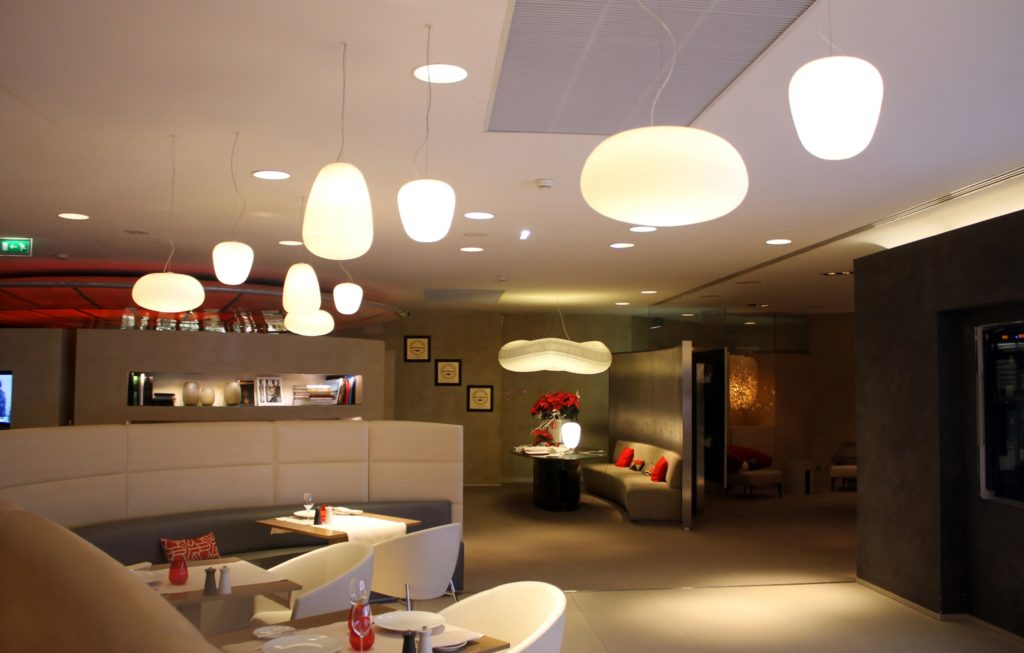 The table had once again been very nicely decorated. I just love the table setting, the decorations and the presentation of the food, the plates and the cutlery. They have really thought about everything.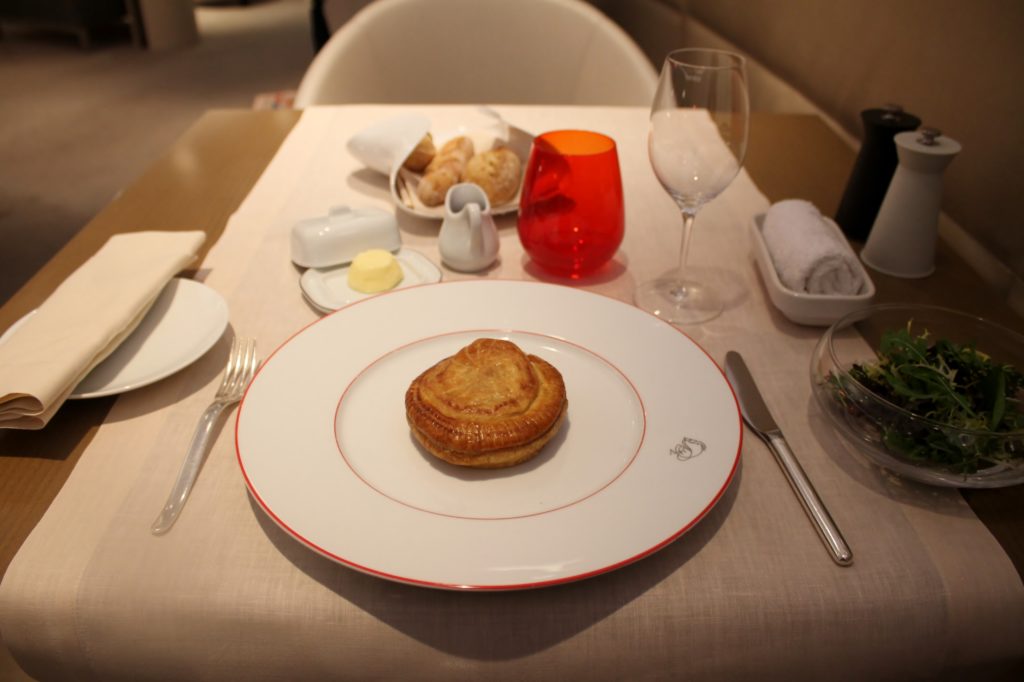 As I took my seat I was also presented with the first wine of the evening, a Condrieu Rouelle Midi 2014 from Domaine Vallet.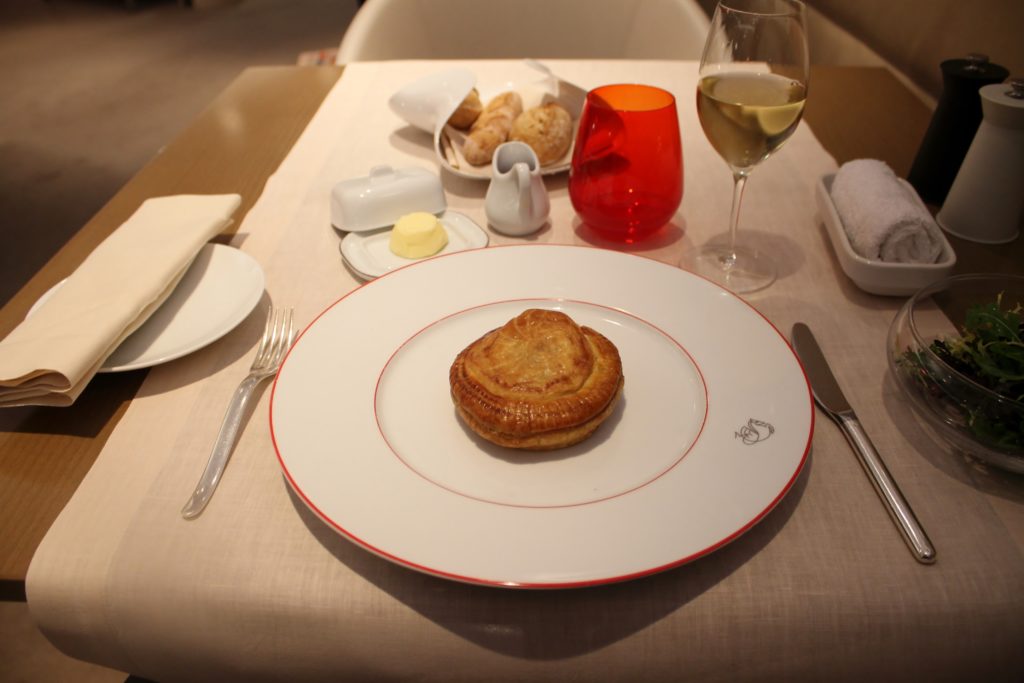 The starter was chicken pithiviers with duck foie gras and black truffle. It was served with a bitter herb side salad. It was delicious but quite heavy. I have never really eaten anything quite like it before. Fortunately I had plenty of time and could eat slowly, because I very much enjoyed it.
My plate was cleared and I was offered the main course, and a new wine. As the main course was meat the next wine was obviously a red wine, Château Cantenac Brown 2010 from Margaux. Absolutely delicious and perfect for the next dish.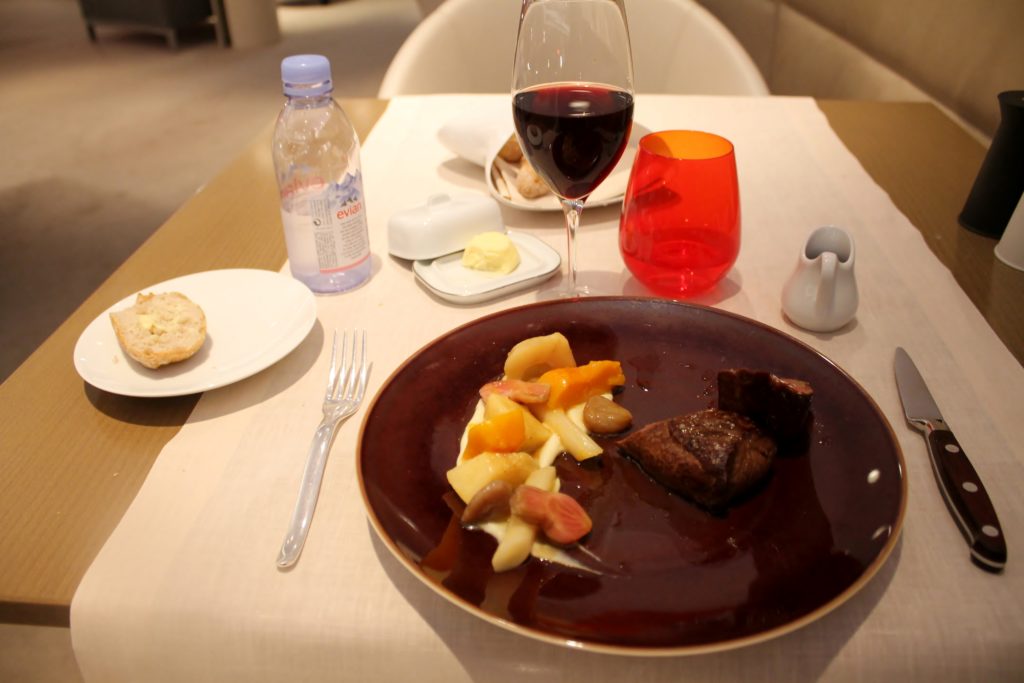 The main course was fillet of venison cooked in a cocotte, served with winter vegetables, fruit and peppered sauce. Very nice as well.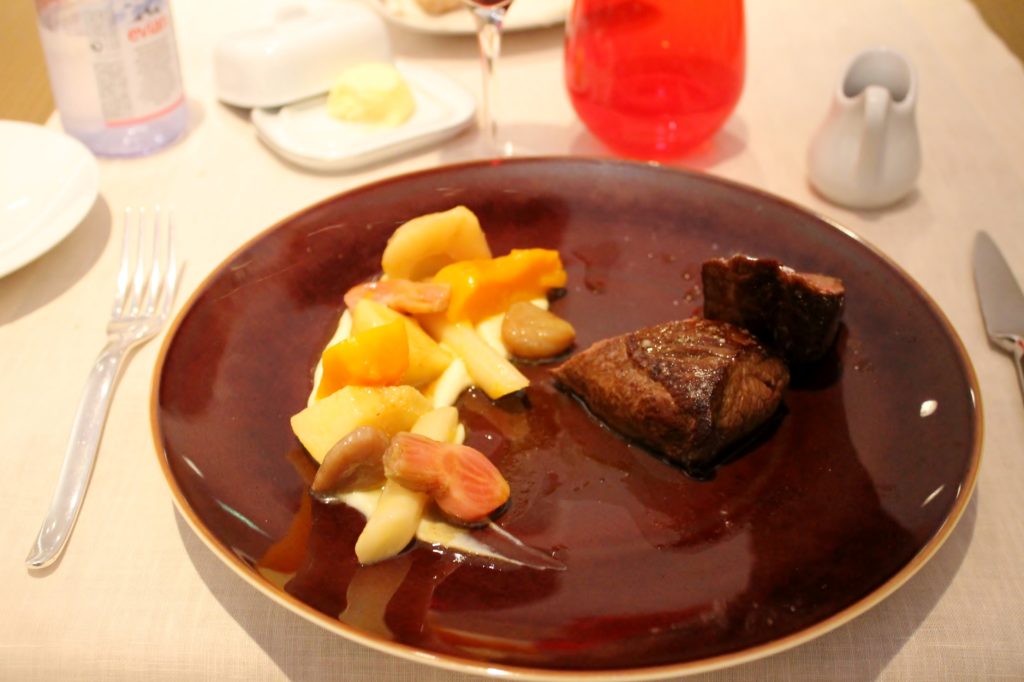 Finally it was time for dessert, and a dessert wine. A Sauternes, Petit Guiraud 2012. Quite sweet.
The dessert was a clementine and chocolate yule-log. Delicious, but quite heavy. I certainly did not leave the dinner table hungry. And what a lovely presentation. I also asked for a cup of coffee to drink.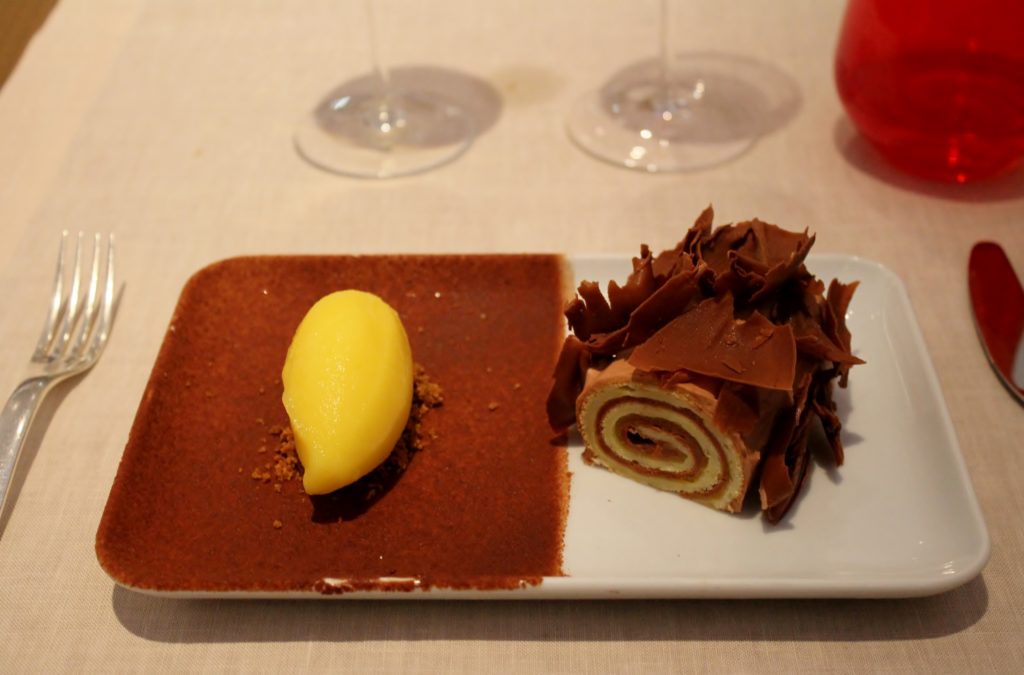 Full marks again for the Air France La Première Christmas menu. Just brilliant in every sense with exquisite food, fantastic wines and a perfect match between everything. And a perfect length and speed of the service. I was not in a hurry and had time to eat slowly without any rush whatsoever. They did it just brilliantly.
I still had around 90 minutes until it was time to leave for the gate. I went back to my original seat and asked for another glass of champagne.
As expected around 30 minutes before departure my personal assistant arrived, this time a very friendly and polite young man. When the flight leaves from an L or M gate there is a limo transfer from the lounge to the aircraft. If the flight leaves from a K gate, which is the same concourse as the lounge, you are escorted from the lounge through the main transit hall to the gate. Although it would have been fantastic to be offered a limo transfer to all flights, in all fairness it really would not make much sense to be driven to the aircraft by car when it takes less than a minute to walk to the gate by foot.
But even without the car (the flight was departing from a K gate) it was a true VIP service. At the gate I got to pass the entire line, or lines, both the general boarding line and the priority line. and walk straight onboard. My assistant took care of all the boarding formalities at the gate and there was nothing else for me to do but to follow him.
He also escorted me onboard the aircraft, introduced me to the purser, showed me to my seat and helped me with my hand luggage before he wished me a nice flight. A superb way to start my flight to South Africa.
Another fantastic Air France first class ground service in Paris was coming to an end, but what an experience!