A great thing about the Etihad lounges is the option to have lunch or dinner in the lounge before the flight. This is especially useful on night flights where some passengers want to maximise their sleep onboard and especially on flights between Europe and the United Arab Emirates where the flight time is usually no more than 6-7 hours.
Another good thing is that the service is also available to Etihad business class passengers and Etihad Guest Silver/Gold/Platinum members, also when travelling in economy class.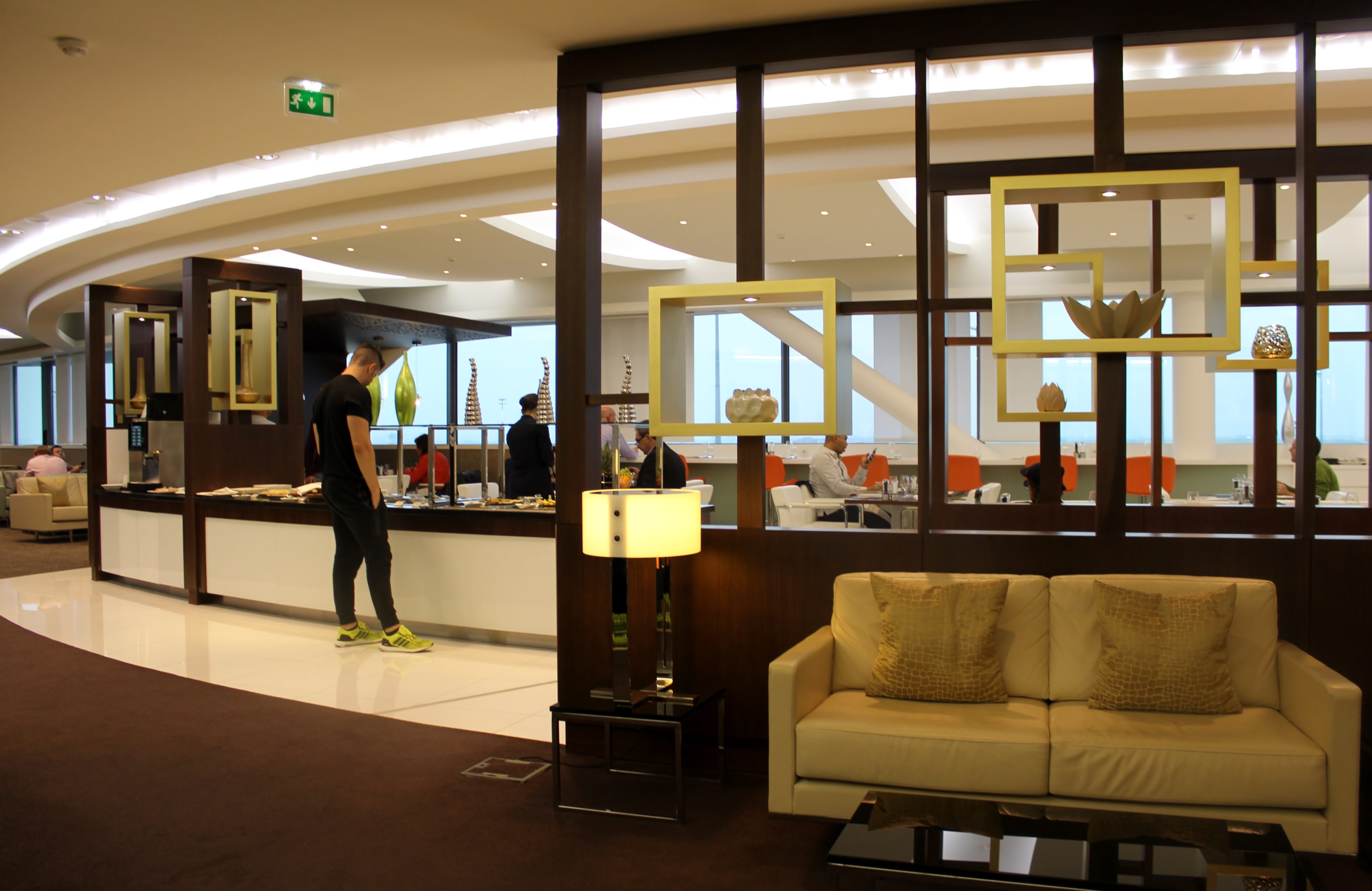 The fairly new Etihad Lounge at Paris CDG is a lovely place to visit with a beautiful, modern and very stylish interior and with plenty of seating areas for the two daily flights to Abu Dhabi. Upon arrival I was immediately approached by a friendly lounge attendant who presented me with the menu and asked me if I wanted something to drink. I asked for a glass of champagne to drink while browsing through tonight's options.
The dinner service in the lounge was quite extensive with both an a la carte service and a self-service buffet.
In the buffet next to the restaurant a selection of breads, Arabic mezze, freshly prepared salads, cold appetisers, fresh seasonal fruits and a selection of local cheeses were on offer for self service.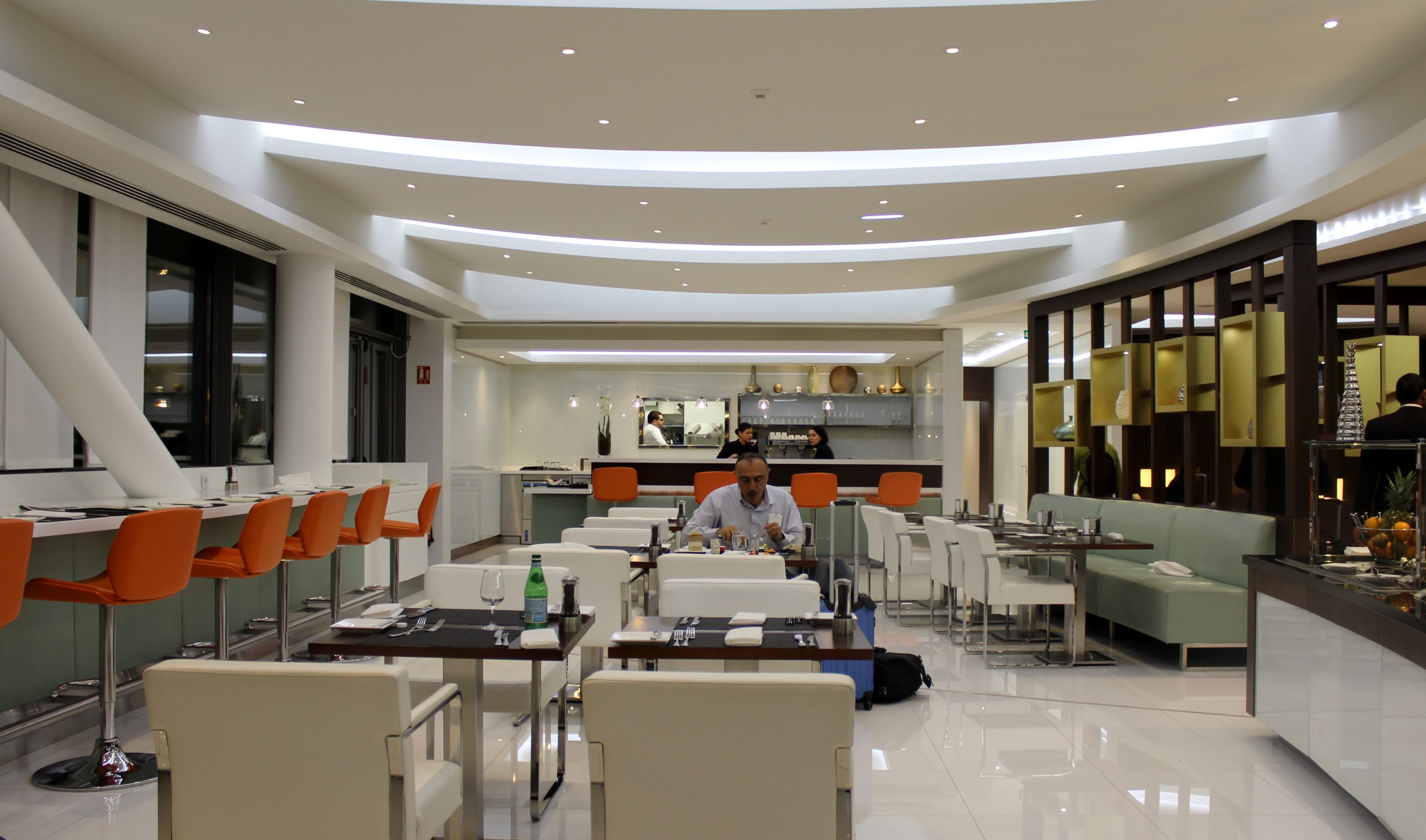 I decided to go for a proper a la carte dinner and asked the lounge staff to prepare a table for me in the restaurant. This was not a problem and I was told they would inform me when the dinner would be be ready. In the meantime I was offered a refill of the champagne.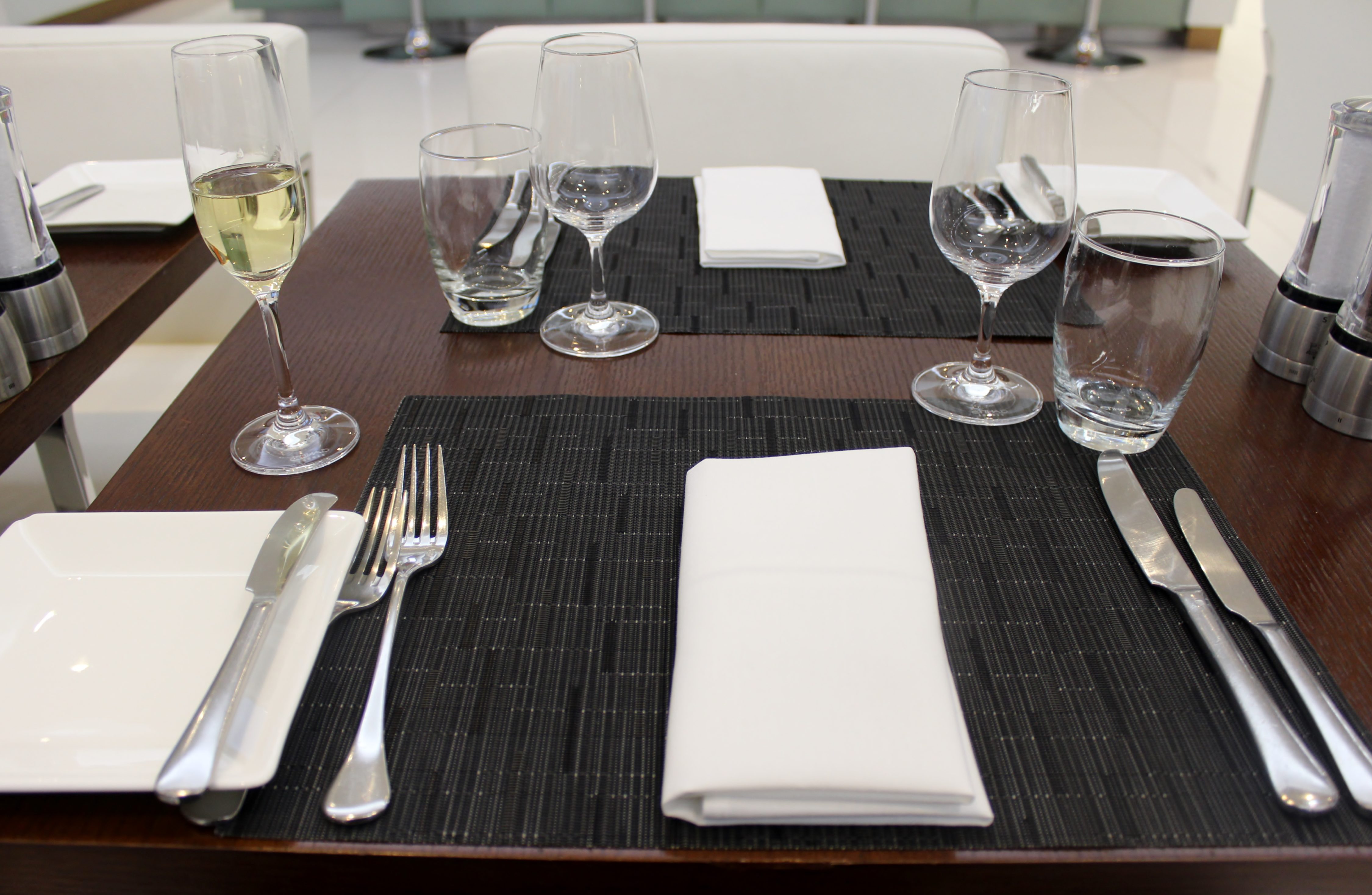 There was only one appetiser on offer and the option this evening was a velouté of leek with parsley mousse and croutons. I decided to skip that one and just ordered a main course and a dessert.
There were four choices of main course:
Braised beef with wild rice, cumin, fried onion, pine nuts, Raz El Hanout spice
John Dory fillet with ratte potato and romanesco cabbage with Hollandaise sauce
Pan roasted chicken fillet with citrus jus, sweet potato and caramelised endives
Ricotta and spinach tortellini, three coloured carrots and Parmesan sauce
I ordered the third choice, the pan roasted chicken fillet. Quite tasty and with a rather nice presentation. I ordered a glass of white wine to drink with two choices. I went for a Sauvignon Blanc, of French origin of course, we were in France after all.
There were four choices of dessert as well:
Tiramisu with chocolate and pear
Roasted pineapple with salted butter and banana cream
Seasonal fresh fruits
Selection of local cheeses – Crottin de Chavignol, Abondance, Roquefort
I ordered the tiramisu, which was simply delicious, but very heavy. They could have made it much smaller in size. Finally a refill of the white wine and a double espresso were arranged, and just as I had finished my coffee the woman at the reception passed through the lounge to inform us boarding had started to Abu Dhabi.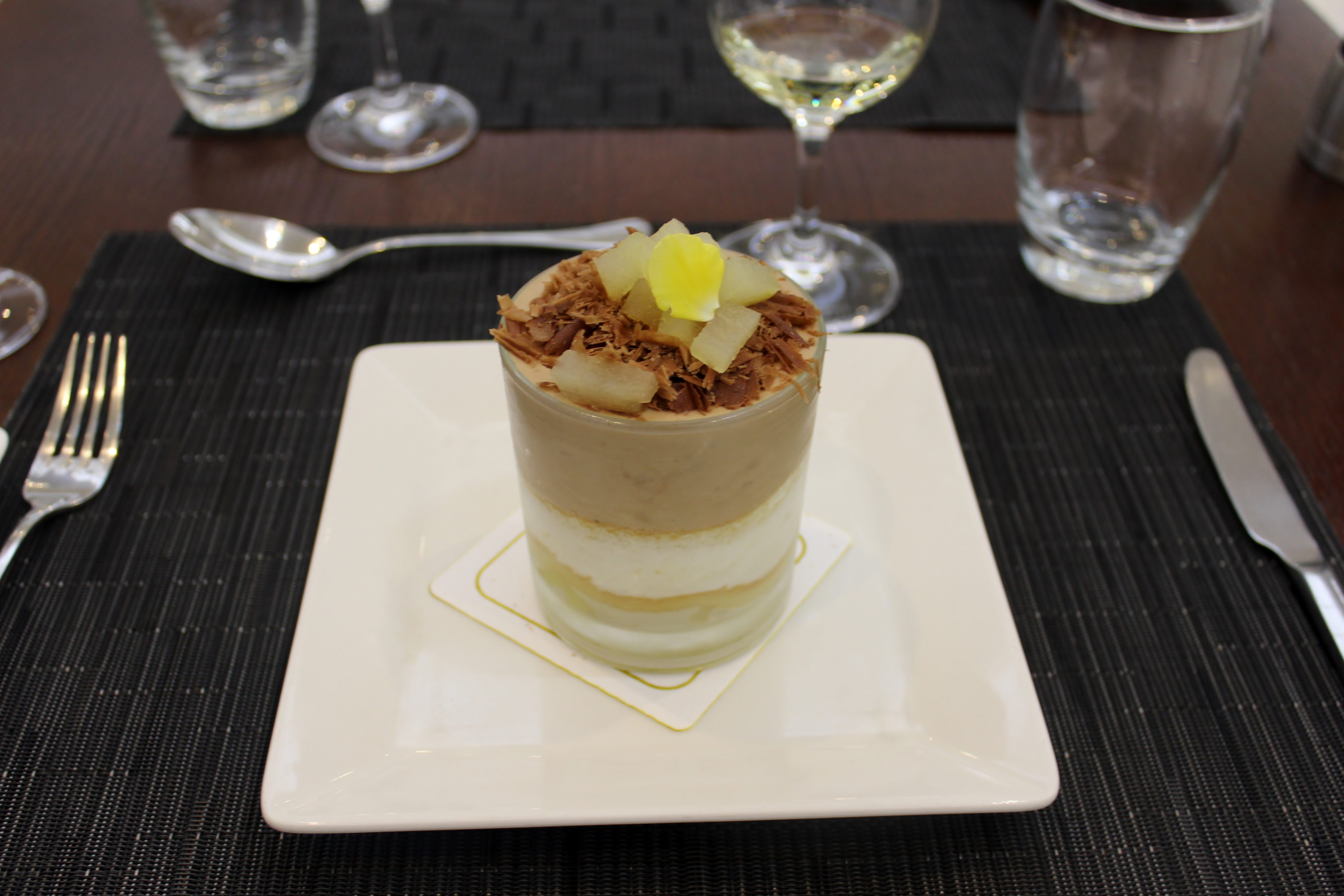 A very nice dinner, well worth arriving earlier at the airport to enjoy. But allow at least an hour in the lounge (which means you need to arrive at the airport at least two hours before departure) as it takes some time for the staff to prepare the food. And you do not want to rush through a meal, do you?