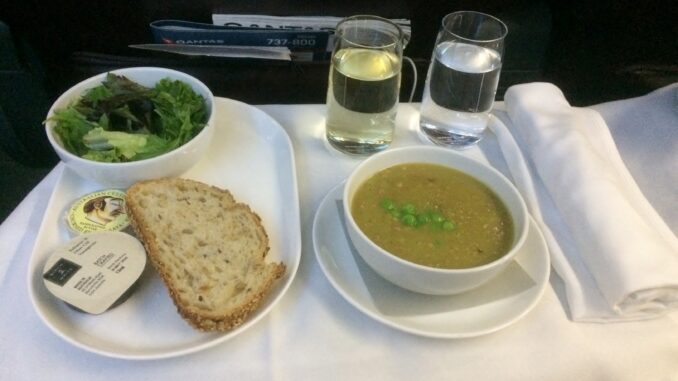 Departure experience

I had plenty of time at Sydney airport, a transfer of six hours between two international flights, although on two separate tickets. I though for a while about going to downtown Sydney to have lunch. The airport train to the city centre is quite quick and there would certainly have been enough time for it. However at the end I felt rather tired and decided to stay at the airport, especially as I also had access to one of the best airport lounges in the world.
I was travelling in business class but also holding a OneWorld Emerald card which meant I could check in in the Qantas First Class check-in area. I actually tried to check in using a self-service machine at first, since I only had hand luggage, but I got an error message on the screen. The reason was that I was travelling on a one-way ticket and they wanted to see proof of onward travel.
The check-in agent was friendly and had a look at my travel arrangements. She quickly realized everything was in order and issued me a boarding pass without any fuss and informed me I was invited to visit the Qantas First Class Lounge in the transit hall thanks to my Emerald card.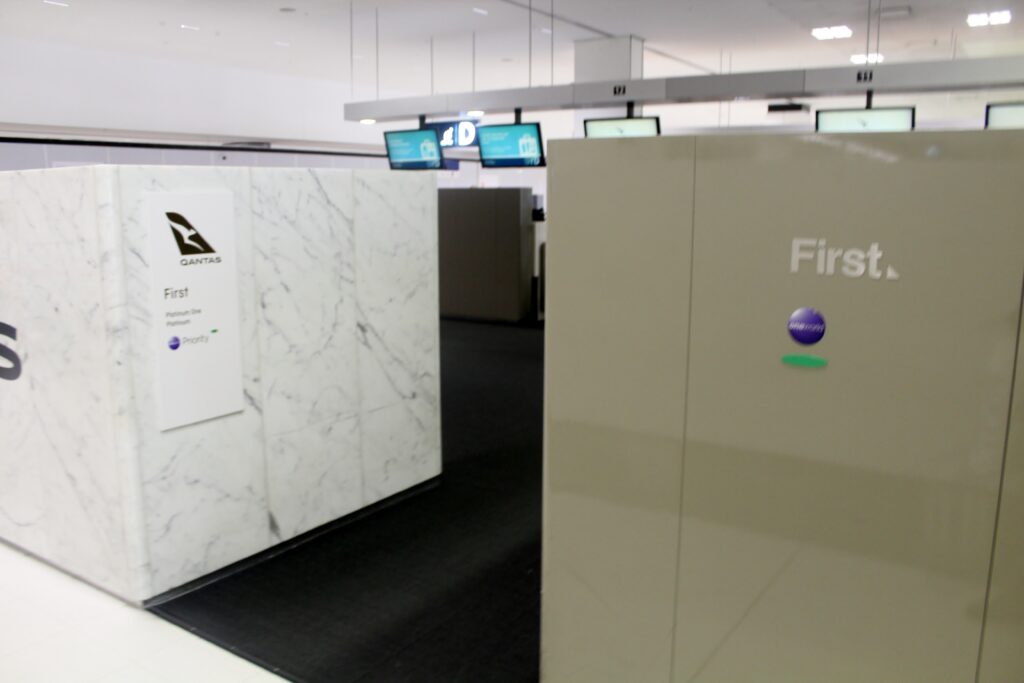 Both security control and passport control were very quick. There was a dedicated lane for business class and on top of that there are few international departures around noon.
My Emerald card indeed gave me access to the Qantas First Class Lounge, one of the best airport lounges in the world. I just love the cool interior, shaped like a half moon which also has a great view (you can even see downtown Sydney in the background). On top of that the staff are excellent and of course there is a wonderful selection of food and drinks.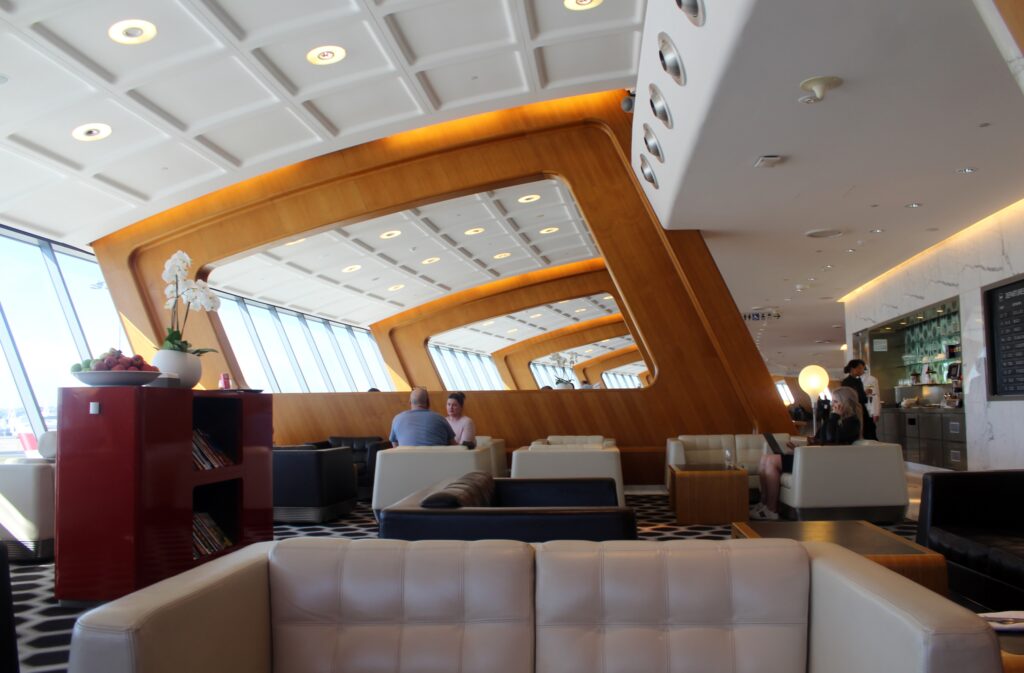 Upon arrival the friendly man at the reception desk asked me if I would be interested in having a free spa treatment. First class passengers always have priority at the spa and can book an appointment in advance, which is fair enough, but when they have available spots they also accept other lounge guests, those entering using a top-tier frequent flyer card, and he thought I would stand a good chance. At the end this never happened though, no one ever paged me.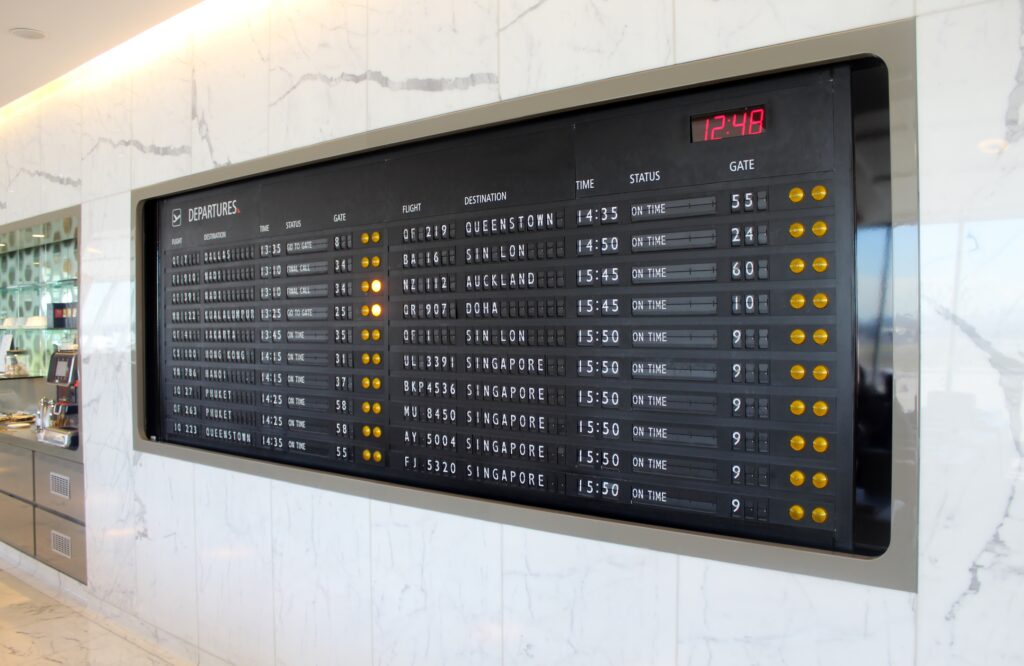 Instead I had a well-needed shower and then a lovely three courses lunch in the a la carte restaurant. The menu is very extensive and they also have a great drinks list with a wide selection of wines and spirits. And the service is always excellent and the atmosphere in the restaurant very pleasant. Lunch with duck for starter, a very nice beef dish for main course and finally a pudding dessert.
There is also an Emirates Lounge at Sydney airport. My OneWorld Emerald card made little difference in that case, but due to the Emirates-Qantas partnership Qantas business class passengers also have access to the Emirates lounges, whenever there is one at the airport in the same terminal, which would apply to me in this case. Since I had never been to that lounge I made my way there for a quick visit.
The Emirates lounges are usually excellent and this was no exception. The interior is perhaps a bit over the top for my taste. It is definitely elegant, just a bit too much bling-bling. I usually prefer something a bit more discreet and minimalistic, but that is really up to personal taste. However the selection of food and drinks was superb and of very high quality with champagne, decent wines, plenty of hot food and a wonderful circular-shaped table with cheeses and desserts. On top of that the lounge was nearly empty in the afternoon.
The flight
Sydney-Auckland
Qantas flight QF 147
Departure: 16.00
Arrival: 21.05
Business Class
Boeing 737
Seat 03D

Boarding for the flight was delayed and the reason given was a late incoming aircraft. The Emirates Lounge was too far away to go back there and although I could have returned to the Qantas Lounge, which was actually not that far from the gate, I just decided to stay in the transit area.
Eventually the Boeing 737-800 showed up at the gate and they did their best for a quick turnaround.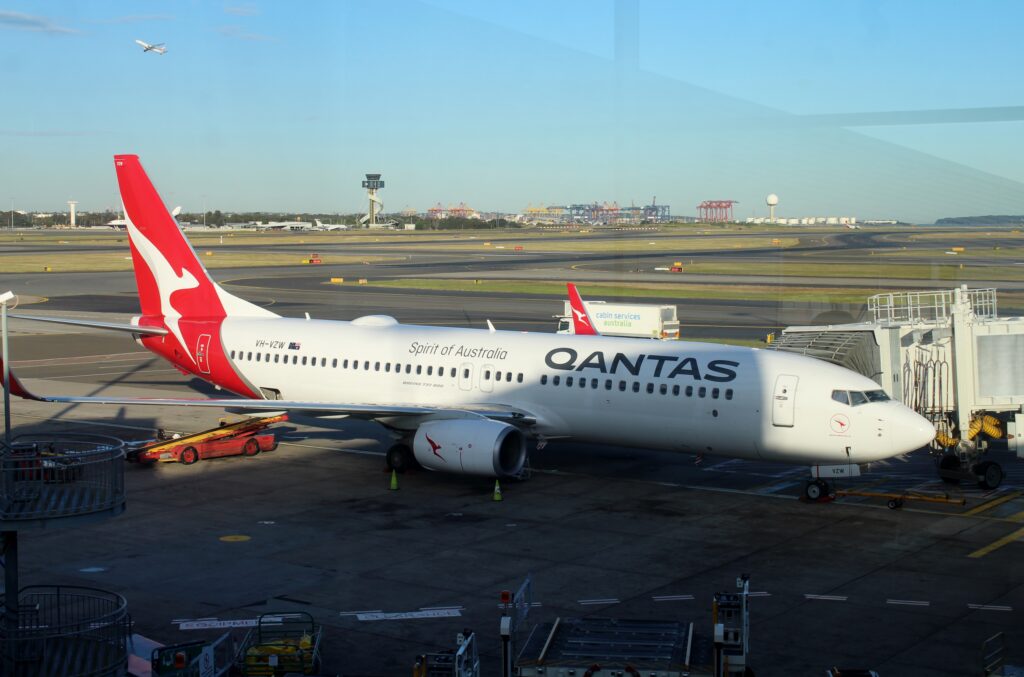 Boarding eventually started at 4.30 pm, 30 minutes after scheduled departure time. Priority boarding was offered for business class at gate 37 using a separate lane around the corner from the main lane, so at least we got to board first. Then the status passengers were invited to board followed by passengers in economy class without status.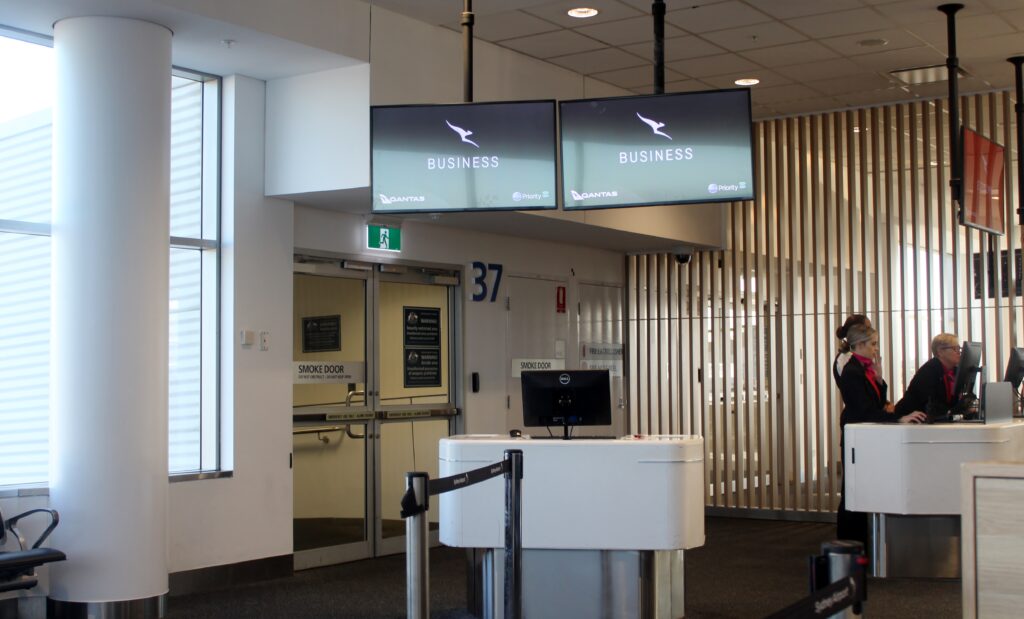 First impression

There were three rows of business class on the Boeing 737-800 with 12 seats in total. All seats were taken on the flight. After we had taken our seats and most economy class passengers had passed we were offered a pre-departure beverage, a choice between water, orange juice and champagne.
We eventually left Sydney an hour late. Usually there is some margin in the timetable but it was obvious there would be a delay to Auckland.
Seat and cabin

There were three rows of business class in a 2-2 configuration, which meant 12 seats in total. This in contrast to economy class where there is a 3-3 configuration.
The seats on the Boeing 737 were proper business class seats in purple leather and actually rather comfortable. Not a massive amount of legroom though, 37 inches compared to 30 inches in economy class. If you sit in the window seat and there is someone next to you that person will have to get up if you want to pass. The seats also have individual screens placed at the seat back in front.
An interesting aspect though is that there were no curtains between business class and economy class, there was no divider whatsoever. So the economy class passengers could easily see what was going on in business class, and vice versa.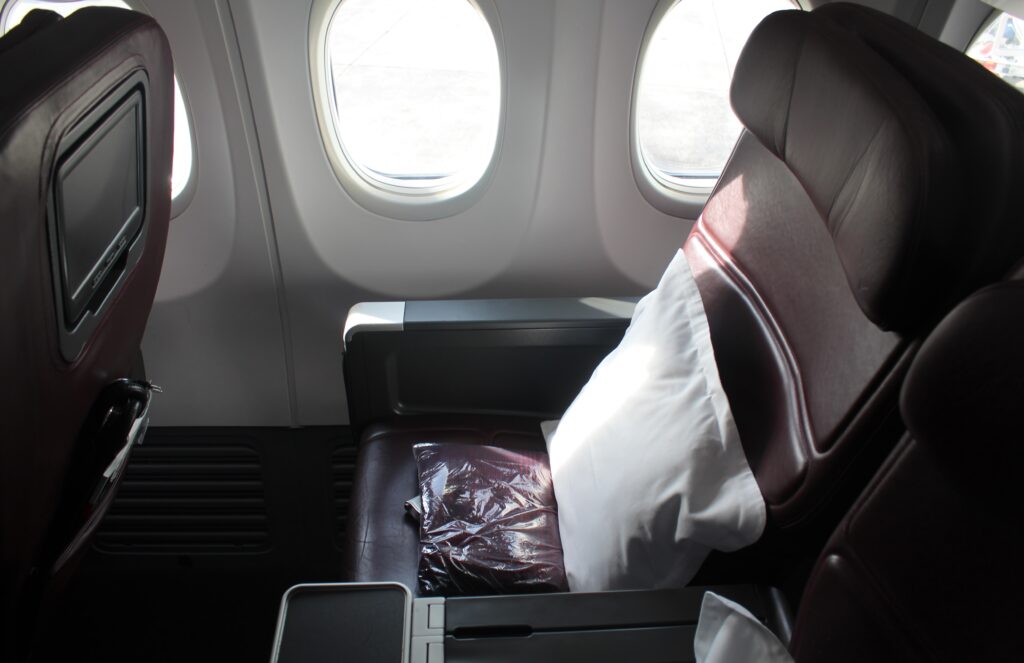 Food and drinks

A printed menu was handed out after take-off describing the food and drink options. A few minutes later the purser passed through the cabin to take the meal orders and at the same time she addressed all passengers by name.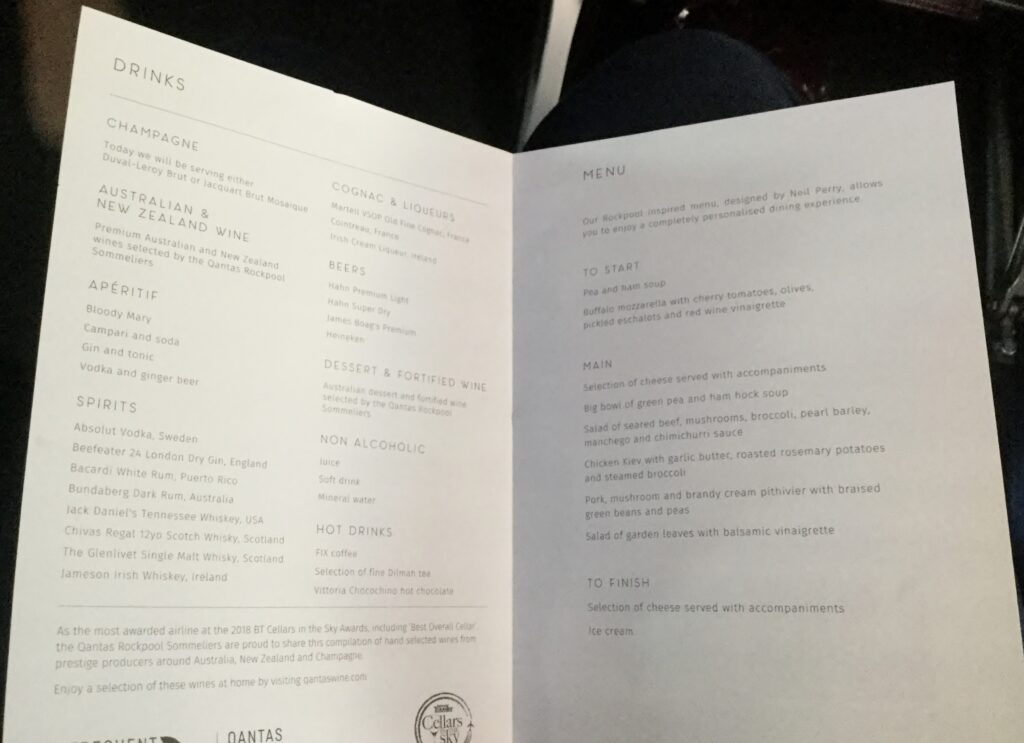 The meal service started with a cocktail service with nuts. I started with a gin & tonic.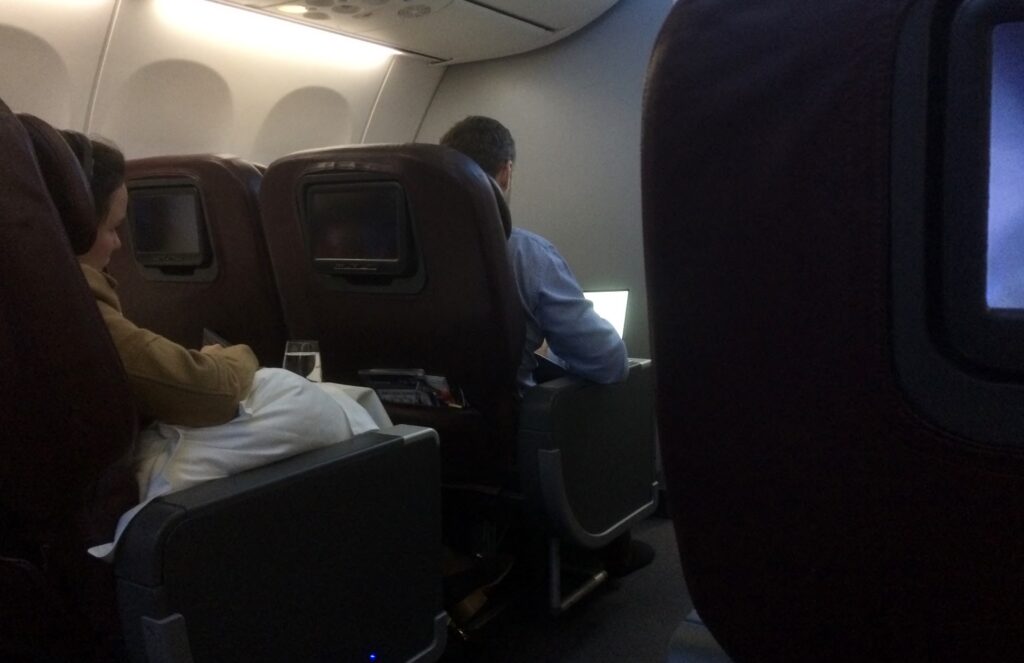 The selection of drinks was rather good with two red and two white wines, which were nicely presented on the trolley.
There were two options of starter, either a pea and ham soup or a mozzarella dish. I went for the soup which was rather tasty. It was served with a garden salad and a slice of bread. And hands up to Qantas for not using any trays. I had a glass of Sauvignon blanc white wine to drink.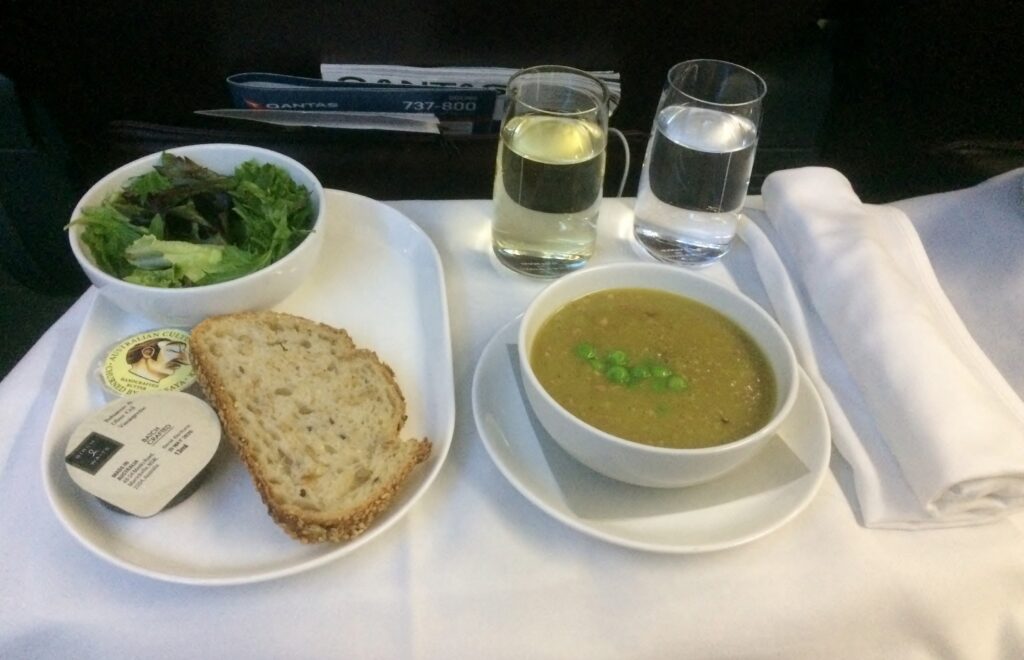 There were basically three choices of main course but you could also get the soup as a main course or the cheese plate. I went for the Chicken Kiev with garlic butter, Rosemary potatoes and steamed broccoli. It was actually rather tasty. And another glass of Sauvignon blanc to drink with that.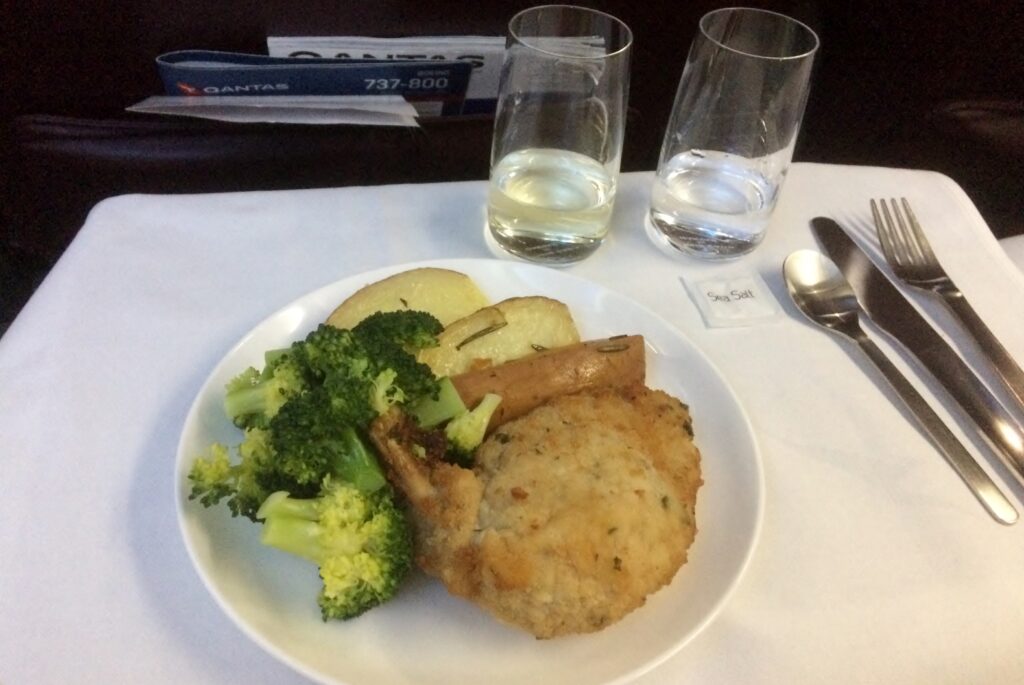 The table was cleared and finally they offered cheese and/or ice cream for dessert. I skipped the cheese and just went for the ice cream.
And to finish off coffee and tea were offered. It was getting rather late and as I wanted to get some sleep immediately upon arrival in Auckland I declined any coffee and just went for another gin & tonic instead.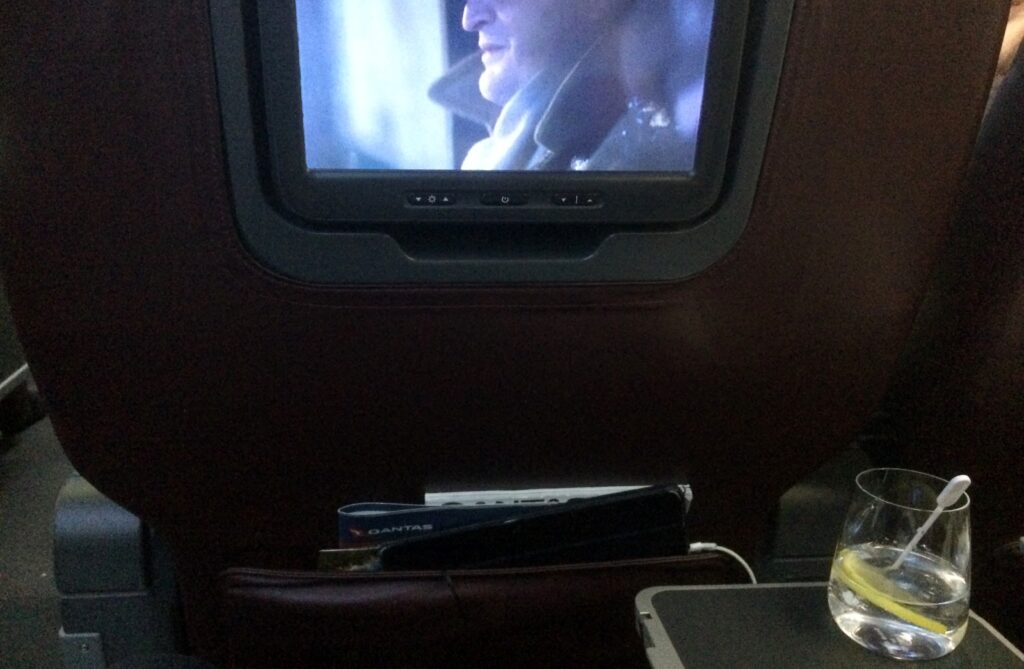 Inflight entertainment
A full inflight entertainment system was offered onboard with AVOD (Audio Video On-Demand). A rather good selection with movies, TV-series, documentaries, sports as well as some information about Qantas and the flight.
With a rather long flight time above three hours I watched a movie during the flight. Decent noise-cancelling headphones were provided in business class. The screen in business class may not be the largest but overall the inflight entertainment experience was not bad and especially for a narrowbody aircraft.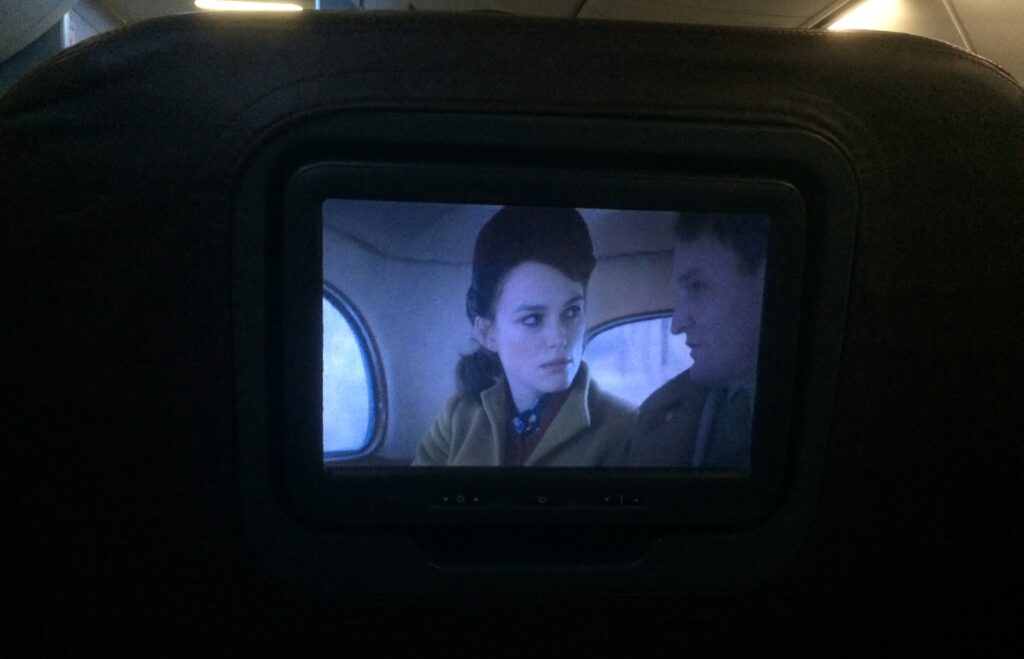 The service

I have very mixed feelings about Qantas when it comes to the service. On the whole the cabin crews are usually very friendly, the problem is that they are sometimes just a bit too friendly. Perhaps it comes down to cultural differences and personal taste, Australians are generally very laid-back, which overall is nice, but on some Qantas flights I have found the flight attendants to be simply over the top, to the point that I felt uncomfortable with it. I really do not mind friendly and talkative crews, but there needs to be some kind of respectful distance in the interaction, or at least somer kind approval from my side, as a customer, that it is OK to get a bit more personal.
But on this flight the service was brilliant. It was absolutely perfect. The purser Anna did a terrific job and she had a perfect balance between being polite and professional but also enough personal to make me and the other passengers feel at ease. The balance was perfect. I was also several times throughout the flight addressed by name and it was clear that she knew I had Emerald status.
She was assisted by her female colleague who also served in business class.
Arrival experience

We eventually landed 45 minutes behind timetable in Auckland. The passport control was completely empty when I got there and of course sitting in business class, at the very front of the cabin, helped a great deal. Passport control was quick and the officer was very friendly.
With only hand luggage I immediately made my way to the airport hotel, in this case the ibis Budget at Auckland airport. The hotel is within walking distance from the international terminal but it helps having a map printed.
Final impression

A very nice flight with Qantas, definitely one of my best with them with a great service level with perfect balance between formality and informality. Excellent food and drinks and a big hands up for not using any trays.