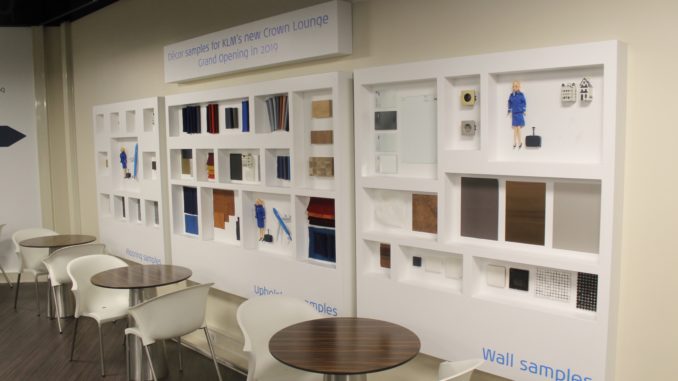 The non-Schengen KLM Crown Lounge at Amsterdam Schiphol is currently undergoing a complete overhaul, refurbishment and expansion. According to the information released earlier this year by KLM a new floor and an outdoor terrace will be added and the lounge space will almost double from the current 3600 sqm to an impressive 6300 sqm. The number of seats will also increase from 800 to 1400.
Although parts of the non-Schengen lounge have now been closed to guests in order for the construction works to start (the area to the right after the reception with the second buffet area) the rest of the lounge remains open.
In one of the temporary seating areas, in the adjacent room from the general lounge, a large wall has been dedicated to the new lounge, showcasing the new lounge design, the timeframe for work and now there are also some samples of the new design, the decor and the materials to look at.
And based on the the samples the lounge will look quite different compared to the current one with much more darker colours.
The first part of the new lounge will open in June 2018 and the grand opening will be in March 2019.