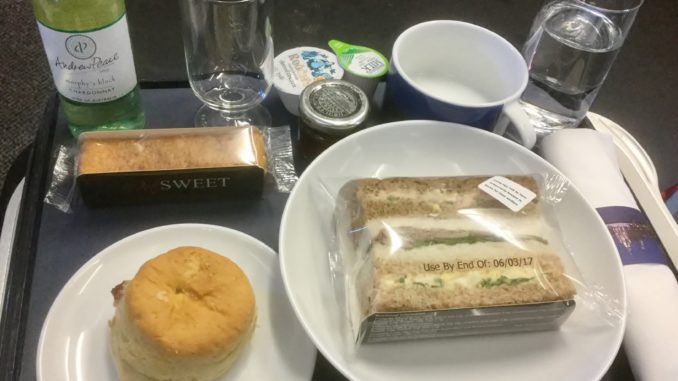 We all love that beep at the gate, the red light on the scanner indicating to both the passenger and the gate agent that something is not right, and the message on the display saying "Seating issue".  Some tapping on the computer and then that lovely smile from the gate agent "I have a new seat for you".
This is exactly what happened at the gate at London Gatwick this weekend when boarding a British Airways flight to Geneva. The flight was full and seat 06D was switched to 01C at the gate, to Business Class, or Club Europe as British Airways call it on shorthaul flights in Europe.
On the flight departing at 2.45 pm afternoon tea was offered in business class. This is fairly standard in Club Europe on shorthaul flights departing between breakfast and lunchtime and again in the afternoon between lunchtime and dinnertime.
Some wrapped finger sandwiches, a scone with jam and clotted cream, and a small lemon dessert. And of course all kinds of drinks from the bar including beer, wine, champagne, spirits, non-alcoholic beverages and later coffee and tea. I had a bottle of Chardonnay to drink and a cup of coffee.
Perfectly adequate for an 80-minute flight departing in the afternoon, but they really should have removed the plastic wrap from the sandwiches. It did not feel very premium.
But keeping the finer details aside, thank you very much BA for the upgrade!