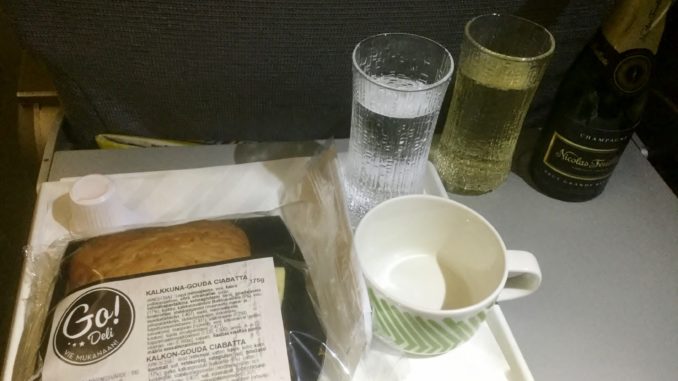 A very late evening snack in Finnair business class on one of the last shorthaul flights out of Helsinki airport at 11.30 pm. A turkey and gouda cheese sandwich and drinks, including a full bar service with wine, beer, champagne, probably some spirits, soft drinks, coffee and tea.
A bit too late for a coffee when planning to go to bed soon after landing but I happily accepted a bottle of champagne. Finnair serve the Nicolas Feuillatte champagne, a rather good brand for intra-European business class.
But flying business class on the Embraer 190 is much less of a hit. A 2-2 configuration throughout the aircraft but with no blocked adjacent seat in business class. The premium cabin had four rows on this flight and all seats were taken. Not much of a premium experience. Perhaps not a huge deal on a one-hour flight, but Finnair also uses the Embraer aircrafts on much longer flights within Europe.
But at least hands up for offering a decent champagne onboard, and the service is pretty much always very friendly and attentive on Finnair.
Read all Finnair flight reviews here!