A few days ago Emirates unveiled the new design for the first and business class bar available on the Airbus A380 and today at the ITB Travel Fair in Berlin a full-sized mock-up version of the new bar concept was available to look at at the Emirates stand.
The new concept still has the well-known horseshoe-shaped bar counter but in contrast to the old bar concept it has different seating arrangements along the windows with more seating space.
With the new seating arrangements the new onboard lounge can accommodate 26 passengers, of which 8 seated.
According to the Emirates press release lighter champagne colours have been used for the interior, accented by "a glossy dark wood trim". Inspiration has been drawn from private yacht cabins, which you can well notice.
A few minutes later an Emirates flight attendant showed up and started preparing the mock-up bar with snacks, bottles and glasses. The first Airbus A380 with the new bar is currently being installed on a brand new Airbus A380 aircraft at the Airbus facilities in Toulouse and is expected to be taken into service in July 2017.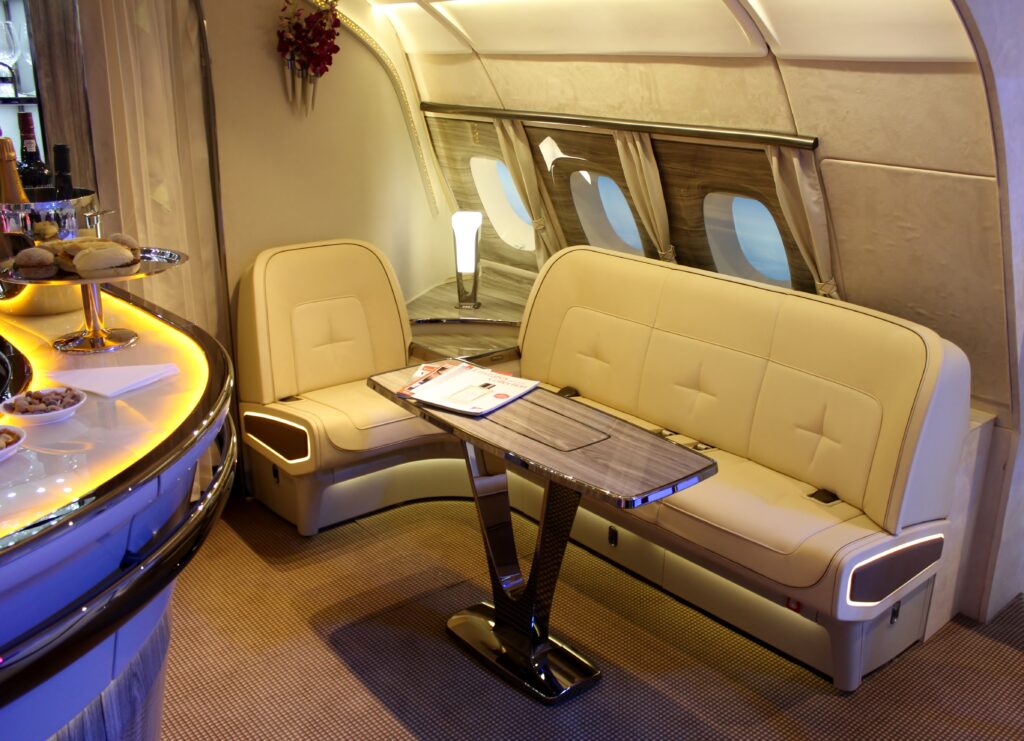 Final impression
I like the new concept. I personally prefer this new design over the current business class bar, which although a cool concept is a bit too much bling-bling for my taste. The new concept is much more elegant and much more low-key and I am sure it will also look good once installed on the aircrafts.
Overall I like the idea with 'social seating', which airlines such as Emirates, Etihad and Qatar Airways have adopted. It is a great way to stretch your legs and get out of your seat but also to socialise with other passengers on the flight, who are bored and have nothing to do and who are equally happy to have a chat. And you can meet some truly extraordinary people in business class and first class on longhaul flights, people you are not very likely to meet randomly on the ground. I really wish more airlines would introduce concepts like these, but of course it is all about revenues. The same space can also be used for more seats and more passengers.