Departure experience

Munich is a fairly easy airport for transfers, especially compared to the other main Lufthansa hub, Frankfurt. With the opening of the satellite terminal at terminal 2 there are now also far more terminal stands, even though it means you sometimes have to take a train between the main terminal building and the satellite terminal.
This was actually the case this evening. Upon arrival from Thessaloniki the bus dropped us off at the main terminal and the monitors indicated the connecting flight to Stockholm was departing from a K gate, which means a gate in the satellite terminal.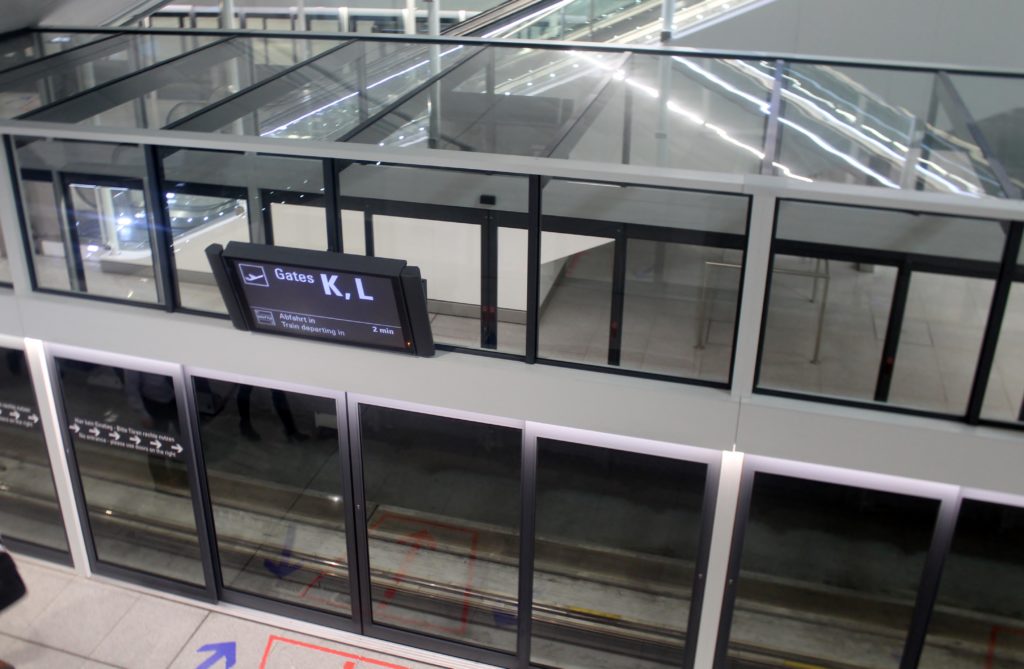 The automatic train is fairly quick and leaves every three minutes, but of course with the escalators up and down it takes a bit more time than connecting within the same building.
There are now also several Lufthansa lounges in the satellite terminal, two business lounges and two Senator lounges (for gold card holders), one of each in the Schengen area (which is on the lower floor) and one of each in the non-Schengen area (which is on the upper floor). There is also a Lufthansa first class lounge in the satellite building.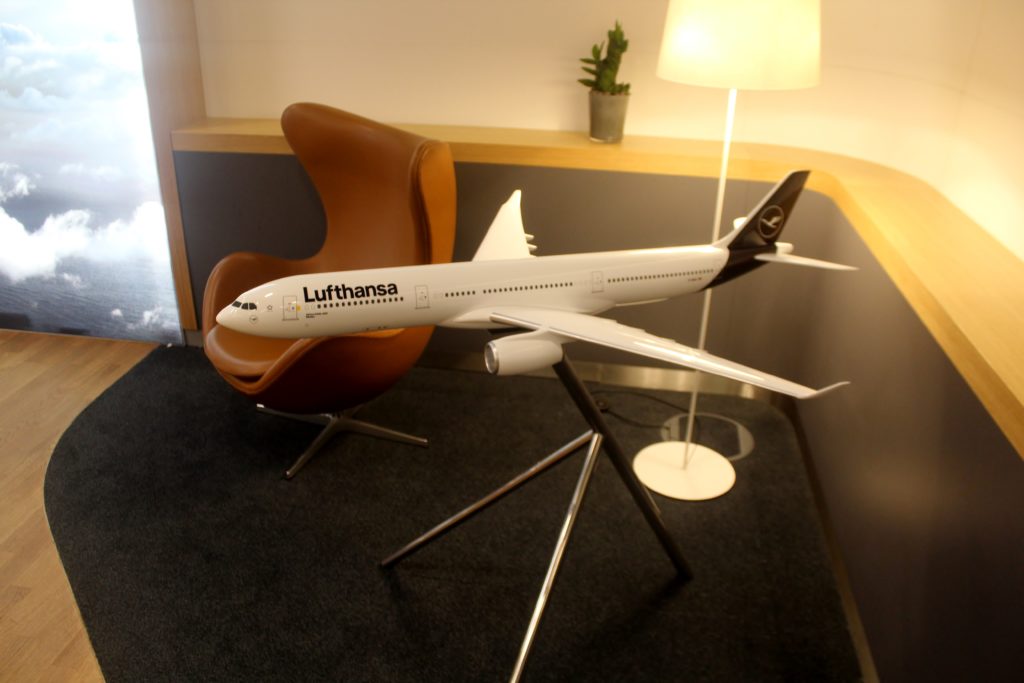 The Lufthansa Senator Lounge in the Schengen area in the satellite terminal is much newer and slightly more modern than the Senator lounges in the older main terminal building, but it seems like they underestimated the number of passengers who were going to use it and built it way too small from start. It was very crowded when I arrived just after 7 pm and there were not many seats available.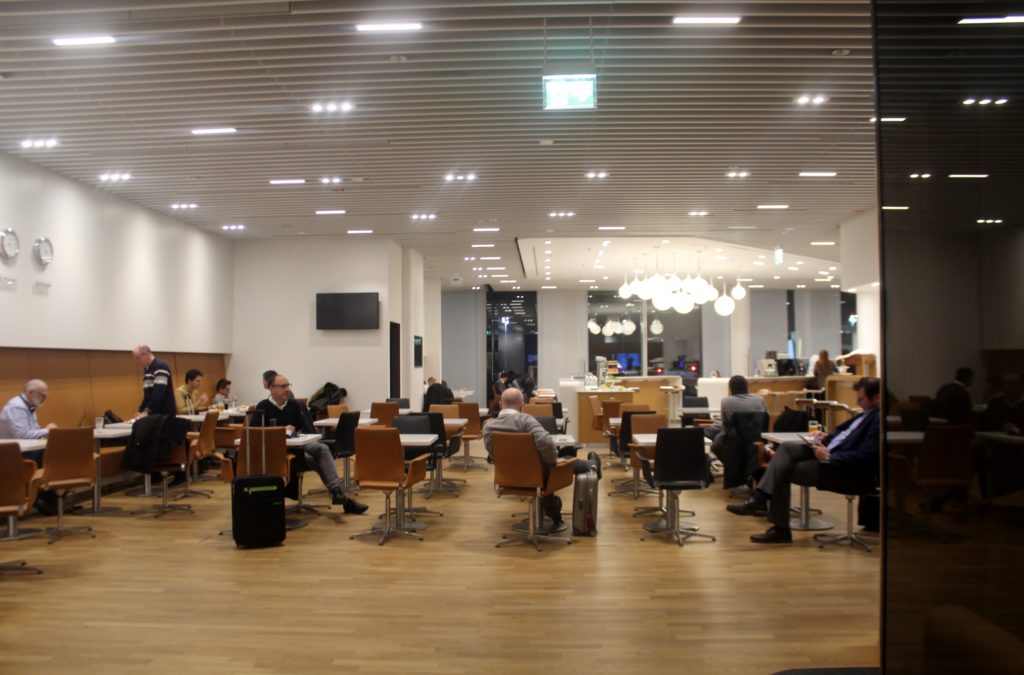 The self-service buffet offered a reasonable selection of food and drinks which also included some hot food like potatoes with some kind of beef dish. There were also some sandwiches, salads, fresh fruits and desserts available.
Alcoholic and non-alcoholic drinks were available for self-service, including beer, wine, spirits, soft drinks and hot drinks, but there was also a manned bar in the lounge where you could order wine (most likely better wines than the ones for self-service) and coffee.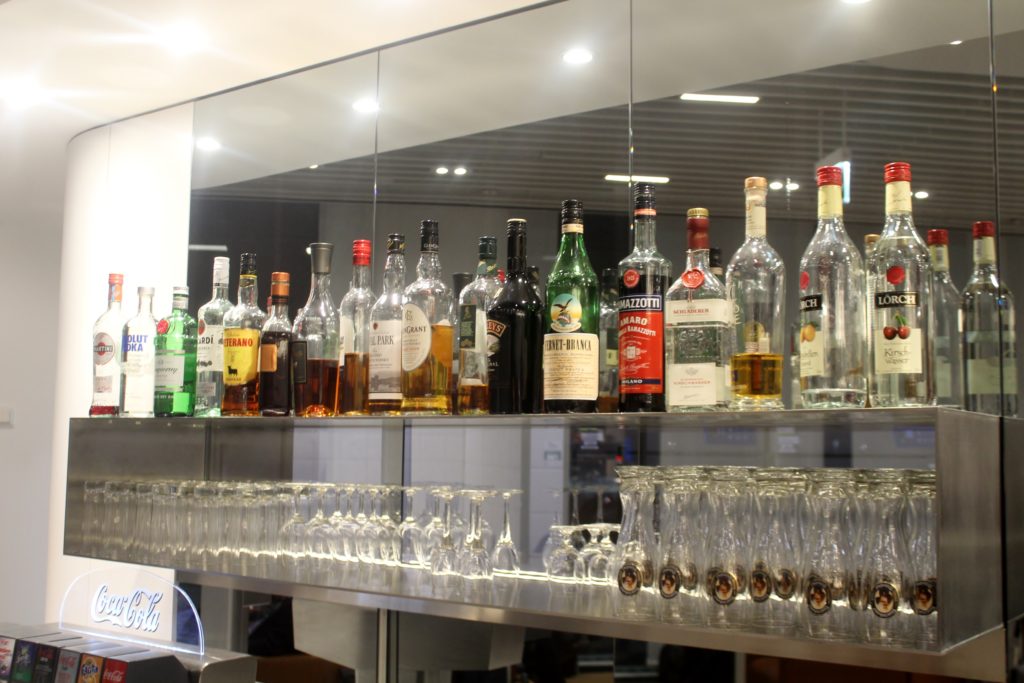 Around 8 pm many guests started to leave for their evening flights and the lounge got a bit emptier.
The flight
Munich-Stockholm Arlanda
Lufthansa flight LH 2420
Departure: 20.55
Arrival: 23.10
Business Class
Airbus A321
Seat 04A

Proper priority boarding was offered at the gate 15 minutes before departure starting with families with small children followed by business class passengers and gold card holders using the lane by the podium. The standard procedure on Lufthansa is then to continue with the general boarding using the automatic gates.
First impression

An Airbus A321 was used to Stockholm. A large section of the cabin had been assigned for business class with no less than eight rows, even though we were only six passengers. There was plenty of space and we all got our own row.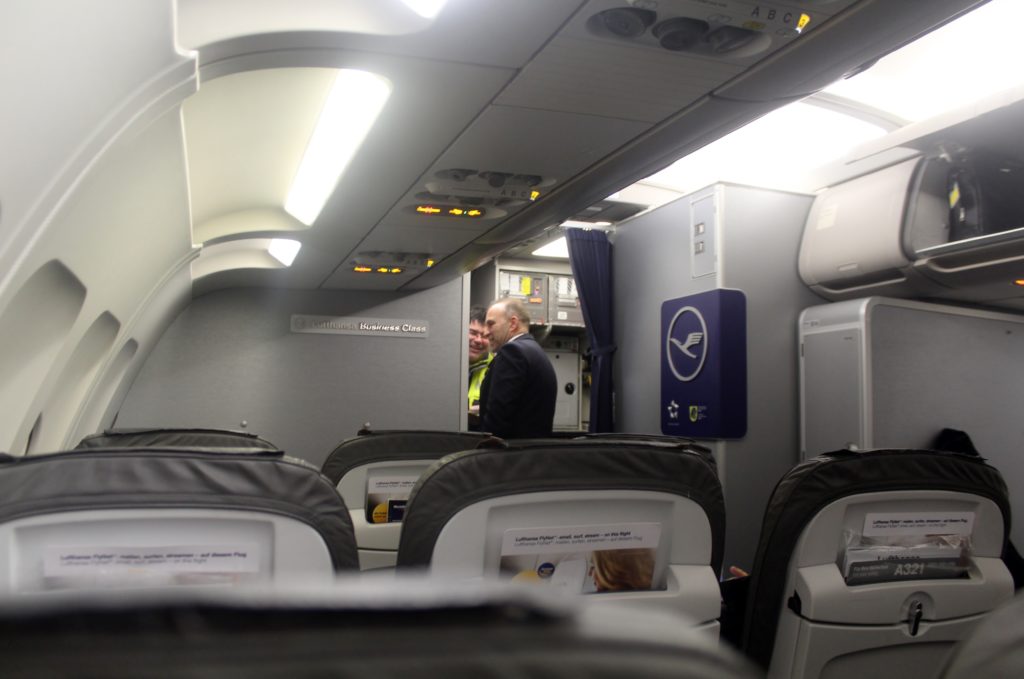 Newspapers and magazines are no longer offered onboard in business class on shorthaul flights, instead they can be downloaded using the Lufthansa media app. And no pre-departure drinks on Lufthansa on shorthaul flights and no one in the crew coming to greet. The difference between business class and economy class is virtually non-existent on the ground.
Punctual pushback at 9 pm with a flight time of two hours.
Seat and cabin

The seats onboard were the thin Recaro seats, standard on Lufthansa intra-European flights, at least on flight operated by Airbus aircrafts. Nothing fancy, but they do their job on a shorter flight.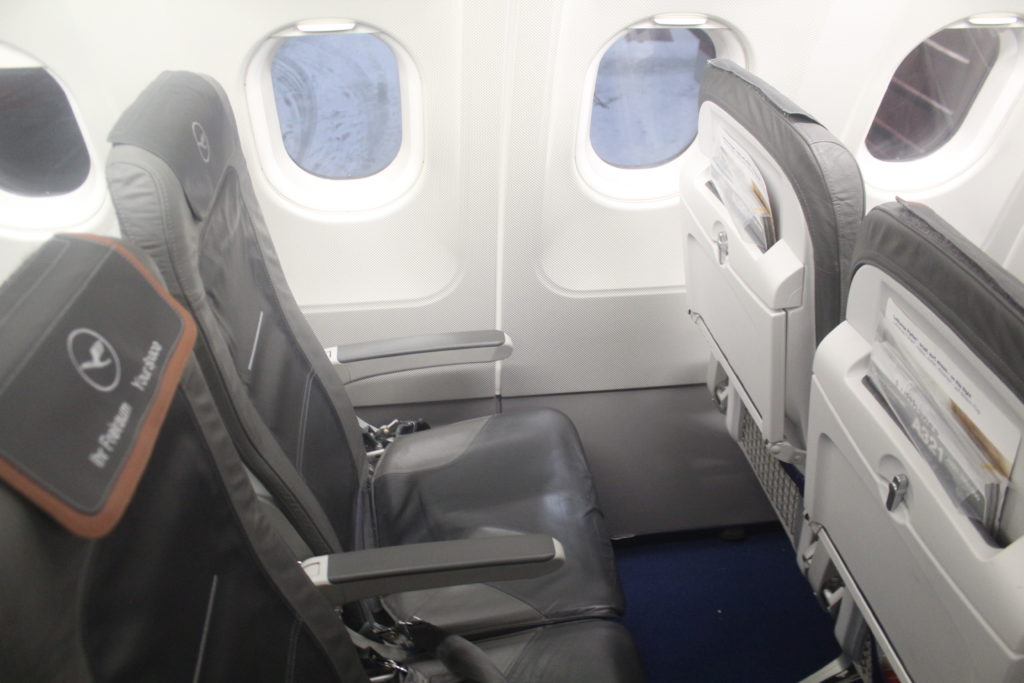 In business class the middle seats are kept free, giving a 2-2 configuration instead of a 3-3 configuration in economy class. The middle seats in business class have special headrests with the text "Ihr Freiraum, Your Space" written.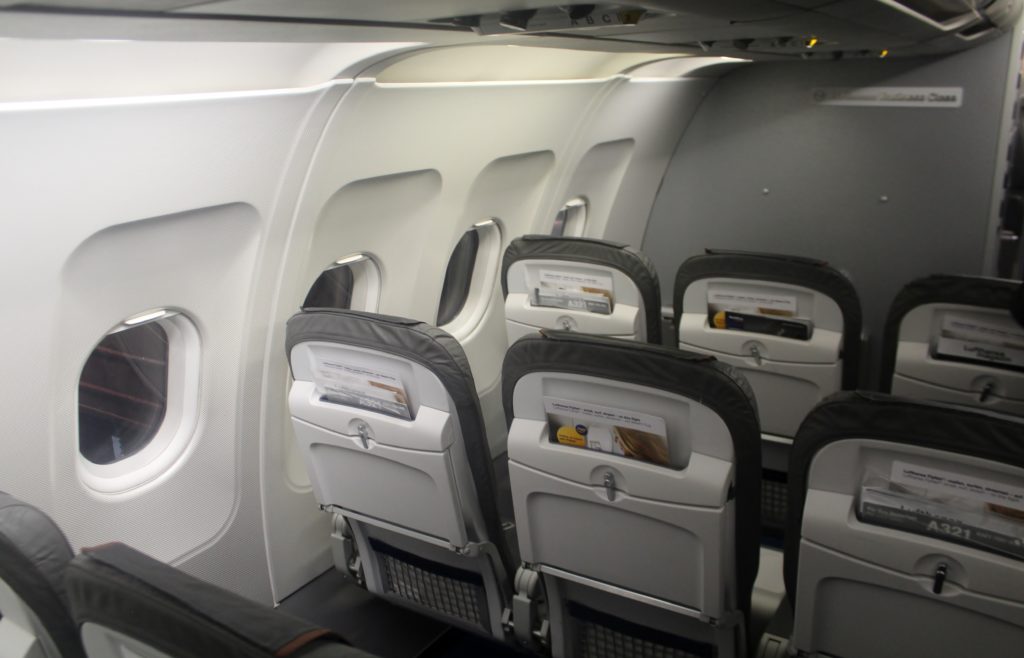 Food and drinks

Once airborne the purser passed through the cabin offering a cold dinner to business class passengers.
The cold dinner consisted of some slices of turkey, vegetables and some kind of hash and vegetarian balls. Since no menu was handed out by the crew, or was available on the tray, I am not sure exactly what it was. Warm bread rolls were also offered by the crew. There was also a dessert on the tray, a custard and cherry dessert (the same one was available in the Senator lounge in Munich) as well as a small box with chocolates.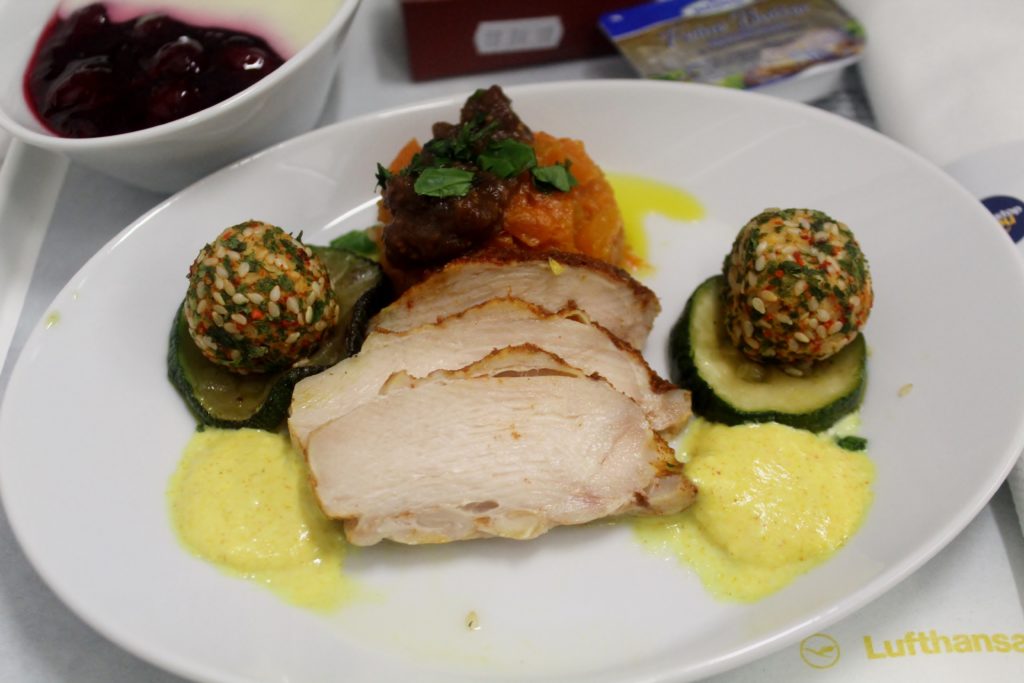 The cold dinner was OK but nothing special. However I have to give them some credit for a nice presentation this time. It looked much nicer than some other meals I have got in Lufthansa business class in Europe. But I really wish they would have offered a proper hot dinner just like Austrian Airlines and Swiss do on flights of a similar length. After all this was a flight of two hours.
After the meal trays had been handed out the purser and his female colleague passed through the cabin offering drinks from a trolley. I asked for a glass of red wine and a glass of still water. The wines served in business class on shorthaul flights are the same as in economy class. The beer selection is also the same. However spirits are only offered in business class, not in economy class.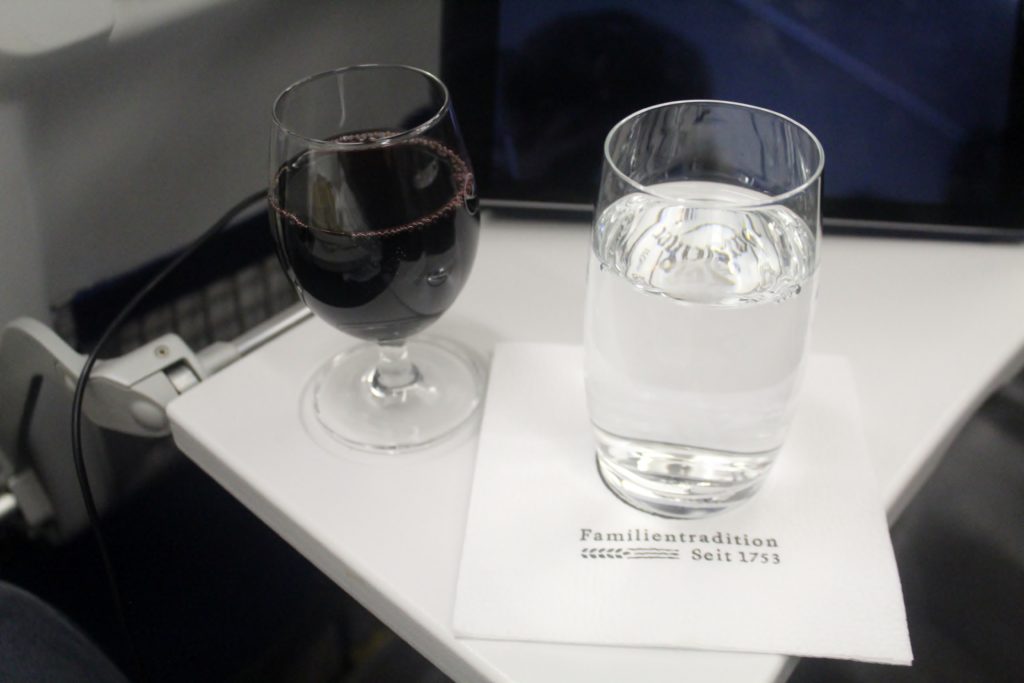 After the passengers in business class had been served the crew continued to offer drinks in economy class and therefore it took quite some time before they passed a second time to offer refills.
On their return I asked for a cup of coffee and a gin & tonic. They served the Bombay Sapphire onboard with Goldberg tonic water. No further drinks were offered during the flight, although it was easy to press the call button.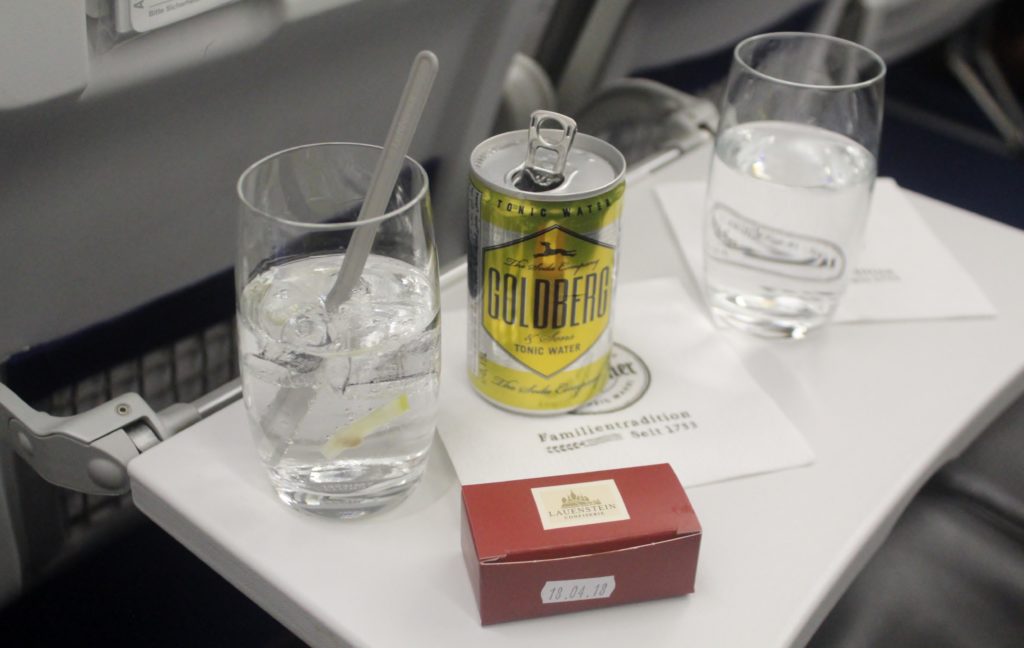 The service

Fairly standard Lufthansa service for an intra-European flight. They kept a reasonable service level but it was very much by the book, no more, no less. Although the crew were friendly and courteous and all requests were taken care of swiftly I missed some real enthusiasm and some initiatives. For example not having to press the call button every time you want a refill, especially not a Friday evening when many people may actually enjoy a second drink. With only six passengers it would not have taken much time and effort to make two or three rounds in the cabin after the meal service to check on the passengers.
Arrival experience

Punctual landing just after 11 pm at a snowy Stockholm Arlanda airport. With only hand luggage I was quickly on my way from the airport.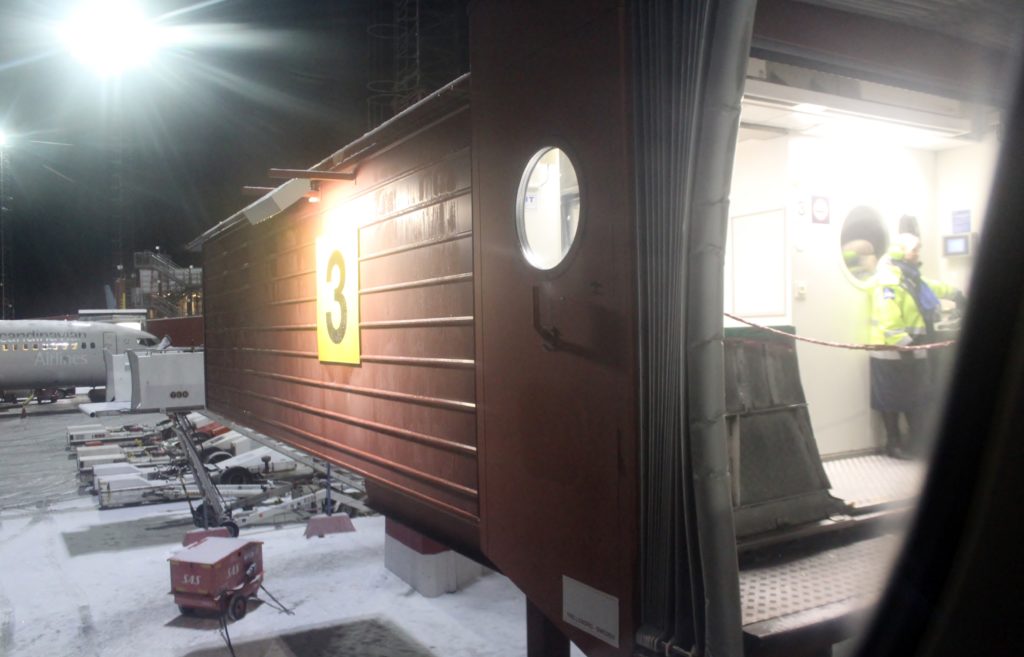 Final impression

A standard Lufthansa intra-Europe business class experience with a cold meal and drinks. It was very much by the book, friendly and courteous, but with no initiatives. Punctual departure and landing.