Aegean Airlines is the largest airline of Greece and also a member of Star Alliance. They operate flights throughout Europe and also to some destinations in North Africa and the Middle East, but not to any longhaul destinations. In 2012 they also acquired the former flag carrier of Greece, Olympic Airlines.
I had flown Aegean Airlines in economy class in the past and was very impressed by the airline, the lounge in Athens and their excellent inflight service, but I had never tried their business class product before, which I had heard many positive things about.
Departure experience

Check-in was done on the Aegean Airlines webpage and I had the boarding pass downloaded to my mobile phone. Since I was only travelling with hand luggage there was no need to pass a check-in desk at the airport, however I noticed there was a separate priority check-in area for business class passengers and gold card holders with few people in line.
I was very positively surprised to see a fast track channel just after check-in. Actually I never had time to read the sign, to realise it was in fact a fast track channel as my mobile boarding pass was immediately checked and I was waived through. There were only two people in front of me in the queue and I was through in just about three minutes. It was not until afterwards, when I saw the main security checkpoint with far longer lines, that I realised what kind of channel I had been using. It worked excellently!
There are two lounges in the transit hall, the Skyserv Lounge and the Aegean Airlines Lounge and I had time to visit both.
The Skyserv Lounge is the only third-party and pay-in lounge at the airport. A small and rather dark lounge with some sofas and armchairs and a limited selection of food and drinks. However it was also very quiet with just one other guest in the lounge.
The Aegean Airlines Lounge was much nicer in terms of interior, food and drinks. A very bright, modern and colourful interior with a separate dining area with a good selection of food and snacks and a wide selection of drinks, including some nice Greek wines and plenty of spirits.
Unfortunately the lounge was packed, really packed. Initially I had a seat in the small business centre, in front of one of the internet computers, which was not really optimal with drinks. A few minutes later boarding for the Aegean flight to Larnaca was announced and a few seats in the main lounge became available. Most passengers however seemed to be booked on the late afternoon flight to Athens.
Read the full lounge review here!
The flight
Thessaloniki-Munich
Aegean Airlines flight A3 502
Departure: 17.30
Arrival: 18.40
Business Class
Airbus A320
Seat 02F

An excellent aspect of the Aegean Airlines Lounge in Thessaloniki is that they offer boarding from the lounge. I did not realise it at first when one of the lounge agents from the reception desk passed through the lounge announcing boarding for the flight to Larnaca. But when boarding for the Athens flight was announced and a good 30 people stood up it was hard not to notice that they did not leave via the main entrance but through a rather discreet door next to the panorama windows facing the apron. And indeed there was a small desk with a boarding pass scanner there as well. How convenient!
The same thing happened 20 minutes later when boarding was announced for the flight to Munich, with boarding from the lounge.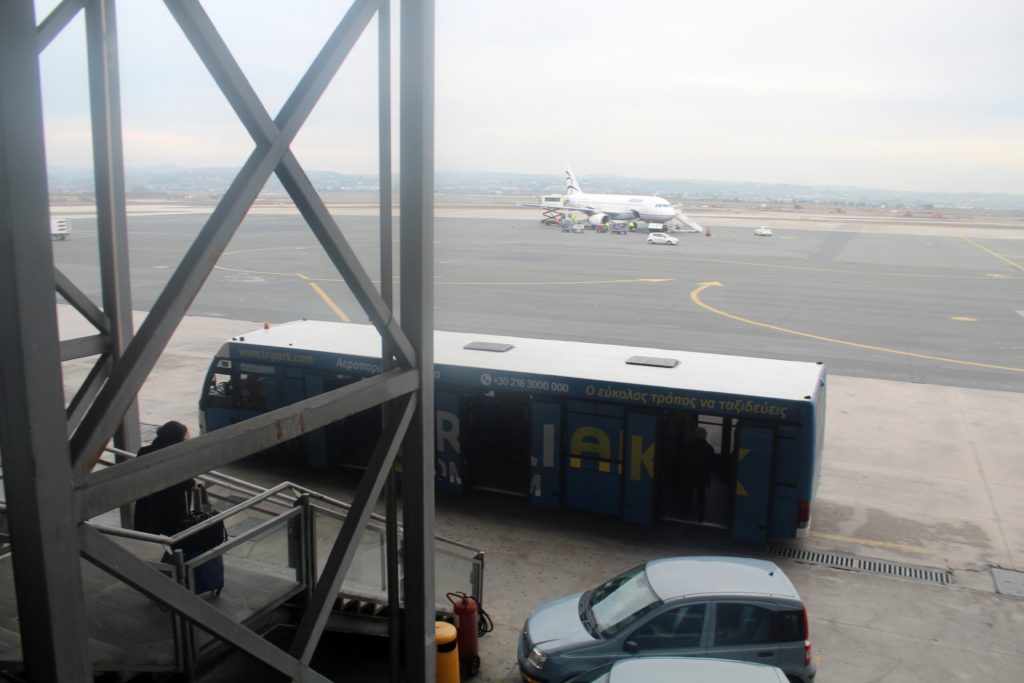 Thessaloniki is a rather strange airport though, especially being the third largest airport in Greece, the main airport for the second largest city of the country. There are no passenger bridges, instead there are just a couple of doors along the facade, leading to a couple of staircases down to the apron where you board a bus to take you to the aircraft. And it does not matter how close to the terminal building the aircraft is parked, you always take a bus.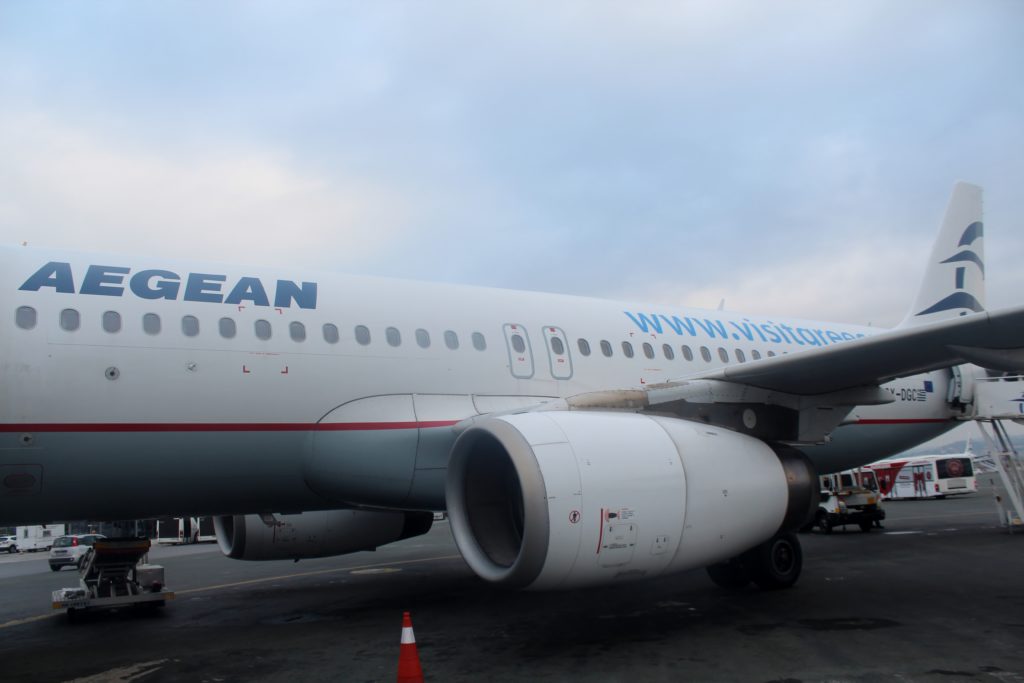 First impression

An Airbus A320 was used for the flight to Munich with two rows of business class. I had very conveniently, once again, managed to secure my own row. I had selected 02D and there was just one empty seat in business class, 02F, where I later moved to get a better view.
As passengers arrived at the aircraft by bus they arrived in waves and when the crew had a minute without any passengers standing in the aisle they passed through the business class cabin and offered pre-departure drinks. The choices included Greek sparkling wine, orange juice and water. I had a glass of bubbly to settle down. Very nice to be offered a pre-departure drink, it does not happen very often on intra-European flights.
Later on the crew also passed through the cabin offering the menu for the flight and newspapers, including Financial Times in English, as well as a hot towel.
Punctual pushback with a scheduled flight time of just under two hours to Munich.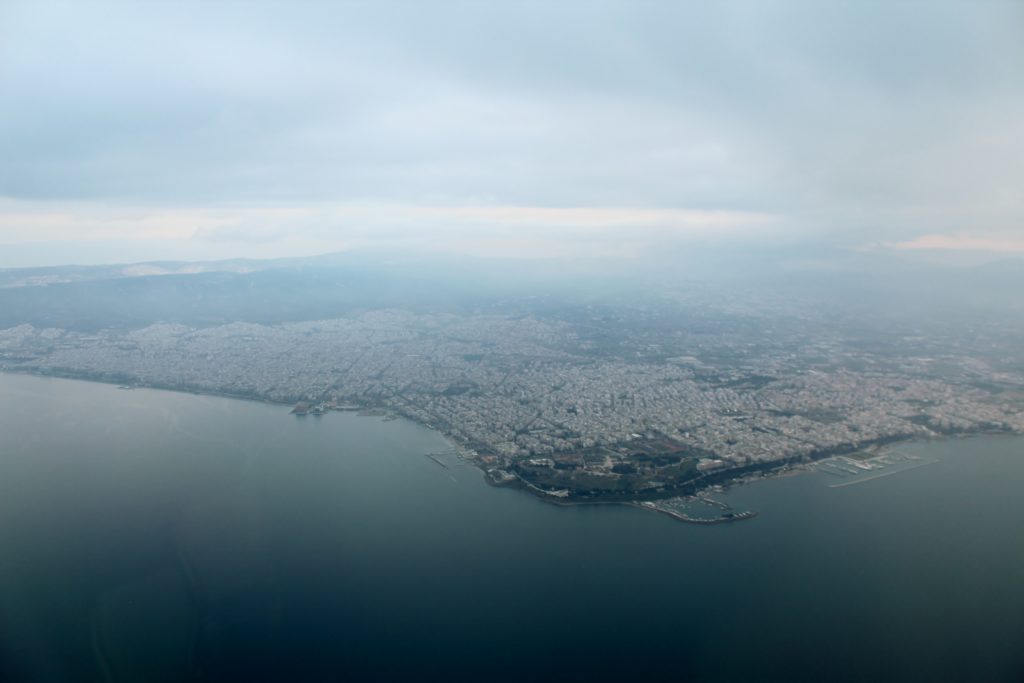 Seat and cabin

The flight to Munich was operated by an Airbus A320 and the cabin layout was very much standard for an intra-European flight with a 3-3 configuration in economy class and a 2-2 configuration in business class with a blocked middle seat.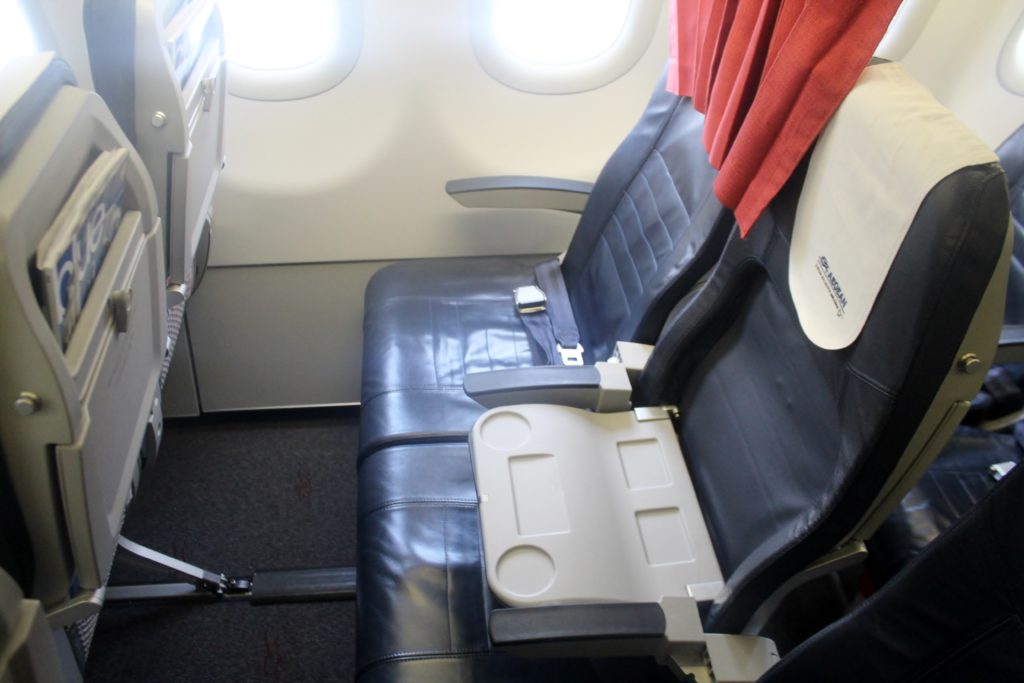 However what really surprised me, and impressed me, was the excellent legroom on row 2, definitely more than average and it was far from cramped. I suppose the first few rows on Airbus A320 have more legroom.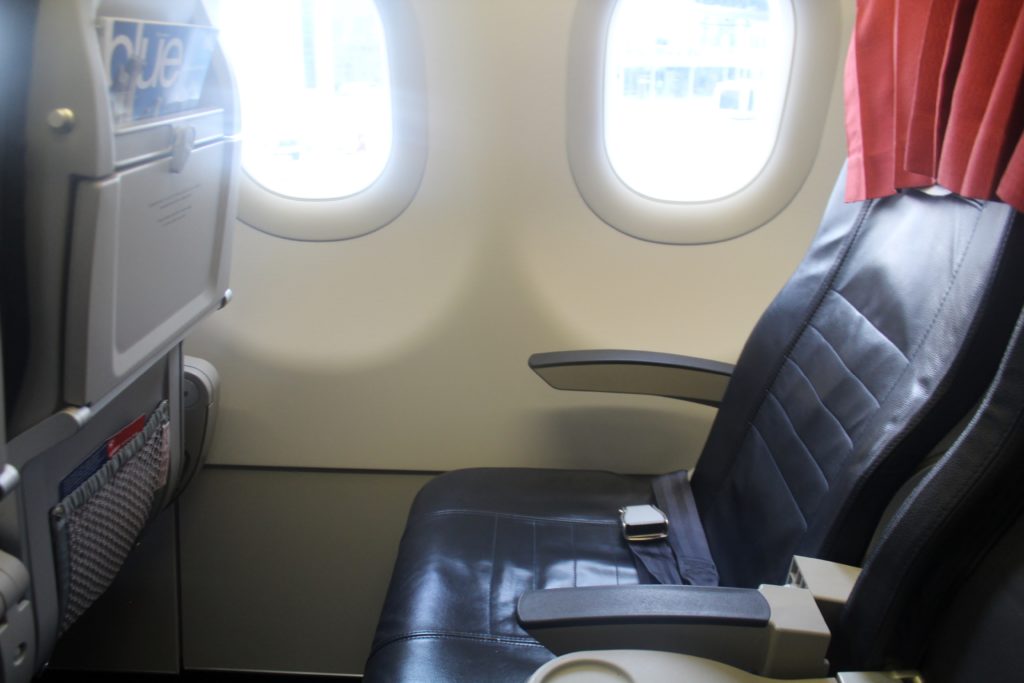 There was also a cocktail table placed between the armrests above the middle seat. However although I enjoy these cocktail tables it turned out to be loose and you had to be careful not to move it by accident, especially in case you had drinks on it.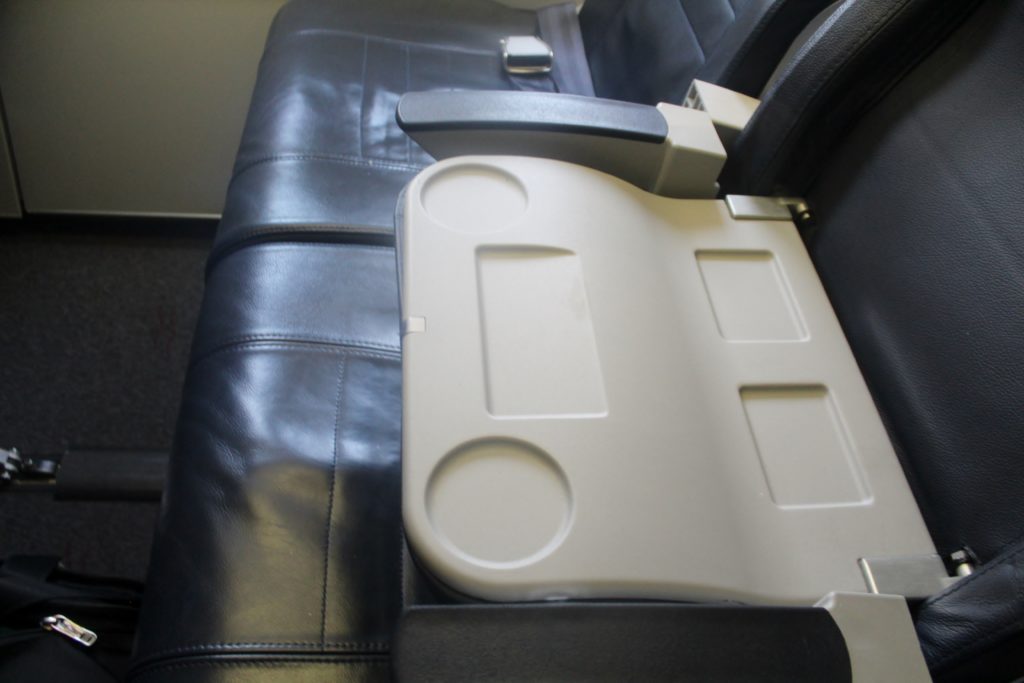 Food and drinks

The menu was handed out already on the ground and I was very impressed to be given a proper-sized menu and drink list with a very nice cover and no less than six different pages. This was more comparable to what is offered in longhaul business class on most airlines. I have rarely seen such an extensive menu and drink list for a shorthaul flight.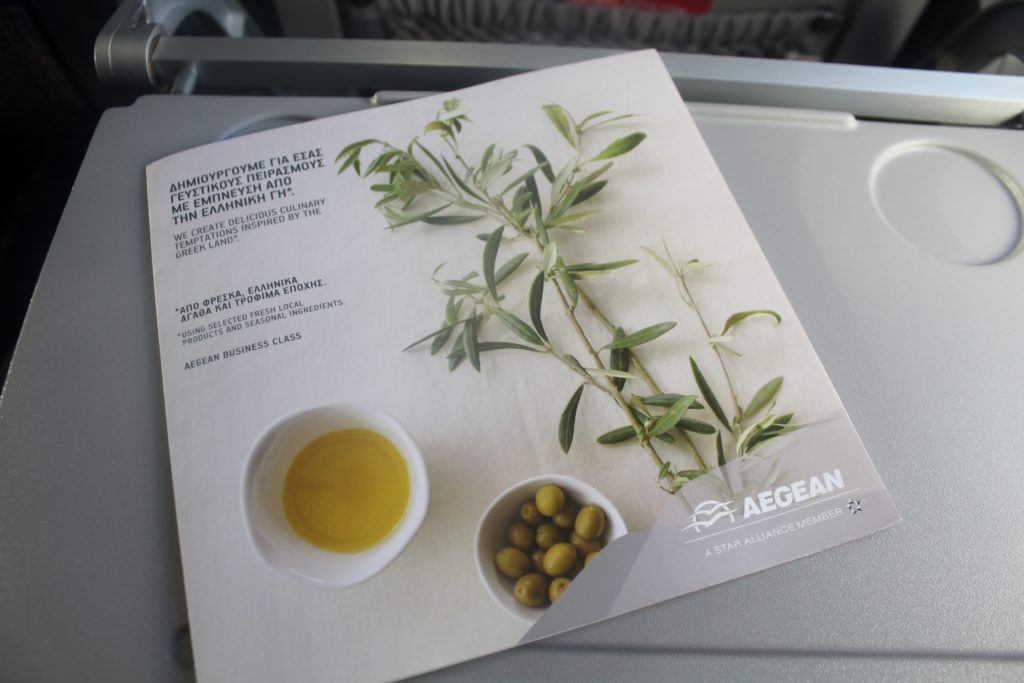 The drink list included four wines, two whites and two reds, selected by the Master of Wine at Aegean Airlines, Mr Konstantinos Lazarakis. There were also photos of the wines and a proper description of each. One of the red wines looked familiar, it was also offered in the lounge in Thessaloniki.
The drink list also included a standard selection of soft drinks, three types of beer, and different spirits and aperitifs, including a few Greek specialities.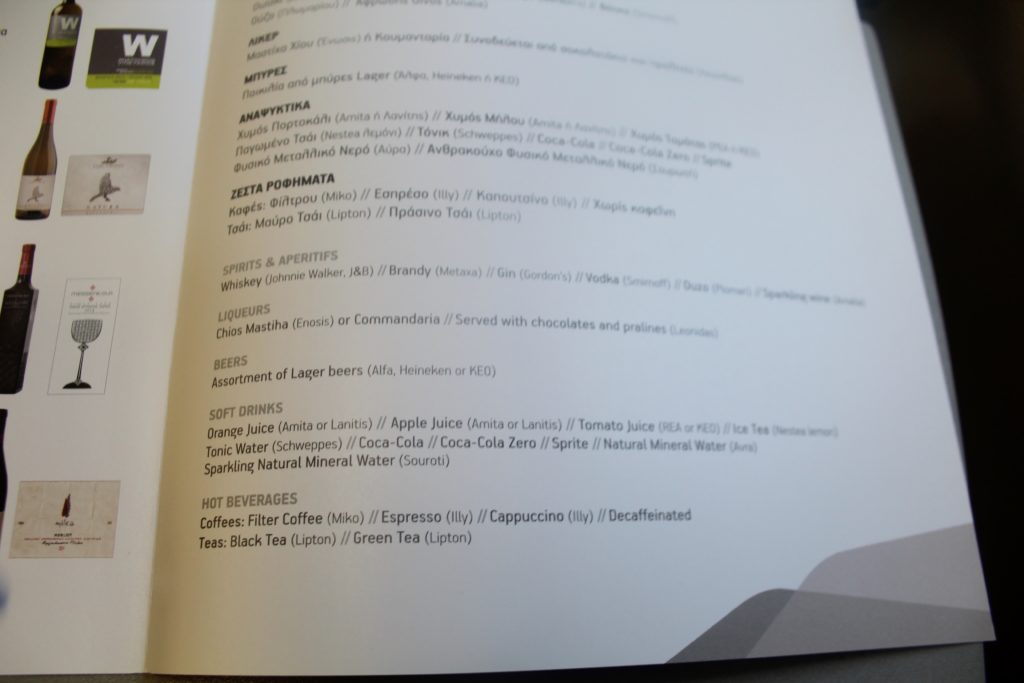 The inflight service on the flight was fairly slow. Or actually it was not slow, they just did everything very properly without any rush. It took most of the two-hour flight to get through the entire inflight service, at least if you wanted all of it.
Once airborne the purser came to me seat, introduced herself, addressed me by name and welcomed me onboard. A very nice touch. She asked me if I wanted something to drink before the meal and I asked for a glass of one of the white wines, the Zefeirakis. At the same time I was asked about my choice of main course.
A paper table cloth was then offered and placed on my tray table. It does improve the premium feeling but also means you do not have to place the bread rolls and cutlery directly on the tray table, which may be dirty from previous passengers.
The meal tray was then handed out with the starter and the main course and bread rolls were offered from a basket.
The starter was an assortment of grilled vegetables with cottage cheese. Delicious!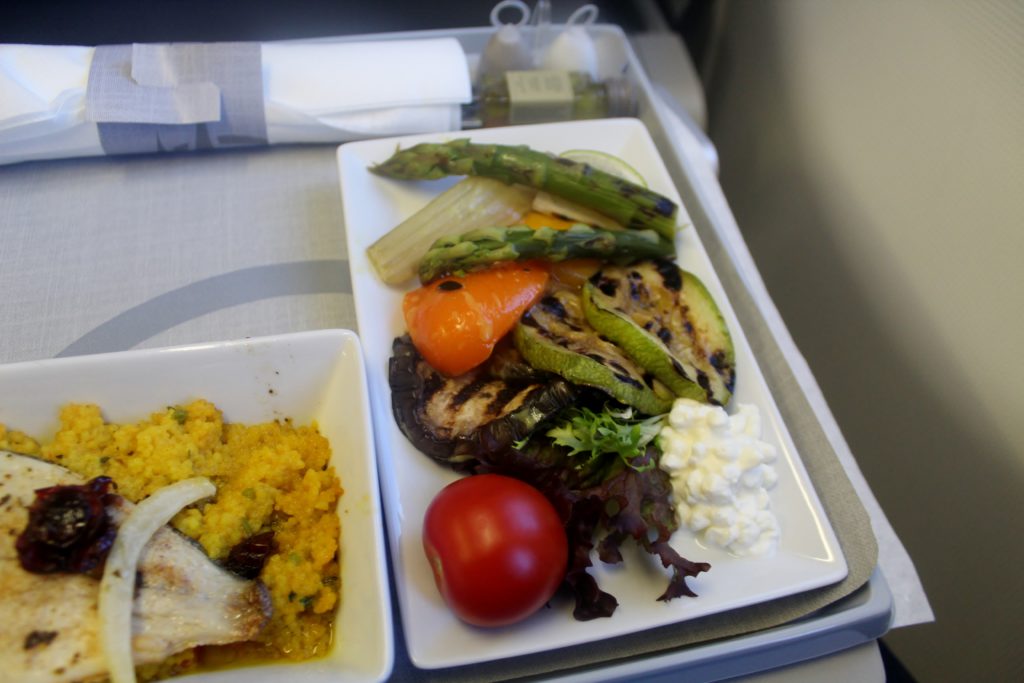 There were two choices of main course. Chicken leg scaloppini with basil pesto orzo, sage sauce and grilled pleurrotus mushrooms. Or a grilled fillet of bream on a bed of saffron cous cous with vegetables, fish sauce with lemon confit and dried cranberries.
I chose the latter, the fish. I was also offered a refill of my wine glass. The main course was also delicious.
The meal tray was cleared and I was asked if I wanted some desserts. I naturally said yes as I wanted to see what they had on offer and a few minutes later a desserts selection arrived on a separate plate, nicely presented.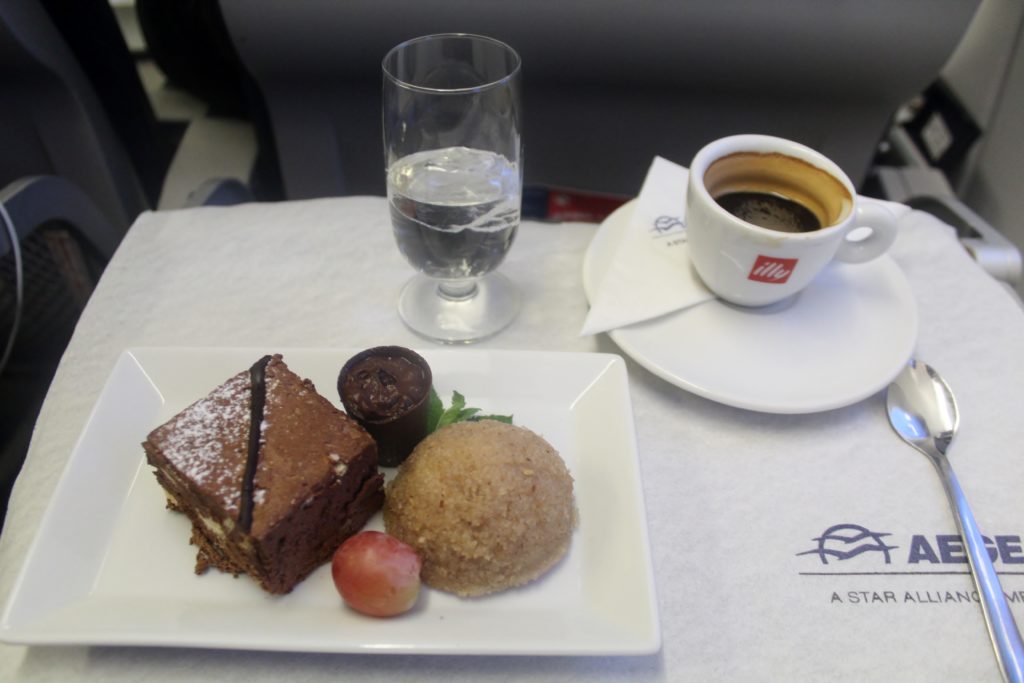 I am not an expert on Greek desserts so I cannot tell exactly what it was, and the dessert was not described in detail in the menu, but just like with most Greek desserts they were sweet, heavy and delicious. Most other passengers in the cabin declined the dessert.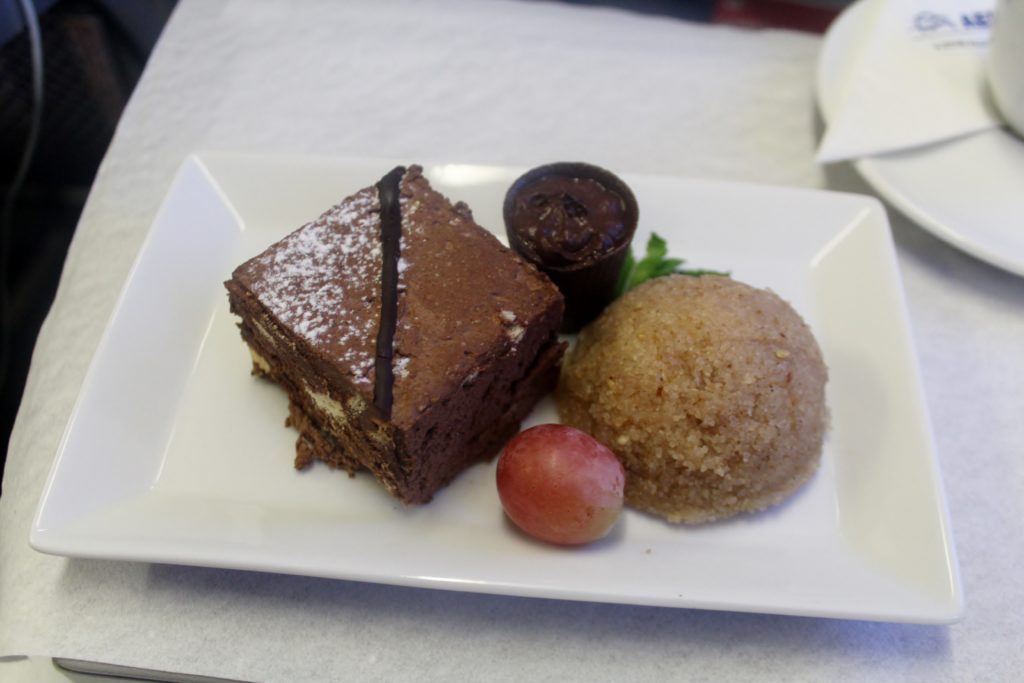 The flight attendant also asked me if I wanted coffee or tea and after I had answered coffee she asked me if I wanted an espresso or a filter coffee. I love strong coffee and just by the mere surprise of being offered an espresso on a shorthaul flight I naturally went for that one.
Apparently Aegean Airlines have a cooperation with Illy and indeed I was served an Illy espresso, in a proper espresso cup. Simply terrific and really impressive for a shorthaul flight.
A couple of minutes later the purser passed through the cabin with Greek liqueurs on the trolley, in large bottles, including Metaxa of course. A strong spirit which is a mix of wine and brandy. They also had a much sweeter Greek fruit liqueur which I tried. I even asked for a refill later.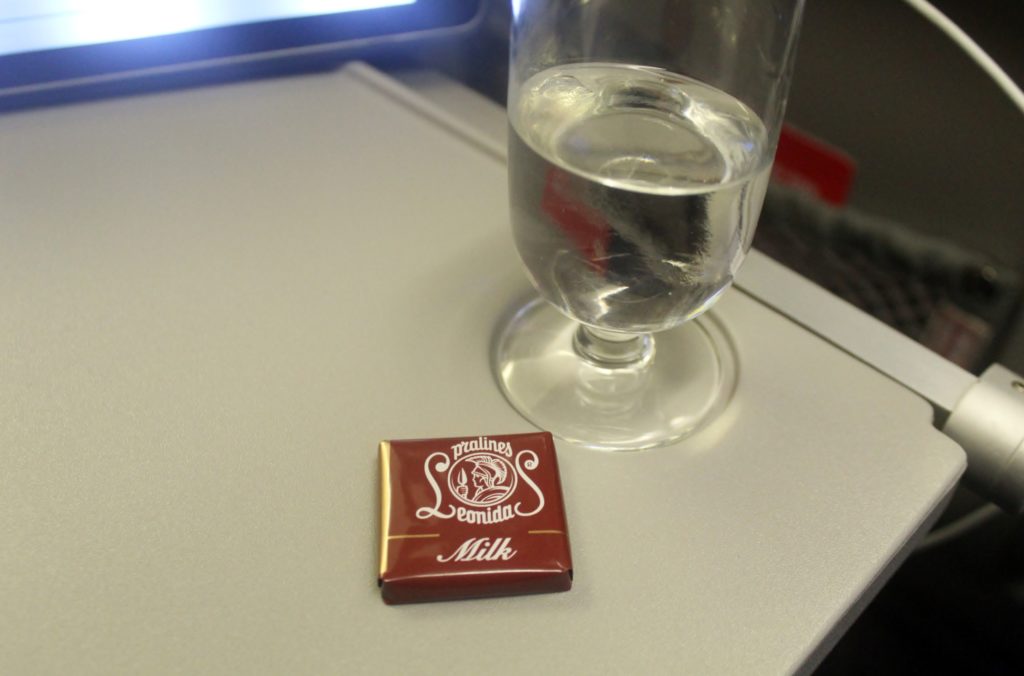 The service

The service was absolutely brilliant and and I will easily give it top marks. They offered everything that should be part of a proper business class experience, including a pre-departure drink, a personal greeting and introduction by the purser, and a full meal service with a separate cocktail service after takeoff and a separate coffee and dessert service after the main course, and even a very last liqueur service.
The only drawback was that the inflight service took most of the two-hour flight. The first cocktail was served as we had reached cruising altitude and I was offered a refill of my fruit liqueur minutes before we commenced our descent to Munich. The flight took place a Friday evening so it did not matter in this case, but passengers who want to get some work done during the flight may appreciate a quicker meal service.
Arrival experience

Landing on time in Munich at 6.40 pm, one hour time difference from Greece. Interestingly we were assigned an apron position and taken to the terminal by bus. I thought with the opening of the new satellite terminal at Munich terminal 2 there would be enough parking positions at the terminal for larger aircrafts.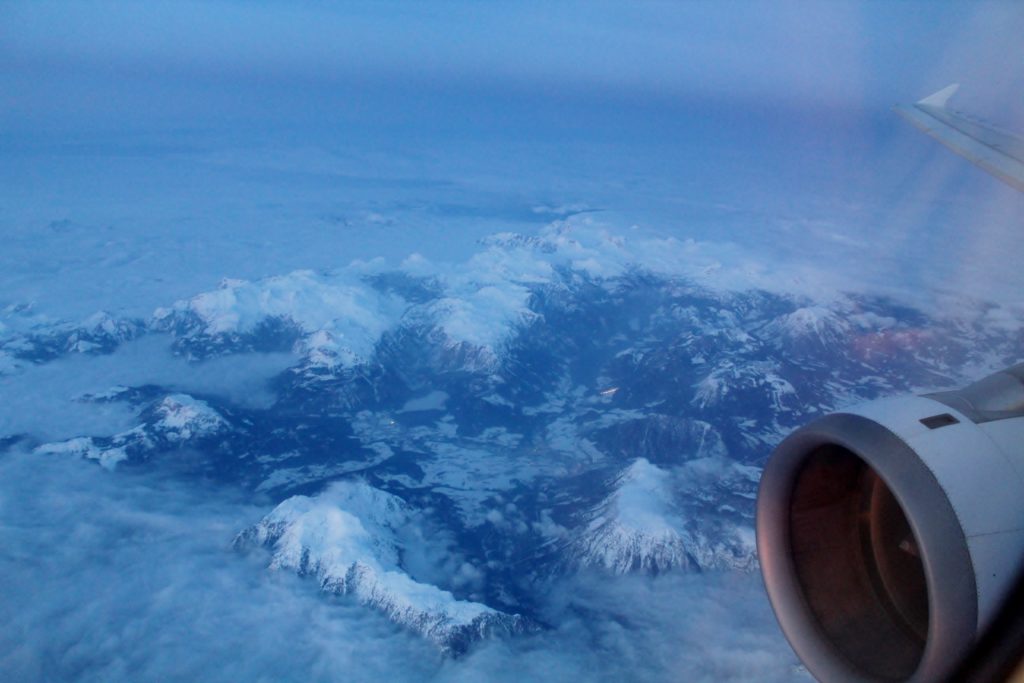 Another interesting thing, announced by the cabin crew just before landing, was that there would be an ID check in Munich upon arrival, even though both Greece and Germany are part of the Schengen area. And indeed after getting off the bus there were three officers checking ID documents or passports.
Final impression

A great business class experience, easily one of the best shorthaul business class products in Europe right now. Excellent food and drinks, proper dessert and liqueur service, a printed menu and an excellent service level. I will happily do it again.