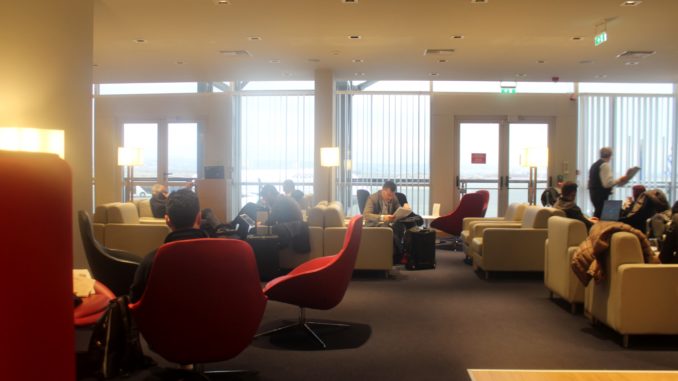 Where is it?

The Aegean Airlines Lounge is located in the Schengen transit hall close to gate A3 which means a right turn after security control. There is a large entrance which is hard to miss.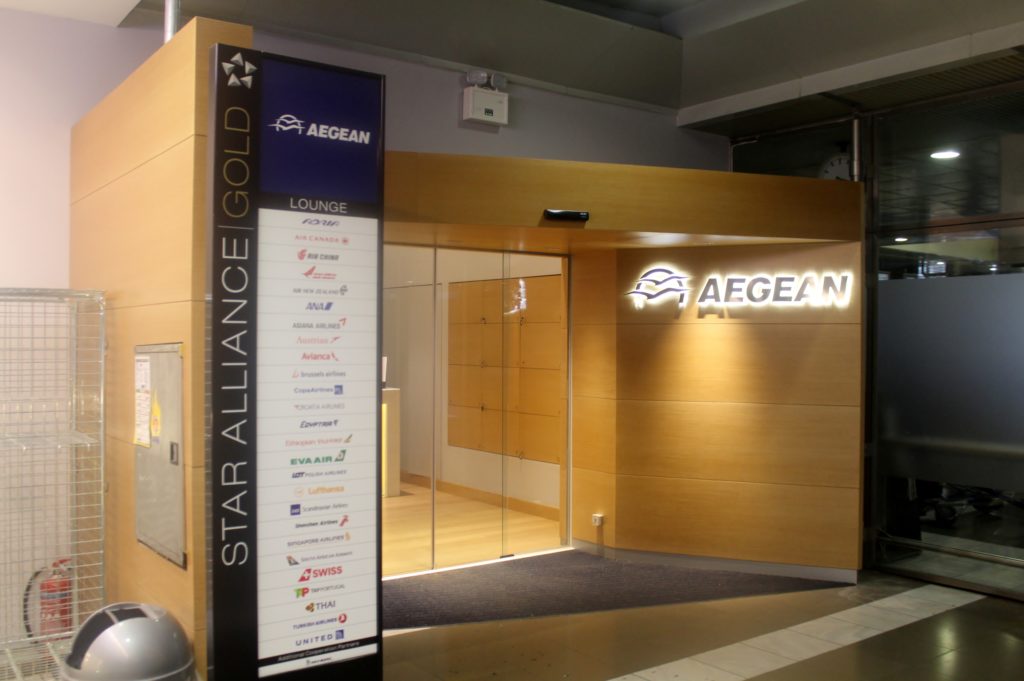 How do I get in?

A business class ticket or a Star Alliance gold card flying Aegean Airlines or another airline in Star Alliance will get you in.
A few years ago Aegean Airlines acquired Olympic Air although the airline still continues to operate some flights under its own name. Passengers flying Olympic Air naturally also get in but passengers entering with a Star Alliance Gold card may have problems since Olympic Air is not a member of Star Alliance.
What's it like?

This is a very modern and stylish lounge and a far cry from the old and dark transit hall as well as the rest of this fairly old airport. Definitely the nicest place at Thessaloniki airport.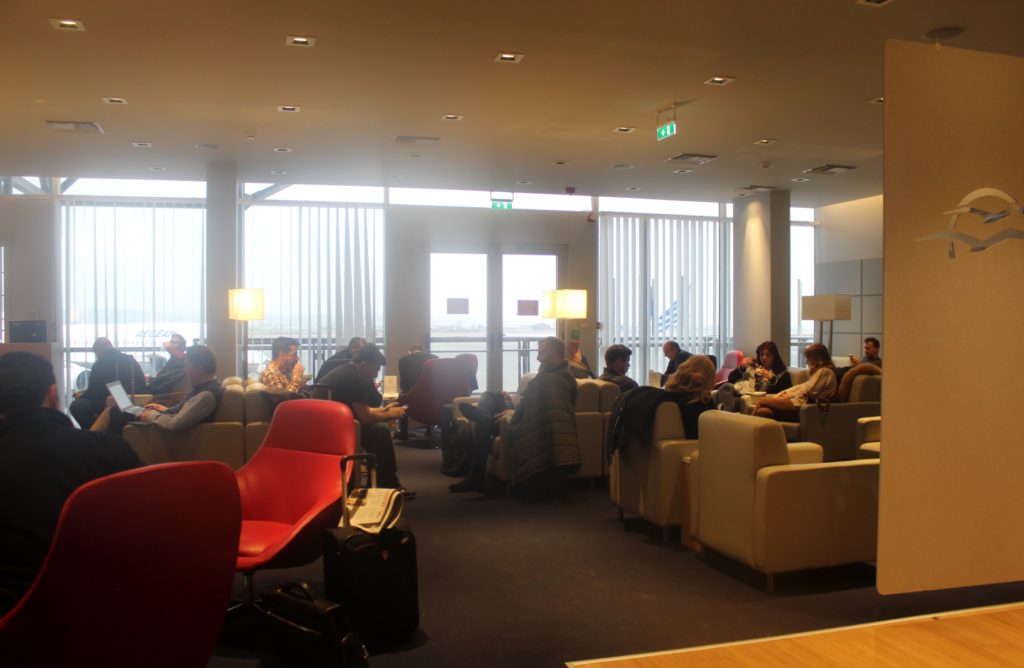 The lounge is divided into several different areas with a main lounge area with comfortable seating, a restaurant section with a dining area, a small business centre and even a small quiet area. Although the lounge is not that large they have used the space wisely.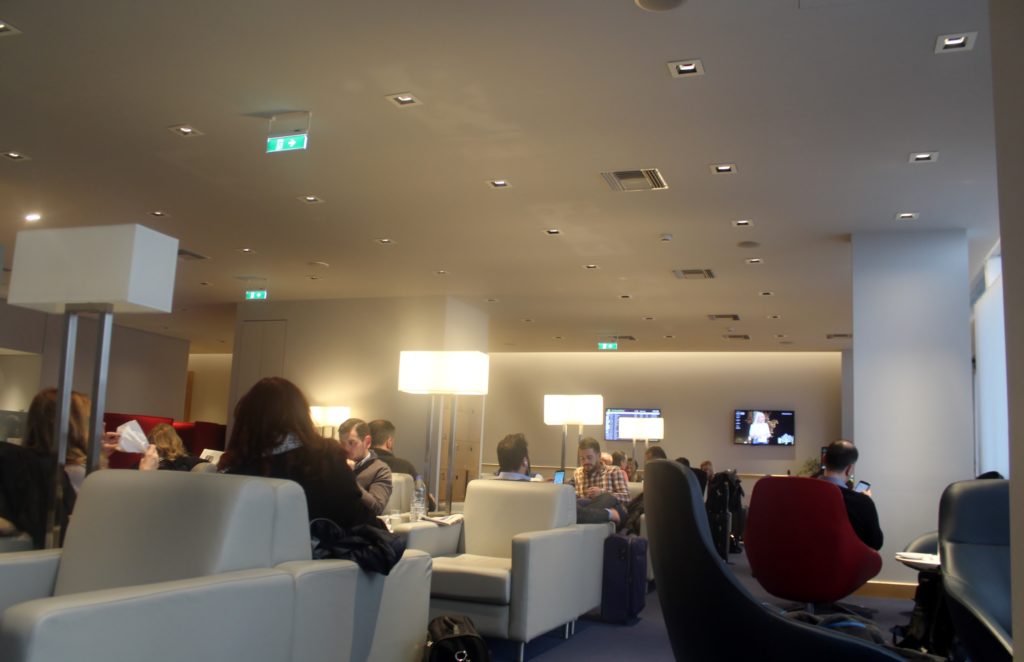 In the main lounge there are comfortable armchairs in grey and red with small side tables between the seats. There are also plenty of power sockets.
There is also a small quiet area which large red sofas which are fairly secluded from the rest of the lounge.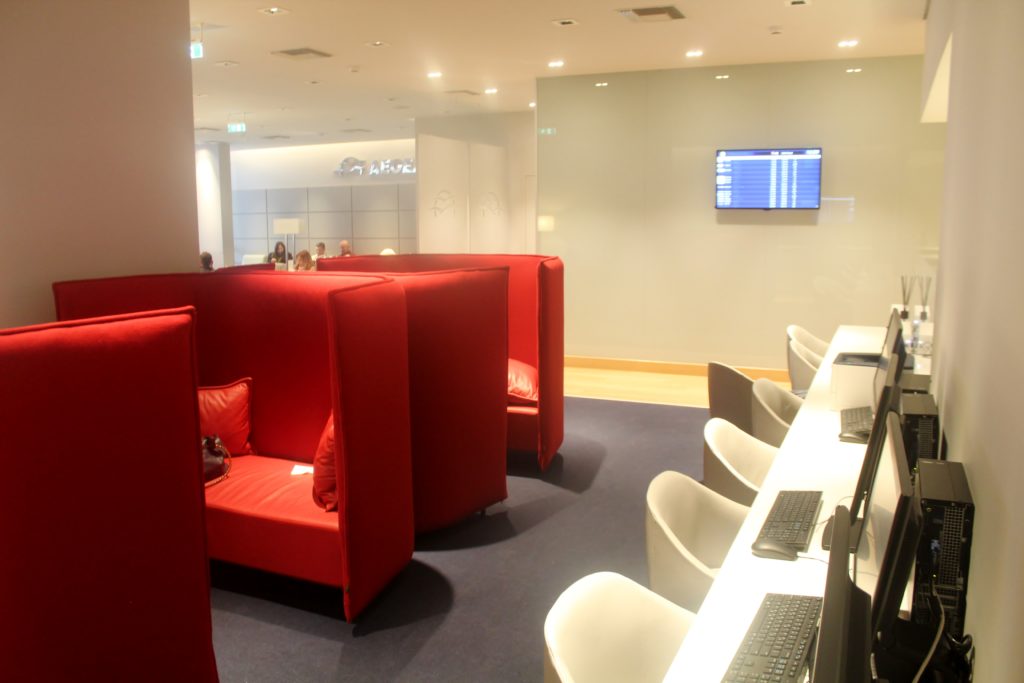 Food and drinks

The restaurant area is fairly spacious and there are several tables for passengers who want to sit down and eat properly.
The self-service buffet area is located in one end of the dining area and is also quite spacious.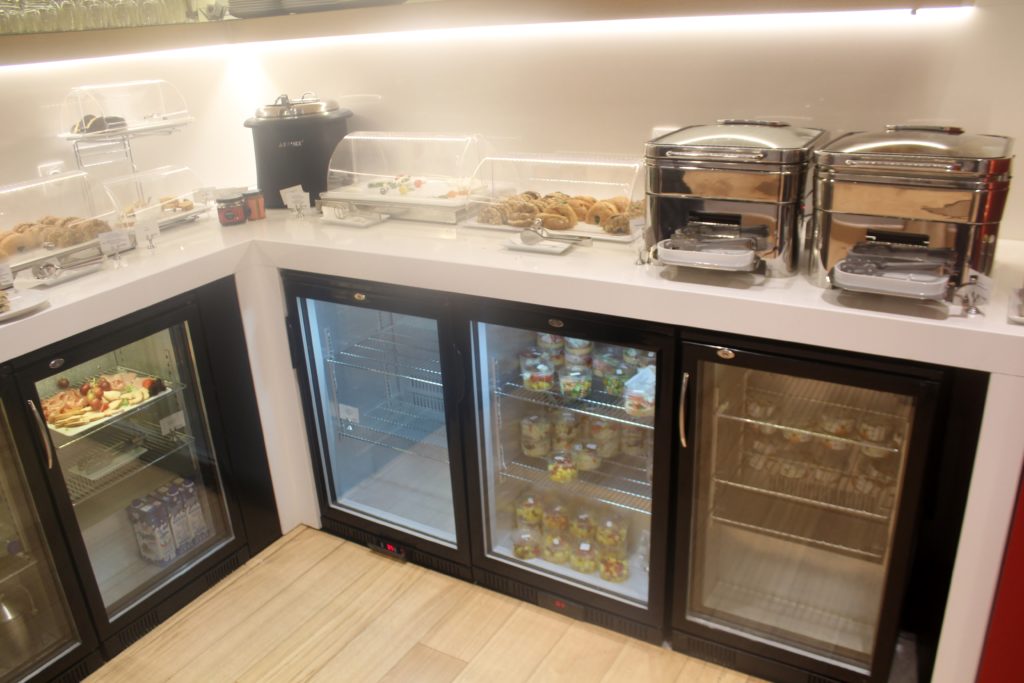 There is a small selection of hot food, a good selection of sandwiches and bread rolls, some salads, fresh fruits, cheeses and pastries.
In this section there are also soft drinks, juices and water for self-service and a fairly good coffee machine.
The self-service bar is located on the opposite side of the room with wines and spirits. There are two red and two white wines, all Greek of course, properly described on a sign. The wines seem to be the same as offered in Aegean Airlines Business Class.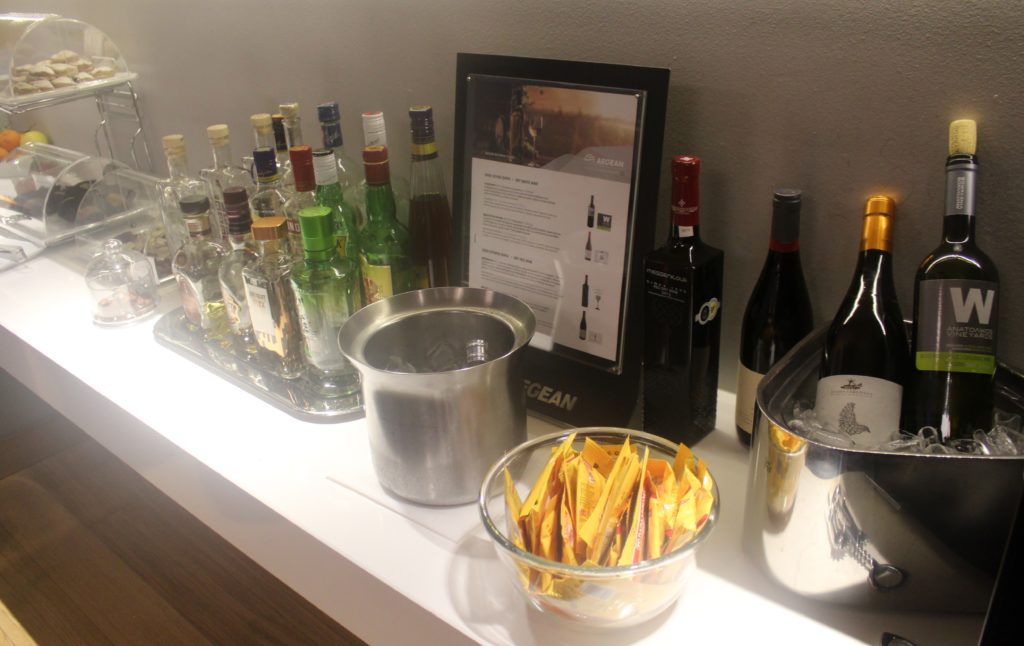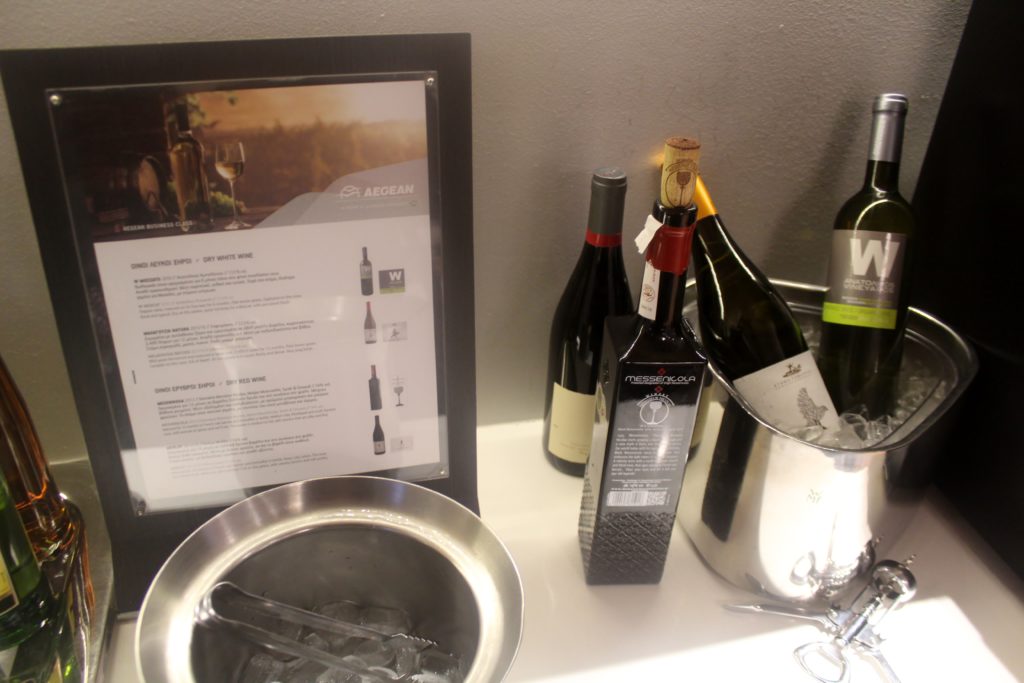 The selection of spirits is also quite good and includes the standard selection of gin, vodka and whisky but also a few Greek specialities such as Metaxa.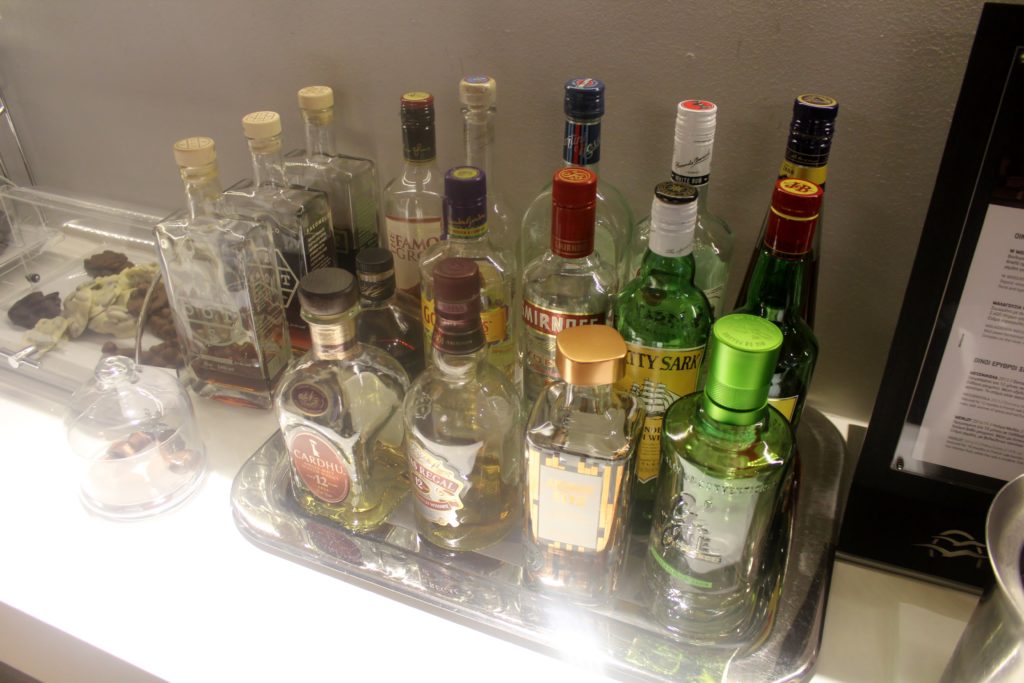 Facilities

There are several TVs in the lounge and a rack with newspapers and magazines in the reception area.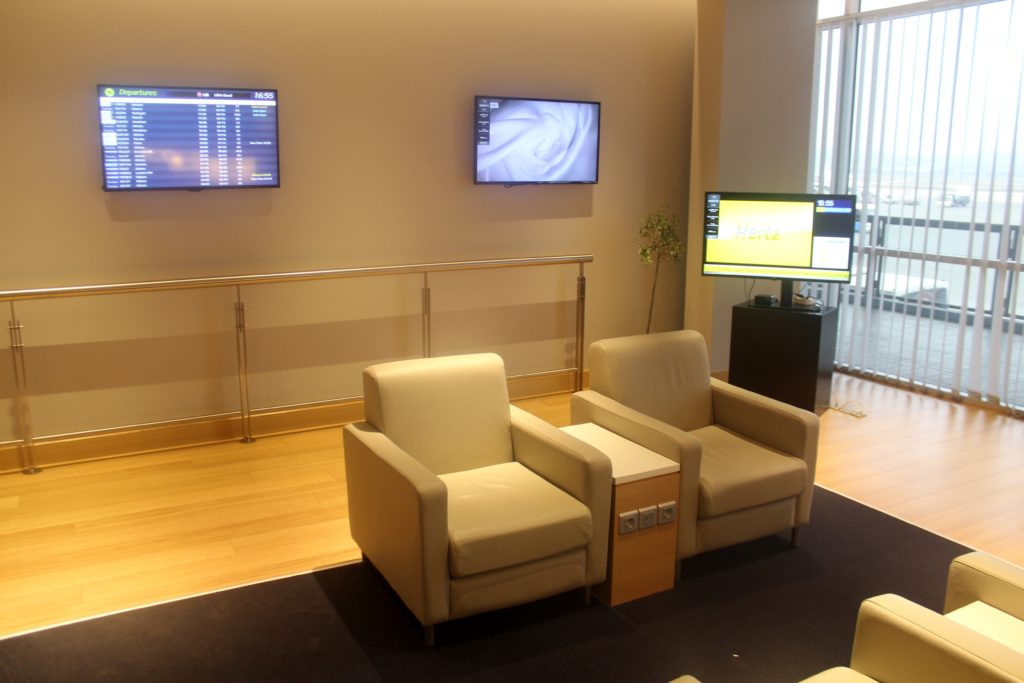 Free wireless internet is available and there is a small business centre with internet computers.
Restrooms are located inside the lounge.
Anything else not to miss?
An excellent part of the lounge is that boarding is done directly from the lounge for Aegean Airlines and Olympic Air flights. When it is time for boarding one of the lounge attendants will announce the boarding in the lounge. He or she will then open a door in one of the corners of the lounge leading to the terrace outside. Next to the door there is a boarding pass scanner.
There are no passenger bridges at Thessaloniki airport. Instead passengers use one of the stairs from the 'terrace' outside the transit hall leading down to the apron where the buses can park, which will then take the passengers to the aircraft. Although at most airports this would probably be considered an inconvenience at Thessaloniki airport this is actually an advantage as it makes it possible to board directly from the lounge and use a separate bus for premium passengers to the aircraft. Much better than having to queue with the other passengers in the main transit hall and board a very crowded bus.
Final impression

A surprisingly nice lounge with a very stylish interior. Plenty of facilities including a dining area with a good selection of food and drinks. Boarding directly from the lounge is also a great feature.