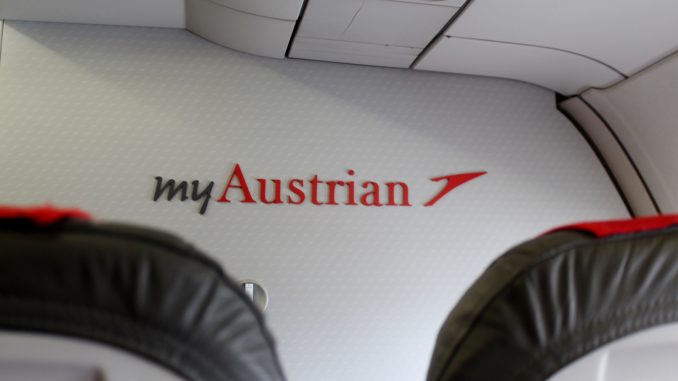 Departure experience

Transferring at Vienna Schwechat airport is very easy and straight-forward, at least when connecting between two Austrian Airlines flights (and generally between two Star Alliance flights) within terminal 3. The Skylink terminal (terminal 3) opened in 2012 and was constructed to enable very quick connections. For some Austrian Airlines connections the transfer time is as low as 25 minutes.
The incoming flight arrived ten minutes early and as I was already checked in for the connecting flight and had 75 minutes between flights there was plenty of time for a lounge visit. And of course when connecting between two Schengen flights there is no need to pass through transfer security or passport control.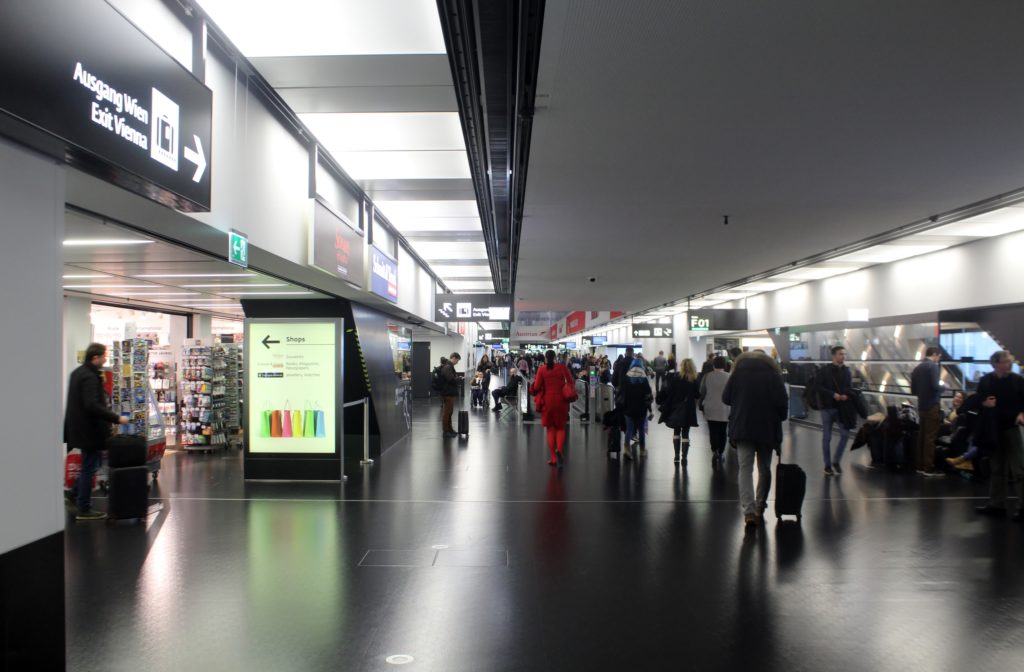 There are five Austrian Airlines lounges in terminal 3, two business lounges and two Senator lounges (for gold card holders), one of each in the Schengen area and one of each in the non-Schengen area. On top of that there is a HON Circle lounge in the Schengen area for Miles & More HON Circle Members and passengers connecting to a Lufthansa or Swiss first class flight in Frankfurt or Zürich.
The business and Senator lounges in the Schengen area had just reopened a few days earlier with a brand new design and some new furniture and design details. In the Senator lounge new seating had been introduced with a new colour scheme, some Austrian art on the walls and even real trees in the lounge. Also the buffet area had been remade, a very nice improvement with a small wine bar and plenty of plants.
Just like onboard the Austrian Airlines flights the catering in their Vienna lounges is provided by the excellent catering firm Do&Co with decent hot food and nice desserts. The wines were mostly Austrian and also seemed to be the same as those served onboard in business class.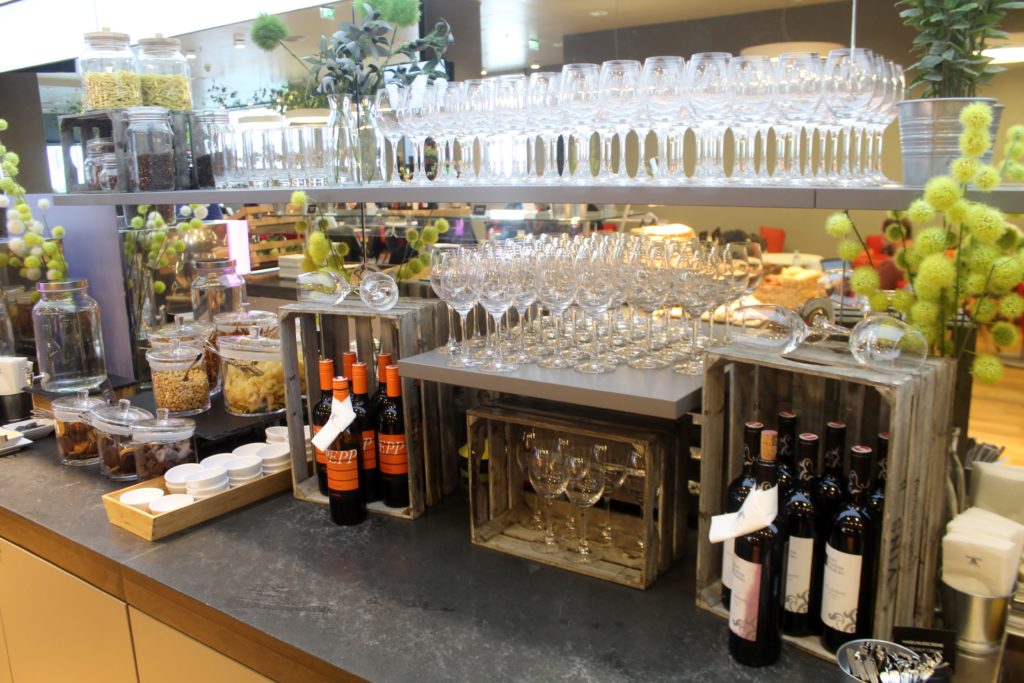 The flight
Vienna-Thessaloniki
Austrian Airlines flight OS 809
Departure: 12.35
Arrival: 15.20
Business Class
Airbus A319
Seat 02F

Gate F17 was used for the flight to Thessaloniki and there were people everywhere in the all too small gate area. The flight seemed to be almost completely full.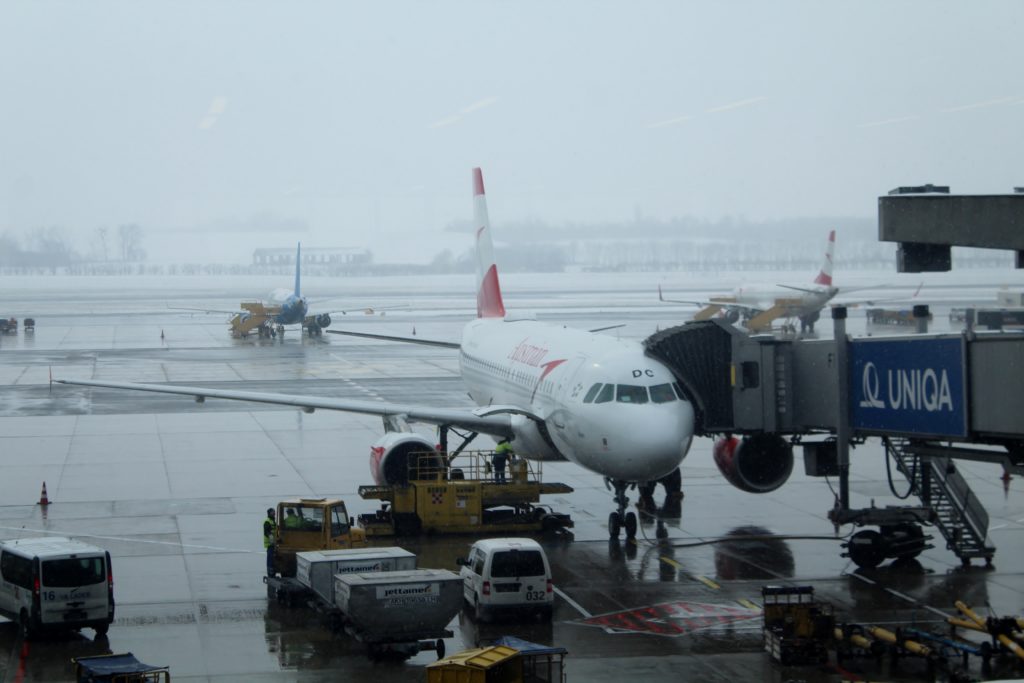 Proper priority boarding was offered for families with small children followed by business class passengers and gold card holders. Although it was properly enforced by the gate agent it was a bit hard to make it to the podium with so many people in the gate area.
First impression

An Airbus A319 was used for the flight to Greece with two rows assigned for business class. In business class the middle seats are blocked and will always remain empty. On some airlines a small cocktail table is placed between the two armrests of the middle seats but this was not the case on this flight. However there were large red pillows and blankets in red and white waiting for all passengers in business class.
It took a fair bit of time to get everyone onboard, economy class seemed to be almost completely full and there was plenty of hand luggage. Unfortunately no pre-departure drinks were offered and no newspapers or magazines.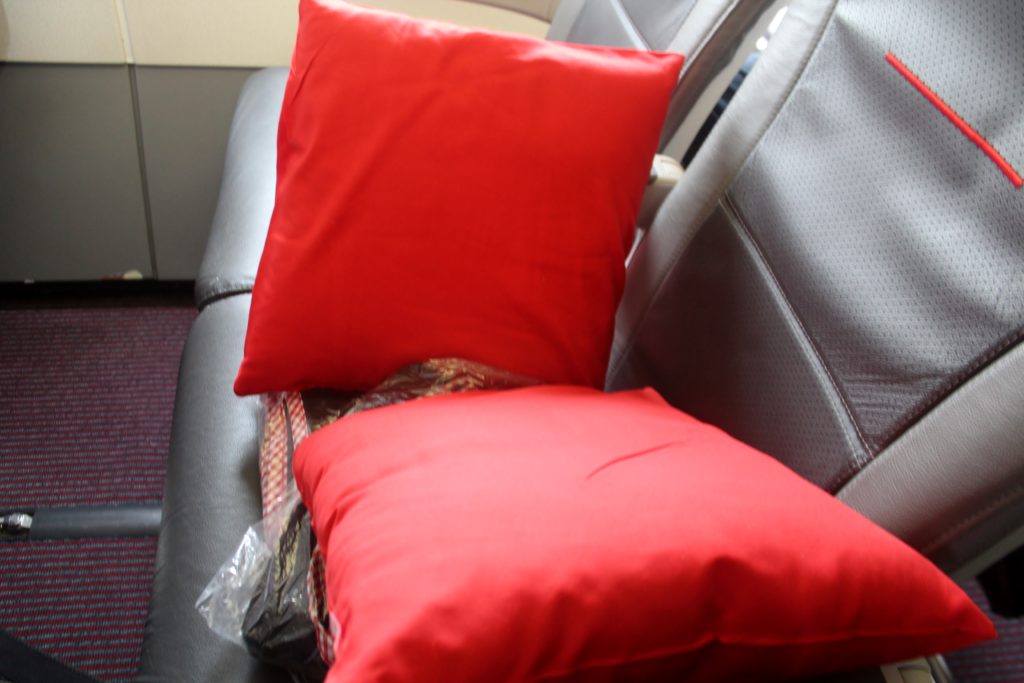 Pushback according to timetable and due to the wintery weather with plenty of snow we had to stop on the way to the runway for the compulsory de-icing to remove snow and ice from the wings. The flight time to Thessaloniki was expected to be 90 minutes.
Seat and cabin

The Airbus A319 used was equipped with the standard Recaro seats. The configuration onboard was 3-3 but in business class the middle seats are blocked, giving a 2-2 configuration.
There were two rows of business class on the flight with four passengers. I am not sure if the ground staff had done an excellent job, or if we had all seated ourselves wisely in the cabin, but each one of us got our own row.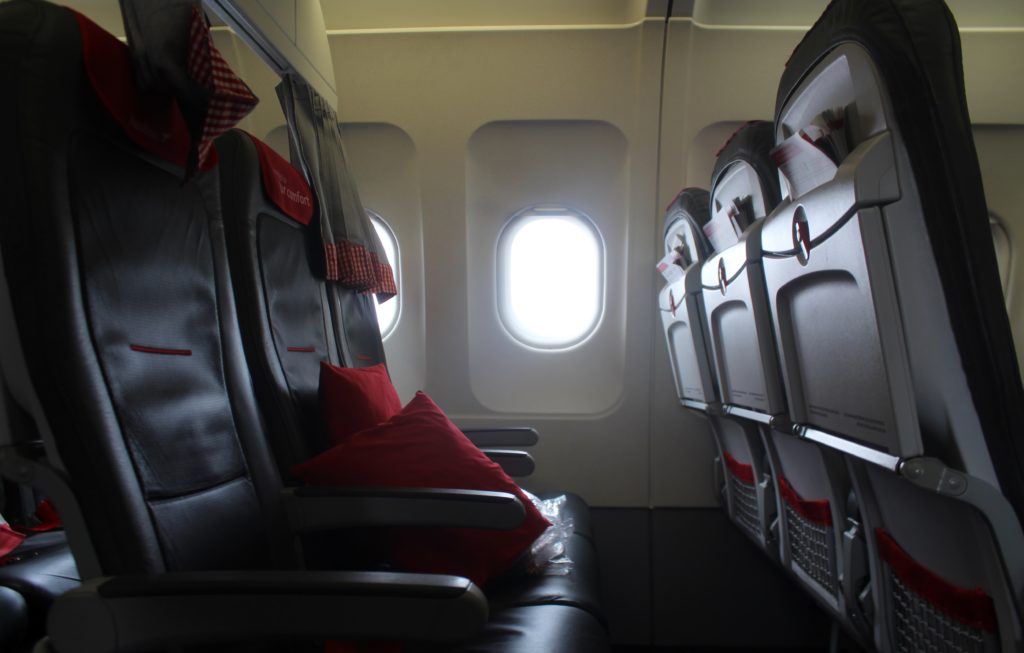 Food and drinks

The takeoff and initial climb were somewhat bumpy due to the snowy weather but as we had reached a safe cruising altitude the inflight service started and the curtains between business class and economy class were closed.
As I made a quick visit to the lavatory before the meal service I could see the meals being prepared and also noticed they had placed the passenger manifest for business class on top of the trolley, and indeed when meal trays were handed out individually we were all addressed by name. A very nice touch.
Austrian Airlines is well-renowned for its excellent inflight catering from Do&Co, in particular in their longhaul business class but also on shorthaul flights in business class.
This time the lunch consisted of an excellent cheese schnitzel served with vegetables and condiments. Bread rolls were offered from a basket and there was butter on the tray.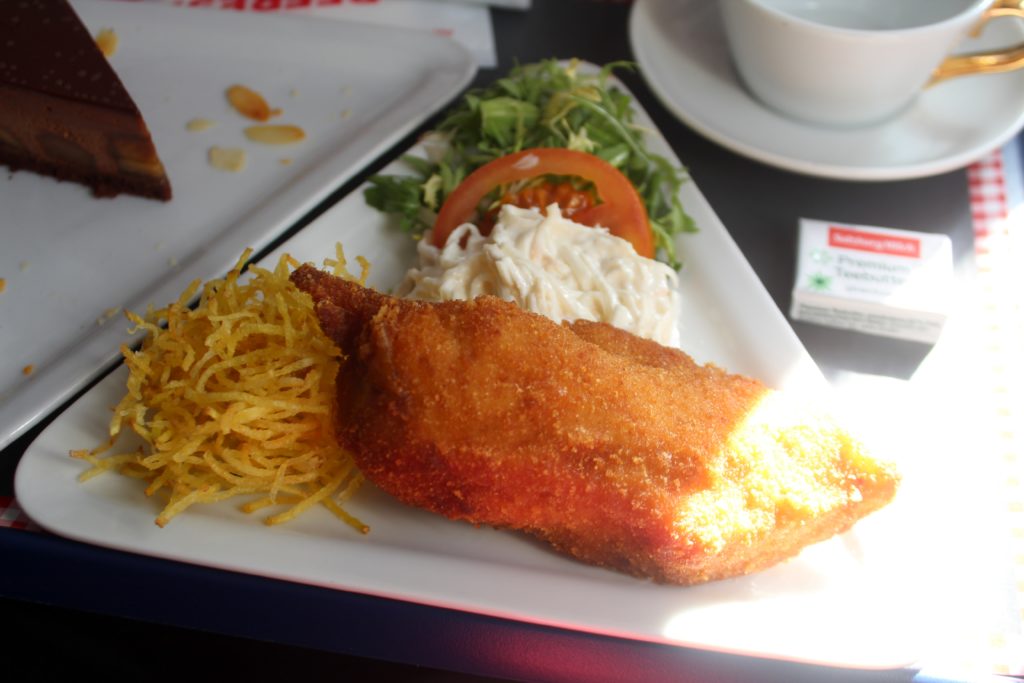 I was also asked what I wanted to drink and given that schnitzel was served for main course I asked for a glass of white wine. The flight attendant went to the galley and returned with two white wines and showed me the bottles, a Chardonnay and a Grüner Veltliner, both Austrian and served from large bottles. As I had tried the Chardonnay on the previous flight I went for the Grüner Veltliner this time. Very tasty and served with a glass of still water.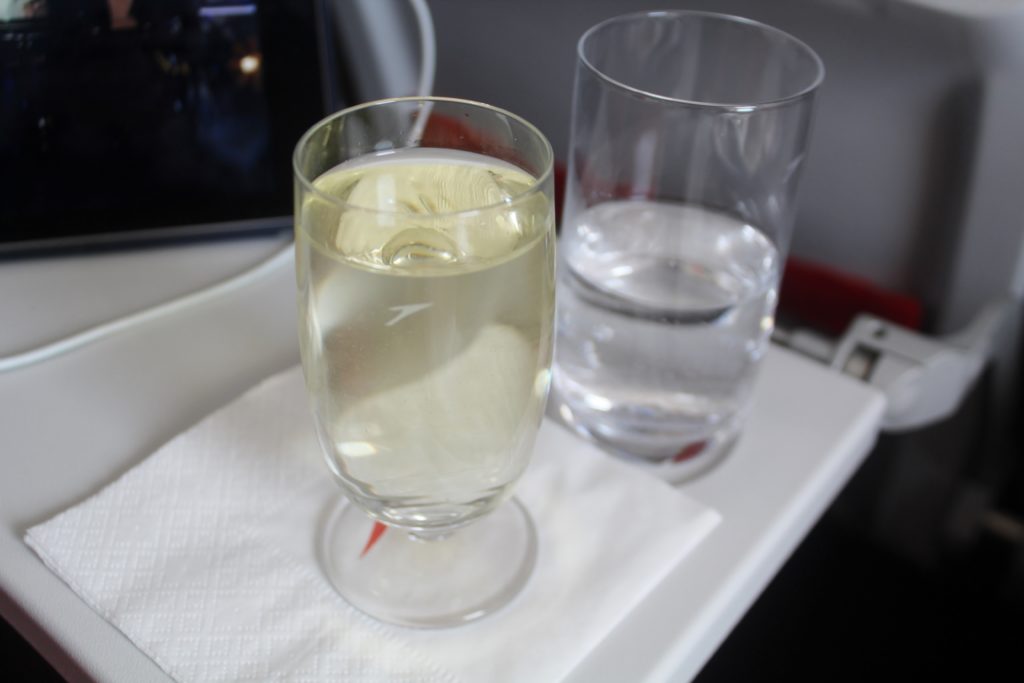 The dessert was an excellent chocolate and caramel dessert. The desserts on Austrian Airlines are pretty much always exquisite and nearly always get top marks, and certainly also this time. I was offered coffee and tea with the dessert and asked for a cup of black coffee.
The tray was cleared and I was offered refill of drinks. I declined another glas of wine but asked for a gin & tonic instead. The gin brand available onboard was Gordons and interestingly the tonic water was served in a large glass bottle rather than in a plastic bottle or a can. I was also given a nice Milka chocolate.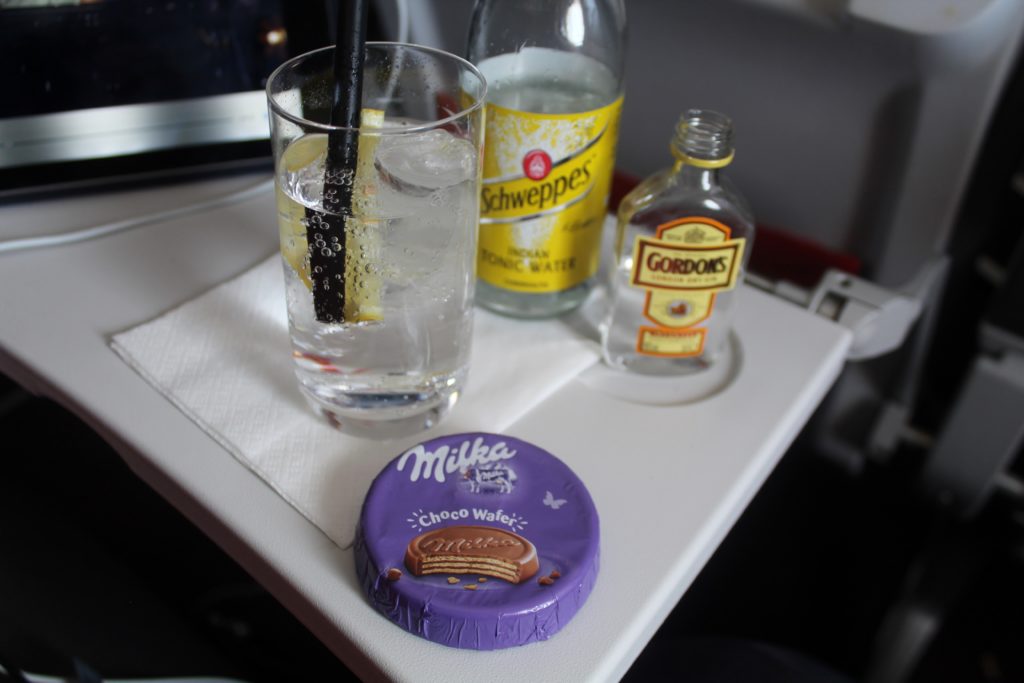 The service

The service was excellent and very attentive with several offers of refills during the flight. I also appreciated their effort to address all passengers by name, at least when serving the meal. It does raise the service level and makes the service feel a bit more attentive and personalised.
Arrival experience

All too soon we commenced our descent to Thessaloniki. It was very cloudy in the Thessaloniki area but for some reason the captain still attempted a visual landing rather than an instrument landing. It certainly did not work out as planned. We did some very sharp turns at a low altitude, which did not feel natural at all and rather gave a bad feeling, and a minute later full power was applied and we started to climb. The landing had been aborted and we had to do a go-around and make a new approach.
Looking at the radar screen afterwards it seemed like the captain had come too far north (we were trying to land from the east, making the approach from the south) and it became impossible to make it to the runway in time. Why the captain decided to make a visual landing with such a short approach and with such a bad visibility, I do not know.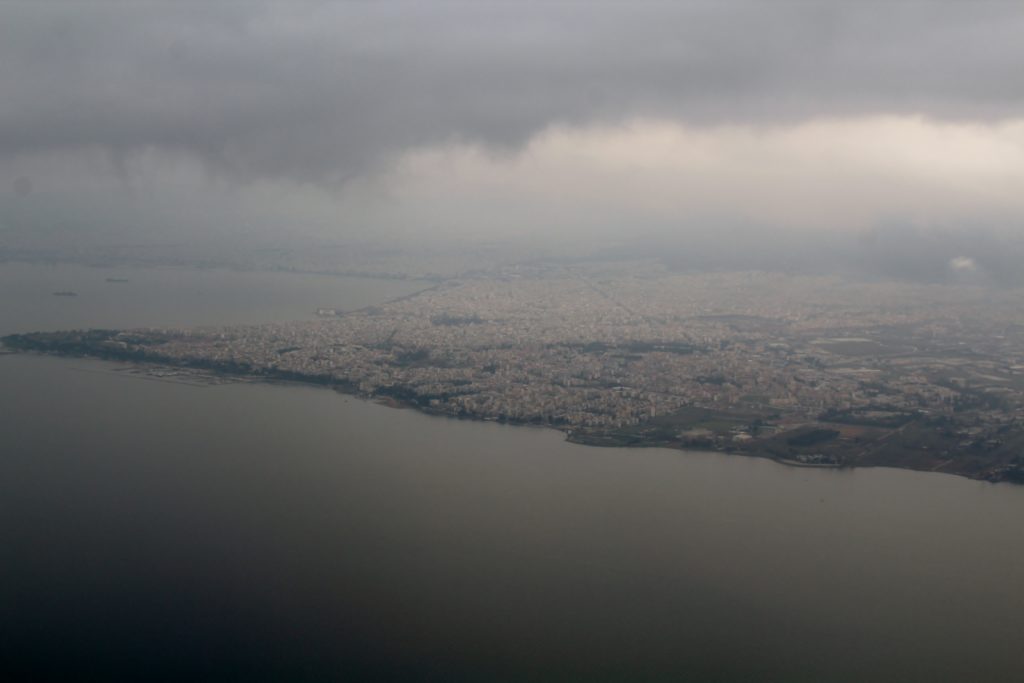 Anyway, a second attempt was made through the clouds and it went much better. At the end it meant a delay of no more than ten minutes.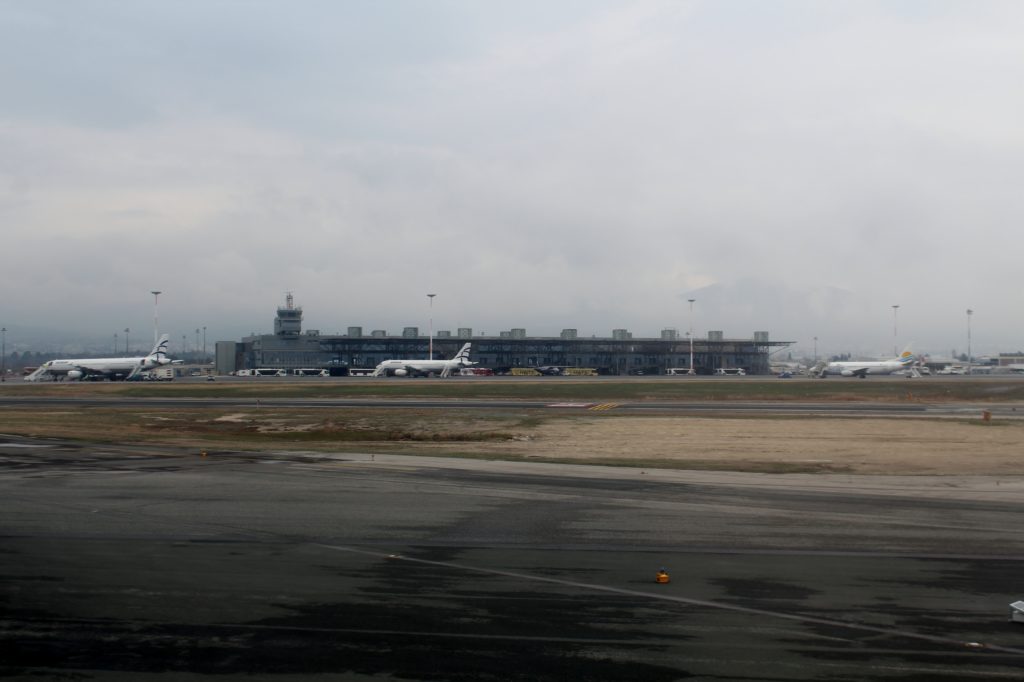 There are no passenger bridges at Thessaloniki Makedonia airport so all passengers are taken to and from the terminal by bus. Interestingly our aircraft parked just metres from the entrance to the arrivals hall but we were still not allowed to walk the short distance from the aircraft. The bus ride took less than ten seconds, the walk would have taken 20-30 seconds. It was ridiculous.
Final impression

Another excellent flight in Austrian Airlines business class. There business class catering from Do&Co is among the best in Europe and the service was also very friendly, polite and attentive.