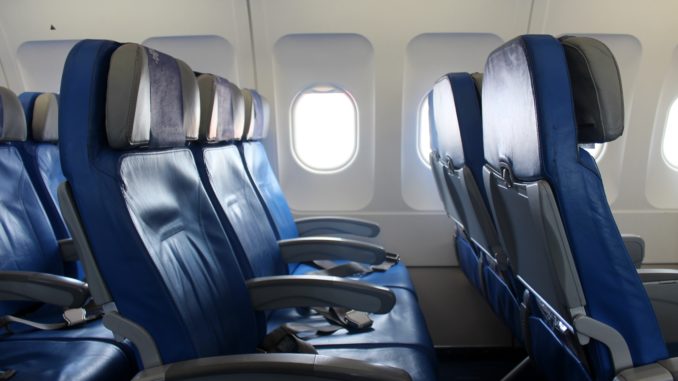 Departure experience

Air Serbia offer online check-in on their webpage from a growing number of airports, but not from all of their destinations, and Stockholm is currently not included. This meant having to arrive at Stockholm Arlanda airport in good time before departure for traditional check-in at a manned desk.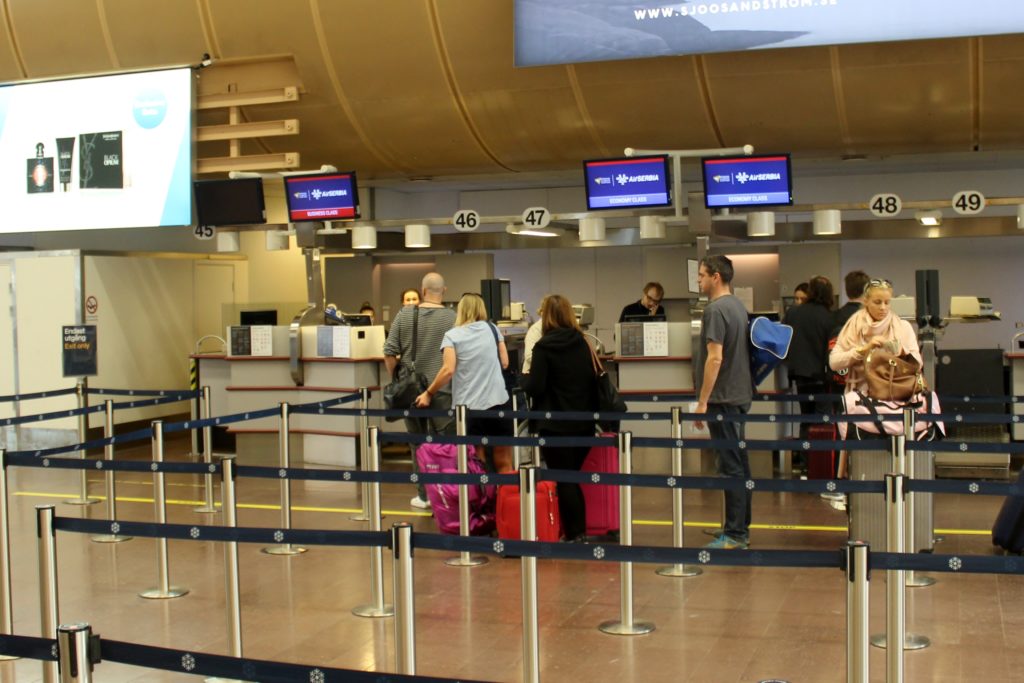 Three check-in desks were open for Air Serbia in terminal 5, one for business class and premium passengers and two for economy class. Fortunately the line was very short and I was checked in almost straight away.
I asked for an aisle seat with a low seat number and was given 04D, which turned out to be the second row of economy class.
Flying in economy class and not having a top tier frequent flyer card in Etihad Guest (the program also used by Air Serbia) meant no lounge access in Stockholm. However there are several pay-in lounges available for Priority Pass holders, including the Aviator lounge (sometimes called the Stockholm Arlanda Lounge) which is located in the non-Schengen section of concourse F in terminal 5, just a short walk from the gate. This is also the lounge used by Air Serbia for their premium customers.
The lounge is actually quite pleasant with friendly staff, a simple but yet stylish design and a nice cold buffet. Beer, wine, soft drinks, coffee and tea are available to drink. As I arrived they had just started to clear away the breakfast and bring out the lunch.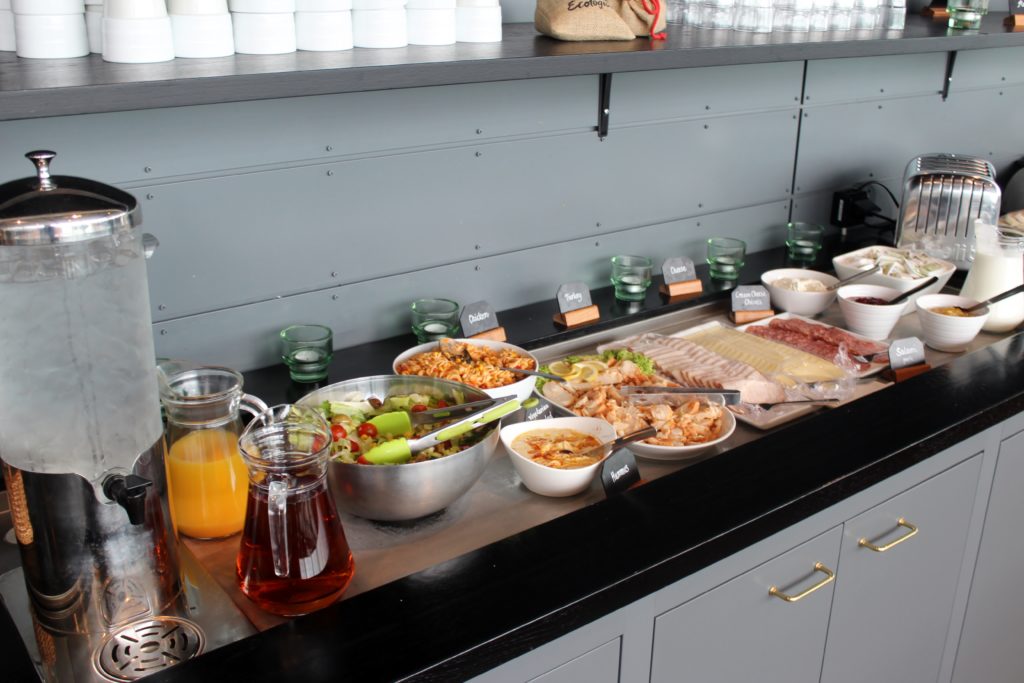 Read the full lounge review here!
The flight
Stockholm-Belgrade
Air Serbia flight JU 411
Departure: 10.00
Arrival: 12.35
Economy Class
Airbus A319
Seat 04D

First impression

The aircraft arrived on time from Belgrade and boarding started 20 minutes before scheduled departure time. Air Serbia still offer what could best be described as premium cabins with proper business class seats at the front and thick and rather comfortable seats in economy class.
Punctual departure at 10 am with a flight time of two hours and 20 minutes to Belgrade.
Seat and cabin

Seat 04D meant I had been given a "Preferred seat", which was also indicated on the seat cover. These seats are usually only offered free of charge to top-tier frequent flyers but can also be booked by others at a charge. They are located at the first few rows of the economy class cabin and I think they also provide slightly more legroom.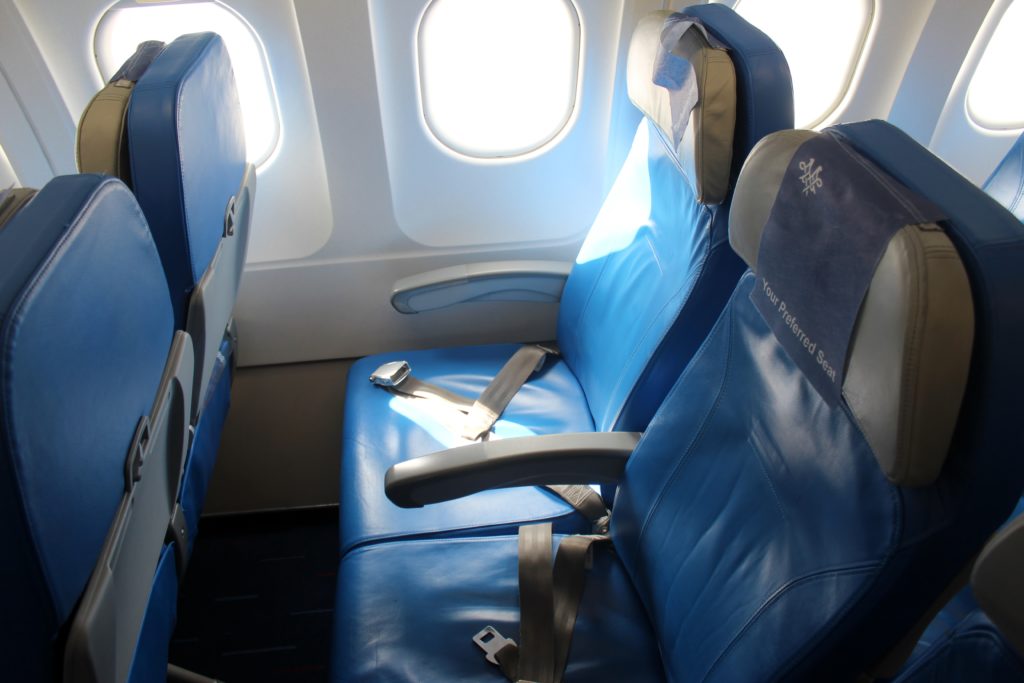 The blue rather thick seats used by Air Serbia are very comfortable, definitely a decent standard for economy class. Unfortunately these will soon be replaced by the thinner and much lighter Recaro seats.
Food and drinks

Air Serbia have previously offered a hot meal also in economy class on longer intra-European flights, including Stockholm-Belgrade, but this has now unfortunately been reduced to a snack service.
Two choices of sandwiches were offered and a drinks service with beer, wine and soft drinks.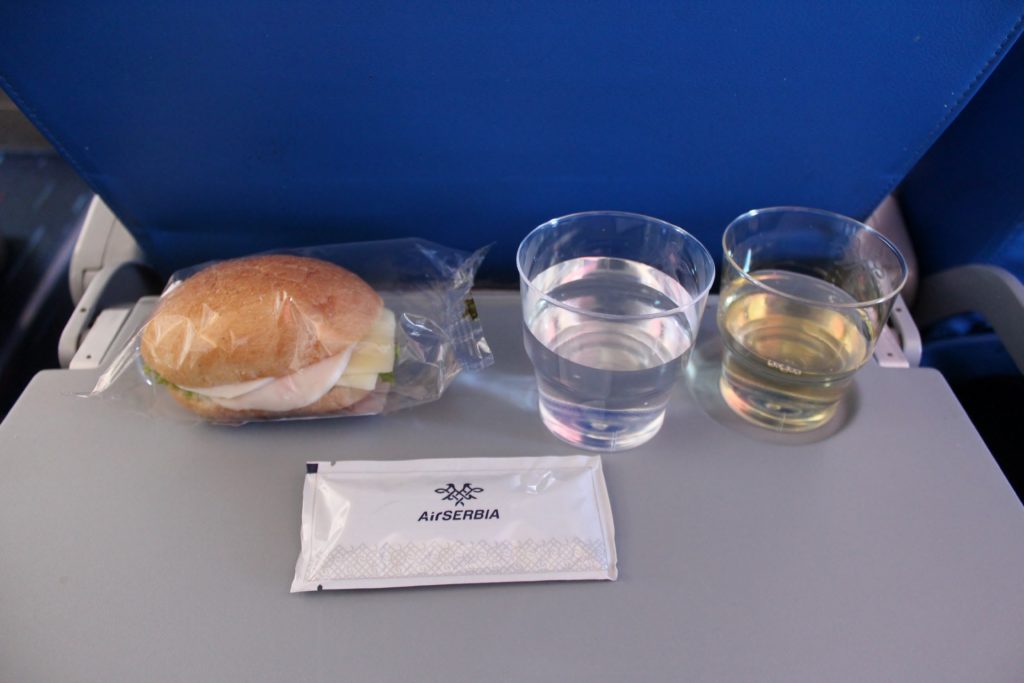 After about 15-20 minutes the trolley passed a second time for a second serving, this time with a chocolate cake, coffee and tea.
Although it is a shame they no longer offer any hot food in economy class at least the snack service was decent and definitely not bad for a two-hour flight.
The service

The Air Serbia cabin crews are usually friendly and courteous. I have flown Air Serbia business class several times where the service is usually superb, close to exceptional. The service in economy class was friendly as well but obviously not as attentive.
Arrival experience

We landed right on time at Belgrade Nicola Tesla airport. I had a connecting flight with just a 45 minutes transfer time, so no time for a lounge visit. But the airport is small and convenient and by sitting on one of the first rows I made the connection with plenty of margin.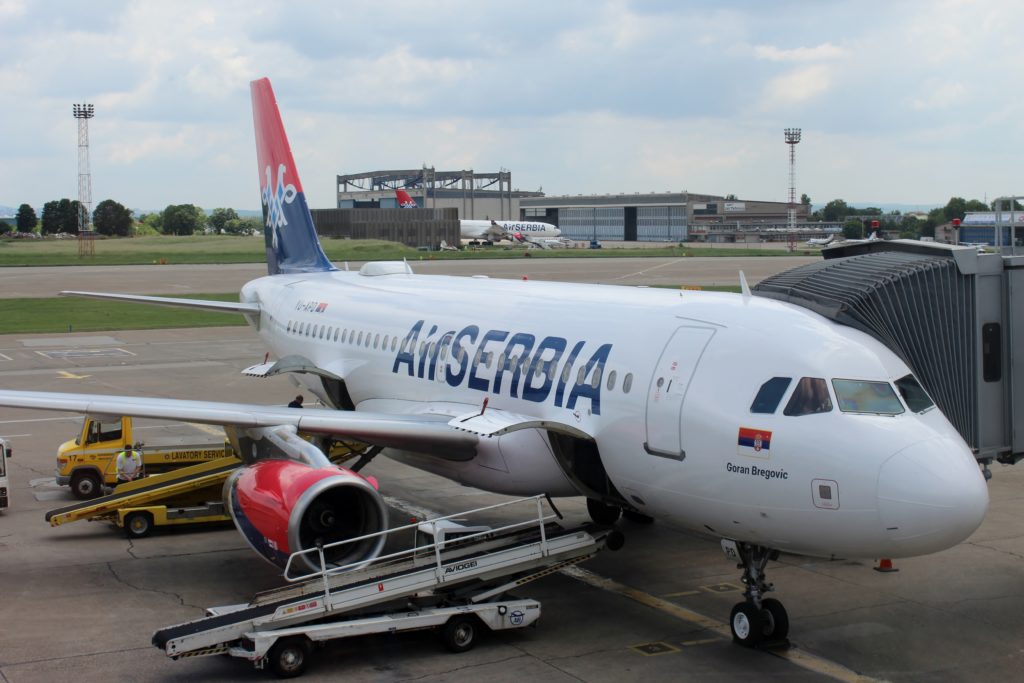 Final impression

Friendly service, very comfortable economy class seats and a fairly good snack service. Just too bad Air Serbia no longer serve a hot meal in economy class on longer intra-European flights.