Departure experience

Check-in was done on the Air Serbia webpage where it seems like more departure airports are added every month. From the beginning online check-in was only available from a handful of airports, now it seems to be available from the majority of the airports Air Serbia fly to.
I arrived at London Heathrow airport around two and a half hours before departure. Air Serbia check-in had just opened at terminal 4 so I passed the business class check-in desk to pick up a boarding pass for the flight as I did not have access to a printer.
I was travelling with only hand luggage and as business class passengers are allowed to bring two pieces I could bring everything onboard, which the check-in agent confirmed. Special business class baggage tags were placed on my two bags. I was also informed I was welcome to visit the Etihad Lounge.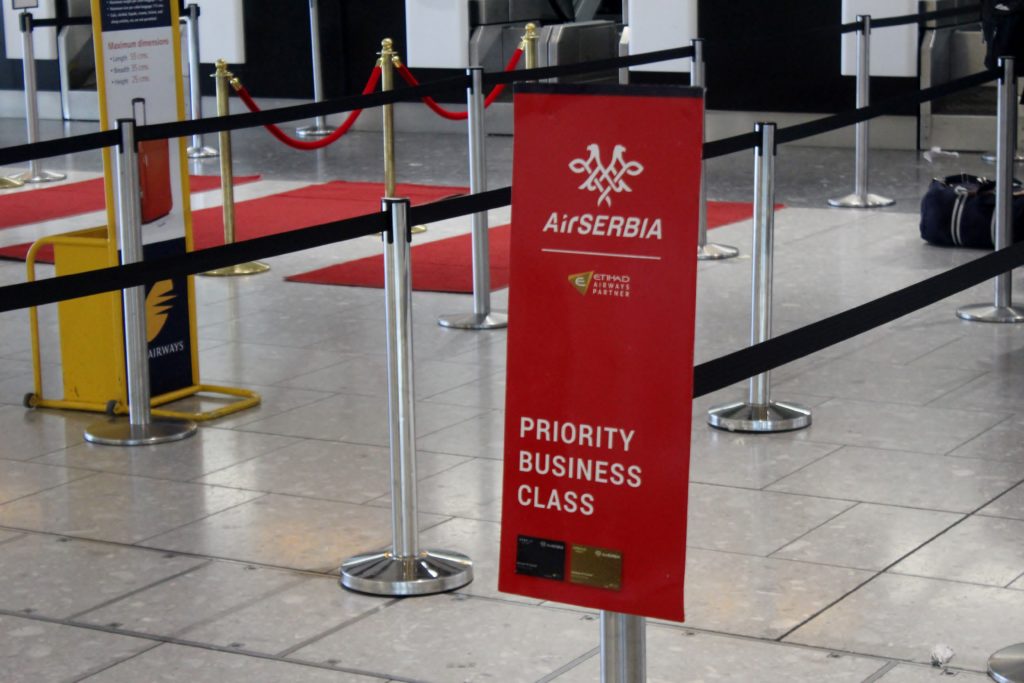 Air Serbia business class passengers have fast track access at Heathrow terminal 4, which was very quick.
I great benefit of flying Air Serbia is that because they are part of the Etihad Group (49% owned by Etihad Airways) they use the Etihad lounges at several airports, which are in most cases rather decent lounges, in particular when travelling on a shorthaul flight. London Heathrow is one of these airports where both Etihad and Air Serbia leave from terminal 4 and where there is an Etihad Lounge.
I had visited the lounge in the past and found it excellent with friendly staff, a nice interior, a la carte restaurant and even free massage. Unfortunately the quality has deteriorated since. The spa went from being free for all guests to just being free for platinum members and first class passengers, and now it is closed. And the food selection in the restaurant has gone from a rather nice three-courses menu with several decent options to more of a snacks menu. The staff are still very friendly and polite though and of course the interior is still the same. But the overall experience is simply not what it used to be.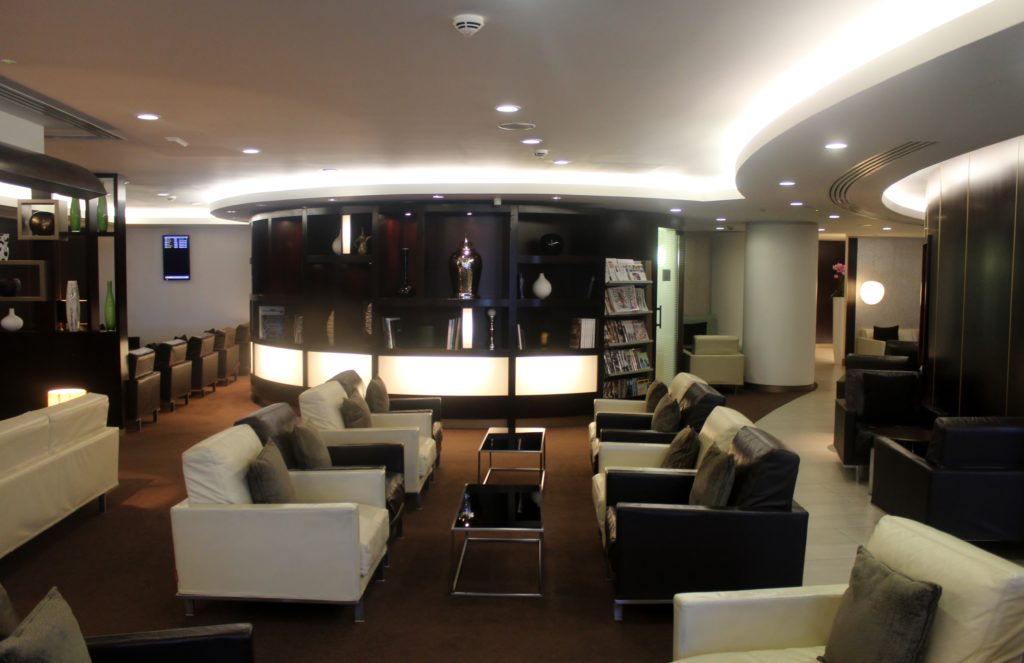 After a welcome glass of champagne in the main lounge I had a seat in the restaurant and had a look at the menu. I eventually ordered the Hertfordshire Beef Burger with toasted brioche bun, tomato chutney, Emmental and seasonal lettuce. Nothing wrong with the burger except that it was rather heavy. A selection of starters, salads, bread rolls and desserts were available from the self-service buffet in the adjacent room.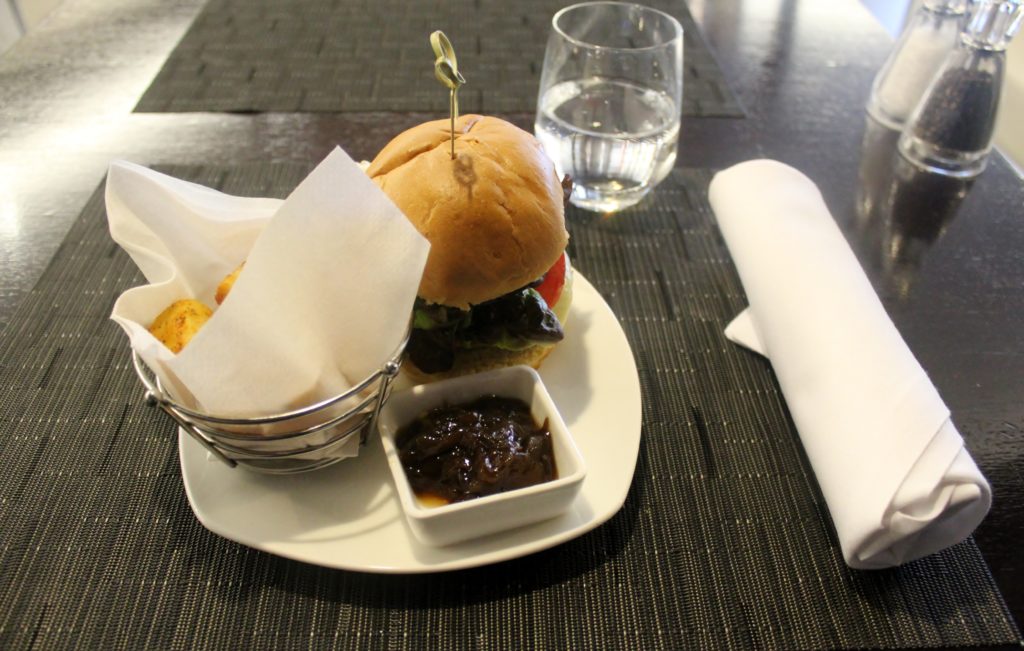 The flight
London Heathrow-Belgrade
Air Serbia flight JU 387
Departure: 19.00
Arrival: 22.40
Business Class
Airbus A319
Seat 01F

Boarding started 20 minutes before departure at gate 19 with priority boarding for business class passengers and top-tier frequent flyers in the Etihad Guest program.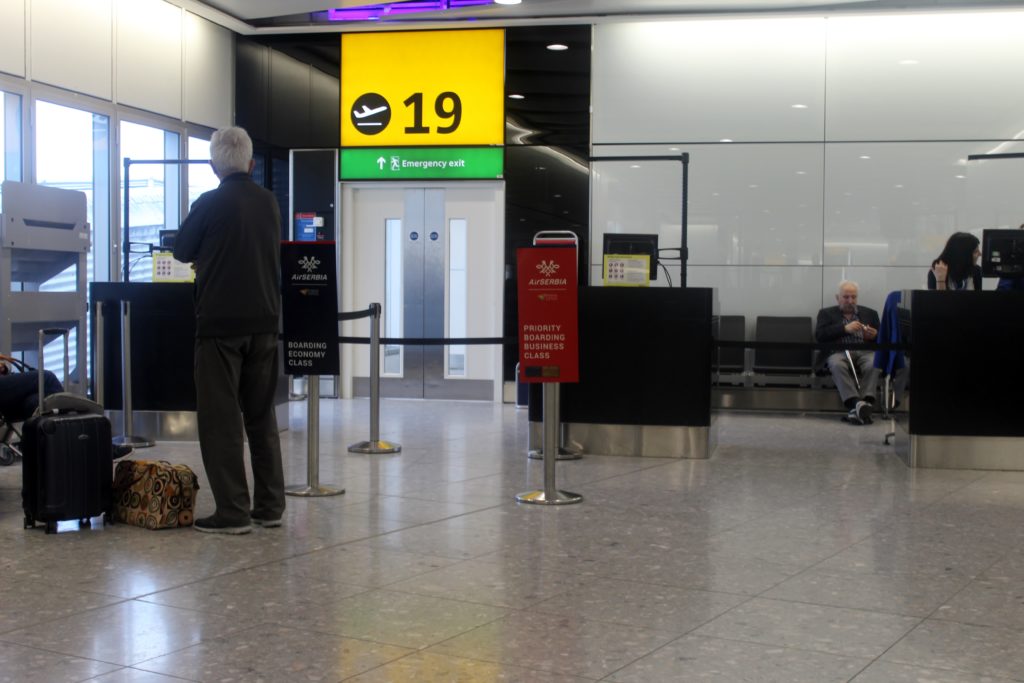 First impression

Once onboard it turned out this was one of the retrofitted Airbus A319. On many airlines retrofit usually means improvement. In the case of Air Serbia retrofit unfortunately means that the old proper business class seats with a 2-2 configuration have been replaced with standard Recaro seats in a 3-3 configuration with a blocked middle seat, like on most airlines on intra-European flights. Air Serbia used to be one of the few airlines in Europe offering proper business class seats, but unfortunately no more.
The staff were friendly and polite though as usual. They assisted me with my hand luggage, offered me a newspaper followed by a welcome drink and a cold towel. Although you can usually get a glass of bubbly before departure I was happy with a glass of water this time.
We departed right on time with a flight time around two hours and 20 minutes to Belgrade.
Seat and cabin

In the new configuration the old business class seats, two rows in a 2-2 configuration, have been replaced with standard Recaro seats, the same seats as in the rest of the cabin. The middle seat is kept free though, which still gives a 2-2 configuration. But of course there is less legroom and the seat width is smaller compared to the old seats.
Two rows were assigned to business class and we were three passengers in total.
Food and drinks

The menu was handed out before departure and contained both the menu (with separate menus for the outbound and inbound flights) and the wine and drink list. A full dinner service was offered to Belgrade with starter, two choices of main course and dessert.
The meal and drink orders were taken after departure and the meal was delivered a few minutes later, with a white table cloth for the tray table. On some flights they also do a proper cocktail service with nuts before the meal and also serve the dessert separately with the coffee. This seems to depend on the cabin crew working on the flight and possibly also the length of the flight and the number of passengers. This time everything was served at the same time on the same tray.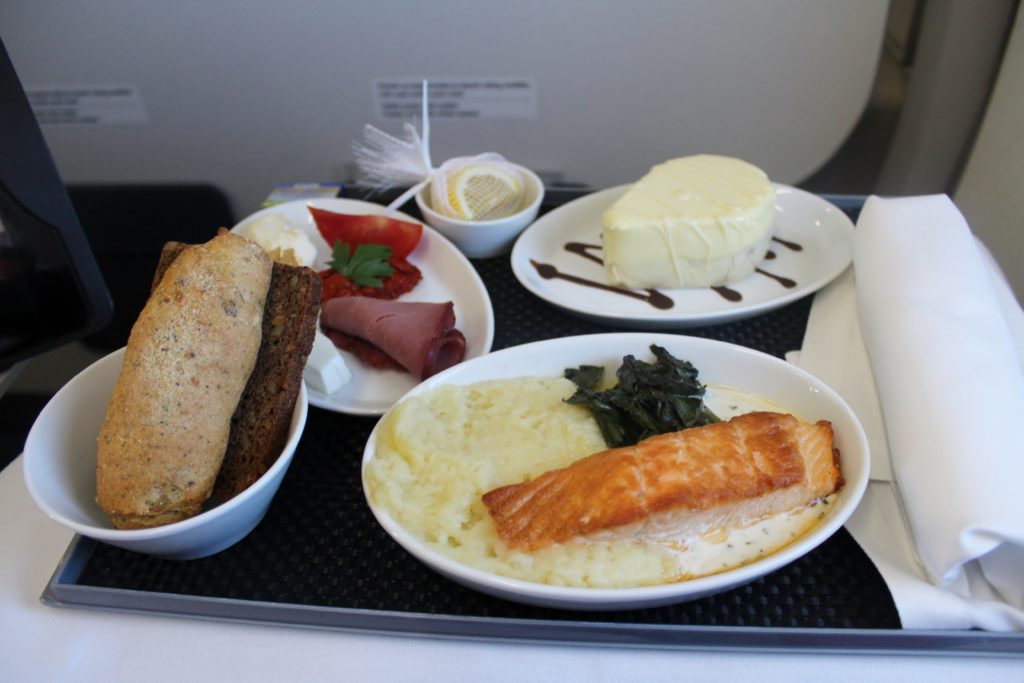 The starter was Serbian mezze including cheese pie (Gibanica), beef prosciutto, tomato, young cheese and kajmak. Quite tasty.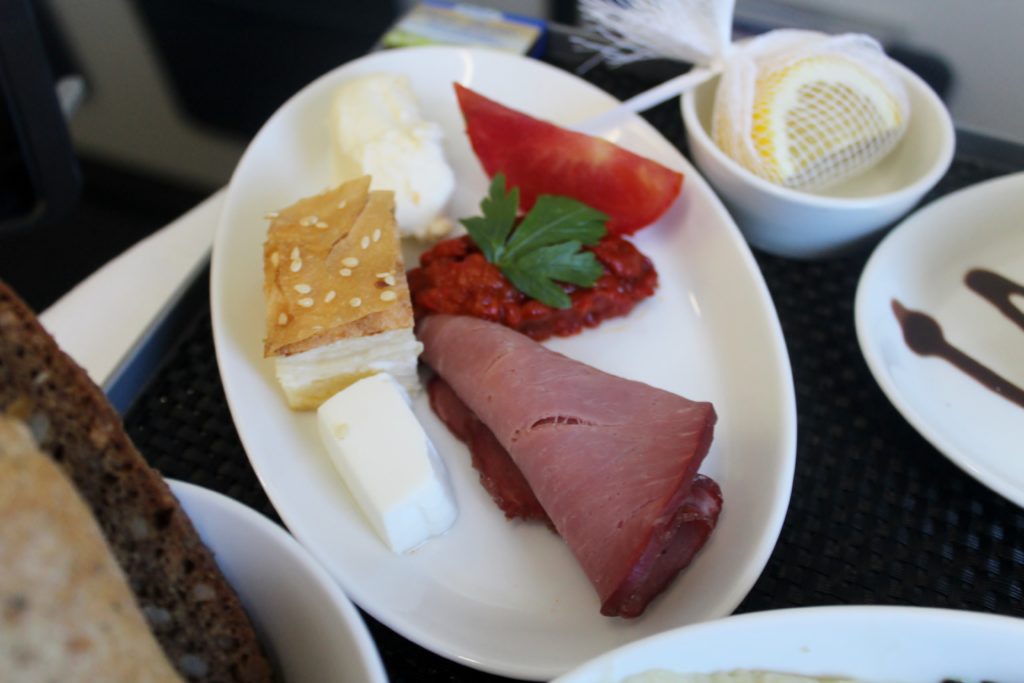 The two main courses were Stuffed chicken with polenta and fine herbs served with potato rösti, asparagus and kajmak sauce. Or Salmon filet served with rosemary sauce, sautéed mangle and mashed potato with parsnip. I ordered the salmon which was good but quite filling. There was also a slice of lemon on the tray, which was a nice touch.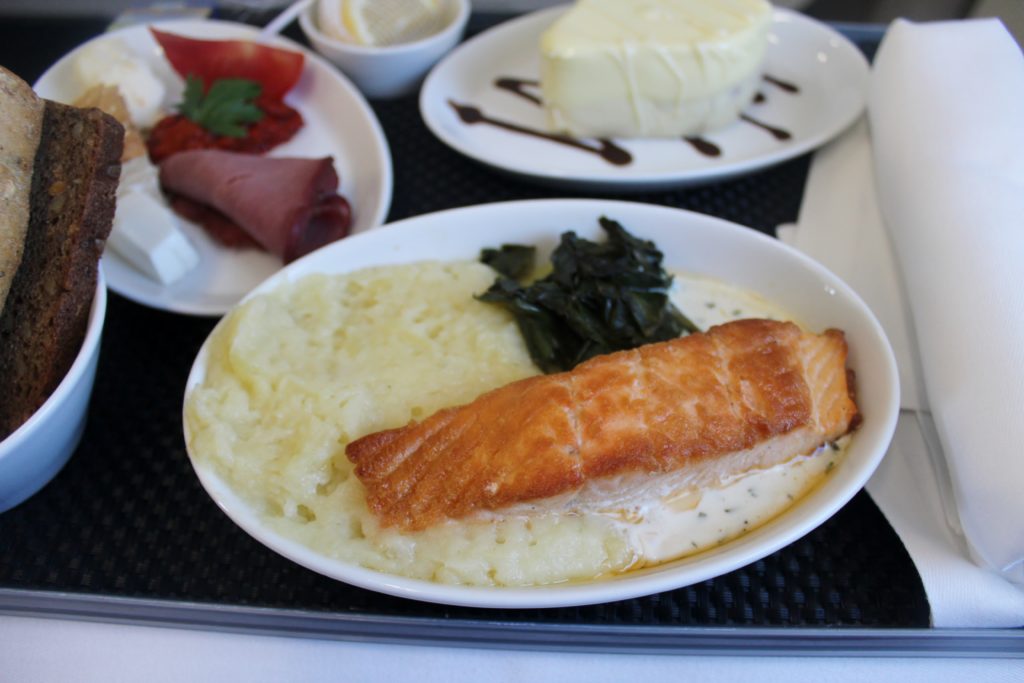 I also ordered a glass of wine with the meal. In the past they have offered to reds and two whites, now there seems to be only one of each. The white one was a Chardonnay from the Serbian wine producer Podrum Radovanović.
Finally the dessert was a raspberry cake.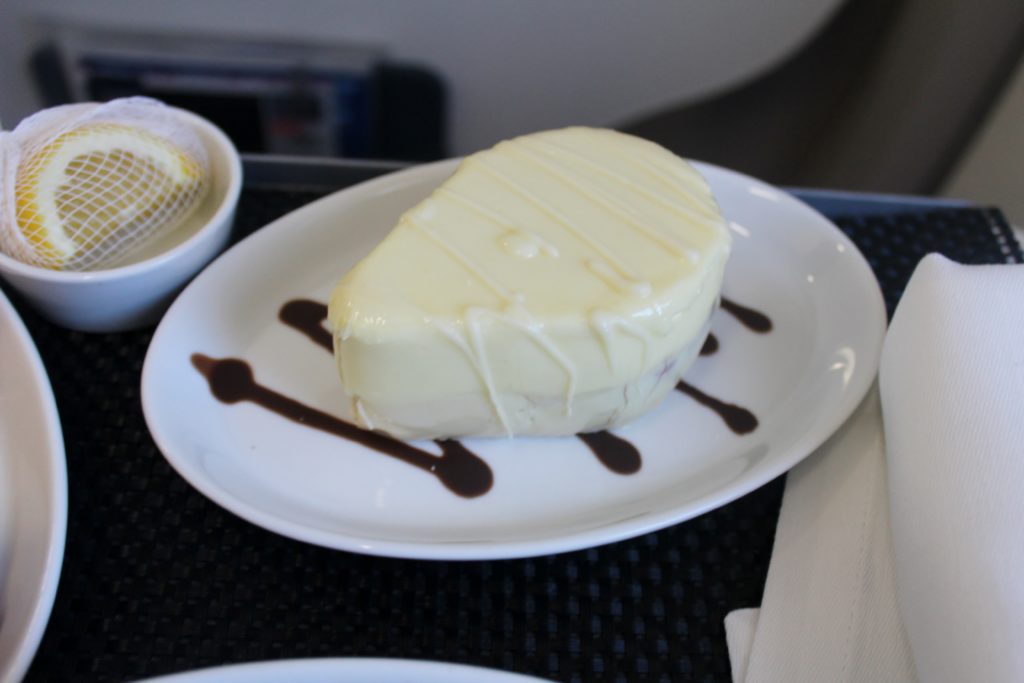 The meal tray was cleared and I was offered coffee, tea and a refill of the wine. As a nice coincidence the flight also took place on the day of the 90th birthday of Air Serbia, with special chocolates offered to all passengers. Air Serbia also offers a good selection of spirits in business class, including special brandies from Rakia Bar with five different flavours. However I was rather tired and declined any more drinks.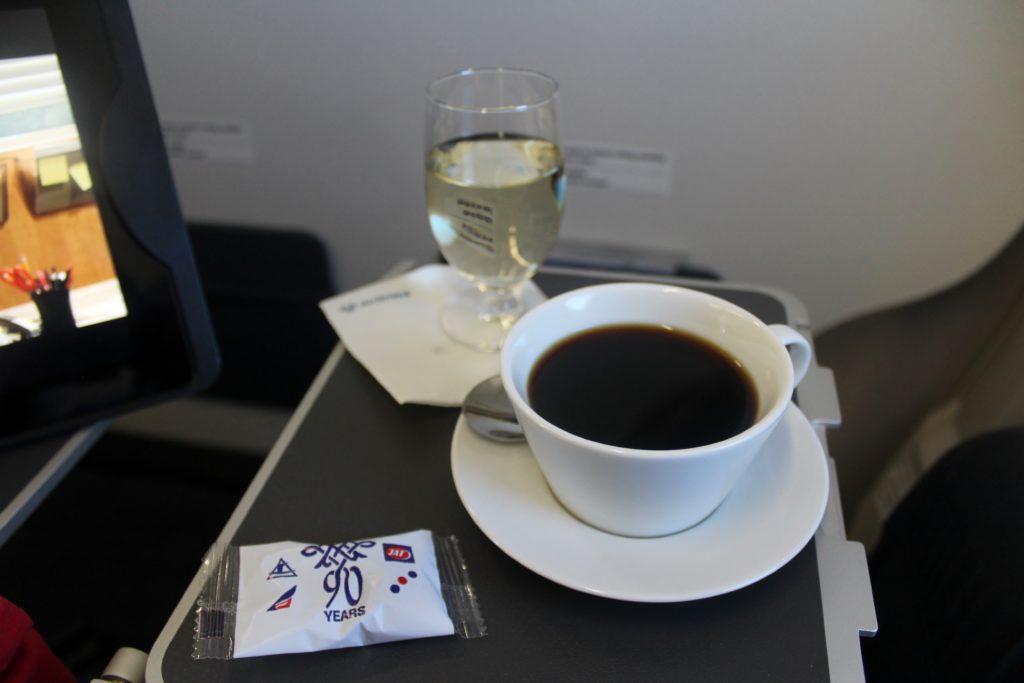 Inflight entertainment
Tablets were available onboard in business class to borrow with a few movies, documentaries, TV-series and music albums. And you also got noise-cancelling headphones. Nothing extraordinary in terms of the selection but still a great service and definitely sufficient for a shorter intra-European flight.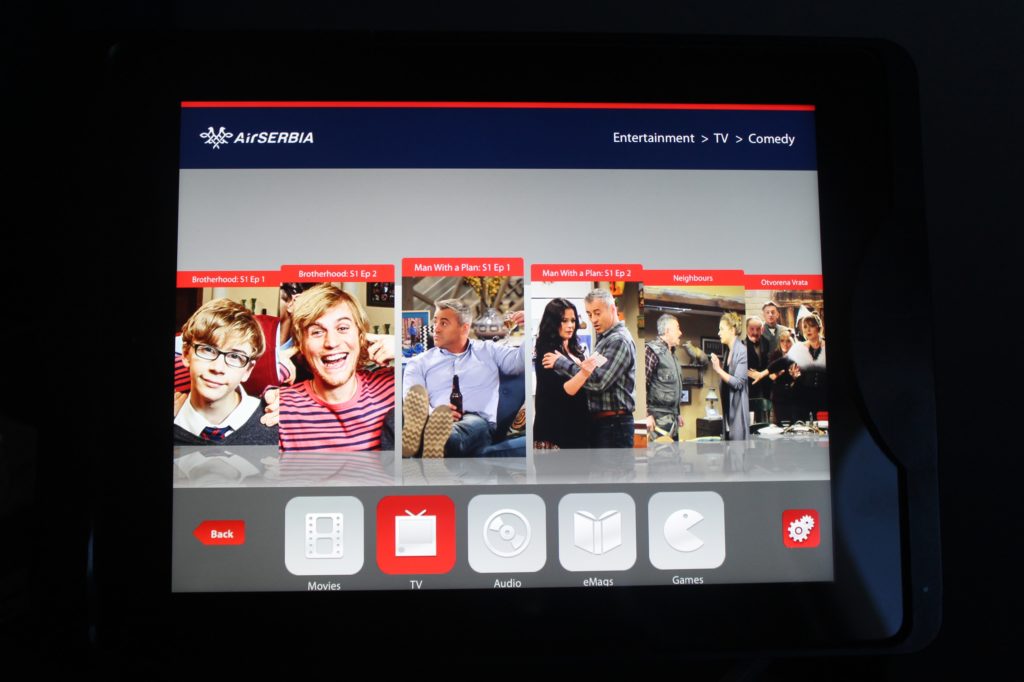 The service

The service onboard was very polite, friendly and attentive from the cabin crew. There was absolutely nothing whatsoever to complain about.
Arrival experience

Landing at Belgrade Nikola Tesla airport at 10.45 pm. Immigration was nearly empty and I was on my way from the airport within a few minutes after touch-down.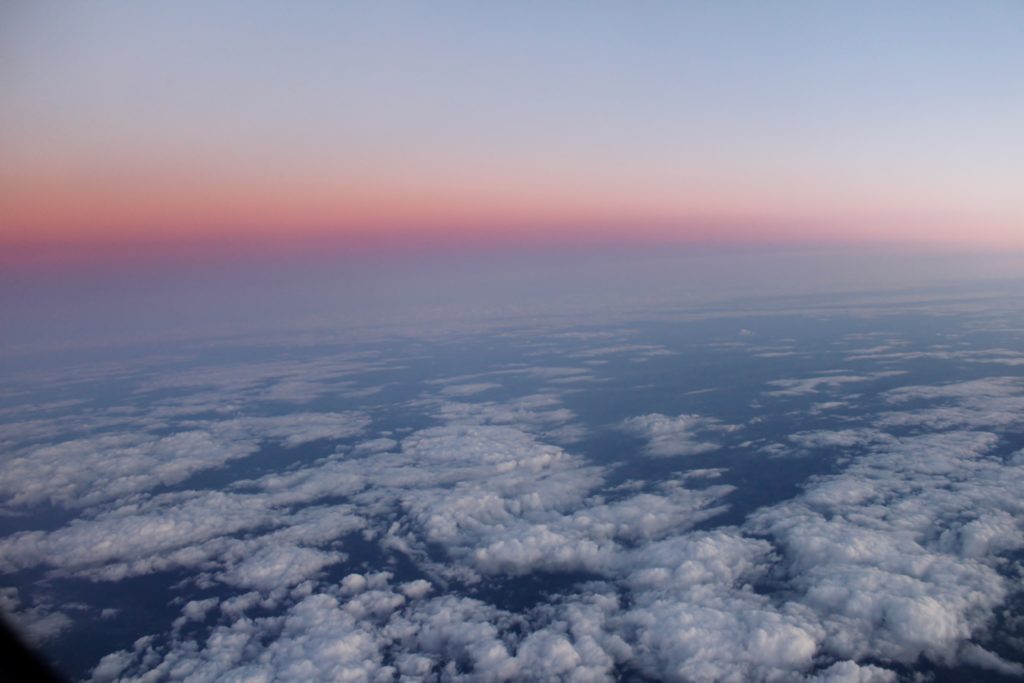 Final impression

A decent intra-Europe business class experience with a nice dinner and friendly service. Just too bad the old proper business class seats are being removed.