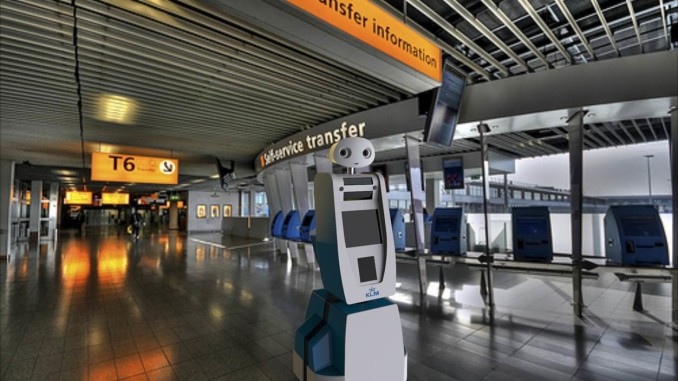 It may sound odd, but KLM has in fact developed a robot who will be working at Amsterdam Schiphol airport to assist passengers. The robot has been named Spencer and will work his first day at the airport on Monday 30 November. The idea is that the robot should help transfer passengers to find their way from one gate to another as quickly as possible.
The robot has taken two years to develop, program and test and the project has received support by the European Commission. Initially Spencer will work in the Schengen section of the airport. In the future, as the development progresses, Spencer should be able to recognise groups, take group behaviours into account, and recognise emotions. He should also be able to proactively respond to unexpected situations..
"The advent of robotics is, strategically, an important development, for which we have prepared and which we want to test. KLM is of the opinion that robotics will have a growing impact on air transport in the coming years. We are testing technology in several areas, to assess if and how robotics would augment our processes. These developments are wholly in line with KLM's objectives with regard to innovation, as one of the cornerstones of strategy. At KLM, the chief purpose of robotics will probably be to offers staff and customers even better support, using innovative technology", says Michel Pozas, Vice President Customer Innovation & Care at Air France & KLM.