Where is it?

The Mercure Exeter Rougemont hotel has an excellent location in Exeter. Most sites of interest in the old city centre as well as shops , bars and restaurants are all located within walking distance from the hotel, just a few minuets away. The hotel is also very convenient if arriving by train. Exeter Central Station is literally across the street.
There are two Mercure hotels in Exeter so it is important not to mix these up. The other hotel is called Mercure Exeter Southgate Hotel and is located not far from the cathedral.
The arrival experience

I arrived in Exeter by train from London. The trains from London do not go to Exeter Central Station but instead stop at Exeter St David's Station, which is located slightly outside the city centre. At Exeter St David's Station you change to a local train to travel the short distance to the city centre. The timetables are usually coordinated.
Once at Exeter Central Station I found the hotel right across the street from the station exit.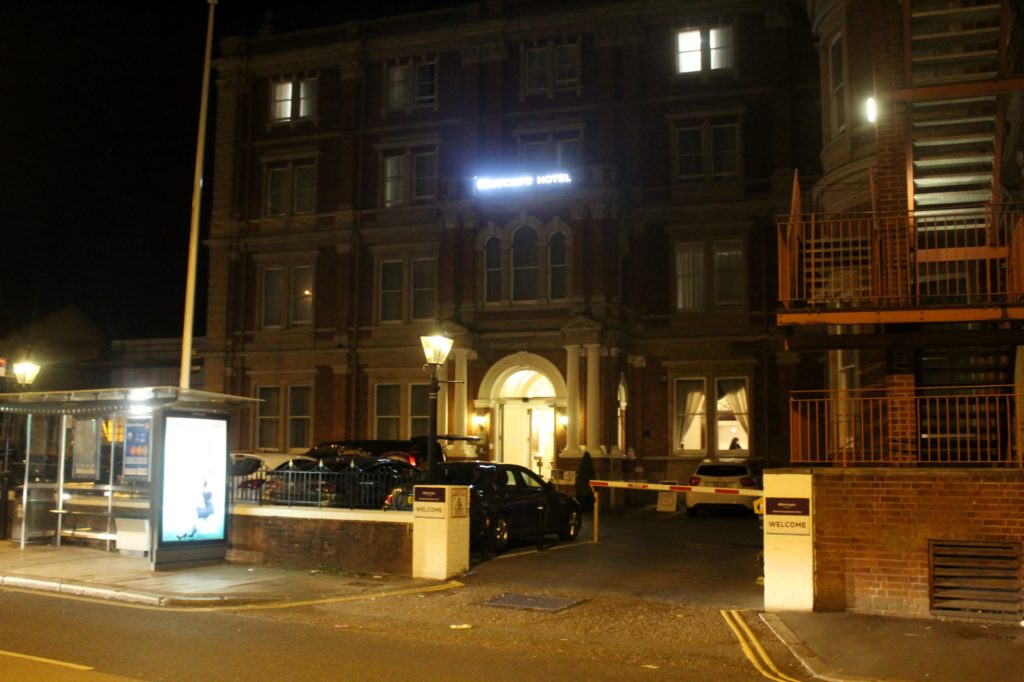 Mercure hotels are typically mid-range hotels, usually with a three or possibly four star rating. However in contrast to the Novotel hotel chain, which tend to follow a fairly standard design and room layout, the Mercure hotels can vary considerably in terms of design, facilities and atmosphere.
The Mercure Rougemont Hotel turned out to be a very pleasant surprise. The hotel is located in a grand and very charming traditional British brick building and most likely the building has been there for a long time, long before it was acquired by Accor.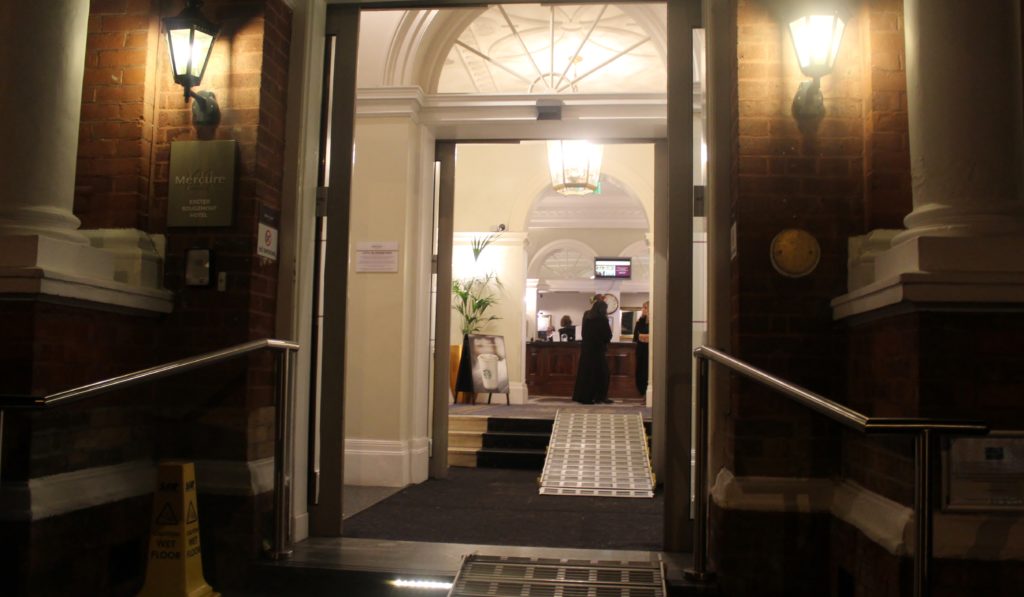 The hotel also has a beautiful lobby with red sofas and a high ceiling with some lovely paintings, statues and decorations. There is also a magnificent staircase, very popular for photo sessions.
Most guests had probably already arrived when I entered the lobby around 8 pm so it was not particularly hard to find my reservation. The woman working at the reception was very friendly and checked me in with plenty of humour. A very relaxed approach, perhaps reflecting this being a smaller city.
I was informed there was a large birthday party at the hotel during the evening, a young man celebrating his 21st birthday with over 100 guests invited. She warned me it could get a bit noisy but also informed me she had given me one of the top floor rooms, which should be fairly quiet. With this being a Friday evening, and since I was planning on having a few drinks myself, it really was not much of an issue. But indeed the lobby was fairly busy with people around midnight, all having had a few drinks. But there were also two security guards working to avoid any problems.
The room

With the Rougemont Hotel having been around for some time the layout is not fully logical. On the contrary the hotel is full of corridors and staircases. I was assigned a room in the top-floor annex, in what seemed to be almost like a tower. This was probably done on purpose as a courtesy to me as a loyal guest with Accor to get me as far away as possible from the noisy birthday party.
The woman at the reception gave a rather lengthy description on how to get to the room, and indeed it was not completely straight-forward. But again it actually felt very refreshing after several stays in traditional chain hotels.
There are 98 rooms in the hotel and all of them were recently refurbished. The rooms are divided into single rooms, double rooms (with either a double or twin beds), small double rooms, privilege king rooms and junior suites.
I had booked a single room which was perhaps not overly spacious but definitely not cramped either. The room was in an excellent condition and you could easily notice it was refurbished not too long ago. The main difficulty was to figure out how to turn on the lights in the room.
There was a single bed, a work desk, a chair, a TV and a closet. The room also had a kettle to make tea and coffee.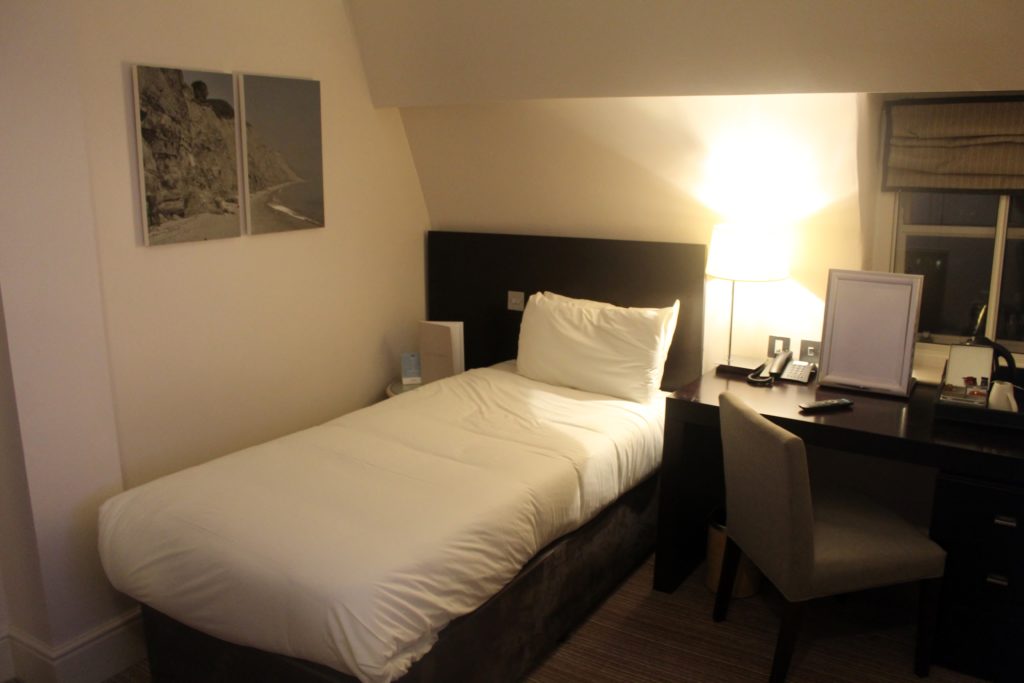 There was also a small but very modern and well-appointed bathroom with a shower.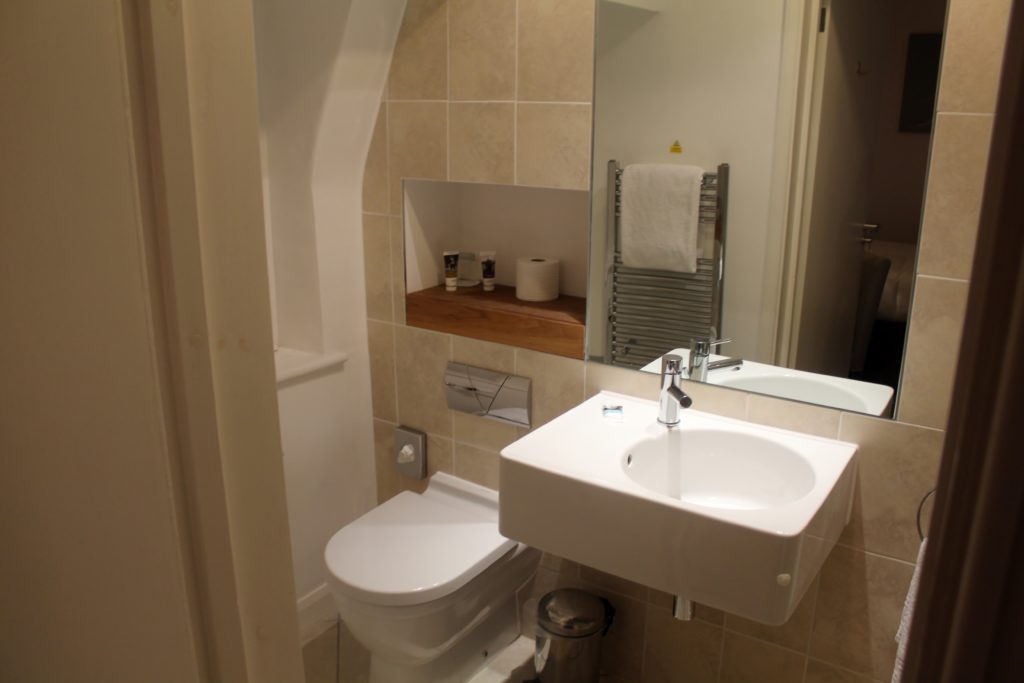 Although not luxurious by any means the room was pleasant and quite homey, which is not always the case with hotel rooms.
Food and drinks

The hotel has a restaurant and a bar called Drakes. As a frequent guest with AccorHotels I was given the standard drink voucher upon check in, good for a beer, a glass of wine or something non-alcoholic. However finding the Drakes bar was not too easy and at the end I had to ask at the reception. It was rather well-hidden behind the lobby.
There is also a second bar in the hotel called Nelsons Lounge, which is located in the lobby. While the Drakes Bar is more of a relaxed pub the Nelsons Lounge is more of an elegant cocktail bar where you can order coffee and drinks and have a seat in what looks like a library. The bar was closed this evening but the doors were open. The space was mostly used for the birthday party guests in the late evening.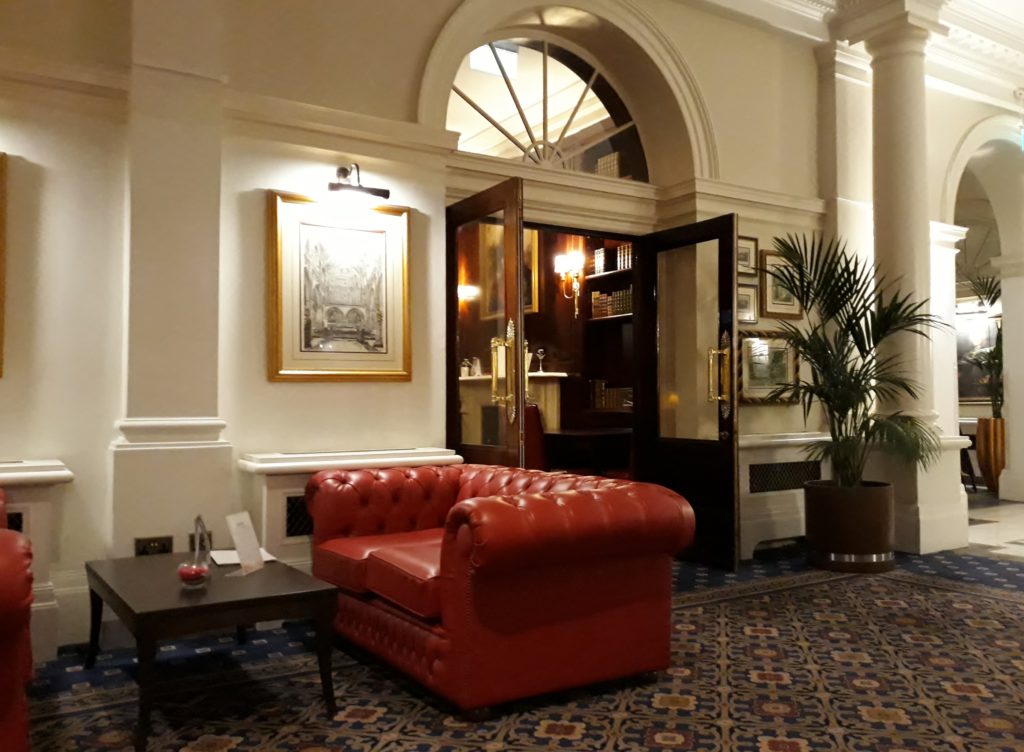 Other facilities

The hotel has six meeting rooms with a capacity for up to 250 guests. The hotel seems to be a popular venue for birthday parties, weddings and anniversaries among the locals and the grand staircase next to the lobby provides an excellent setting for photos.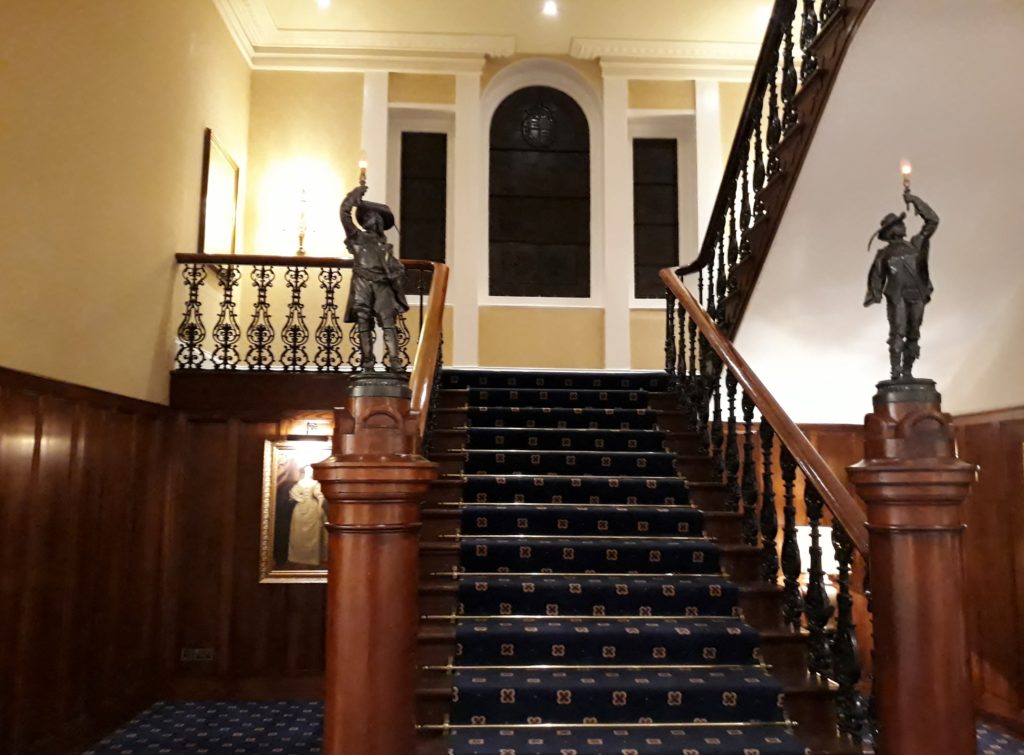 The public areas are indeed very beautiful with chandeliers, photos, pictures and overall a great atmosphere.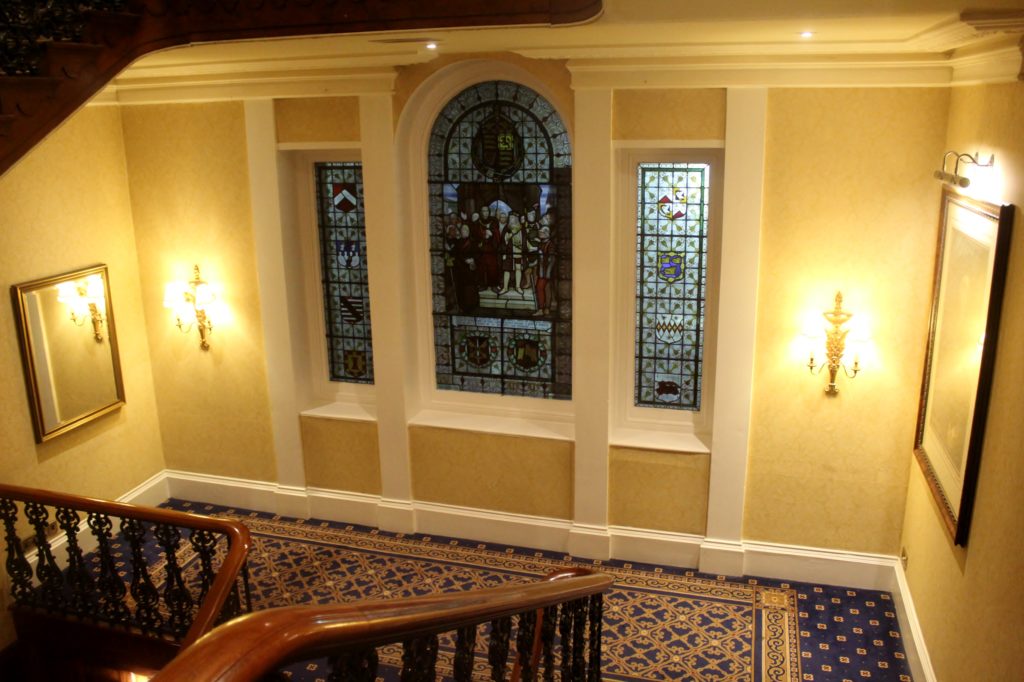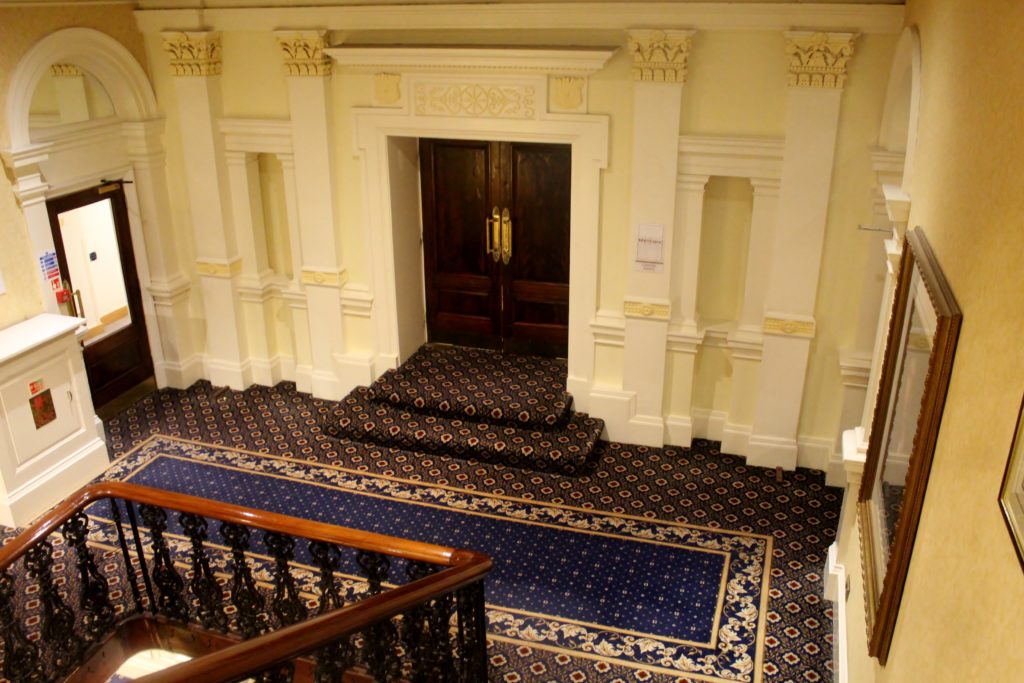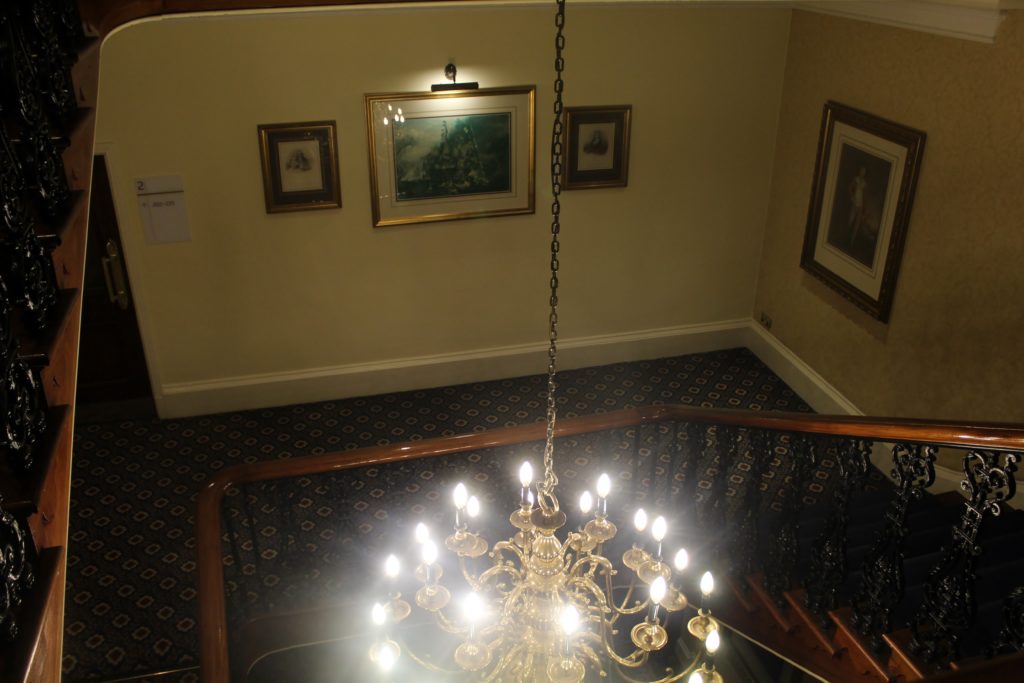 Service

The service was friendly and polite but at the same time rather relaxed. Nothing to complain about. I appreciated the effort to try to assign me a room without too much noise from the ballroom and the public areas.
Breakfast

Breakfast was served in the Drakes restaurant. Since I had a morning flight from Exeter airport and did not have breakfast included in the rate I decided to skip breakfast in the hotel to have breakfast at the airport instead.
Final impression

This turned out to be much better than expected. A beautiful and very charming British hotel with a nice lobby and a lovely old staircase. Well-appointed room and friendly service.