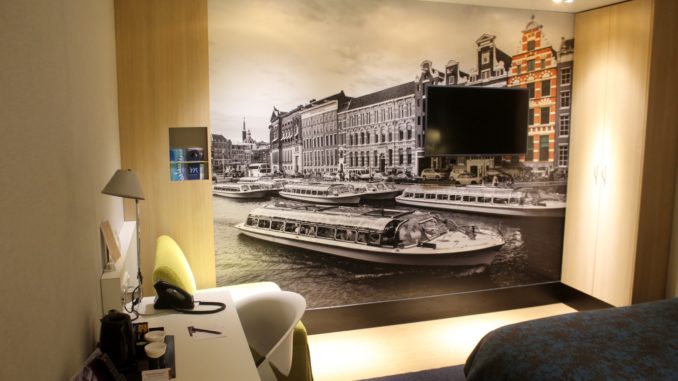 Where is it?

Mercure Hotel Schiphol Terminal is located airside at Amsterdam Schiphol airport in the non-Schengen transit hall. The entrance is next to the KLM non-Schengen Crown Lounge and close to concourse F.
Passengers connecting between two Schengen flights can also use the lounge (at least when holding a European passport or a passport not requiring a Schengen visa) but will need to pass passport control twice, before and after the stay, and should also remember to print the booking confirmation to show at passport control.
If starting the journey at Schiphol and leaving on a morning flight it is important to remember that large pieces of luggage can not be brought to the hotel and many airlines do not allow luggage check-in the evening before.
The arrival experience

There are two transit hotels located airside at Amsterdam Schiphol airport, the Yotel and the Mercure, both located in the non-Schengen transit hall. I have tried to book the Mercure transit hotel on several occasions but it is nearly always fully-booked unless the booking is made at least a couple of days in advance. There are only 32 rooms and it seems to be a very popular choice.
This time I was lucky though and I arrived at the hotel just after 10 pm. A very friendly woman checked me in and I told her about my difficulties getting a room during previous overnight transfers at Schiphol airport and she confirmed the hotel is very often full.
To save some time in the morning we took care of the payment already at check-in. She also asked for my boarding pass and made a note about my travel arrangements, which was probably a smart thing to do, however I declined a wake-up call.
As a gold card holder with Accor I was also given some cookies and a drinks voucher, which could be used for a non-alcoholic drink from the fridge in the lobby.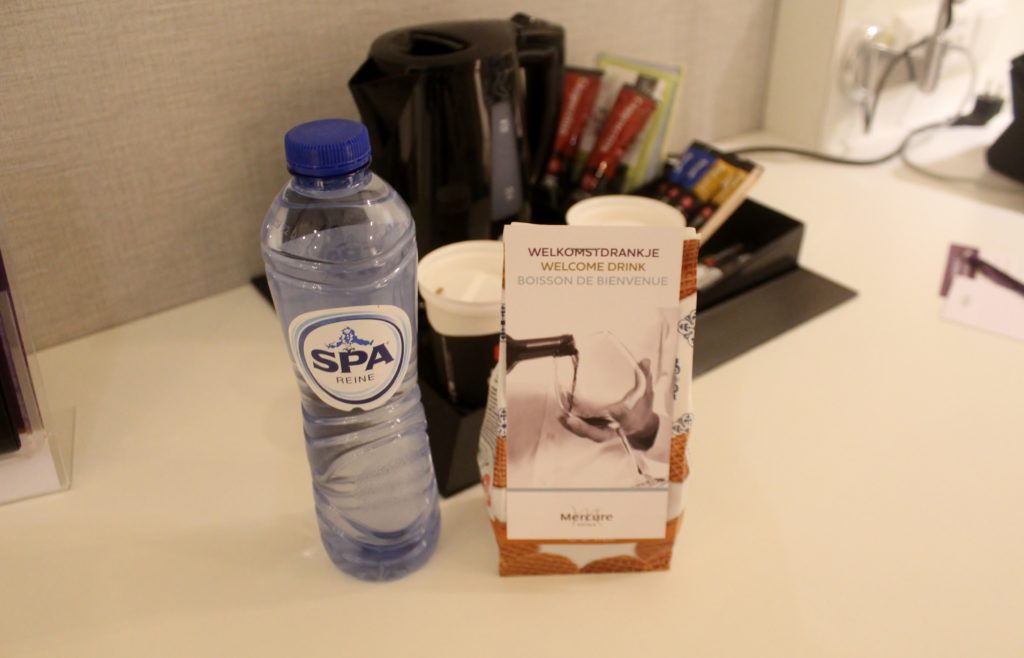 The room

There are 32 rooms in the hotel, including 6 family rooms, but otherwise there is no real difference between the rooms. There are no superior rooms, deluxe rooms (or anything equivalent) and no suites.
My standard room was the closest one from the reception and surprisingly pleasant. At many airports transit hotels are fairly basic, or at least they are furnished for a short stay of just a few hours, but this felt just like any other hotel room and you completely forgot you were in fact airside at a major international airport.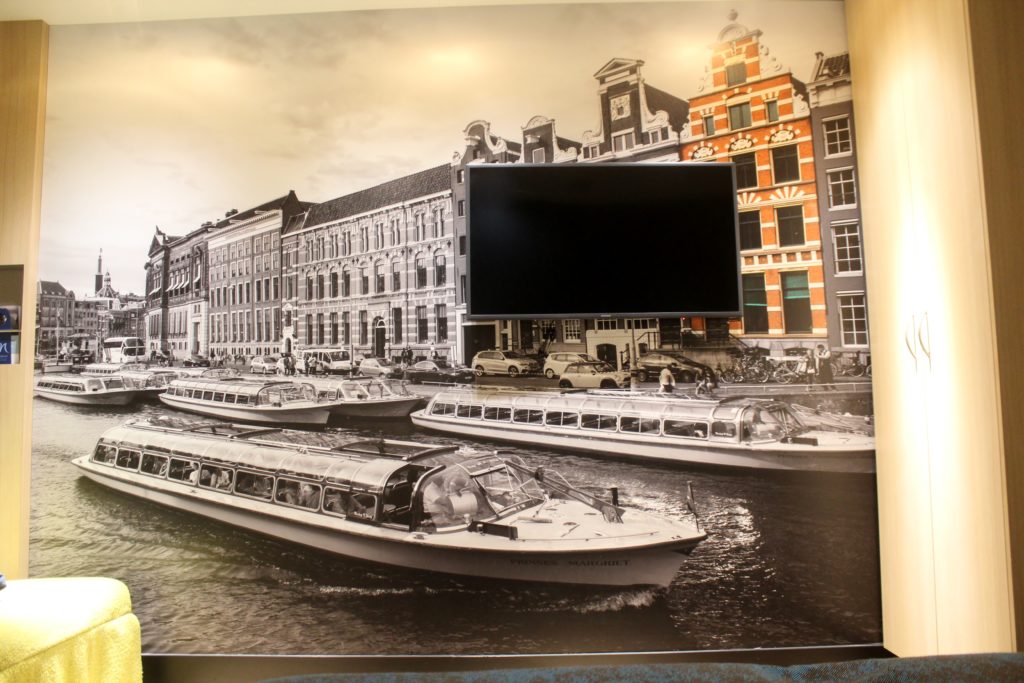 The room was in an excellent condition with a large picture wall featuring the canals of Amsterdam. The room also had a double bed (actually a twin bed), a desk, an armchair, a kettle to make coffee or tea and a TV.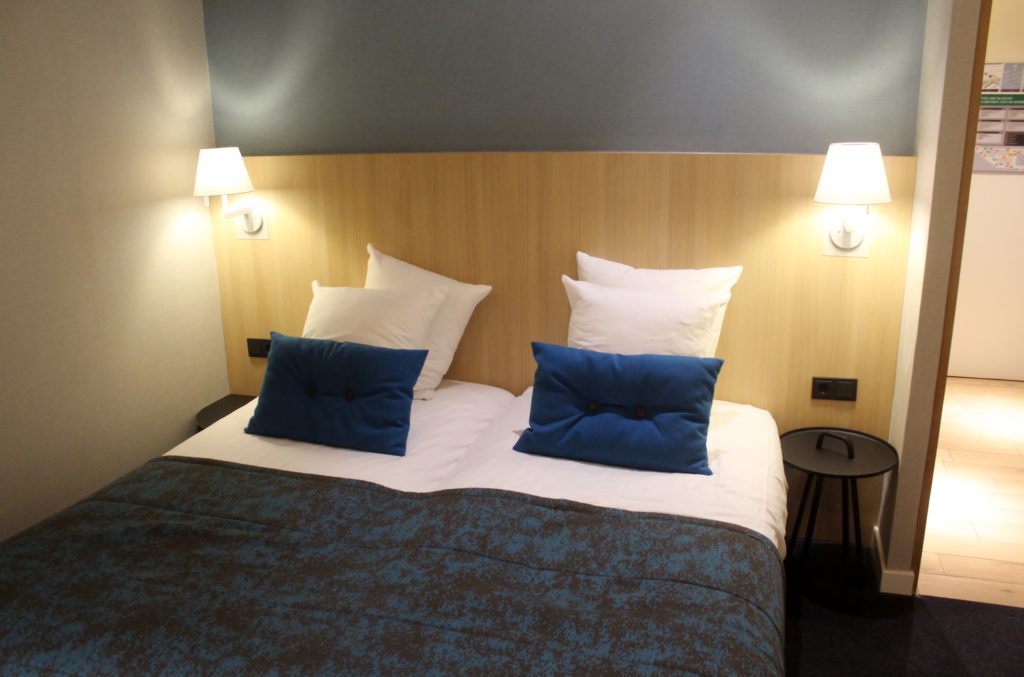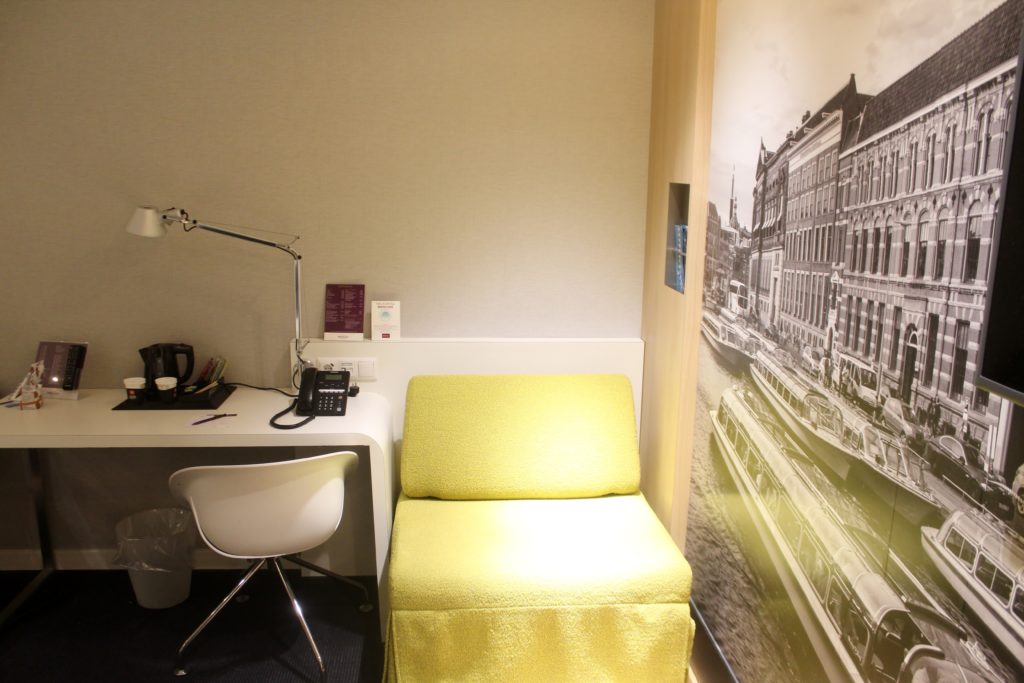 The bathroom was fairly small but had a very nice shower cubicle with a Dutch windmill. It also had the standard Mercure amenities.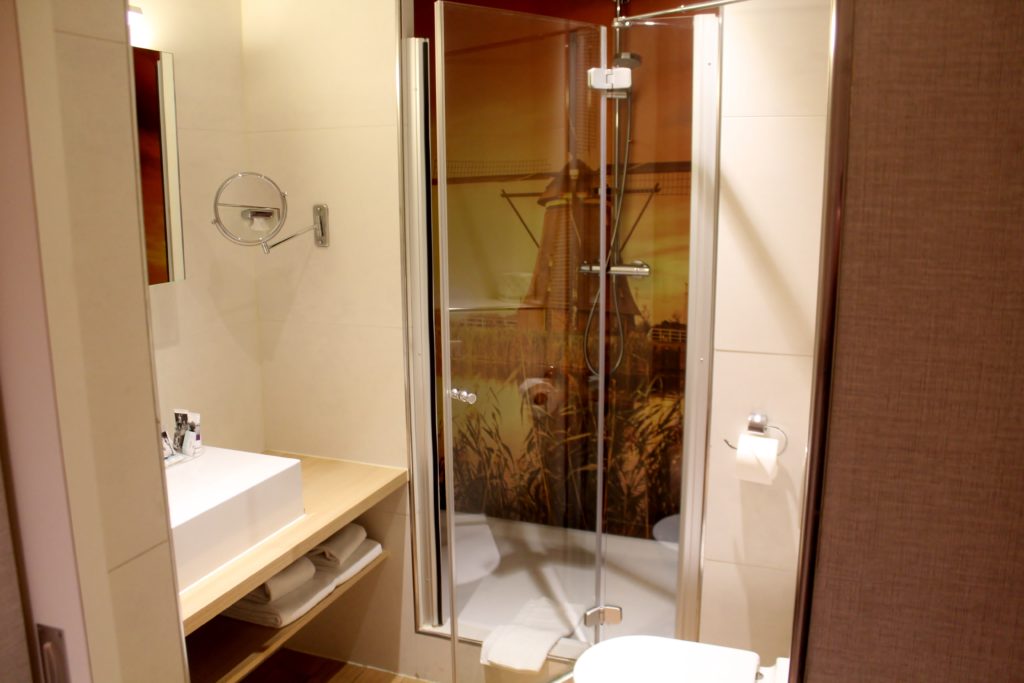 Food and drinks

The hotel is small and does not have a bar or a restaurant inside the hotel but they cooperate with two restaurants/snack bars nearby which are just a few seconds away.
The main restaurant is 'Bread', a self-service restaurant offering a menu with international cuisine, soups, salads and breakfast items. It is open 24 hours and is located in lounge 3, just 30 metres from the hotel.
The main bar for hotel guests is 'East Bar & Bites', also located near the hotel offering alcoholic and non-alcoholic cocktails as well as snacks.
Other facilities

Free internet is available throughout the hotel.
According to the sign outside the hotel rooms are also available for day use and it is also possible to visit the hotel just to have a shower.
Service

Very friendly and polite service at the front desk. I appreciate that they ask about flight details so they know where you are going and can make sure you do not oversleep, even if you do not order a wake-up call.
Breakfast

Breakfast is not included in the room rate but can be ordered at the 'Bread' restaurant next to the hotel. As I had a morning flight and had access to the KLM Crown Lounge at the airport where a decent breakfast buffet is available I did not have breakfast in the restaurant.
Final impression

Great location, friendly staff and surprisingly nice and well-appointed rooms. You completely forget you are airside at a major international airport. Good value for money, if you manage to find availability.