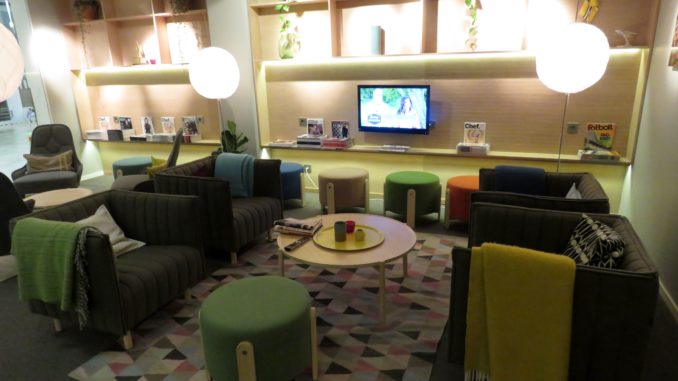 Where is it?
The new Malmö Aviation lounge is located in the transit hall between gate 15 and gate 16. In contrast to the old Express Lounge, which was located landside, this lounge is located airside and is accessible to both domestic and international passengers.

How do I get in?
A gold card with Malmö Aviation will get you in as well as a full flex ticket with Malmö Aviation. It is also possible to access the lounge using Priority Pass.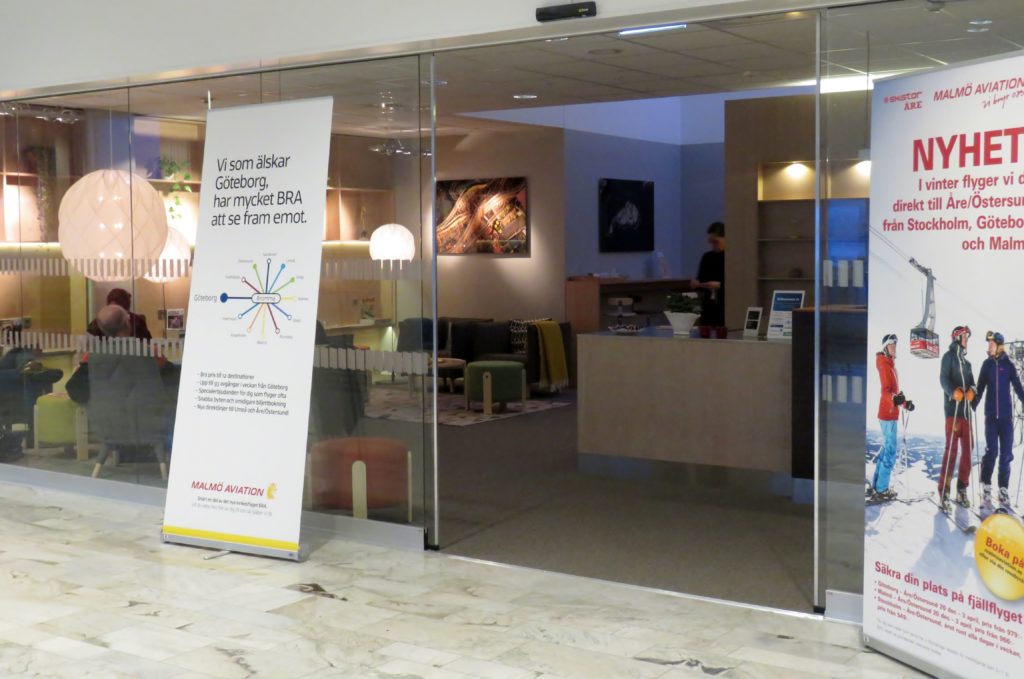 What's it like?
The new lounge opened in May 2015, replacing the old and much smaller Express Lounge in the domestic departure hall where the ticket office was also used as a reception desk for the lounge.
The new lounge has the latest lounge design, replacing the old one which had the interior and furniture in yellow and orange colours. The new design has been created by design firm Grow.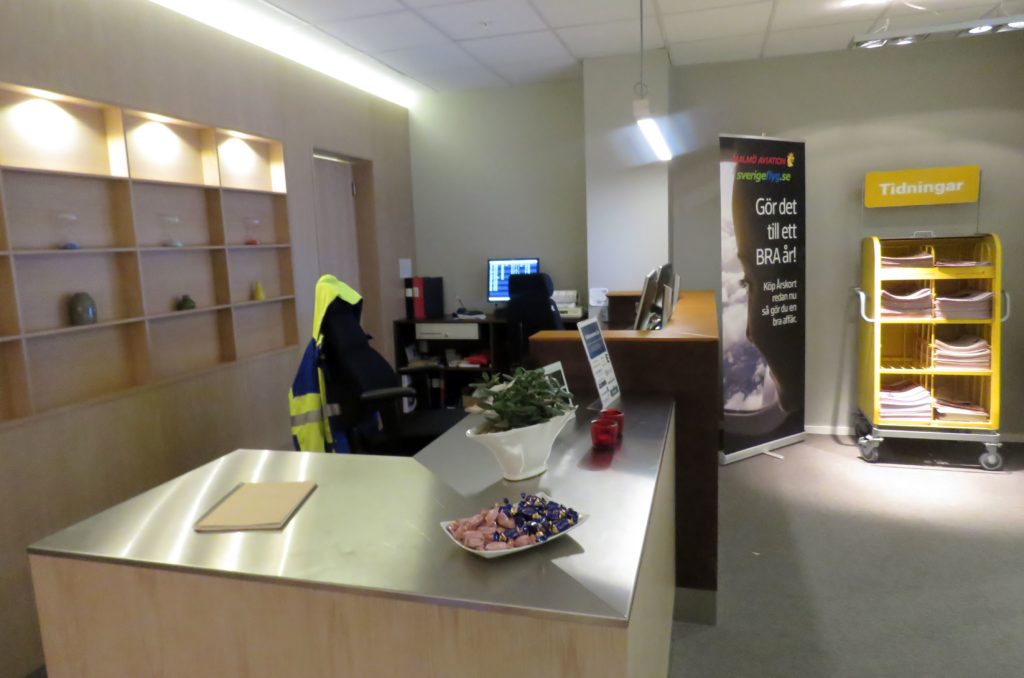 The lounge is also much larger than before with more seating but it is still small by international standards measuring 100 sqm. The lounge is basically divided into three parts – a lobby area with the reception desk and a rack with newspapers, a living room with armchairs and a large bookshelf with a TV, and a restaurant area.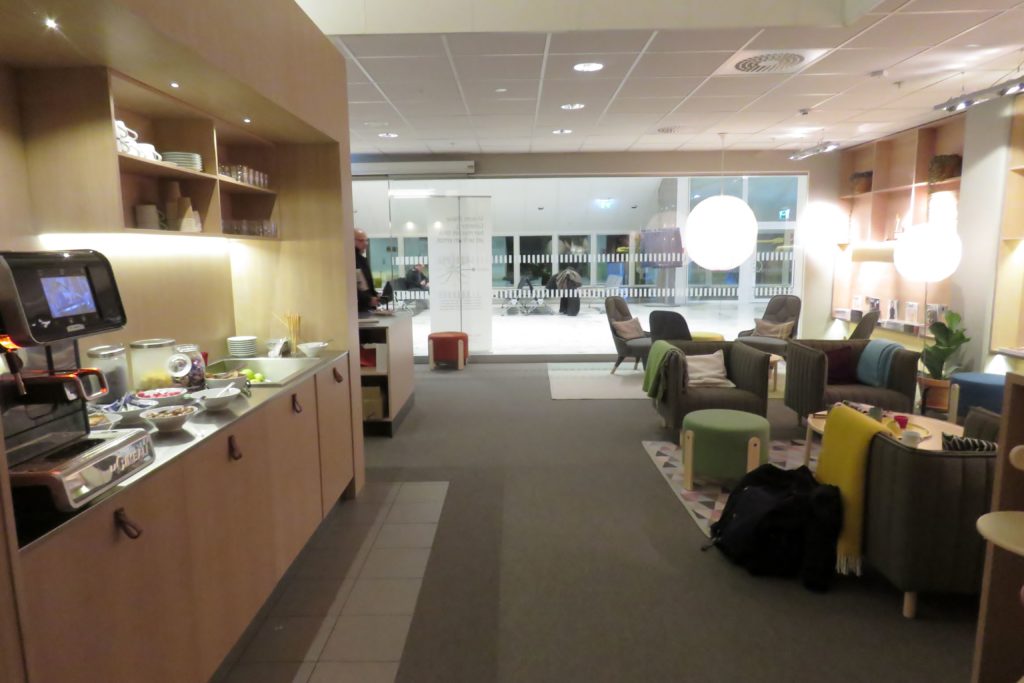 The main area is very nicely decorated with green armchairs and gives the feeling of being in a living room with a TV and a large bookshelf with books, magazines, vases and flowers. It certainly has a rather homey feeling with four armchairs placed around a low coffee table in front of the TV.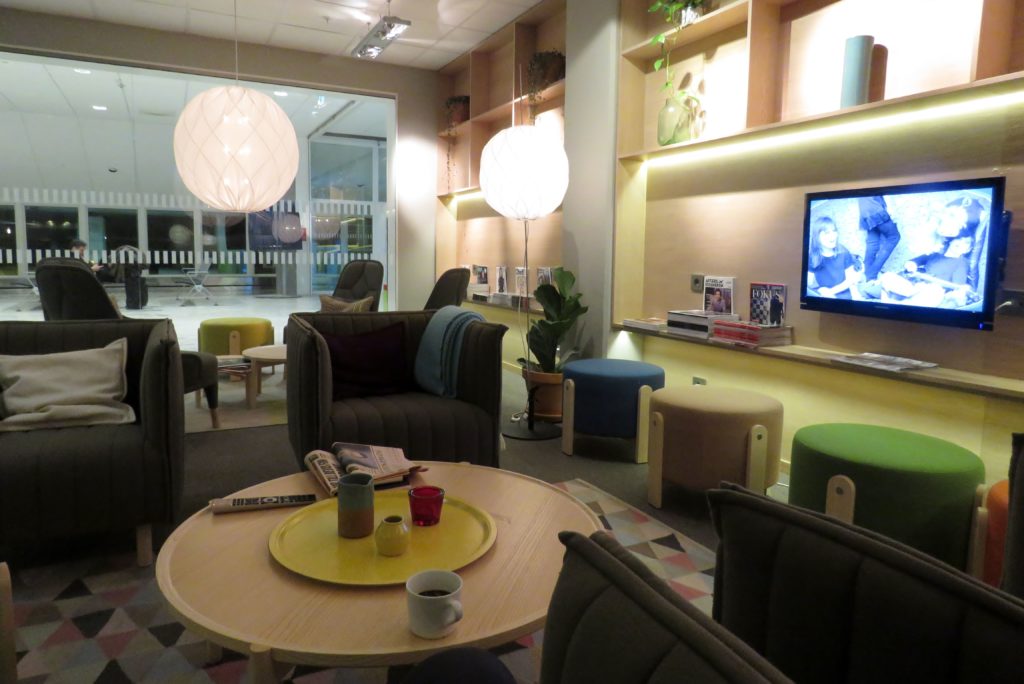 The only drawback is the panorama windows facing the main transit hall meaning all passengers who pass outside the lounge can see who is sitting inside.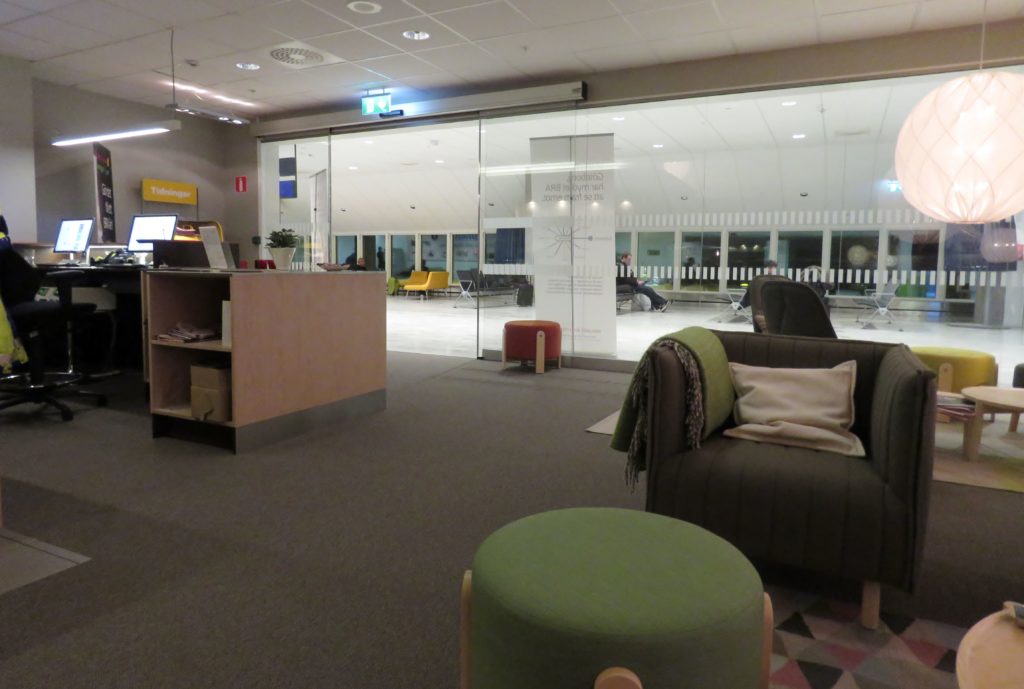 Food and drinks
Food and drinks are available from a small self-service buffet area. The food is limited to cocktail snacks, fruits, olives, sausages, candies and cookies. The selection varies depending on the time of the day with a focus on locally produced items. The selection of drinks includes soft drinks, water, coffee and tea. No alcoholic drinks are available.

The food in the lounge should not be regarded as a substitute for a proper meal.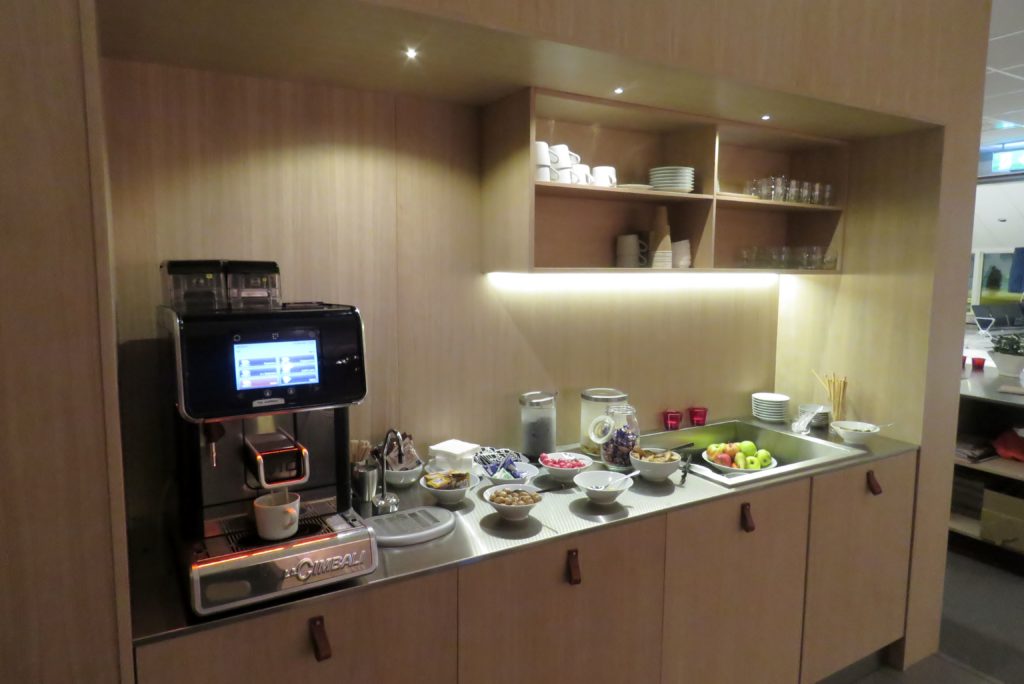 The restaurant area in the inner part of the lounge has proper seating with seats and tables as well as colourful cushions. There is also a small bar desk.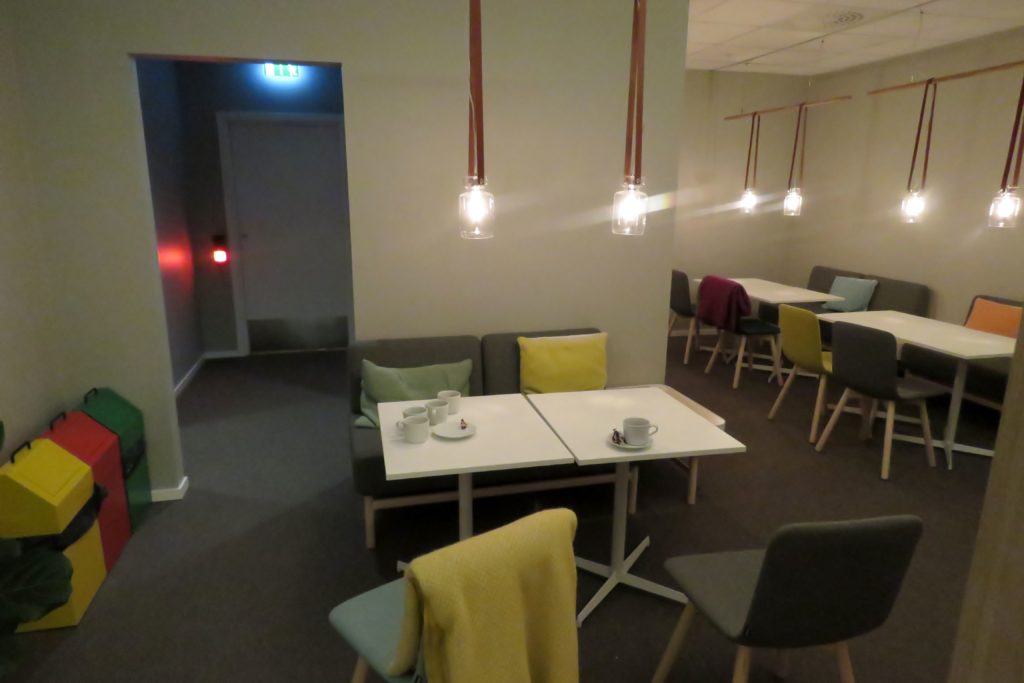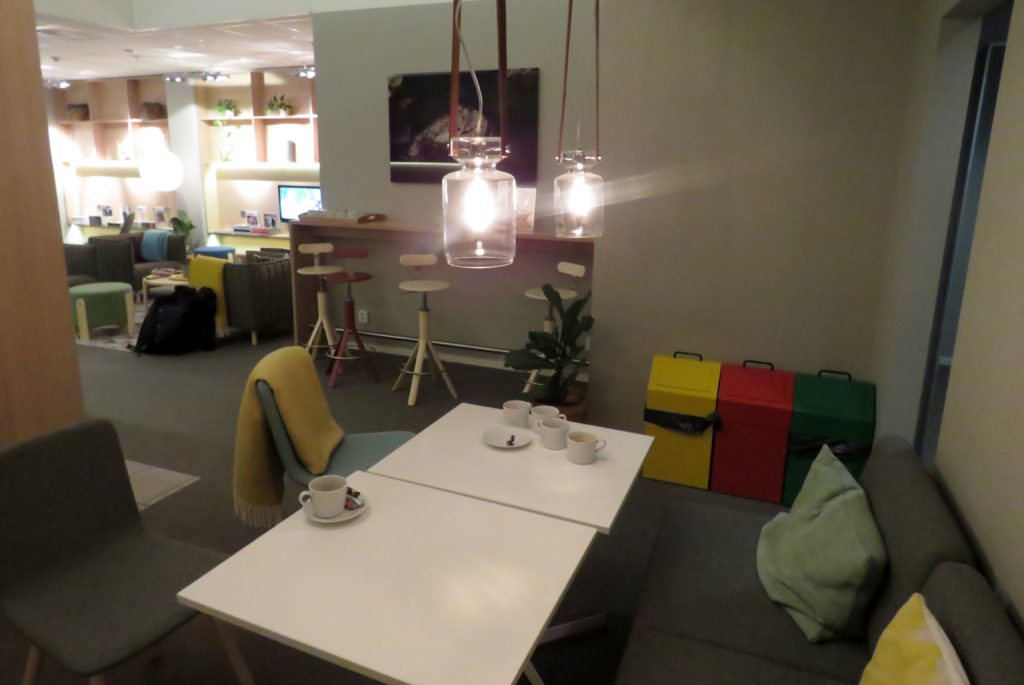 Facilities
Swedish newspapers are available at the entrance and there is free Wi-Fi in the lounge. In contrast to the old lounge there is also a toilet inside.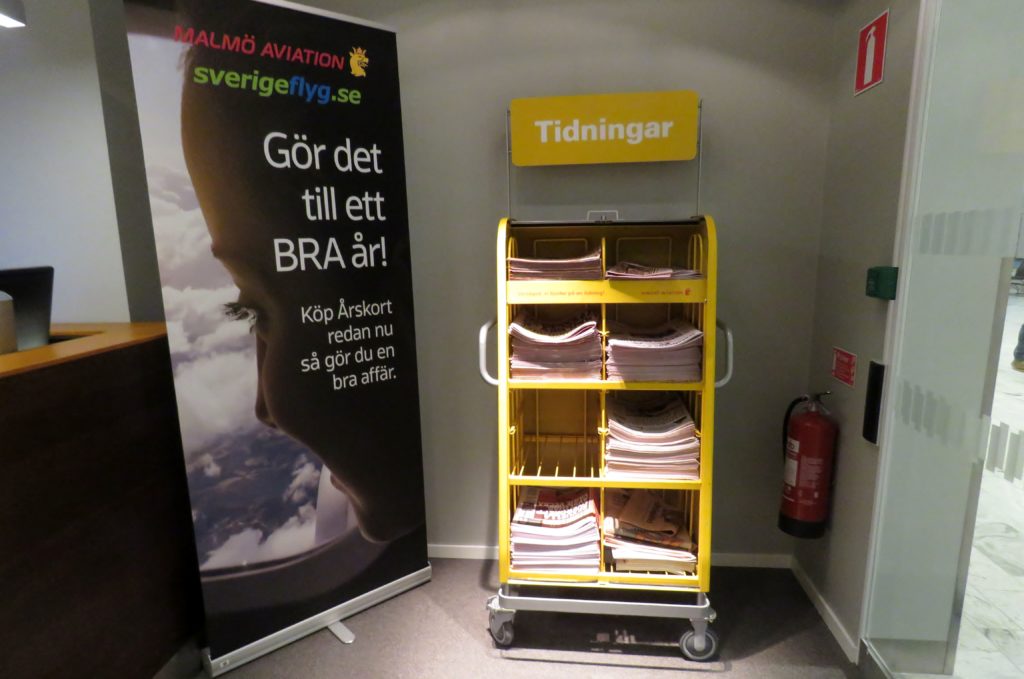 Final impression
The design is quite attractive, the atmosphere in the 'living room' is very cosy and has a pleasant homey feeling to it. But at the moment anyone passing outside the lounge can see who is sitting inside, which is a drawback. Also something more substantial to eat would be appreciated, such as some sandwiches. But for a domestic lounge for a small domestic airline, this is not that bad.