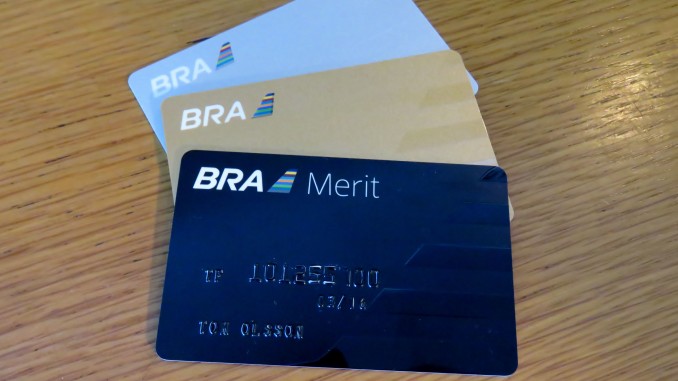 The new Swedish airline Braathens Regional Airlines, more commonly known as BRA, today started operations and at the same time launched a new frequent flyer program called "BRA Vänner", or "BRA Friends". The program replaces the previous frequent flyer schemes offered by Malmö Aviation and Sverigeflyg.
The program has three levels. The entry level is called Silver, which is equivalent to the previous Malmö Aviation basic level. The next level is called Gold, and finally there is a new third level called Merit, which is by invitation only.
BRA Vänner Silver is the entry level of the program with the possibility to earn and redeem points.
BRA Vänner Gold is the next level for frequent travellers who have earned 27,000 points during the qualification year. The extra benefits include lounge access, 50 percent discount on the airport buses, priority on waiting list and more partner offers and discounts. The Gold status can also be obtained by purchasing an unlimited travel card for 6 or 12 months, which then also includes free travels on the airport buses, rather than 50 percent discount.
BRA Vänner Merit is the top level of the program. It has been announced as a by invitation only level but there is also an official qualification level at 70,000 points. This would require 59 flights with a fully flexible ticket or 234 flights with a discounted ticket. The benefits include all the Gold benefits such as lounge access but also free special baggage, better rules regarding lounge access for guests, free travels on the airport buses, highest priority on waiting lists, guaranteed seat on the next flight in case of cancellations, guaranteed seat if booked at least 48 hours before departure, a Gold card to give to a spouse, a welcome bonus of 10,000 points, and more partner offers.
The point earnings are fairly straight forward with the cheapest tickets (including BRA Fast) giving 300 points, slightly more expensive tickets (including BRA Bas) giving 600 points and fully flexible tickets (including BRA Extra) giving 1200 points. There are two types of award tickets. BRA Bonus Bas costs 6000 points for a one way domestic flight and BRA Bonus Extra 10,000 points, but offers better availability. Silver members can also redeem points for lounge access for 2000 points.
Points can also be earned from partners such as from hotel stays and car rental and there is a fairly good selection of redemption possibilities including spa weekends, gym cards, grocery shopping, hotel stays, car rentals and magazine subscriptions.
More information can be found on the BRA Friends webpage.