Early morning in the Schengen KLM Crown Lounge at Amsterdam Schiphol waiting for the morning flight to Madrid. Although there will be a proper breakfast served on the flight it is always nice to have something to eat and drink in the lounge. And not to forget, a well-needed cup of coffee.
With Christmas approaching rapidly and just a few days left until December the KLM Lounge has now been decorated with several Christmas trees, to get passengers in the right spirit.
The breakfast buffets in the KLM lounges at Schiphol may not be the prettiest of buffets with the brown wood and the metal platters used, and they do start to show their age. But the breakfast buffet itself in the Schengen lounge is surprisingly good for an airport lounge, and especially for a lounge used for shorthaul flights.
There is yoghurt (natural and flavoured) and bread rolls with a nice selection of Dutch cheeses and ham. And of course there are different pastries such as croissants and pains au chocolat and the signature Dutch donuts.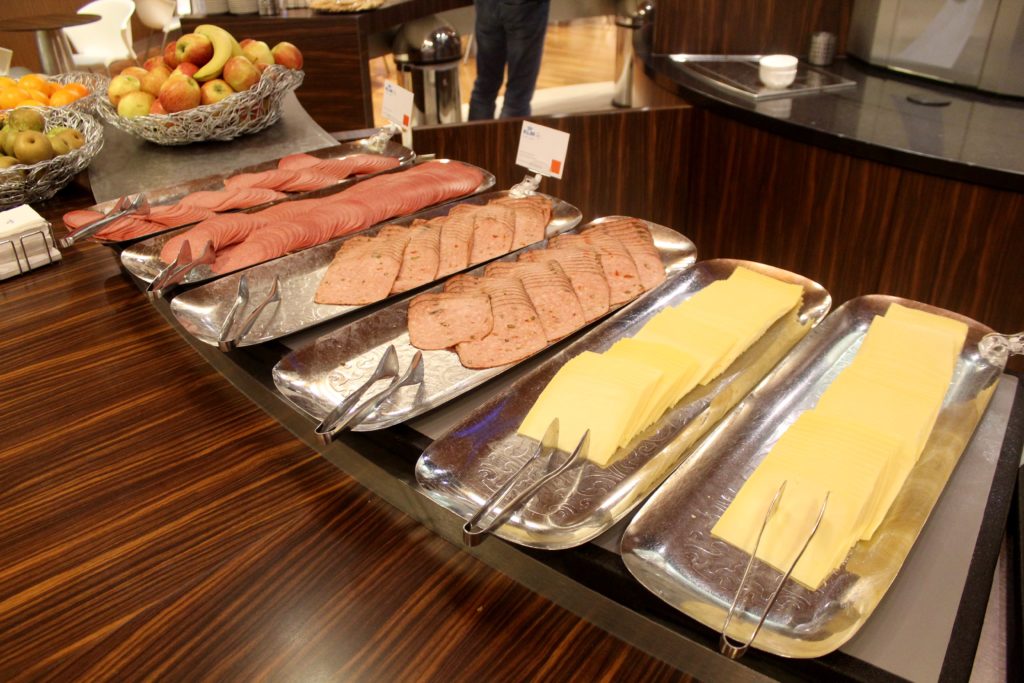 There is also a section with hot items which seem to change a few times a year. This time omelettes and hard-boiled eggs are available as well as breakfast sausages and mini Dutch pancakes.
A small first breakfast with a cup of coffee and a glass of fruit juice.
And a second cup of coffee, with a KLM ginger cake, which actually has KLM and the logo printed on it.