Introducing buy-onboard in economy class is getting more and more common on European airlines, and of course no frequent flyer likes seeing frills being taken away. But there are also airlines where you actually get quite a lot for your money when shopping from the inflight trolley. One of these is LOT Polish Airlines.
A bottle of wine for example onboard in LOT economy class costs 10 zloty, around 2.40 euro/3 USD, which is very affordable. This time I noticed in the menu they had apple cider onboard, a Polish cider called Lubelski I had never tried before, so I decided to give it a try.
When the trolley passed through the cabin I asked if they had the cider onboard, and they had. However I was not charged the 10 zloty it was supposed to have cost according to the menu, but 8 zloty, which means about 1.90 euro or 2.40 USD. As we sorted out the payment the colleague went to the galley to get the cider.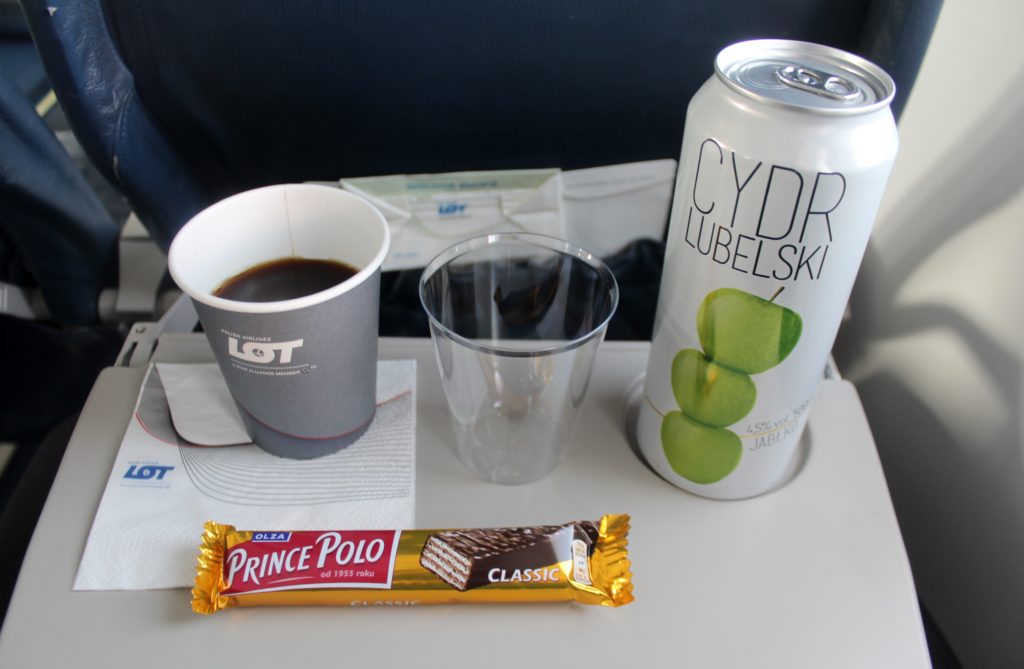 And well, it turned out for the 8 zloty I paid I got a lot of cider. When the flight attendant returned it was not the standard-sized soda can, nor the standard miniature wine bottle, but a 0,5 litre bottle. It kept me occupied for the rest of the flight. And that is incredibly good value for money.
And what about the apple cider itself? Well it was fairly sweet, but other than that, perfectly fine.