A short review of a Swedish domestic flight in SAS Plus, the premium cabin of SAS on intra-European flights, between Stockholm and Gothenburg.
Departure experience

In contrast to many other airports around Europe, where airport terminals are divided into Schengen and non-Schengen sections, at Stockholm Arlanda airport the terminals are still strictly divided into domestic and international terminals. For SAS and Star Alliance the international flights depart from terminal 5 while the domestic flights depart from terminal 4.
This may not be a big deal as such, but if you are a premium traveller it does make a difference. Although there is a domestic lounge in terminal 4 it is vastly inferior compared to the international SAS lounges in terminal 5. However you can access the international lounges in terminal 5, even when travelling on a domestic flight. Your boarding pass will get you both airside and inside the lounge, but then you will need to go back landside after the visit, and through customs and through security control a second time in terminal 4. This is not really advisable unless you have a good two hours until your flight departure.
I arrived at the airport 90 minutes prior to departure. There is a fast track channel for SAS Plus passengers located to the right of the check-in area on top of the escalator, next to the entrance to SkyCity. It is completely separate from the regular security control so you need to look for the signs.
The domestic lounge is fairly small and it can be absolutely packed at peak times. It is old and rather worn and little has changed in terms of the interior during the past decade. There have been discussions of a well-needed expansion, but nothing has happened so far.
On the positive side at least they offer beer and wine now, which was not the case a few years ago. But the food selection (or rather the snacks selection) is still very limited. Some soup, bread rolls with cheese, fresh fruits and cocktails snacks.
The flight
Stockholm-Gothenburg
SAS flight SK 169
Departure: 18.50
Arrival: 19.50
SAS Plus
Boeing 737
Seat 02F

In the late afternoon the flight was advertised as delayed due to a late incoming aircraft, but apparently they did some changes in the rotations and a new aircraft was assigned for the Gothenburg flight, which would only be a few minutes late.
At the end both the cabin crew and the ground staff made an impressive job turning the aircraft around in very little time, even with a crew change at the airport. Boarding was announced around 6.40 pm, with priority boarding for SAS Plus and Star Alliance Gold, and the last cabin crew member actually arrived as we were waiting in the jet bridge to board.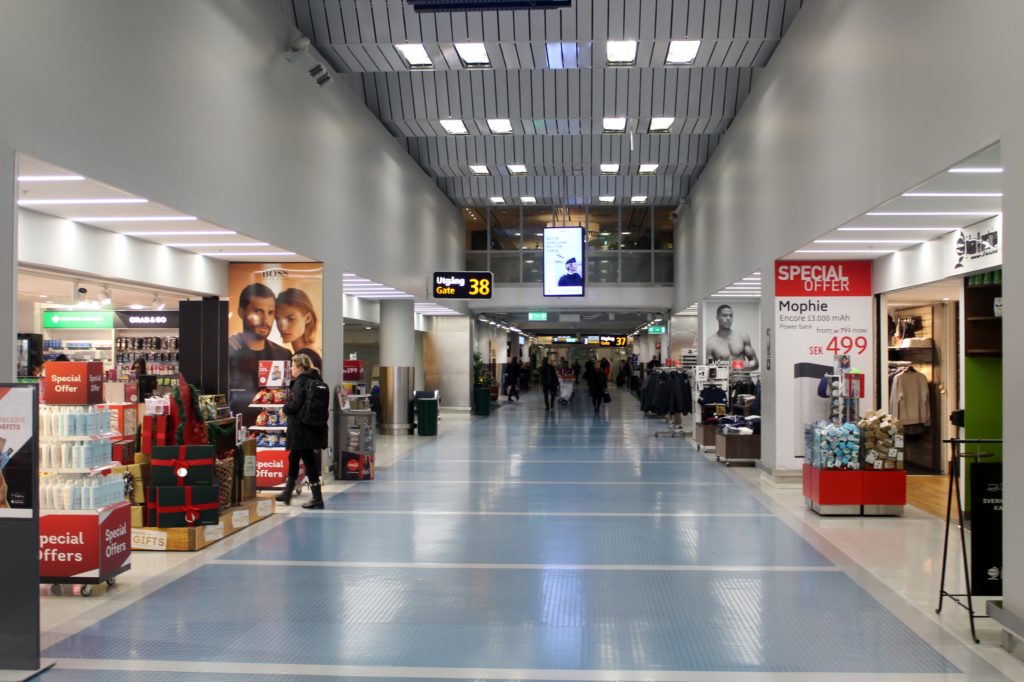 First impression

A Boeing 737-700 was used to Gothenburg with five rows of SAS Plus, the premium cabin of SAS on shorthaul flights. I had prebooked 02D and eventually got my own row and later moved to the window seat, 02F.
No pre-departure drinks were offered and newspapers have to be downloaded in advance using the SAS app. There are no longer any printed copies available onboard.
The staff did a good job trying to reduce the delay and we eventually pushed back at 7 pm, 10 minutes behind timetable, with a flight time of 45 minutes to Gothenburg.
Seat and cabin

Since SAS Plus is a premium economy product, rather than a business class product, there are no blocked middle seats. If the flight is full there will be someone sitting in the middle seat, or if you check in late yourself it may be you who get to sit there. However SAS usually offers seat block to SAS Gold and Diamond members, but of course this is never guaranteed.
The aircraft had the new shorthaul interior with the seats in grey and the wooden panel at the front of the cabin.
Food and drinks

As the seatbelt sign had been switched off the inflight service started. In SAS Plus you can basically order anything you like from the SAS Cafe assortment, available from the trolley, however the selection is more limited on domestic and intra-Scandinavian/Nordic flights.
The standard concept on domestic flights departing after 9 am is to offer a sandwich, a 'Polarrulle' with different fillings. This time a 'Polarrulle' with Wästgöta kloster cheese was offered. There is also a selection of snacks, for example muffins, chocolate bars, crisps and health bars. I decided to order their excellent chocolate ball from Hedh Escalante.
Beer and wine are available on intra-Scandinavian and domestic flights but no spirits. Also on domestic flights you are only allowed to order one bottle of wine or one beer, if you want a second one you will have to pay for it. This is due to the strict alcohol laws in Sweden.
I ordered a bottle of white wine and a cup of coffee. These were served in plastic glasses and paper cups.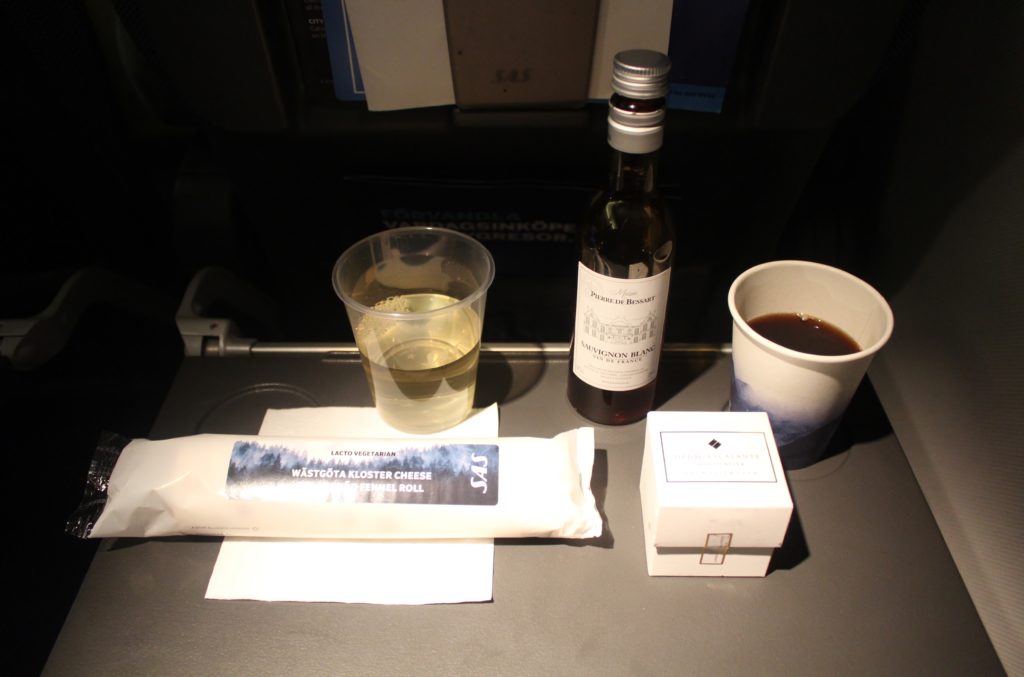 The service

The service was friendly but with a concept where you choose yourself from the sales cart, with a selection exactly the same as offered in economy class, it really does not give much of a premium feeling. Nevertheless there was nothing to complain about regarding the crew and they really worked hard on the ground to get us away on time.
Arrival experience

Despite the initial problems in Stockholm we actually landed at Gothenburg Landvetter airport just five minutes behind timetable.
In Gothenburg, in contrast to Stockholm Arlanda, there is a shared terminal and a shared transit hall for both domestic and international flights. Gothenburg is not really a transfer airport but I actually had an onward connecting flight to Berlin with a transfer time of 35 minutes. The flight from Stockholm parked at gate 14 and the Berlin flight departed from gate 16, so it took 30 seconds to get to the next flight, where boarding had already started.
Final impression

SAS Plus on domestic flights is not much of a premium experience. The selection of snacks and drinks is the same as in economy class, although it is complimentary. However the product also comes with some other benefits such as better point earnings and lounge access. Punctual flight with friendly service.