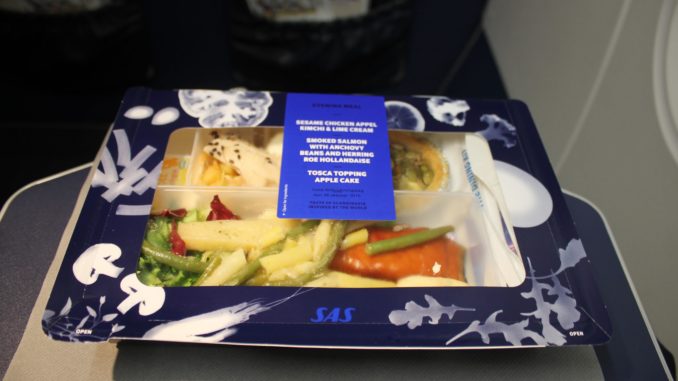 In late October 2015 SAS made some changes in the onboard service in their SAS Plus cabin (premium economy) with some fairly nice improvements including the re-introduction of hot towels and also table cloths. This flight from Milan to Copenhagen took place on the very first day after the new concept had been introduced.
Departure experience
I arrived at Malpensa airport at 6 pm, two hours before the departure to Copenhagen. There were three check-in desks open for SAS flights in terminal 1, two desks for economy class and one desk for SAS Plus, business class and gold card holders.
I had already checked in online and was travelling with online hand luggage, but I preferred to have a boarding pass printed and I also wanted to enquire about premium facilities at the airport. Therefore I approached the empty premium desk where a very friendly man assisted me.
A boarding pass was printed for the flight to Copenhagen and the onward flight to Oslo and I was told there was a fast track channel at security and that I could use the Lufthansa lounge in the transit hall.
There was indeed a fast track at security, which was quicker than the regular line, and which was followed by an escalator down to the transit hall and the shopping area. The transit hall felt slightly confusing but I followed the signs towards the A gates, which should also include the direction to the lounges.
SAS uses the Lufthansa lounge at Malpensa airport. A few years ago the lounge was divided into a business lounge and a Senator lounge (for passengers with a gold card), now there is just one lounge used by all passengers. The lounge is well hidden at the end of a long corridor behind one of the taxfree shops.
The interior was the typical old Lufthansa lounge design, grey and rather sterile and honestly not particularly inspiring. However there was a reasonable selection of food in the self-service buffet, including pasta salad, cold cuts, tuna and vegetables as well as some sandwiches and desserts. I could make myself an acceptable dinner, which was appreciated after a long day. The drinks selection included red and white wine, beer, a small selection of spirits and soft drinks.
Read the full lounge review here!
I also had time for a quick visit to the Sala Monteverdi Lounge, located in the satellite building with the A-gates, right above the gate area with a much more convenient location. The lounge is accessible with for example Priority Pass. It has a much better drinks selection than the Lufthansa lounge and a comparable food selection.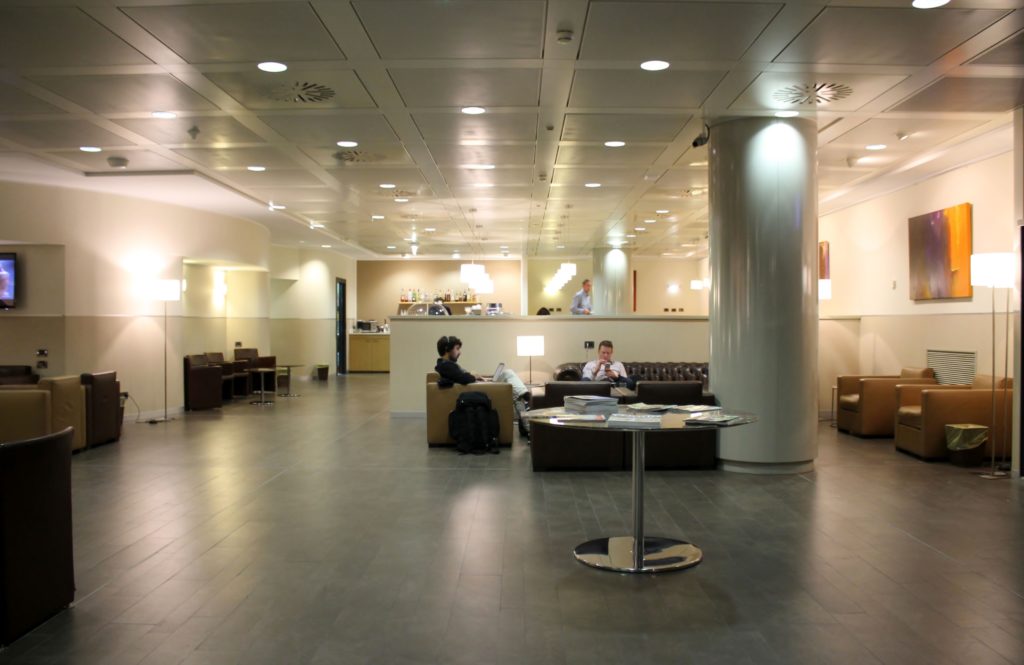 Read the full lounge review here!
The flight
Milan Malpensa-Copenhagen
SAS flight SK 688
Departure: 20.00
Arrival: 22.00
SAS Plus/Premium Economy
Airbus A321
Seat 01F
Boarding started 20 minutes before departure with priority boarding for passengers in SAS Plus and passengers with a EuroBonus gold or diamond card.
First impression
I had prebooked seat 01F for the flight, a window seat on the first row. This turned out to be an excellent choice given the massive legroom on the first row. Easily the best on any SAS shorthaul or mediumhaul aircraft. SAS usually blocks the middle seats for passengers with a gold card, and this was the case on this flight as well. A middle-aged man was seated in 01D while the middle seat 01E remained empty. However with this amount of legroom I could easily pass in front of my seat neighbour.
Newspapers are no longer offered on SAS aircrafts, instead passengers can download newspapers to their mobile phone or tablet from 24 hours before departure using the SAS app. This service is available to all passengers, irrespective of cabin class. Reading one of these newspapers or magazines on a mobile phone is quite tricky, the screen is simply too small, but it works fine on a tablet.
We pushed back right on time with a flight time to Copenhagen of one hour and 45 minutes.
Food and drinks
This was the first day of the winter timetable and the first day with the new inflight concept in SAS Plus on intra-Europe flights, and I was very excited to experience the new service and see the differences.
The inflight service started with a hot towel. Hot towels have not been offered on intra-Europe flights since business class was scrapped a few years ago. A nice start! Next a paper table cloth was placed on my tray table, in the typical grey SAS colour.
Next the evening meal was handed out, in a new box in new colours. In different shades of blue this time.
The content was a bit more extensive than in the past. The appetiser was chicken with lime cream, the main course smoked salmon and a tosca topping apple cake was offered as dessert. All in all it was both tasty and filling for an intra-Europe premium economy meal. Bread rolls were offered from the trolley followed by drinks.
I asked for a bottle of white wine and a glass of water and was later offered more breads and a refill. Later coffee and tea were offered and I finished off the meal with a gin & tonic.
There was some heavy turbulence over the Alps and the aircraft was shaking so much that the inflight service had to stop the the cabin crew had to return to the galley. This meant the inflight service was delayed by 10-15 minutes for some passengers but with a flight time of nearly two hours all passengers had more than enough time to get their meals.
The service
The crew were a mix of Swedish, Danish and Norwegian flight attendants led by a Swedish male purser who took care of the service in SAS Plus. The service was friendly and polite and the purser was very interested to hear what I thought about the new concept, which was obviously completely new to him as well.

Arrival experience
We landed right on time in Copenhagen at 10 pm. Before landing connecting gates were announced by the cabin crew, my connecting flight to Oslo was to depart from the gate almost opposite our arrival gate, which would mean a very easy transfer. I had 45 minutes between flights but SAS now offers a minimum connecting time of only 30 minutes between Schengen flights in Copenhagen.

Final impression
The new inflight concept in SAS Plus was perhaps not a major change, but small changes such as hot towels, a table cloth and a slightly more extensive meal do make a difference. The crew did a good job and the flight was pleasant from start to finish, with a big plus for the fantastic legroom on the first row.