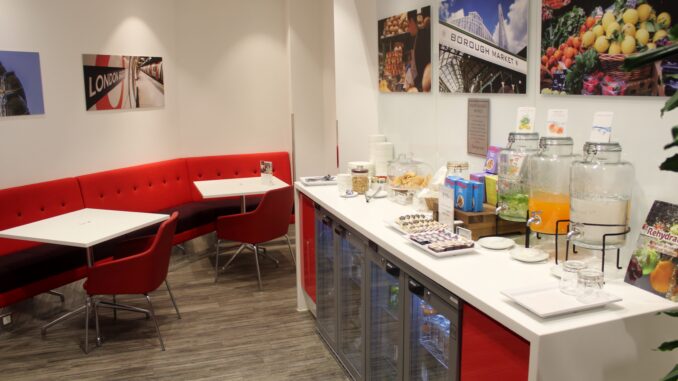 Another lounge at London Heathrow airport has now joined the Priority Pass scheme – The Plaza Premium Arrivals Lounge at terminal 3. This means that all Plaza Premium Arrivals Lounges at the airport are now accessible using Priority Pass.
On top of these there are also Plaza Premium lounges for departing passengers in the transit halls at terminal 2, terminal 4 and terminal 5.
There are currently three Plaza Premium Arrivals Lounges at Heathrow, in terminal 2, terminal 3 and terminal 4. The main differences between the one in terminal 3 and the other two is that the terminal 3 lounge is only open in the morning and in the early afternoon, closing at 2 pm. The other two in terminal 2 and 4 are open until the evening.
Also the lounge in terminal 3 does not offer any hot food and no alcohol, in contrast to the other lounges. But on the other hand terminal 3 is possibly the terminal at Heathrow with the most longhaul flights, where you might need to freshen up and have a shower after a long night flight before leaving the airport.
The location is a bit odd as you actually need to exit the terminal building and walk a short distance outdoors next to the bus drop of area to get to the lounge. The entrance is next to bus stops 17 and 18. Although the location is a bit unusual there are plenty of signs both inside and outside the terminal building and you will not miss the entrance, which is on the left hand side.
The lounge is fairly small but adequate for the small number of visitors. Upon entering there is a small and rather nice lobby with the reception desk. The main lounge is located to the right of the lobby, whereas the self-service buffet area and the small dining area is in the small room to the left.
Since the lounge is only open in the morning and closes at 2 pm the focus is on breakfast items such as bread rolls and pastries as well as milk and cereals. There are some snacks available such as yoghurt, fruit salad, finger sandwiches and salads.
Read the full lounge review here!