Air Calin (or Aircalin, as they write the name nowadays) is the national airline of New Caledonia, a group of islands and a French collectivity in the western part of the South Pacific. This is a review of a morning flight in business class from Wallis Island in Wallis and Futuna, another French collectivity in the South Pacific and a significantly smaller one, to Noumea, the capital of New Caledonia and the hub of Aircalin.
Departure experience

The airport of Wallis is called Hififo and is located in the northern part of the small Wallis island. The airport is equally small with just three international flights per week to Noumea as well as a few 'domestic flights' from Wallis to Futuna, the neighbouring island. All flights to both Noumea and Futuna are operated by Aircalin, for the latter using small propeller planes.
As there is no public transportation on Wallis and no taxi cars I had to arrange airport transportation through the hotel. Of course this was very pleasant in the sense that I was driven to the airport by the very friendly owner of the family-run hotel and enjoyed a last chat before leaving Wallis, but she also insisted on leaving the hotel two hours before departure. With a business class ticket, a 10 minutes drive to the airport and just one morning departure this felt way too early. I could easily have slept another 30 minutes and made the flight with plenty of margin.
There were lots of people at the airport. The flight departures and arrivals at Wallis airport are like social gatherings and many friends, family members and relatives go there to send people off or to greet their loved ones upon arrival. When the Aircalin Airbus A320 visits Wallis three times per week the airport is buzzing with life. In fact it seems like many people go there just to have a chat with other locals. A perfect opportunity to meet friends and acquaintances you may not run into otherwise. I have rarely seen so many people at an airport being there at the same time for just one arrival and one departure.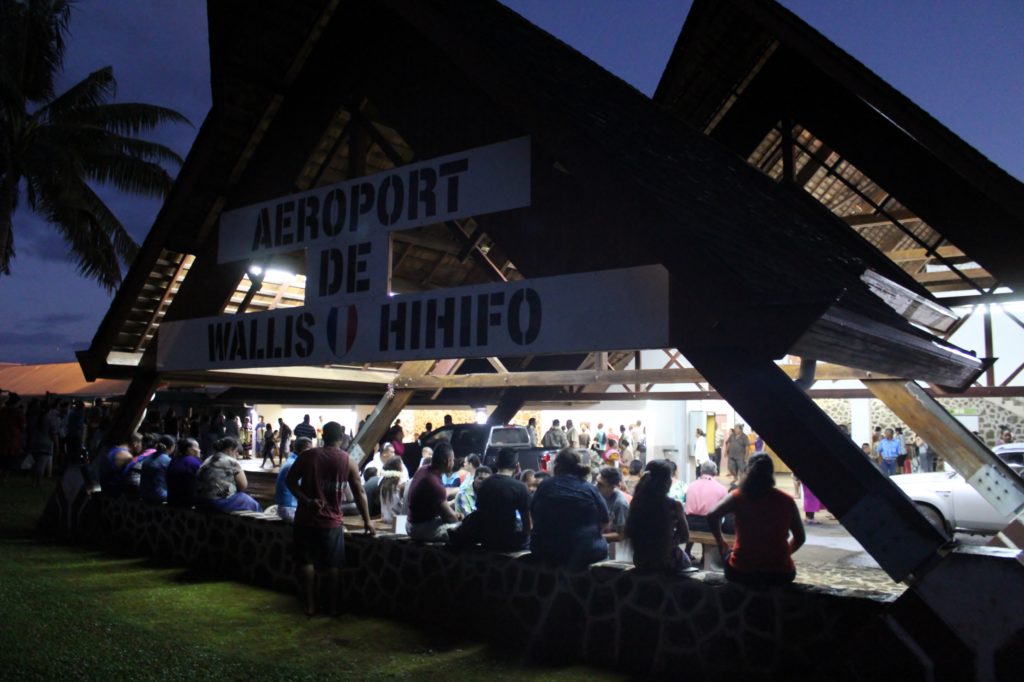 The check-in area was in a small room inside the terminal building but very nicely there was a premium line which I could use as both a business class passenger and a gold card holder of Flying Blue. There were just two passengers in front (a big contrast to the economy class line) and I was checked in within five minutes.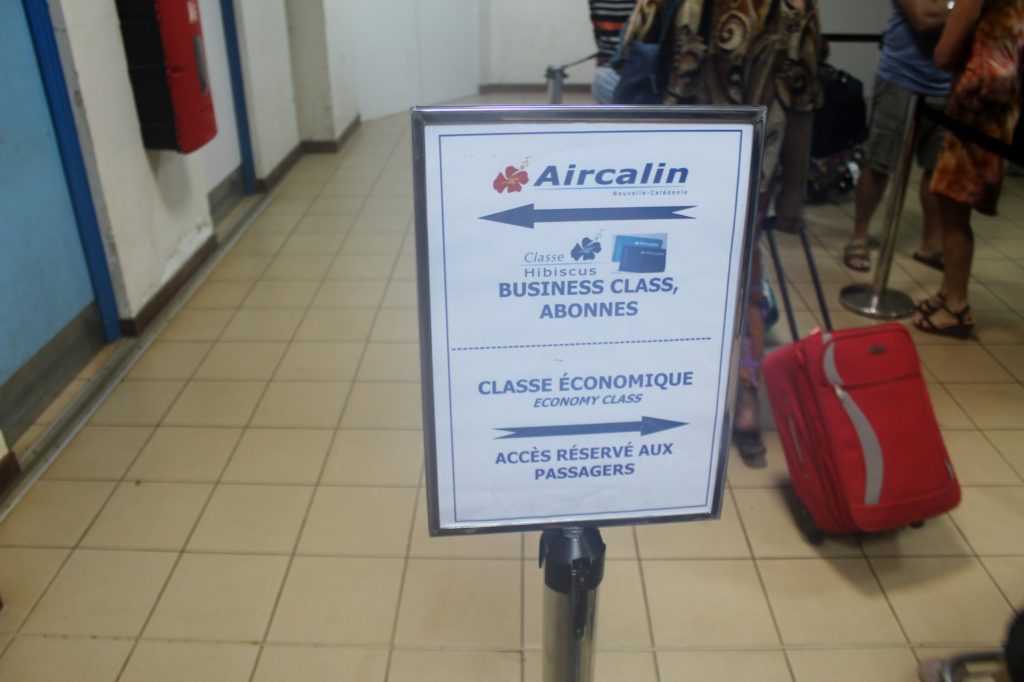 My suitcase was tagged to Noumea with a yellow priority tag and I received a boarding pass with my pre-booked seat 01F.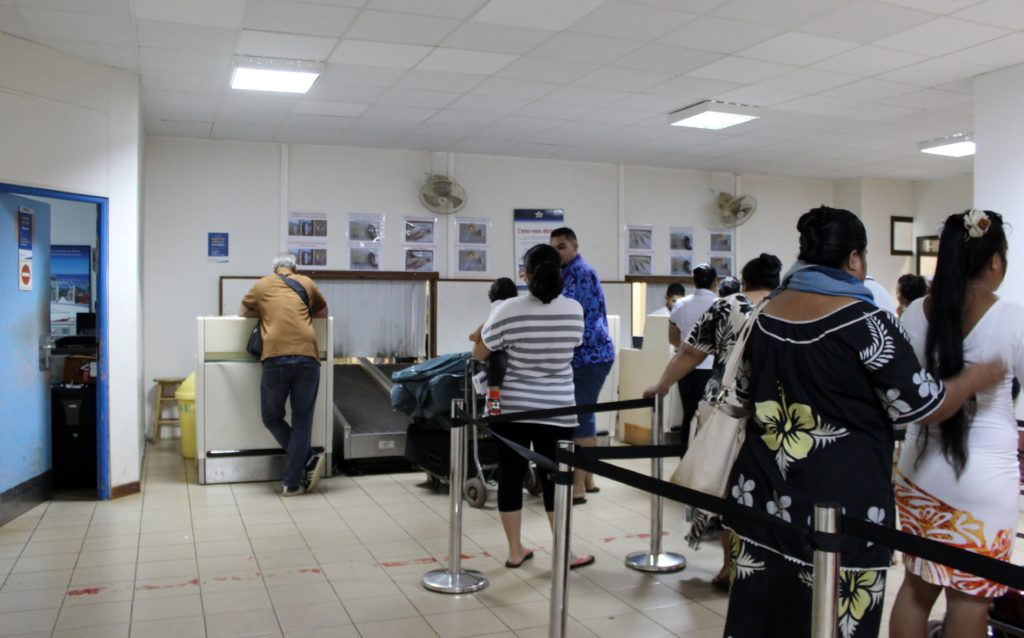 As I was standing at the check-in desk a woman waiting in the front of the economy class line approached me and asked me very politely in French if I had any spare kilos for a box she wanted to check. Although I had a couple of kilos left of my baggage allowance (as a business class passenger you are entitled to 30 kg of checked luggage to and from Wallis), the question I have heard so many times at check-in popped into my mind, "did you pack your luggage yourself?". I obviously had no clue what was in her box.
The check-in agent looked at me patiently, waiting for an answer. This must have been a familiar situation for her as all the people waiting in the queue had a significant amount of luggage. Probably it would all have been fine, the woman certainly did not seem like someone trying to smuggle something not allowed. I do not even know what there might be of interest to smuggle from the small Wallis Island in the middle of nowhere. Rather hesitantly I politely declined. In hindsight perhaps they could have tagged the box under her reservation but using the remaining kilos of my baggage allowance, but it was 5 am in the morning and it was not the first thing that came to my mind how this could be sorted out without causing any problems.
There is no lounge at Wallis airport, in fact there is not much at all at the airport. However I had brought a sandwich I purchased the day before and found a snack bar on the first floor of the small terminal building where I could order a well-needed cup of coffee.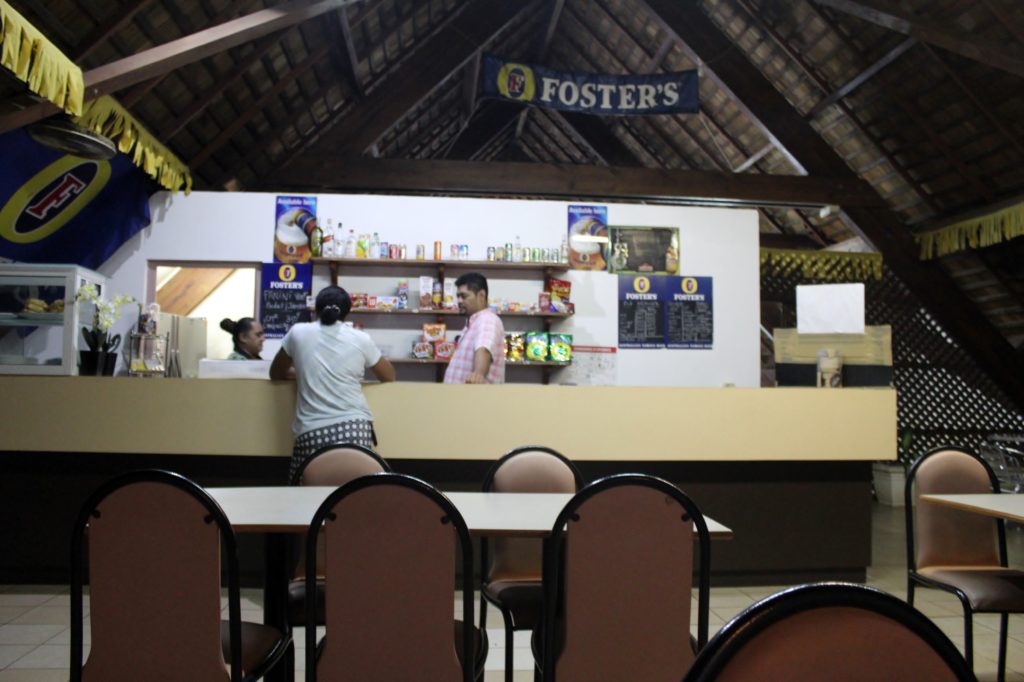 The snack bar had a nice view of the apron and the runway where the aircraft had just landed from Noumea.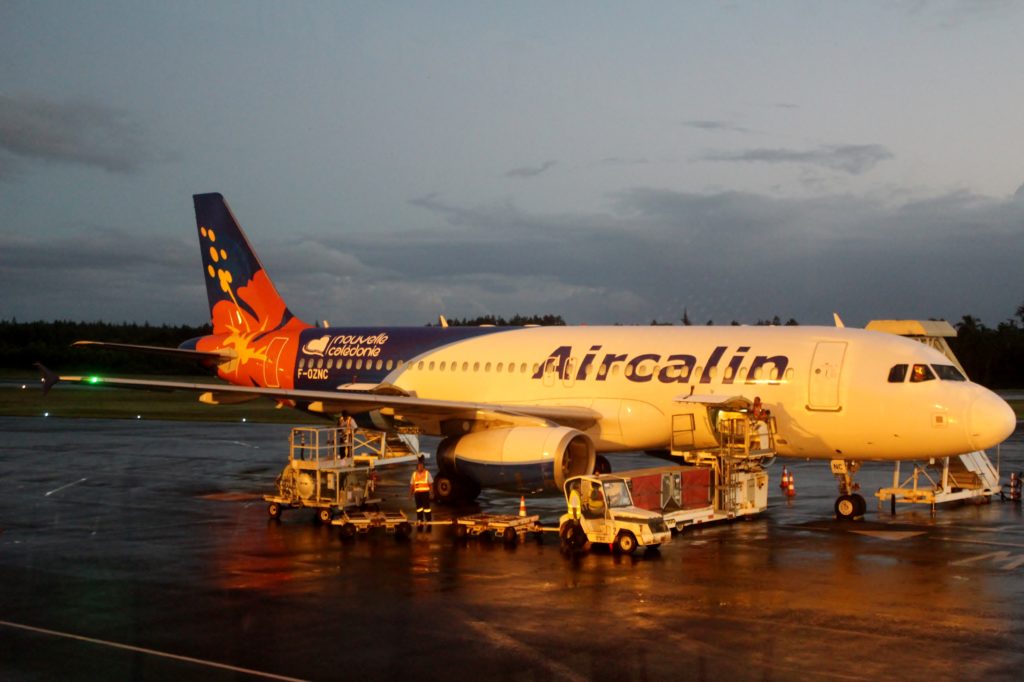 Otherwise the best way to kill an hour at Wallis airport is simply to watch the locals with all their wonderful clothes as well as seeing how friends and family are being greeted upon arrival with flowers.
Around an hour before departure I passed through passport control and security control to get airside. There was absolutely nothing in the small transit hall other than a waiting area with seats and restrooms. The small combined shop and snack bar seemed to have been closed for a while as there was nothing on the shelves.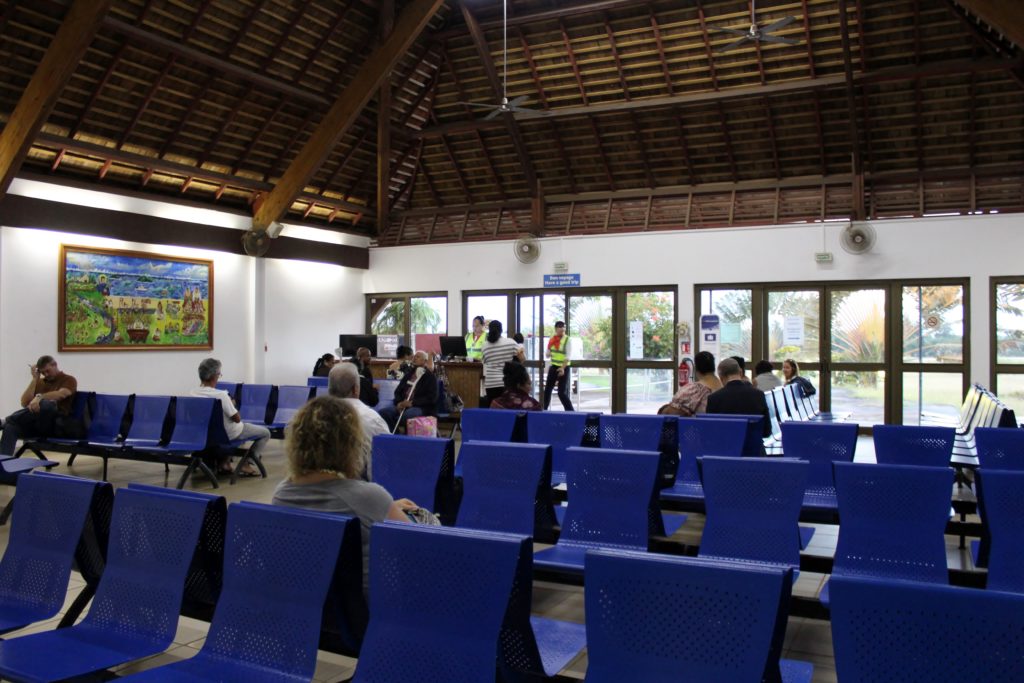 However there seemed to be a dedicated waiting area for business class passengers, or at least there was a sign on the window indicating that. Not sure how many people noticed it, or cared.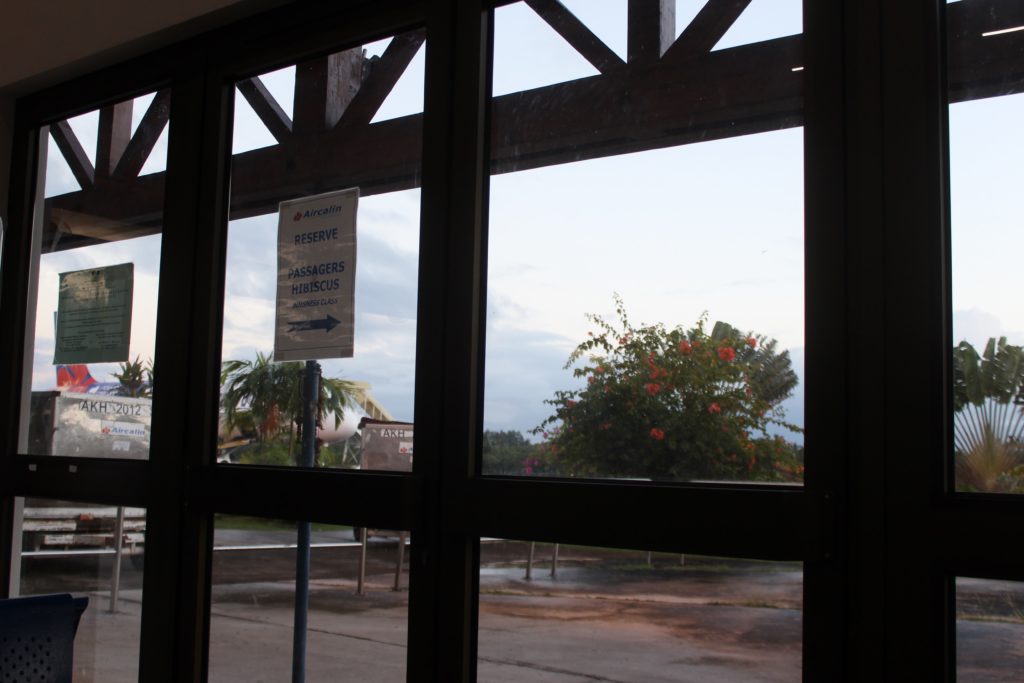 The flight
Wallis Island-Noumea
Aircalin flight SB 341
Departure: 07.05
Arrival: 09.10
Business Class
Airbus A320
Seat 01F

Boarding started half an hour before departure and proper priority boarding was offered for business class. I was the second passenger to be processed.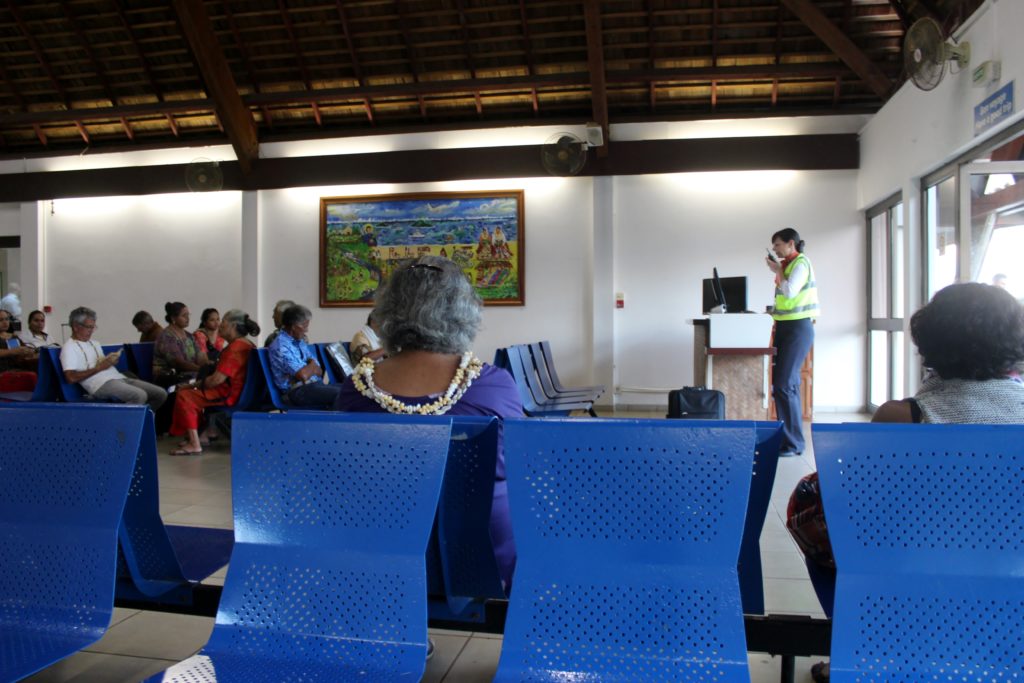 Boarding at Wallis airport is a lovely experience, walking on the apron between some palm trees from the terminal building to the aircraft, just the way it should be in the South Pacific.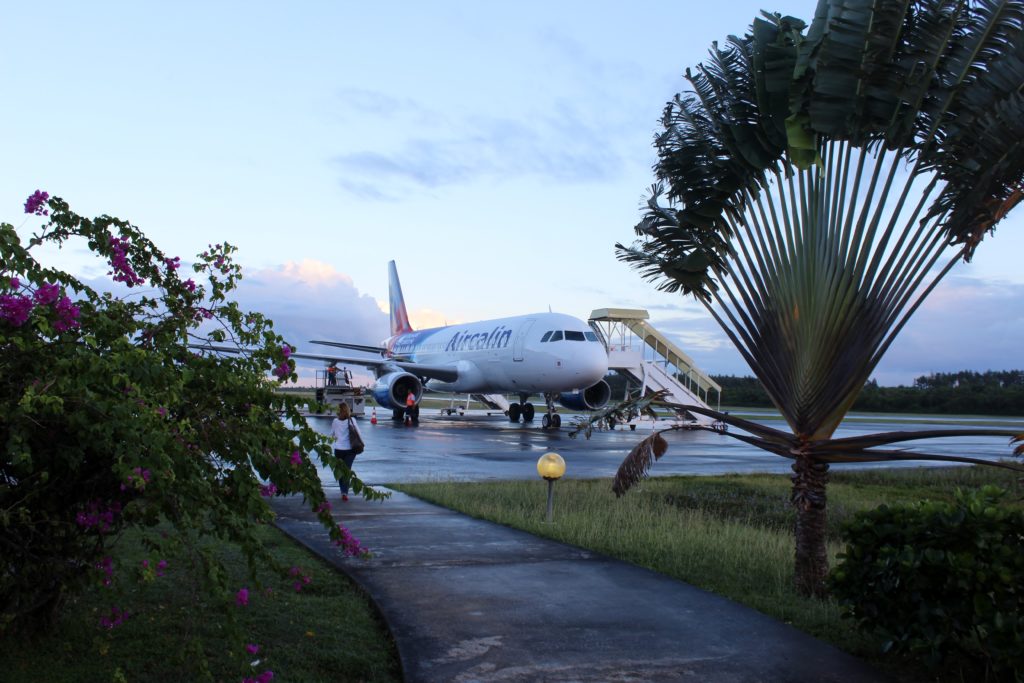 First impression

An Airbus A320 was used for the flight to Noumea with proper business class seats in front of the curtain. I had 01F, the window seat on the first row.
I was immediately greeted by a friendly flight attendant who assisted me with my hand luggage. Sitting on the first row all hand luggage obviously had to be placed in the overhead lockers. I was also offered newspapers and a welcome drink. At 6.30 am a glass of orange juice was more than sufficient.
The flight was nearly completely full with six out of eight seats occupied in business class. The three weekly Aircalin flights between Wallis and Noumea is the only way to get to and from the islands so the load is probably always good. There are no scheduled passenger ferries and even if there were they would probably take days.
Punctual pushback just after 7 am with a flight time of two hours and 50 minutes to Noumea. Immediately after takeoff we got a nice view of Wallis Island, the bay and the small capital town of Mata'Utu where I stayed during the visit. Fortunately I was sitting on the right side of the aisle.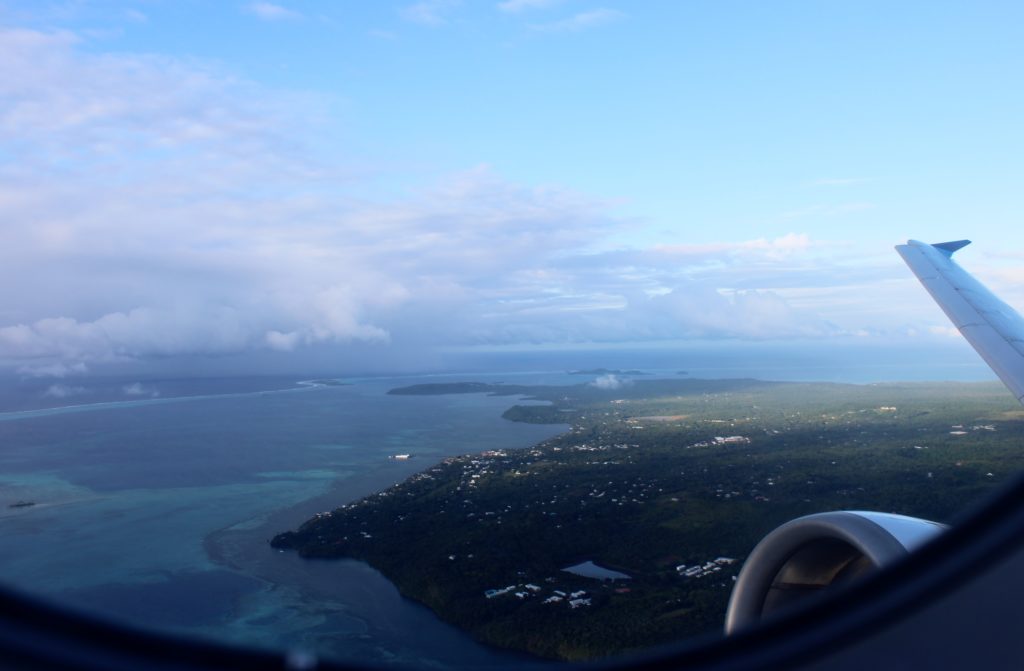 Seat and cabin

The Aircalin business class cabin is called Hibiscus Class (or Classe Hibiscus in French) and offers proper business class seats in a 2-2 configuration on the Airbus A320 with wider seats and more legroom. A perfectly comfortable experience for a flight of just under three hours. The seats also offer a far better recline, although the seats are pneumatic rather than electrical and hence not as advanced as some newer seats.
There were two rows of business class which meant eight seats in total. Six of them were occupied during the flight.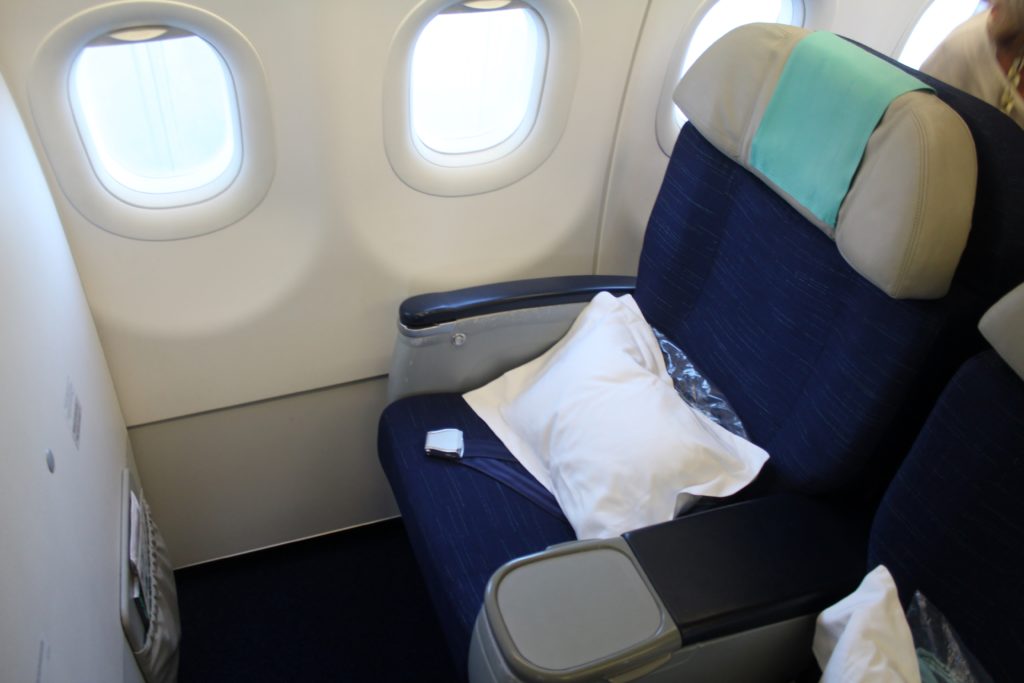 Food and drinks

With a departure time at 7 am a breakfast service was offered on the flight. After takeoff a menu was handed out explaining the options in English and French.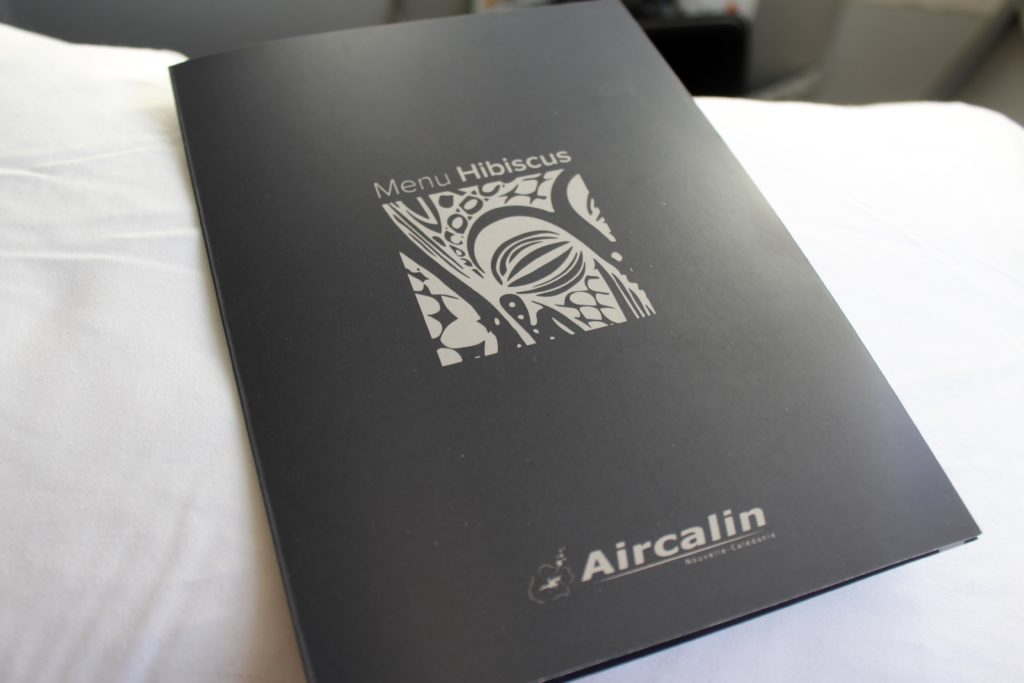 There were two options of main course, either traditional English breakfast with an omelette or a ham and spinach pancake. I went for the first option.
A table cloth was laid on the table and the breakfast tray arrived around 15 minutes later. Other than the omelette there were yoghurt and cereals and some fresh fruits on the tray as well as butter and marmalade. Bread rolls, croissants and pastries were offered from a basket followed by coffee, tea and juices and eventually followed by more bread rolls and refills of drinks. With New Caledonia being part of France you could definitely notice the French influences on the food served onboard.
The breakfast was decent and rather filling and nothing to complain abut, but of course there is not much you can do with a breakfast, irrespective of cabin class.
Inflight entertainment
Surprisingly there was an inflight entertainment system on the Airbus A320 which could be accessed using the wireless network onboard.  Passengers in economy class (and of course also in business class) can download an app to their tablet or smartphone to access the system during the flight, but this needs to be done on the ground before departure.
If travelling in business class you can also borrow tablets from the cabin crew and I was offered one proactively by the flight attendant after departure, delivered in a nice leather folder.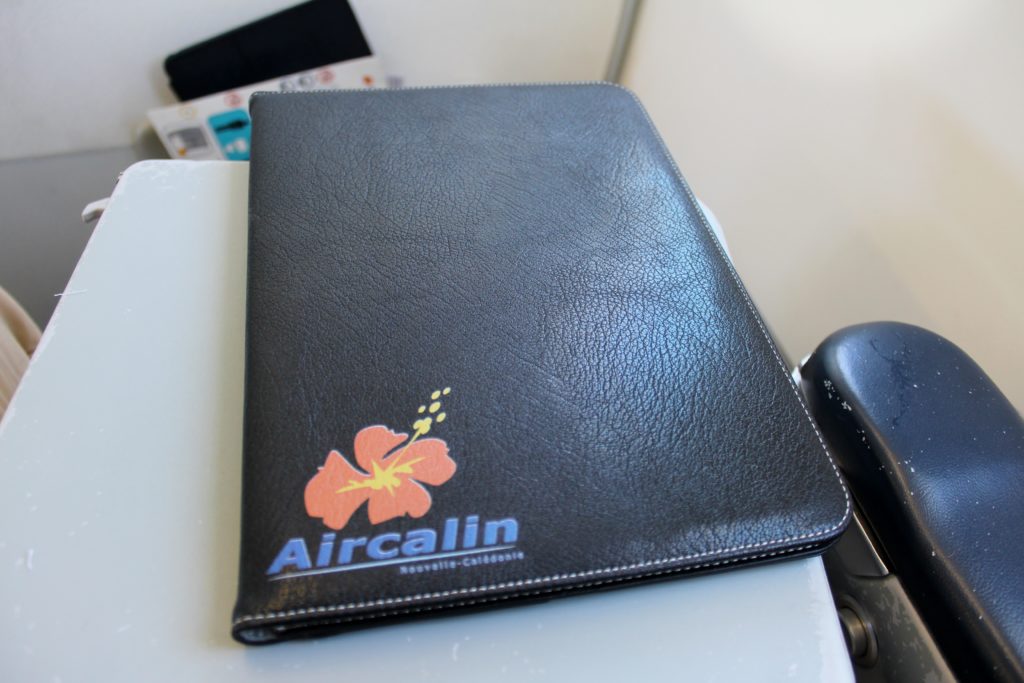 The selection was not bad at all for a shorthaul flight with a couple of movies, documentaries and TV-series and a nice selection of music albums, including some traditional music from New Caledonia. Most enjoyable.
In the app you could also see and follow a live flight map with information about distance and cruising altitude.
The service

Friendly and attentive with a flight attendant dedicated for business class. No special recognition of me as a gold card holder in Flying Blue though and of course a morning flight with a breakfast service is generally a bit less exciting than a business class flight later during the day when you can enjoy fine wines, drinks and most likely champagne.
But nothing whatsoever to complain about. This was my fourth flight with Air Calin and the cabin crews pretty much always do a good job.
Arrival experience

I was very tired after the breakfast service having been awake since 4.30 am and having a full day coming up in Noumea. I was offered a pillow and a blanket and spent the remaining part of the flight getting some sleep, very happy to have a decent business class seat with a reasonable recline.
I woke up just as we reached the eastern coast of Grande Terre, the main and the largest island of New Caledonia where the capital Noumea is located. I got a nice view of the island and the interesting and quite spectacular nature as we started our approach.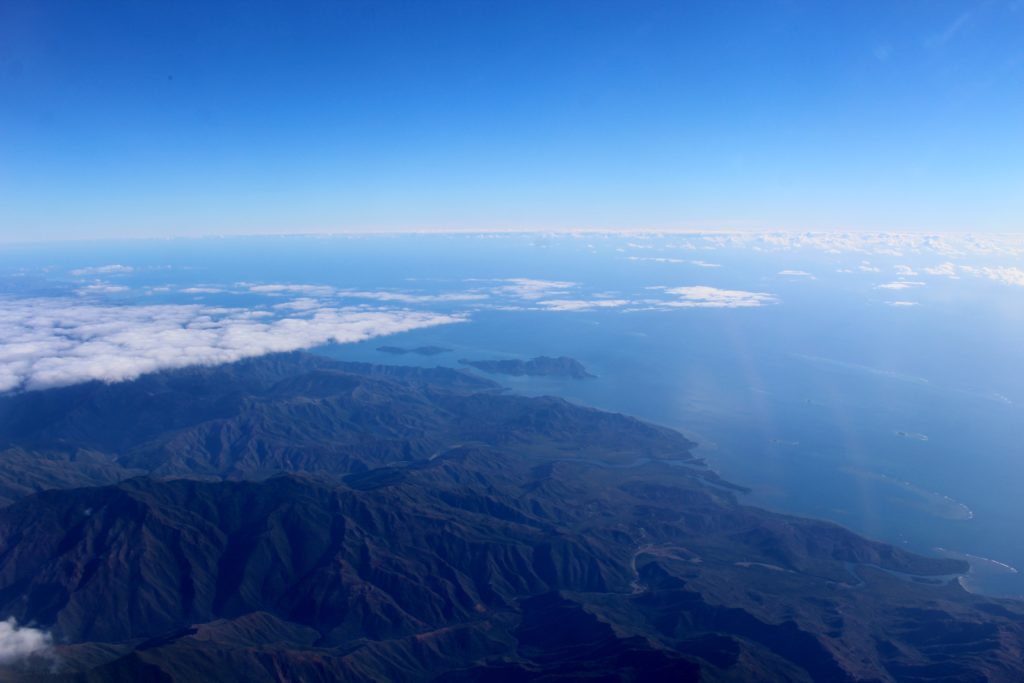 We landed ten minutes early at Noumea La Tontouta airport where the weather was excellent. La Tontouta is the international airport of Noumea, located 52 km north of downtown Noumea, an hour by car or by bus from the city. There is also a domestic airport which is located right in downtown Noumea.
A brand new terminal opened at the airport recently with two passenger bridges, a huge difference compared to my first visit to Noumea a few years ago with the old terminal from the 70's or 80's still being used. The old terminal building is still visible from the taxiway and is nowadays mostly used for smaller aircrafts, this morning for an ATR-72 from Air Vanuatu.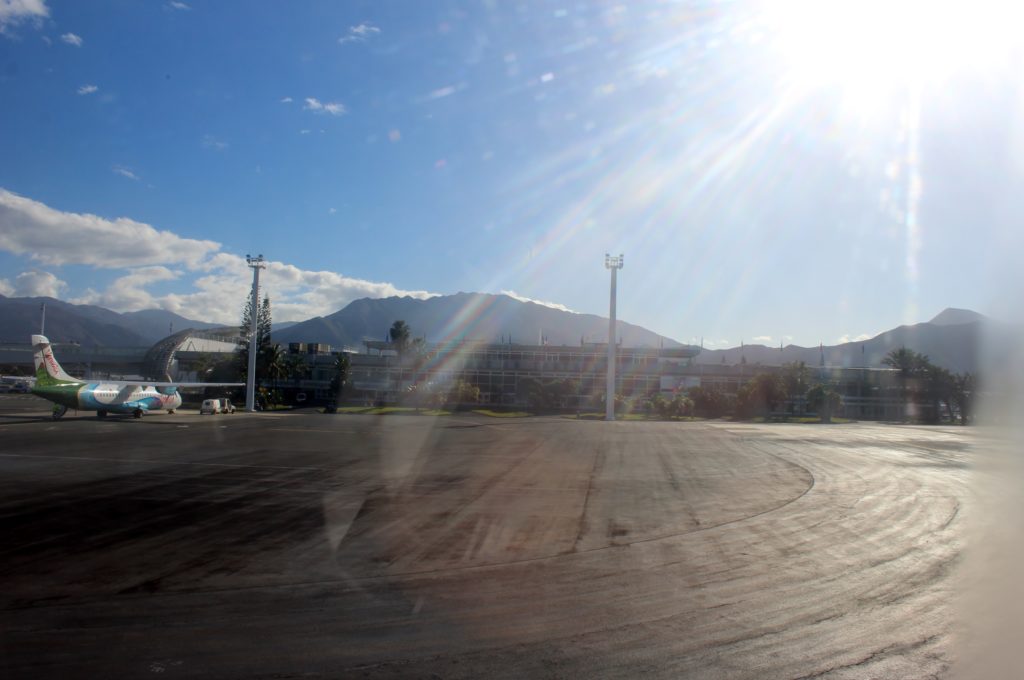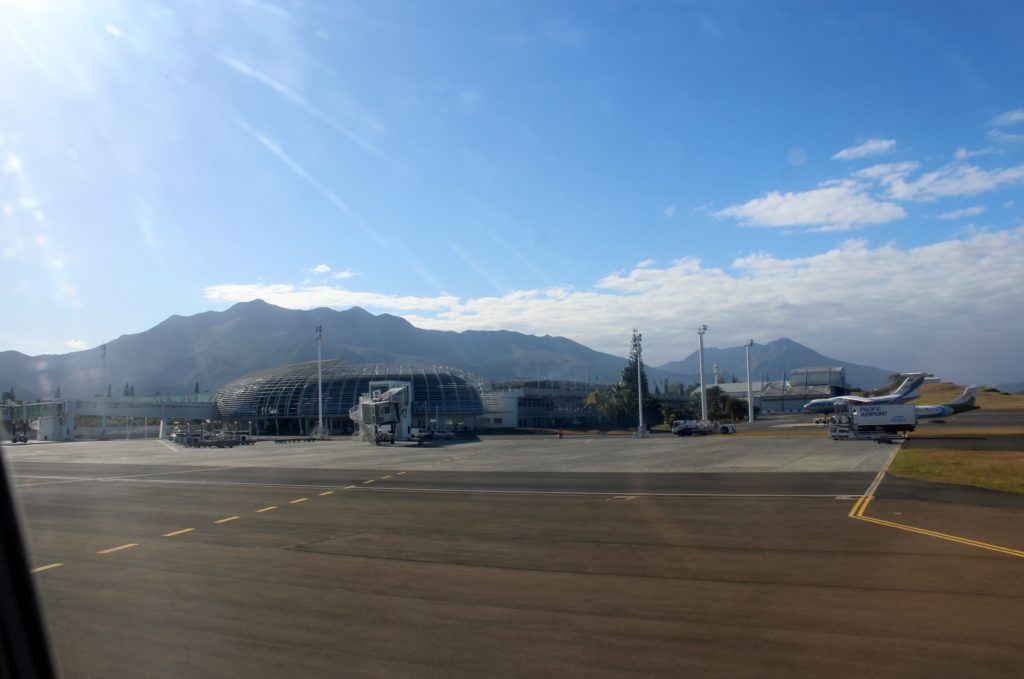 Sitting on the first row I was the first passenger off the aircraft and the first passenger to reach passport control. Although both New Caledonia and Wallis and Futuna are collectivities of France you still need to pass passport control at both ends. In a way you could argue that this was in fact a domestic flight. But these island groups have their own immigration rules and none of the islands are part of the Schengen agreement, and none of the Economic and Monetary Union of the European Union either, using the French Pacific Franc as currency rather than the Euro. However with an EU-passport you obviously do not need a visa and there is a dedicated line for EU citizens at passport control. This is still France is every possible way.
The checked luggage arrived very quickly with the priority-tagged bags arriving even before the others.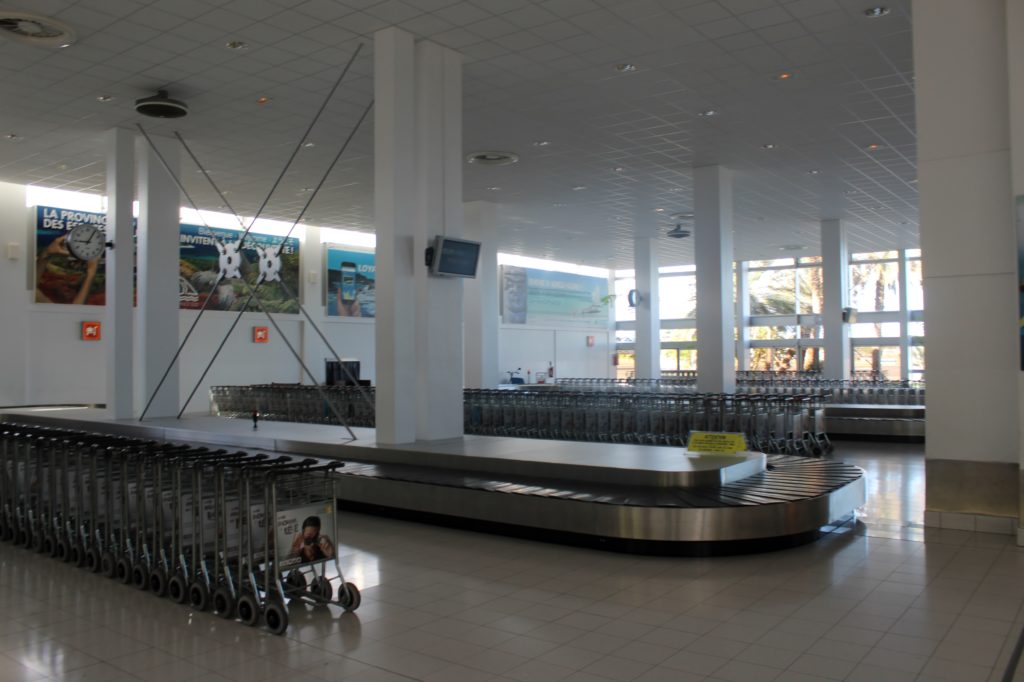 Final impression

Aircalin is a nice high-quality airline to fly with around the South Pacific and their business class product is not bad at all with proper seats, friendly staff and a decent inflight service. Visiting Wallis and Futuna is also an experience, easily one of the world's most unusual destinations for tourists.