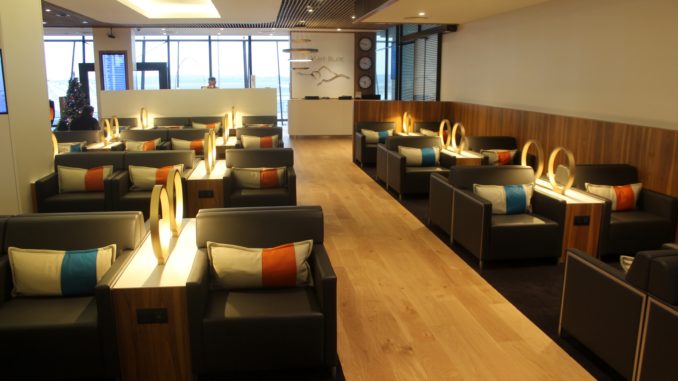 Where is it?

The Salon Mont Blanc Lounge is located in terminal 1 at Lyon St-Exupéry airport. It is located airside in the non-Schengen transit hall after both security control and passport control in Hall B, on the second floor close to the gate areas.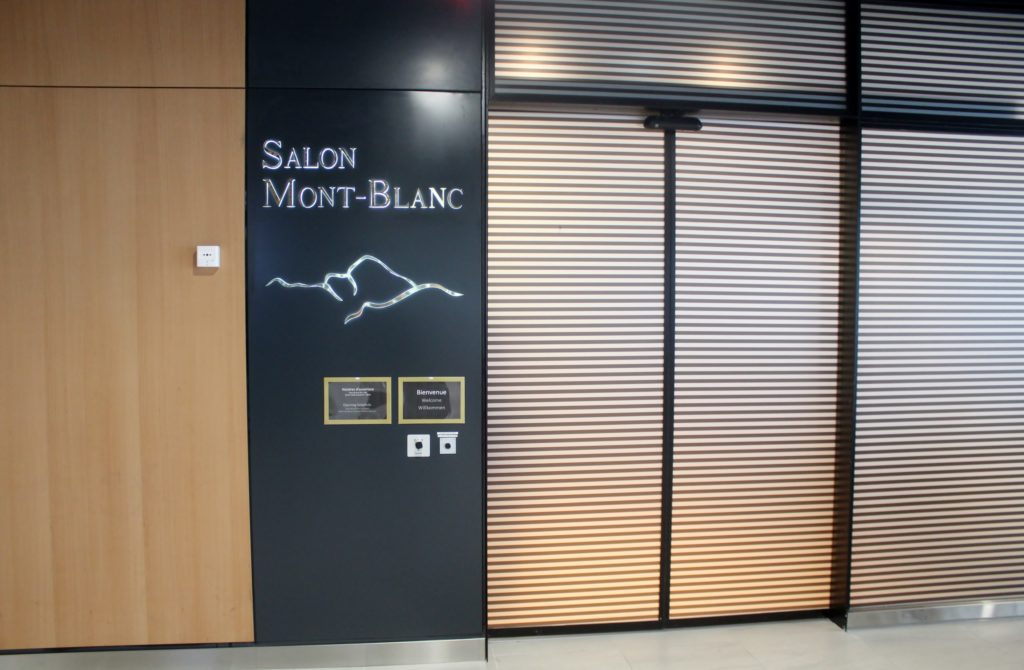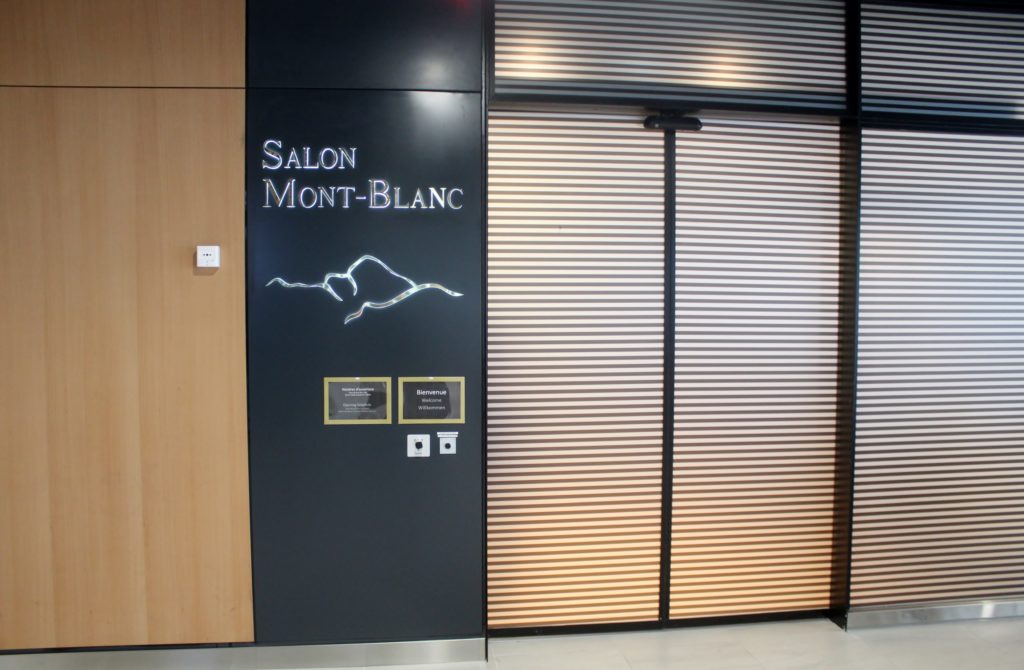 How do I get in?

The lounge is used by most full-service airlines flying to non-Schengen destinations from terminal 1, including airlines such as British Airways.
It is also possible to pay to visit the lounge, however lounge cards such as Priority Pass are not accepted.
What's it like?

The Salon Mont Blanc is a surprisingly modern and stylish lounge and possibly one of the coolest in Europe in terms of design. It is divided into several different seating areas with low walls in dark wood used as dividers. Given its location in Lyon, not too far from the Alps, there are also some rather fun Alpine elements throughout the lounge.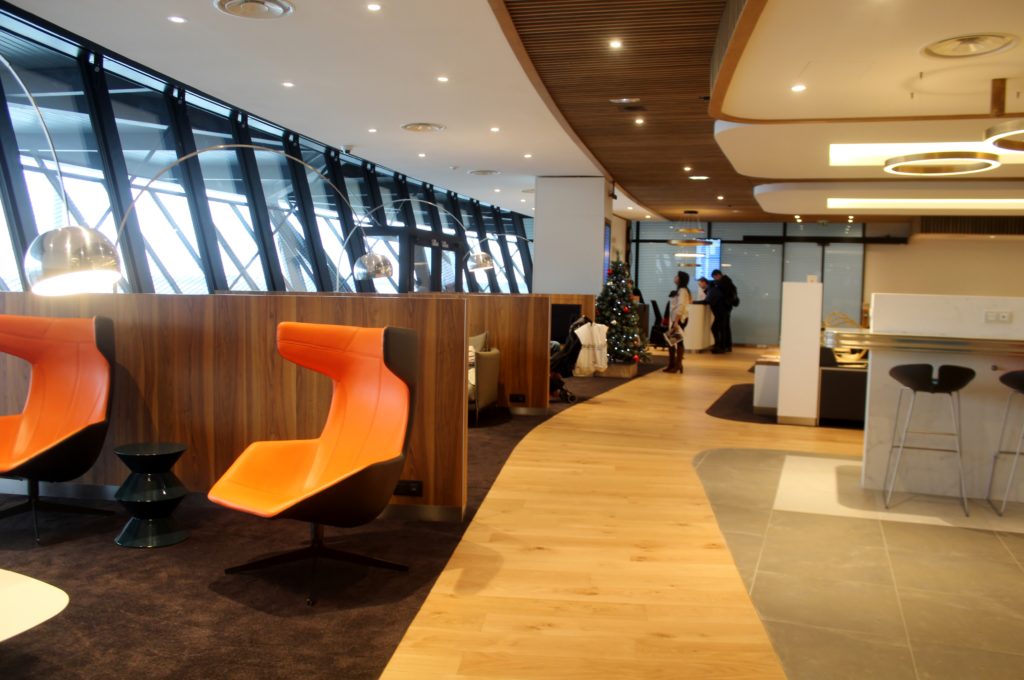 Most of the lounge has leather armchairs in dark grey with some kind of ring used both as decoration and as a reading lamp. Each armchair also has a side table with an individual power socket.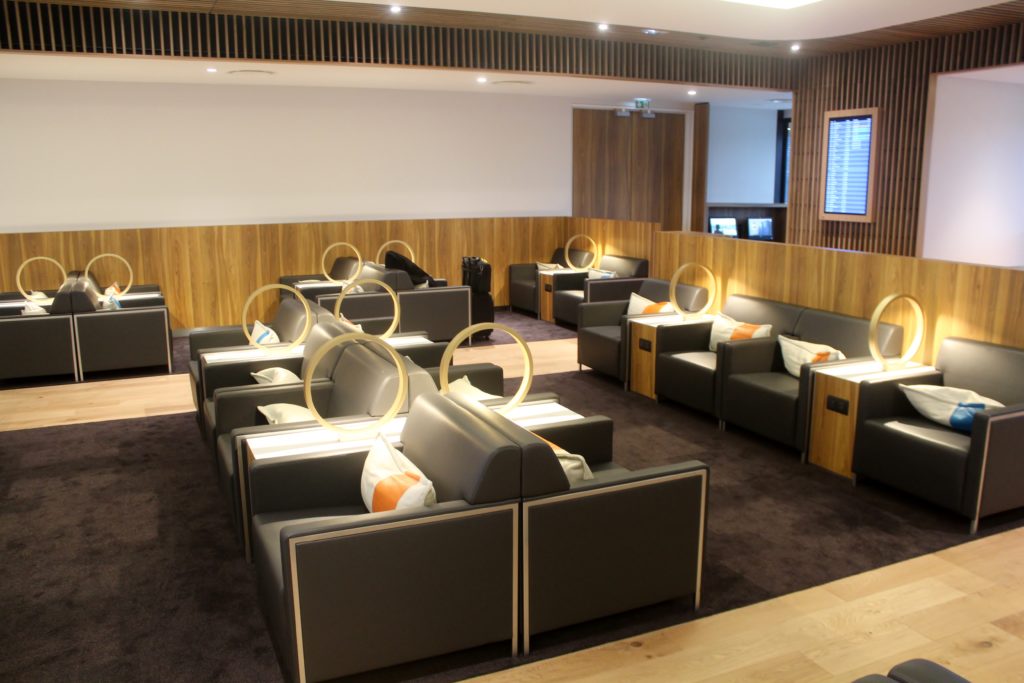 Next to the windows there are smaller seating sections with larger sofas and modern armchairs in pastel colours where you also get a limited apron view.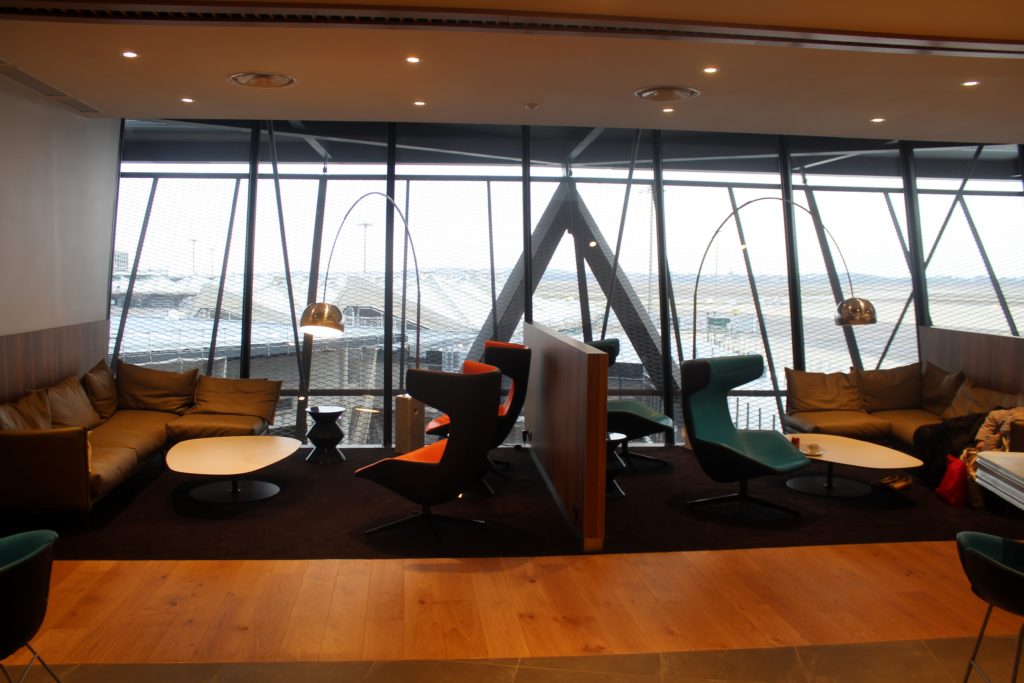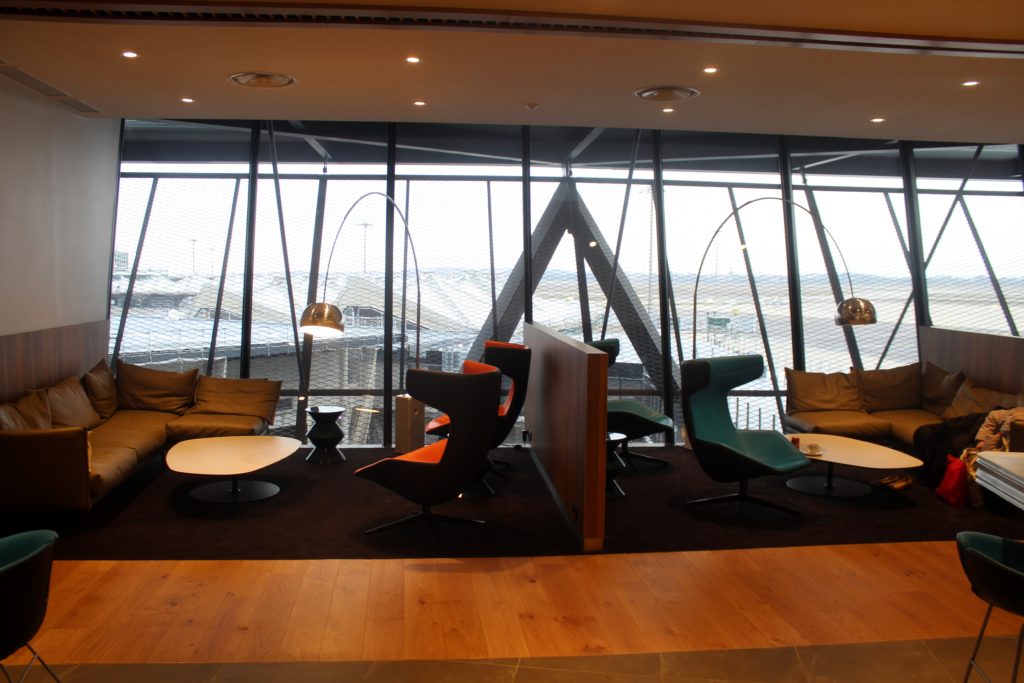 Food and drinks

There is a rather spacious buffet area with food and drinks for self service.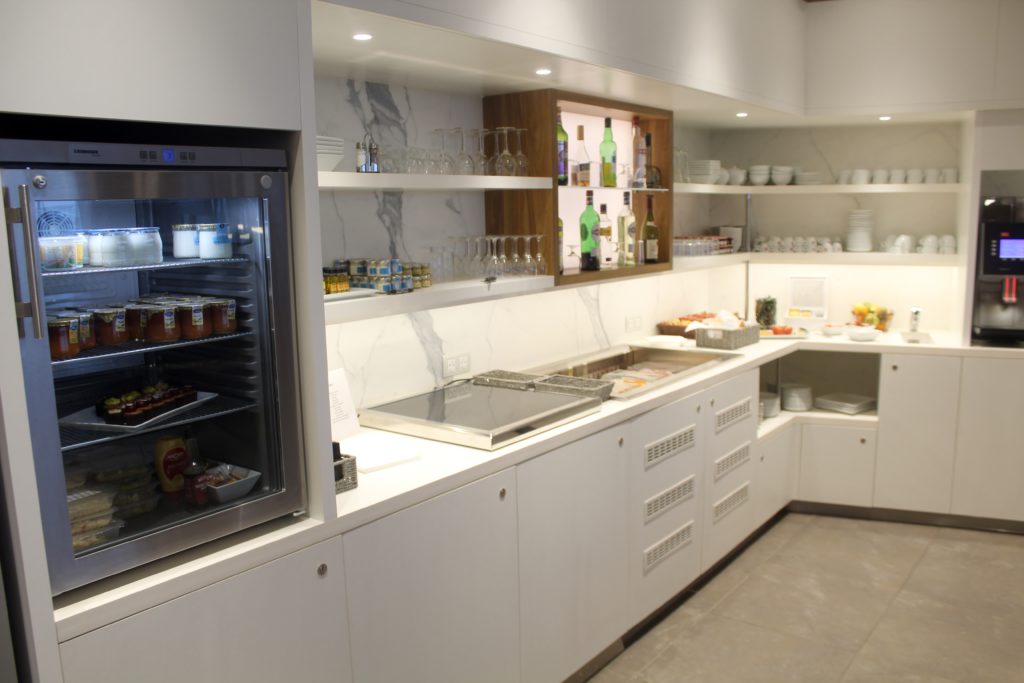 The food selection includes sandwiches, canapés, yoghurt, cheeses, fresh fruits, bread rolls, pastries and miniature desserts.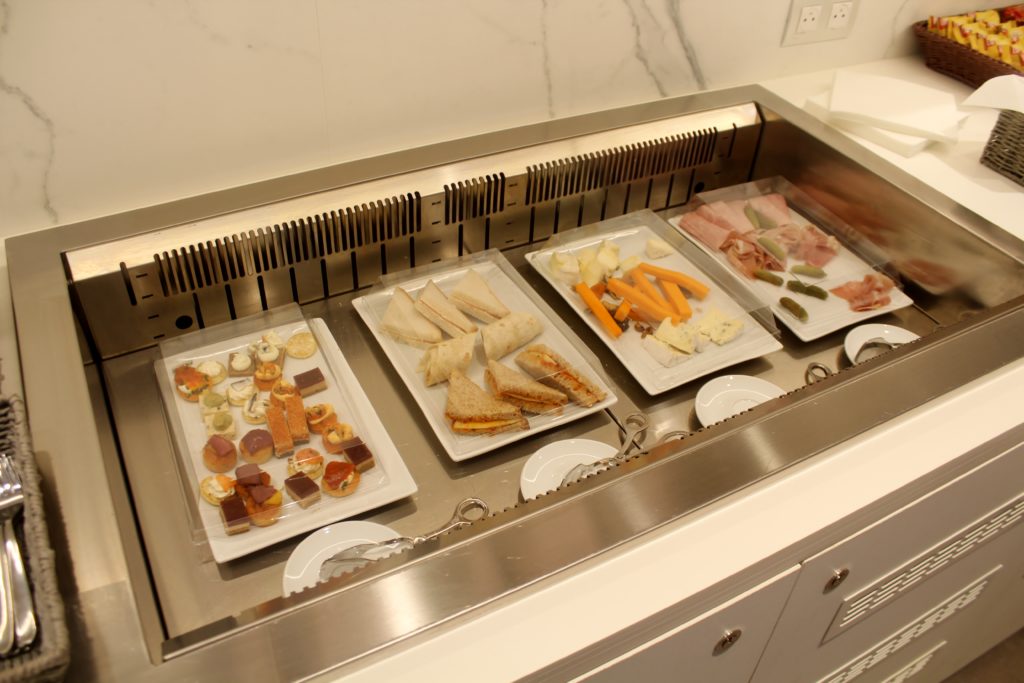 As for drinks, beer and wine, a standard selection of spirits, juices and sodas, coffee and tea are on offer.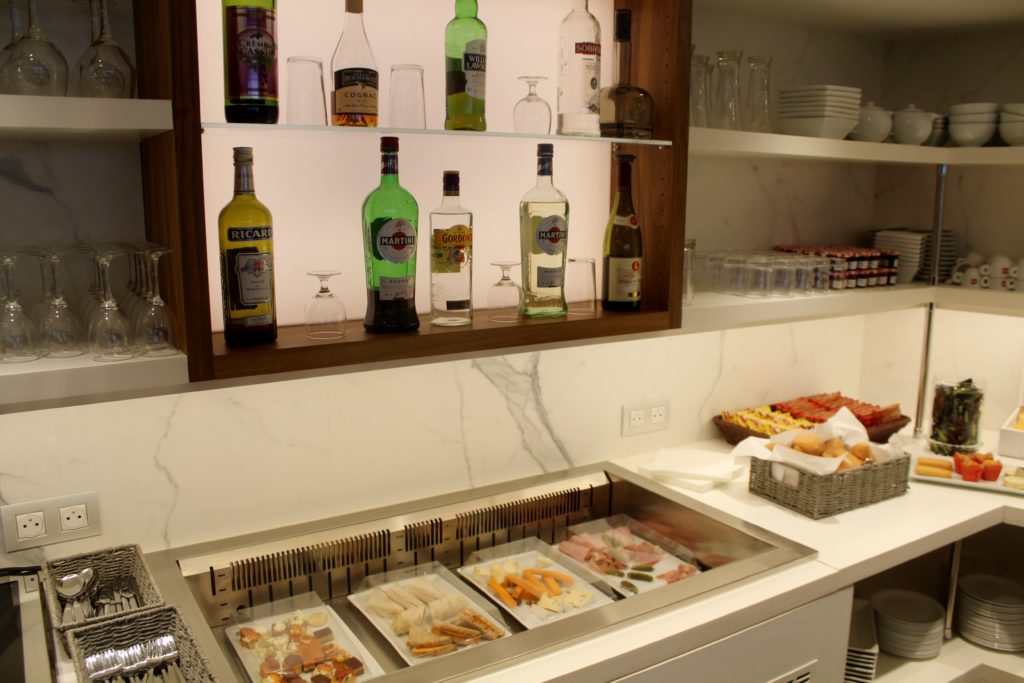 There is also a small dining area next to the buffet area which also has a rather nice photo wall.
Facilities

Restrooms are located inside the lounge and there are also showers available.
Newspapers and magazines are available next to the reception desk, there are several TVs, free wireless internet and a small business centre with laptop computers.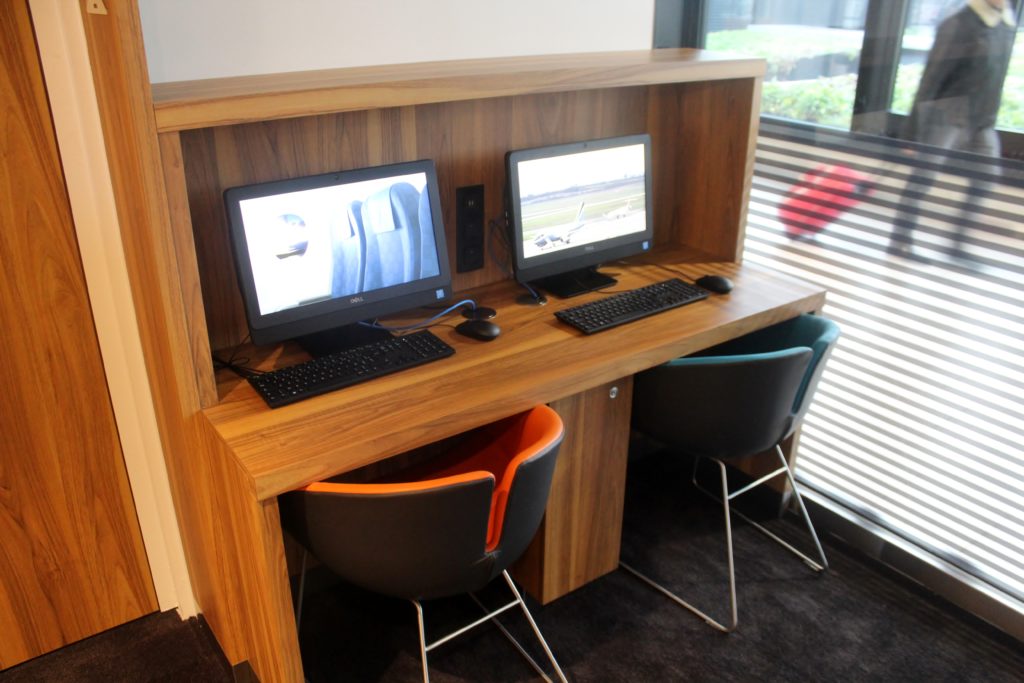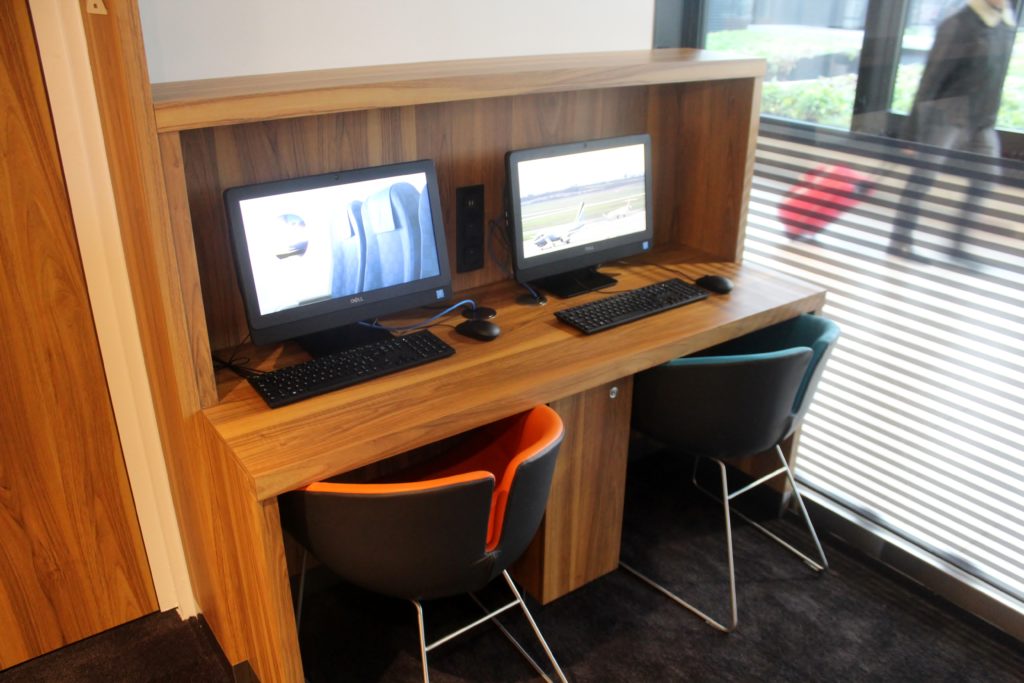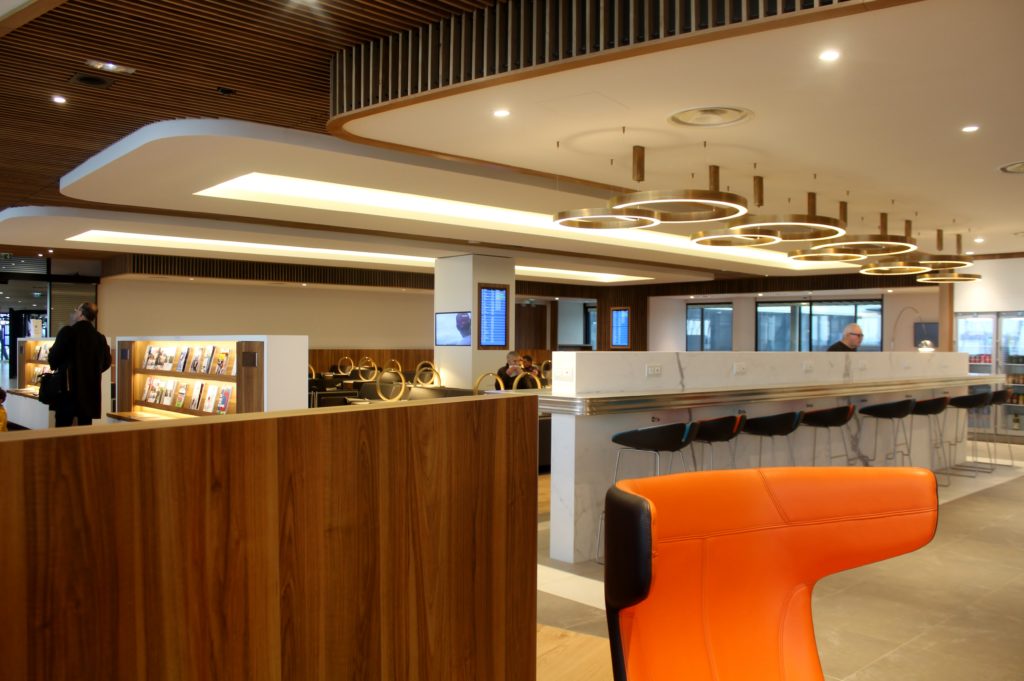 Anything else not to miss?
An adjacent room to the main lounge has been decorated much like an Alpine chalet. A cool and very unusual feature of the lounge.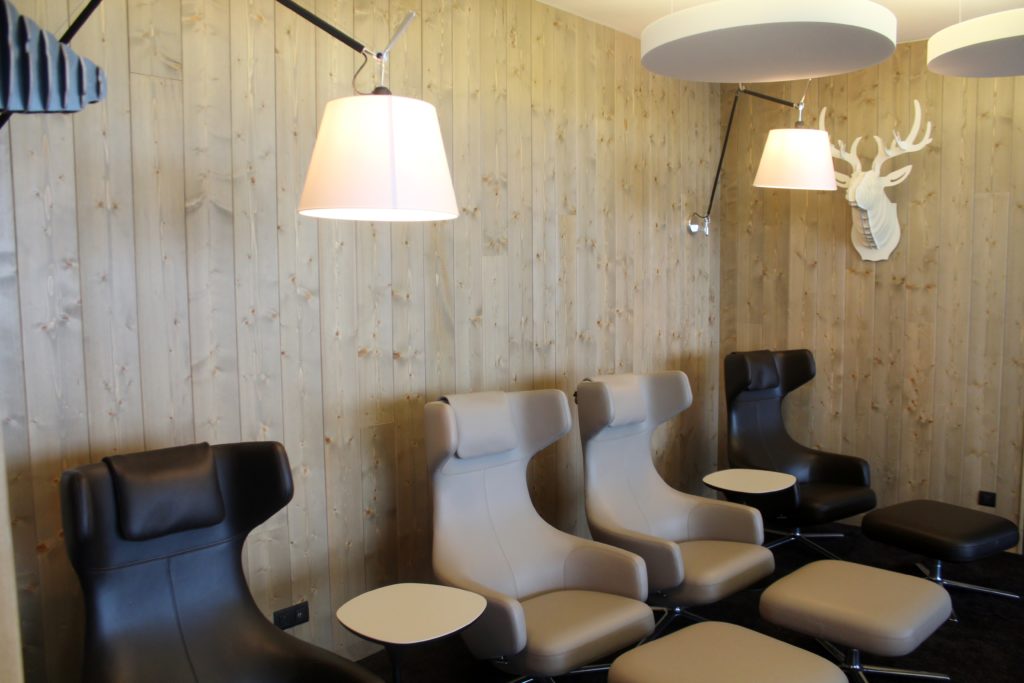 There are wooden walls, some kind of heating system and even skis and a moose head on the wall.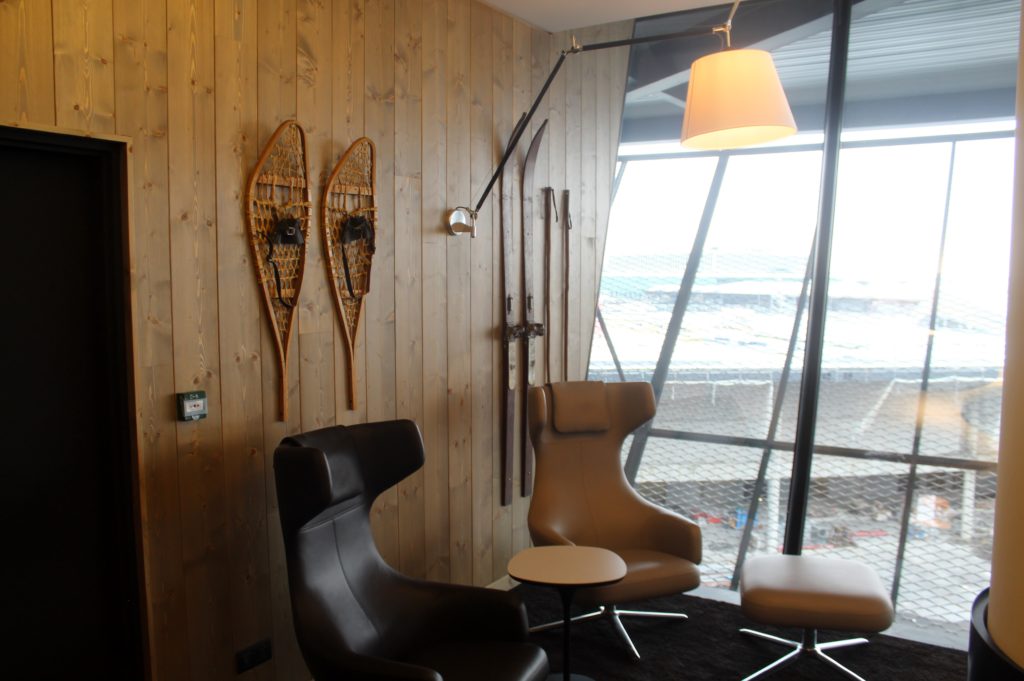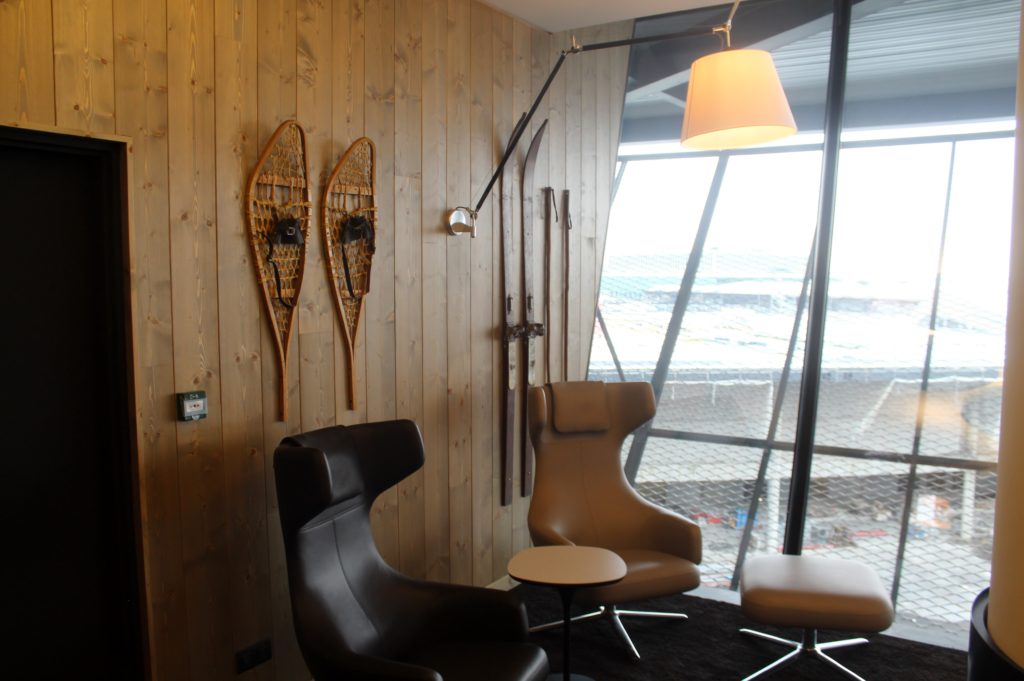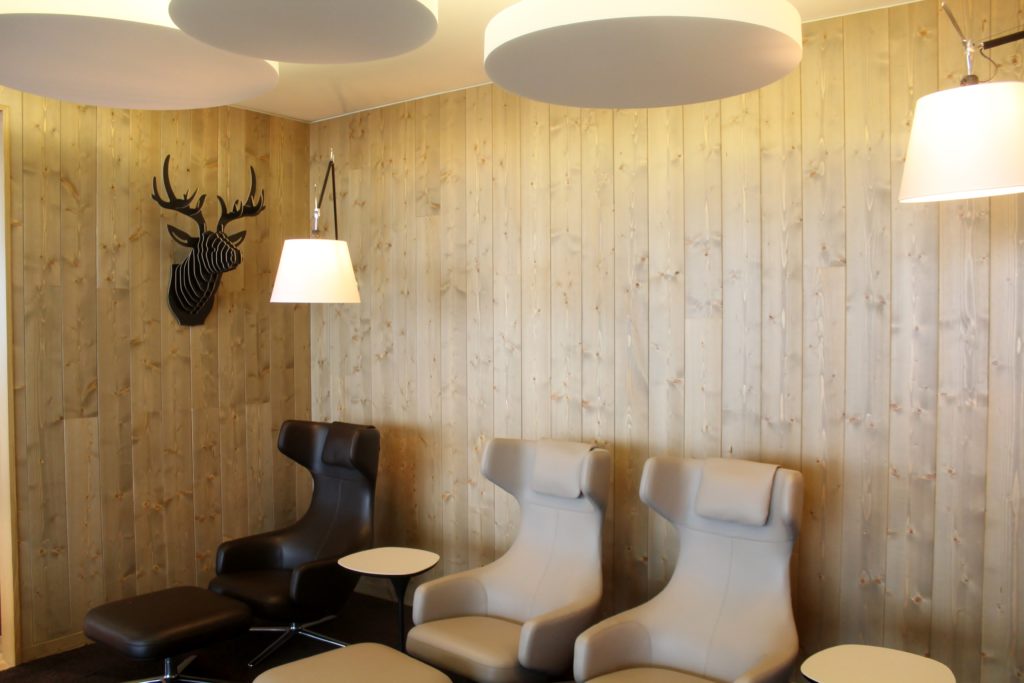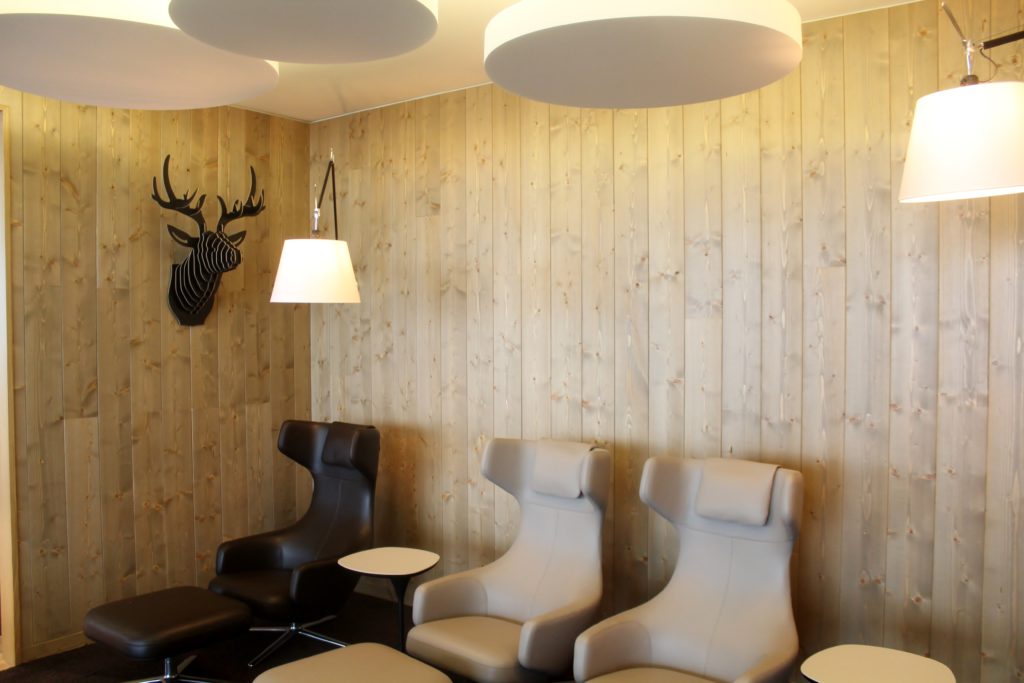 Final impression

A surprisingly stylish lounge, far nicer than expected. Decent snacks and drinks, a cool interior and plenty of facilities. The Alpine Room is also a very fun feature.