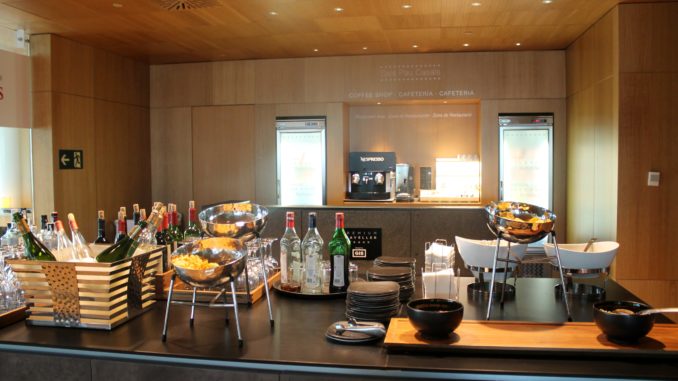 There are three lounges at Barcelona El Prat airport terminal 1 named Sala VIP Pau Casals, Sala VIP Miro and Sala VIP Colomer. Sala VIP Pau Casals is used for Schengen flights, Sala VIP Miro for non-Schengen flights and Sala VIP Colomer for the Barcelona-Madrid shuttle.
Where is it?
Sala VIP Pau Casals is located in the main transit hall in the Schengen area. After the escalators from the security control you turn right and you will find the lounge in front of you after the shopping area on the first floor on top of another escalator. The lounge is clearly signposted throughout the terminal with the sign VIP.
How do I get in?
The three third-party lounges are used by virtually all full-service airlines operating at terminal 1, including airlines from all three major alliances with access for premium passengers and top-tier frequent flyers. They are also accessible with various credit cards and lounge cards, such as Priority Pass and Diners Club. It is also possible to pay for entry at the reception desk.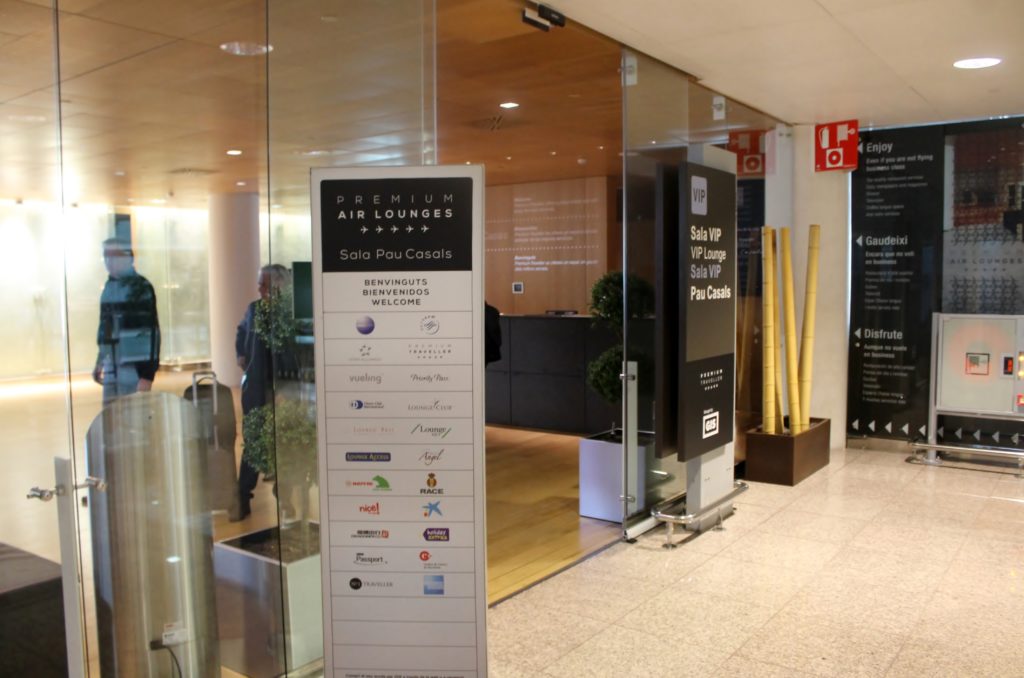 What's it like?
The lounge opened in 2009 when the new terminal 1 was inaugurated. It has a modern feel to it mostly due to the modern furniture and the large panorama windows which make the lounge feel airy and spacious. Thanks to the panorama windows there is also some natural light in most parts of the lounge.
Sala Pau Casals is surprisingly large for a third-party lounge, but on the other hand the space is needed as it is the main lounge in the Schengen area used by nearly all airlines. During rush hour it can be very crowded.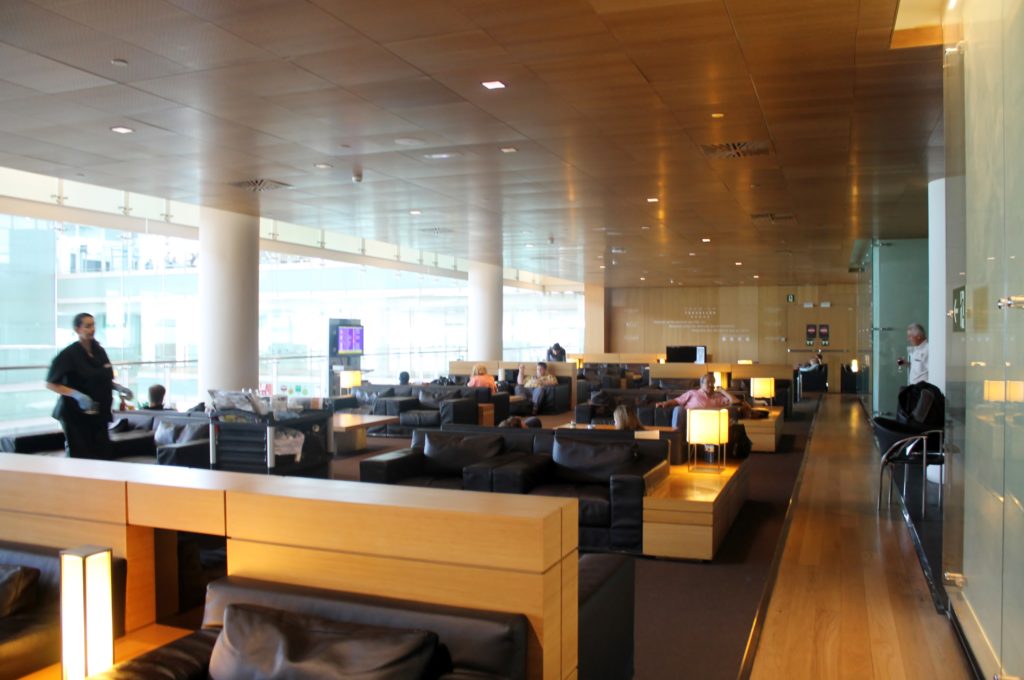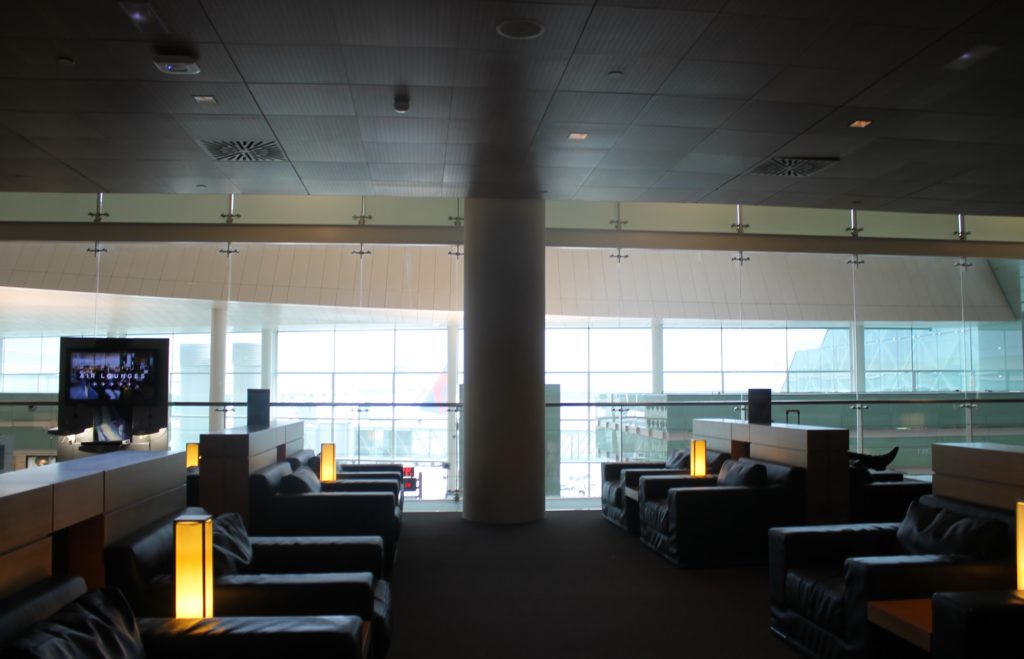 Food and drinks
There are basically three self-service buffet areas in the lounge. Directly on the right after the reception desk you will find cafe area called 'The Coffee Shop' with a nice Nespresso machine, soft drinks and snacks. There is also a dining area here with tables and right opposite a buffet area with sandwiches and pastries. Unfortunately the food options are rather limited but there are sandwiches and fresh fruits and also a small cold buffet with pasta, tuna and vegetables. There are plenty of croissants, muffins and cookies as well and at times there has also been an ice cream box.
The main bar area is also to the right after the reception desk and further down the corridor. There is another coffee area here with a Nespresso machine but also plenty of soft drinks and a bar counter with Spanish Cava, red and white wines and a reasonable selection of spirits. All for self service, and the setup is quite nice.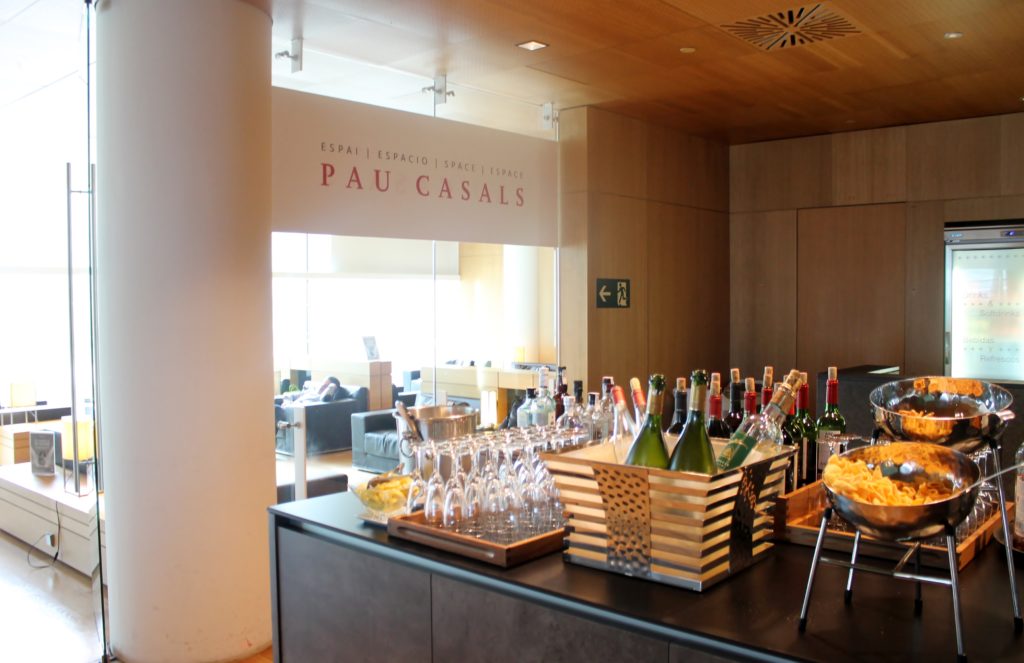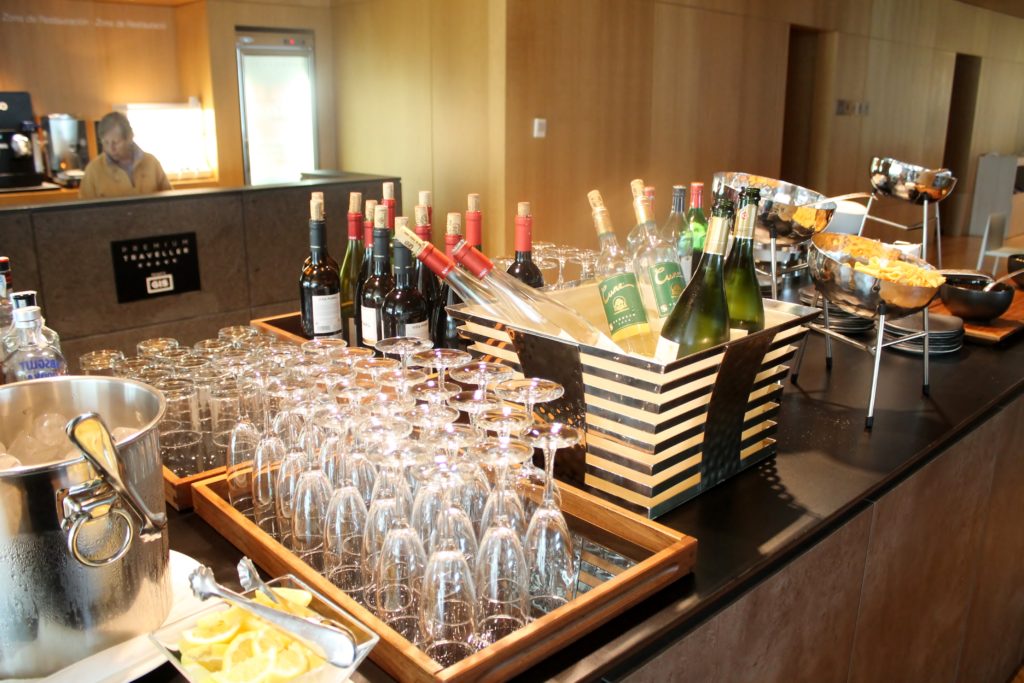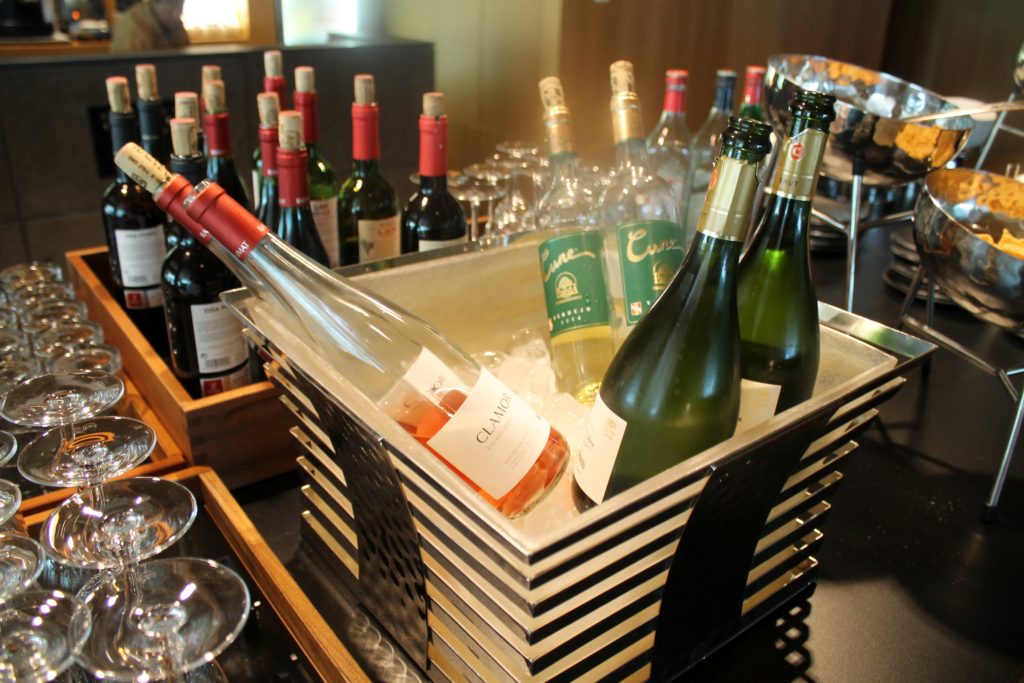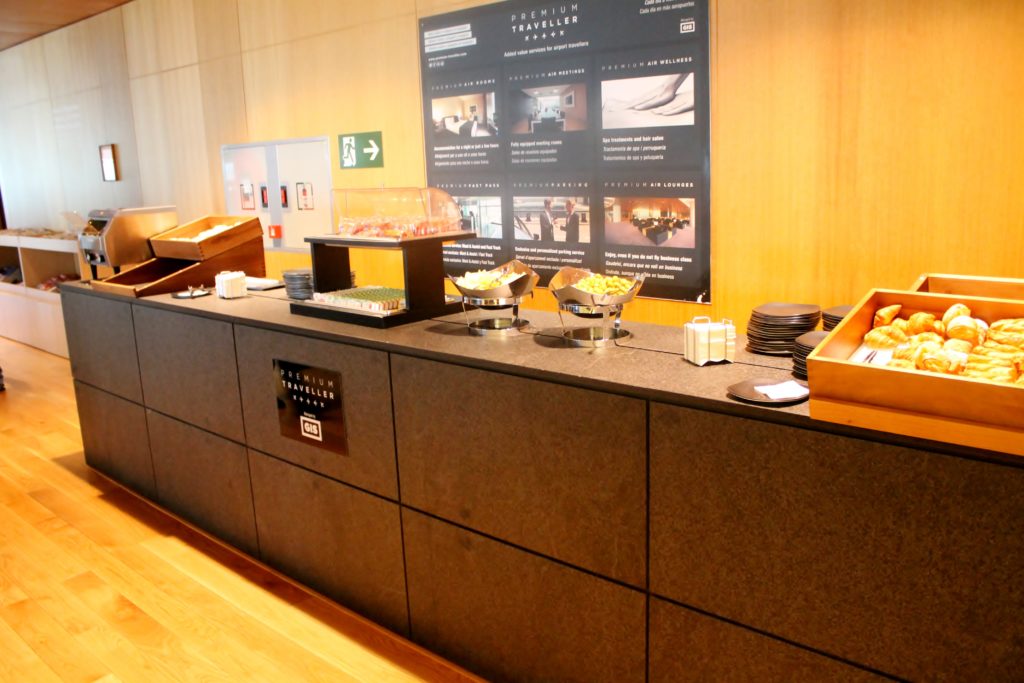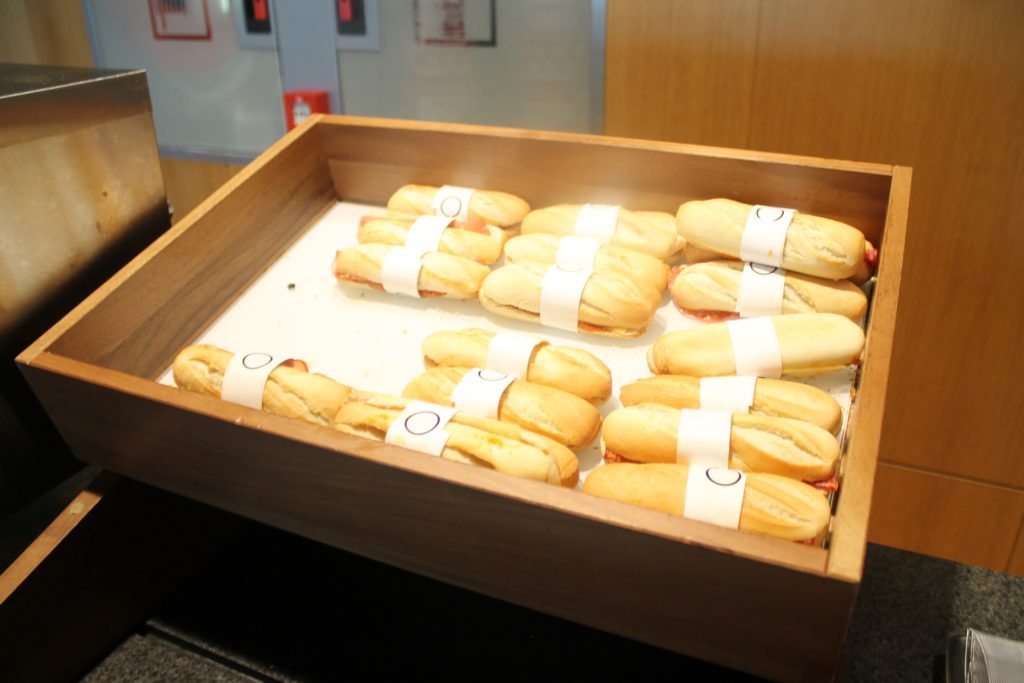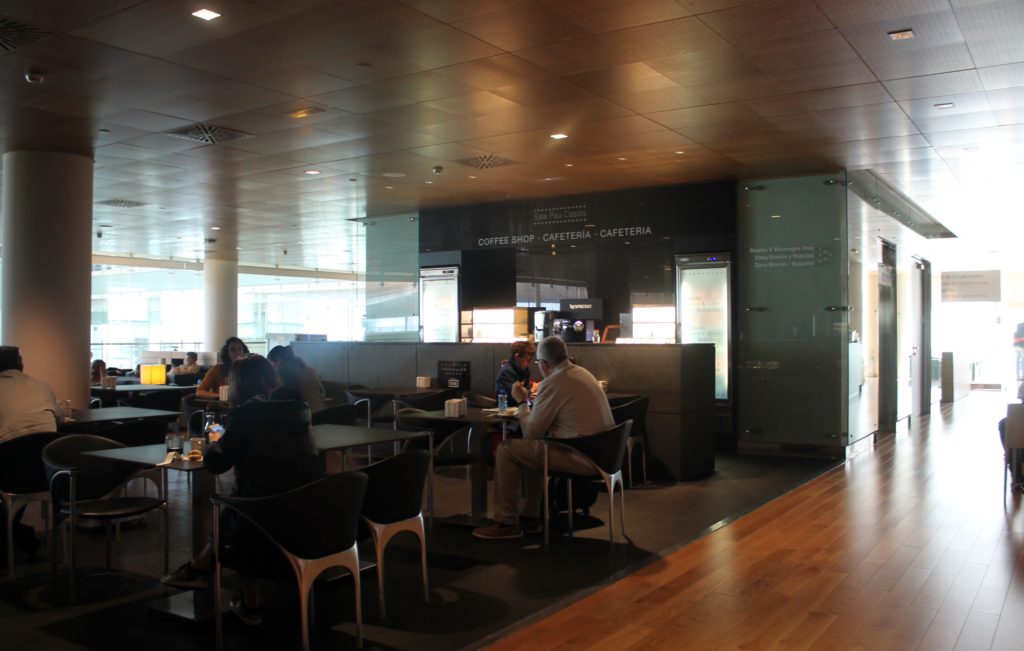 Other facilities
There is free wireless internet throughout the lounge and a business centre with laptops. There is a limited selection of mostly Spanish newspapers.
Anything else not to miss?
For those arriving on a longhaul flight there are showers in the lounge as well as a secluded area with sleeping pods where it is possible to take a nap.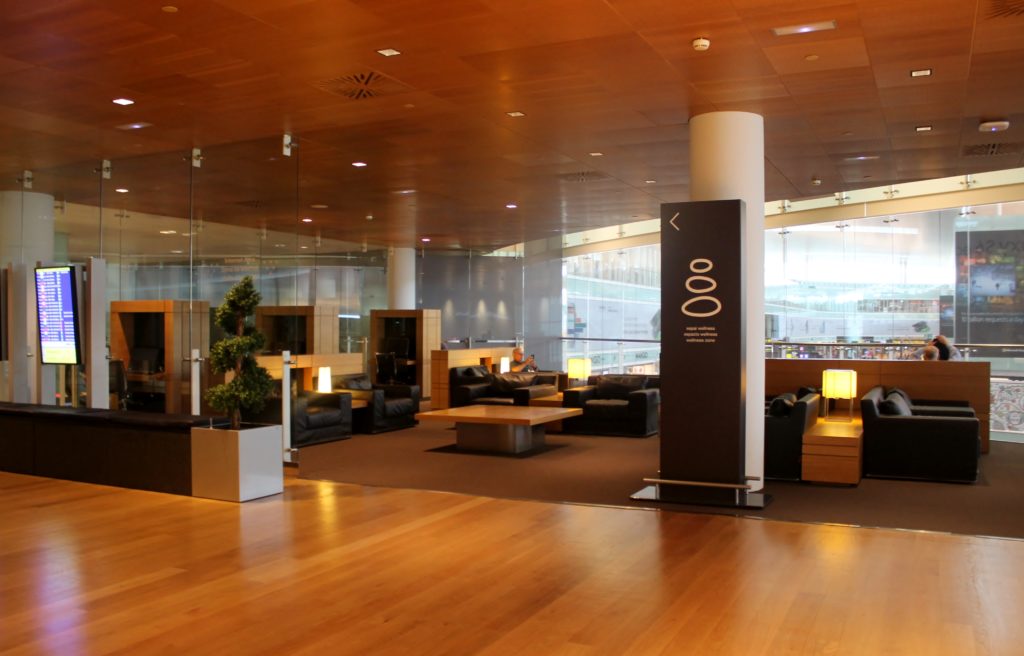 Final impression
The lounge feels bright and modern with an attractive interior. Unfortunately the food options are somewhat limited but there is plenty to drink. Just avoid the lounge at peak time when it can get rather crowded.