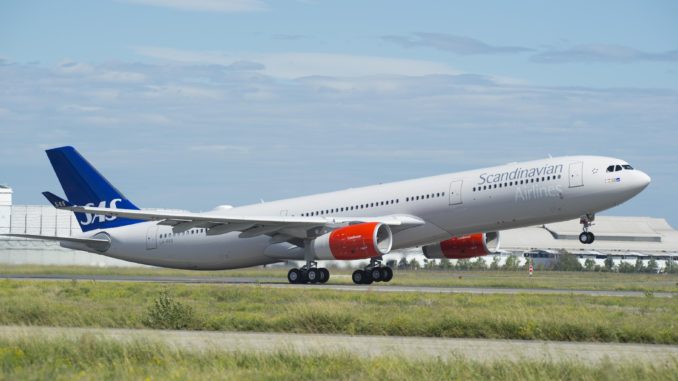 SAS Scandinavian Airlines today became the first airline in Europe to fly the new Airbus A330-300 Enhanced. The very first SAS aircraft, which subsequently is the 13th aircraft to join the SAS longhaul fleet, has been named Tore Viking and will make its first commercial flight today from Copenhagen to Chicago leaving at 15.40 from Copenhagen airport.
The first Airbus A330-300 Enhanced will be used during the month of September between Copenhagen and Chicago and will then be used from Stockholm to Hong Kong and Chicago.
SAS has ordered four Airbus A330-300 Enhanced that will all be delivered to SAS within the next six months. Two aircrafts will be delivered in September 2015, one in February 2016 and one in May 2016. More longhaul aircrafts will be added in 2018 when SAS takes delivery of the first Airbus A350-900.
The Airbus A330-300 Enhanced has a significantly improved range at 10,400 km compared to 9,600 km with the Airbus A330. It also has 2 percent lower fuel consumption than the Airbus A330.
"We are pleased to welcome our passengers on board our new A330-300 Enhanced. We are making significant investments in our fleet and at the same time launching new routes, giving us the strongest range of services to United States and Asia from Scandinavia. We are also lowering our fuel consumption as the new aircraft are delivered, which will help to reduce our fuel emissions", says Rickard Gustafson, President and CEO of SAS.
The SAS Airbus A330-300 Enhanced is equipped with the latest cabin products in Economy Class, Premium Economy and Business Class with 262 seats in total.
There are 32 seats in SAS Business/Business Class with fully-flat seats in a 1-2-1 configuration. There are 56 seats in SAS Plus/Premium Economy in a 2-3-2 configuration. And there are 174 seats in SAS Go/Business Class in a 2-4-2 configuration.