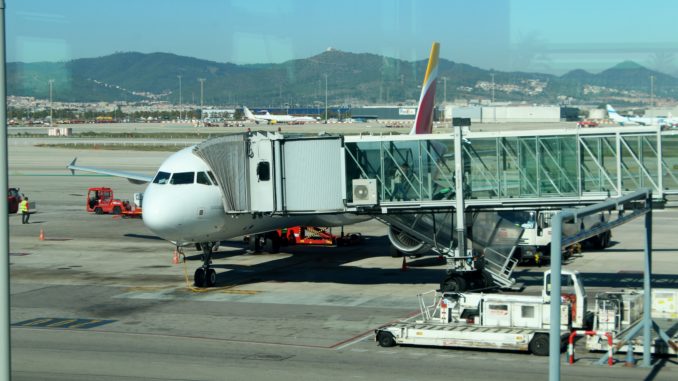 Departure experience

I arrived at Barcelona airport around 90 minutes before departure. I had already checked in online and was only travelling with hand luggage so I just used a self-service check-in machine to print my boarding passes. However I noticed Iberia did have a dedicated check-in area with a proper premium check-in desk.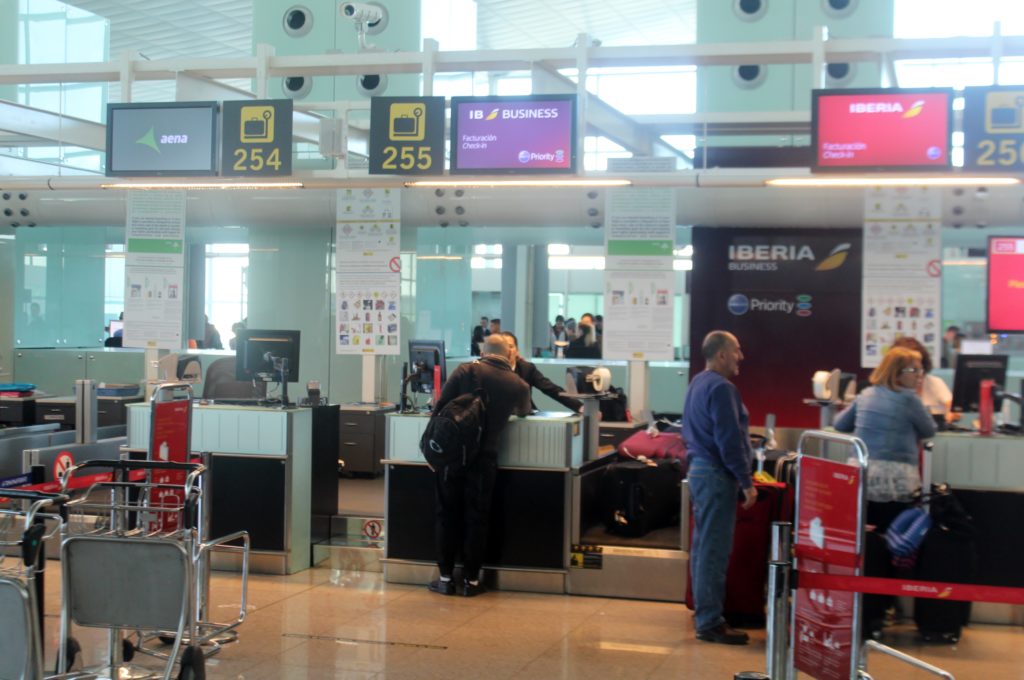 Iberia business class passengers have access to the fast track line through security control and afterwards there is basically a choice between two different lounges, the Sala VIP Pau Casals Lounge or the Sala VIP Colomer Lounge.
The Sala VIP Pau Casals is basically the Schengen lounge in terminal 1, used by virtually all full-service airlines flying to international Schengen destinations. The Sala VIP Colomer is the domestic lounge in terminal 1 located in the area mostly used for domestic flights and especially the Barcelona-Madrid shuttle. Iberia normally uses one of the gates just outside this lounge for the Madrid flights, which makes it the best lounge option with the least amount of walking.
I decided to use the domestic lounge, the Sala VIP Colomer, since it was the closest lounge to the gate and it turned out to be less crowded anyway. It also has a much better view.
The drinks selection is virtually identical in both lounges with a good selection of Spanish wines, sparkling wine (cava), spirits and soft drinks.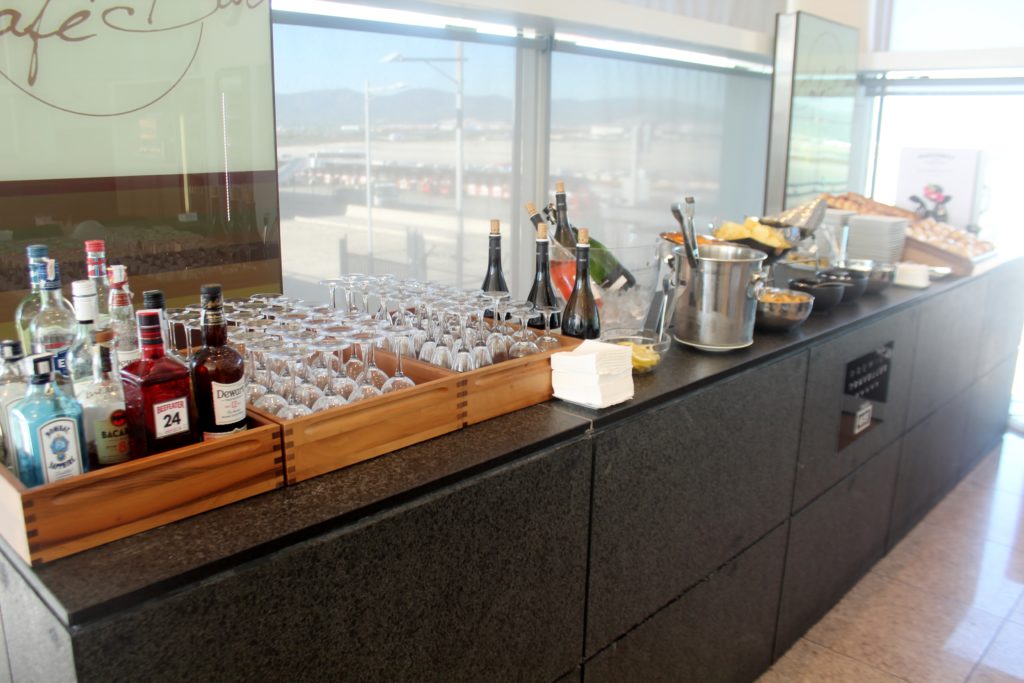 The snacks selection is also fairly similar in the two lounges, although the Sala VIP Pau Casals (the international Schengen lounge) also has a cold buffet with pasta, cold cuts and vegetables.
There were some decent sandwiches and pastries, including some donuts. I also made myself a gin & tonic using the excellent Berry Sensation tonic water available in the fridge. A very tasty result.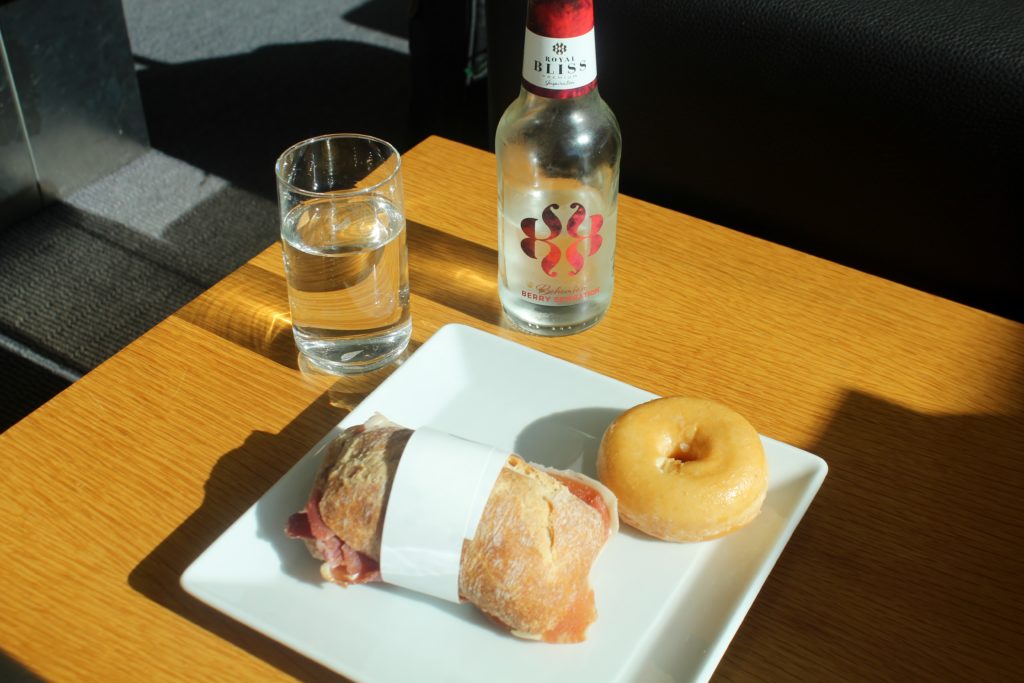 Read the full lounge review here!
The flight
Barcelona-Madrid
Iberia flight IB 1301 (rebooked from cancelled IB 1201)
Departure: 13.00
Arrival: 14.20
Business Class
Airbus A320
Seat 02A

Gate A02 was used for the flight to Madrid, which was right outside the lounge. I made my way there 25 minutes before departure but it soon became clear something was wrong with the aircraft and that boarding would not commence for some time.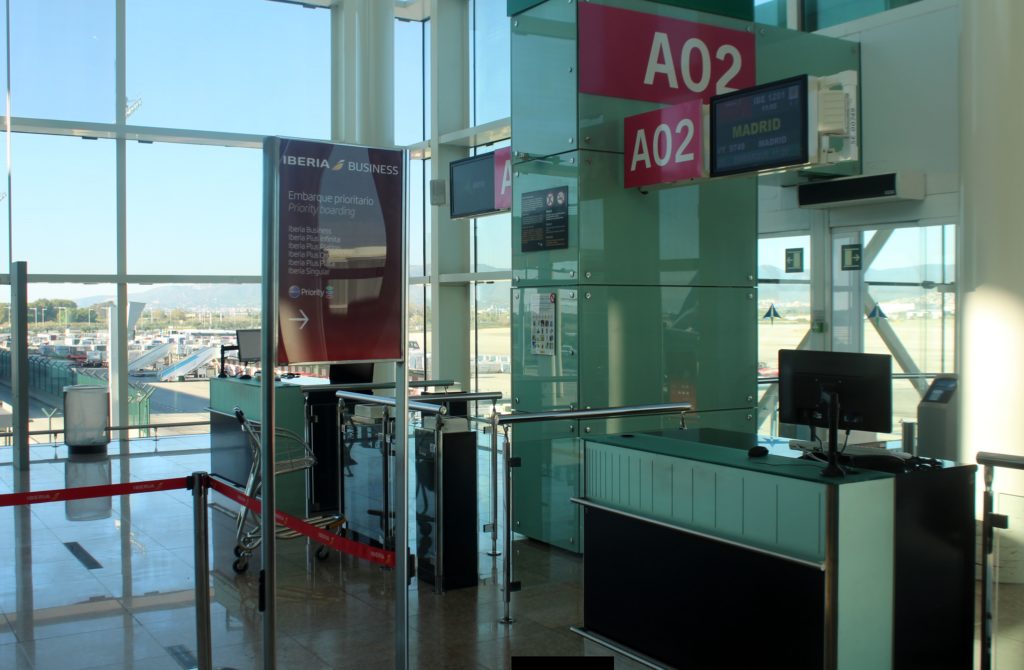 I returned to the lounge for another drink while proactively checking alternative flights, to have an idea about the options, just in case, and I soon learned that my original flight to Madrid had been cancelled for technical reasons. There was another Iberia flight to Madrid leaving an hour later, and if I could get a seat on that flight I would still make my connection in Madrid.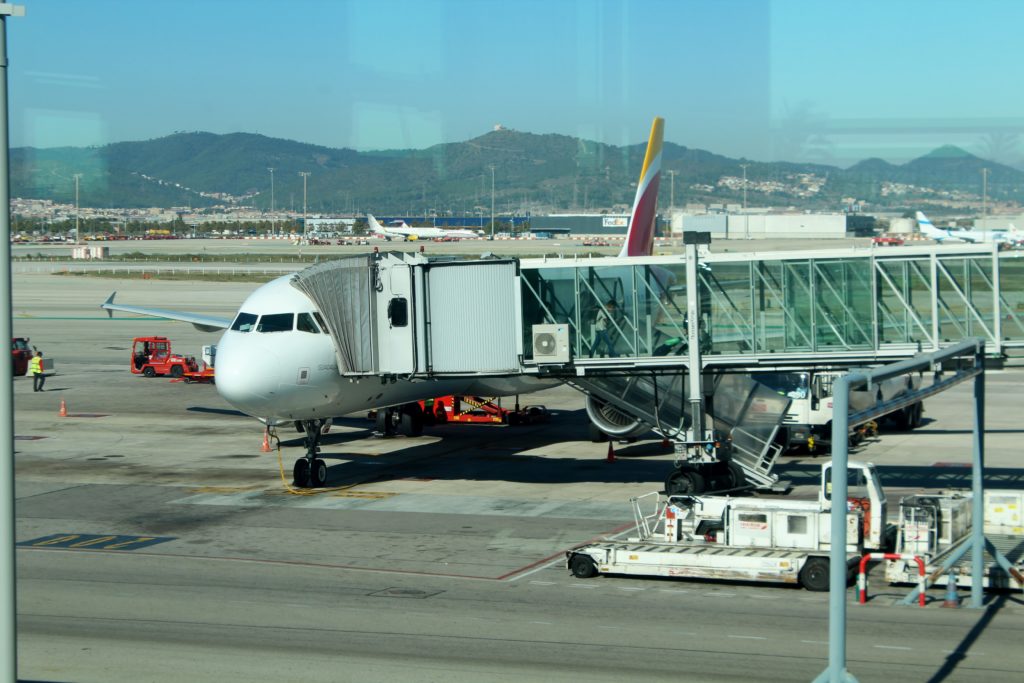 A large group of passengers had gathered in front of the gate podium as I returned to gate A02, but the gate staff just told the passengers to stand back until they had more information about rebookings and alternative flights.
At this point I decided to use my two advantages of the day. After all I was travelling on a paid business class ticket, and I did have an Emerald card, which is the highest status in OneWorld. And Emerald should give the highest priority on any waiting list. And as I was only travelling with hand luggage I could really just take my belongings and run to any other appropriate gate in the terminal.
Indeed showing my business class boarding pass made a difference. I was assisted immediately and instantly rebooked to the flight to Madrid an hour later, now leaving in about 30 minutes. The gate agent did not have a boarding pass printer at the gate so she just wrote the new flight details manually on my boarding pass.
The later flight to Madrid was departing from gate A04, two gates away. Boarding had already started there, but at this point they were only inviting people with a confirmed booking to come forward, which meant the original passengers for the flight as well as passengers from the cancelled flight who had already been rebooked, which fortunately included me.
First impression

Four rows had been assigned for business class and I was seated in 02A. Given the mess in the terminal the flight ended up being delayed as they continued to do rebookings until every single seat on the flight was taken, which at the end was perfectly understandable. Even with a somewhat delayed departure I would still make the connecting flight. And some days you just have to accept things do not go as planned.
Eventually all passengers were rebooked and seated onboard, the checked luggage had been sorted out, and they had found space for all the hand luggage, which was not easy. We took off 30 minutes behind timetable with a flight time of around 50 minutes to Madrid.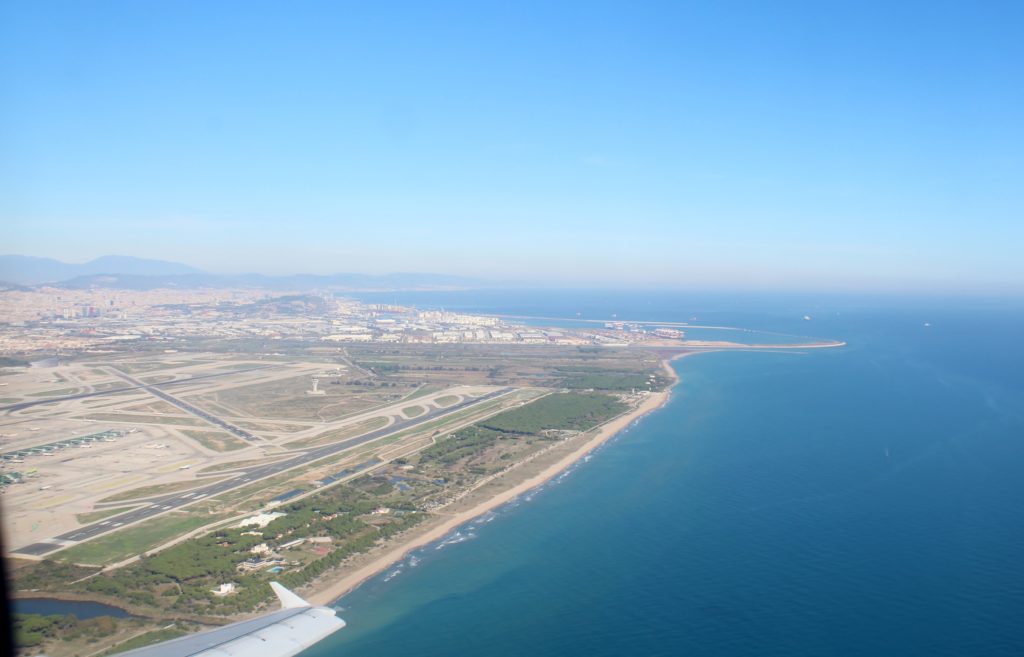 Seat and cabin

Four rows of business class were used on the Airbus A320 with a standard intra-Europe seating layout with a 2-2 configuration and blocked middle seats. The seats were in dark grey and the legroom was acceptable for a short flight.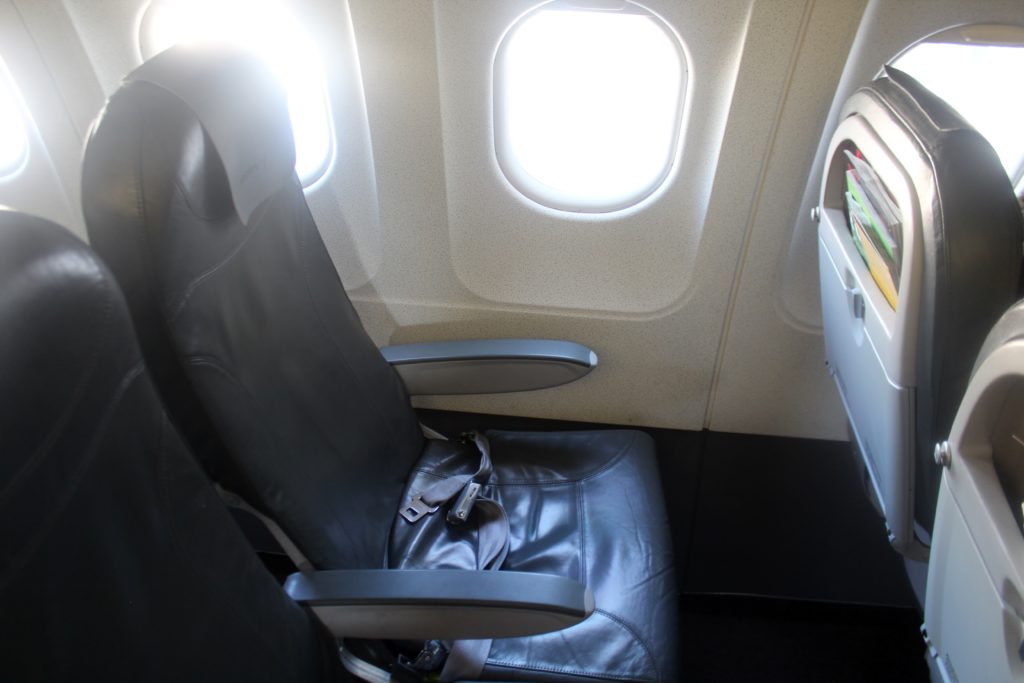 Food and drinks

Once the seatbelt sign had been switched off the inflight service started. Given the excellent meal service offered between Madrid and Lisbon and Porto in Portugal, with a similar length and flight time as Madrid-Barcelona, where you get a full meal with salad, a hot main course and a dessert, I had expected at least something similar to eat on this flight. I was wrong.
We were offered a small and very basic cheese sandwich on a small red tray, and that was it. Certainly no hot food, not even a cold option like a salad or some cold cuts, and no dessert. Not even a pastry or a cookie. This was very disappointing for business class.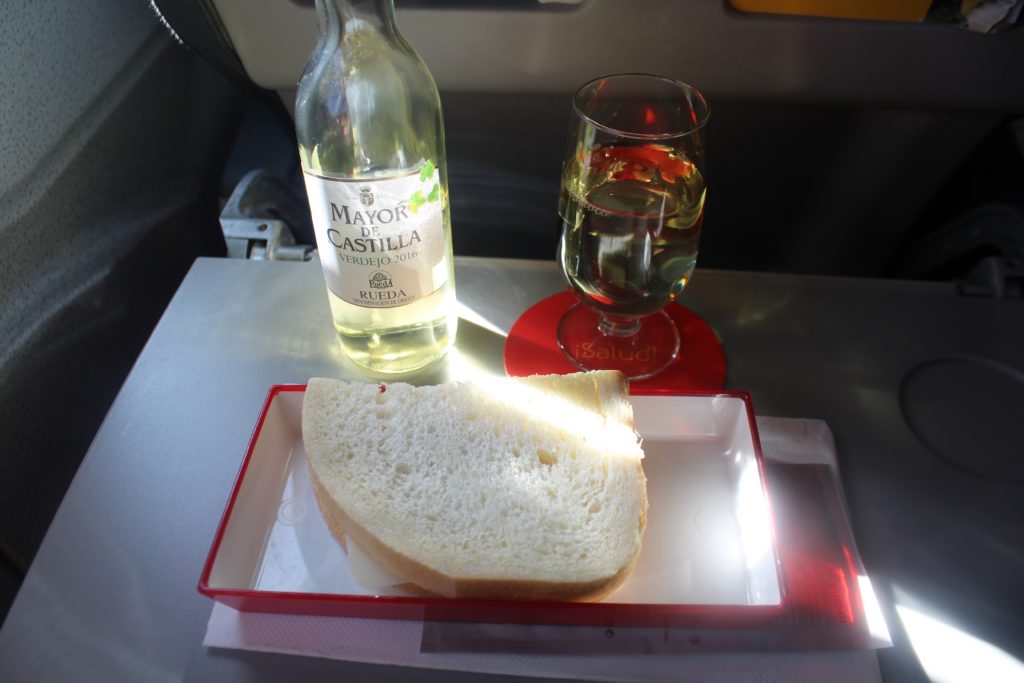 A full bar service was offered though with beer, wine and spirits. The wines were Spanish, of course, with two reds and two whites. I even managed half a second bottle until it was time to clear the table for landing.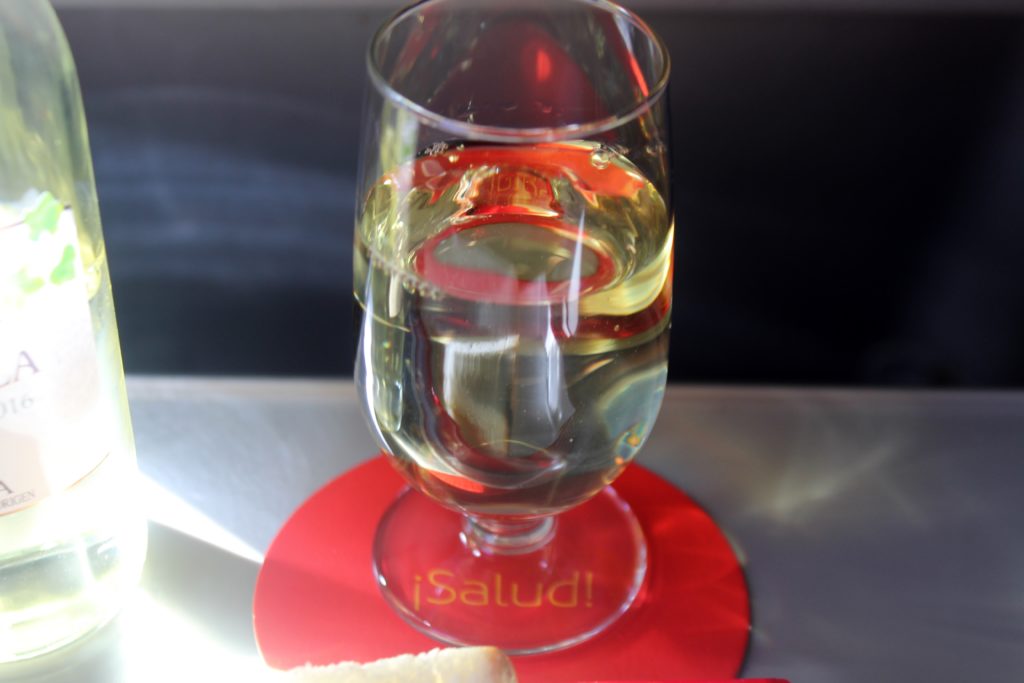 The service

Most of the time on the ground was spent sorting out the rebooked passengers and their seat assignments and finding space for all the hand luggage on a completely full flight, so there was very little time spent on us in business class, which again was fully understandable.
During the flight the service was friendly and pretty much by the book. No more, no less. But again it was a short flight of less than an hour.
Arrival experience

We made up some time during the flight with favourable wind conditions and landed on one of the runways closest to terminal 4, with a very short taxi to the gate.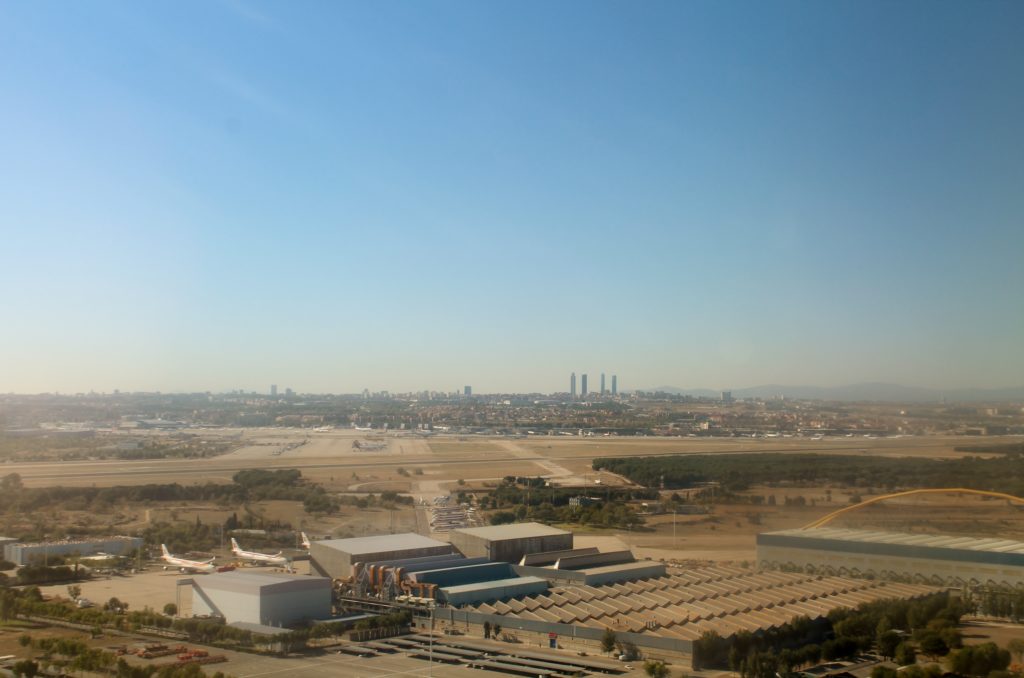 As I disembarked the aircraft I had about an hour until the next flight and actually had time for 15 minutes in the lounge, which was located right between the two gates anyway.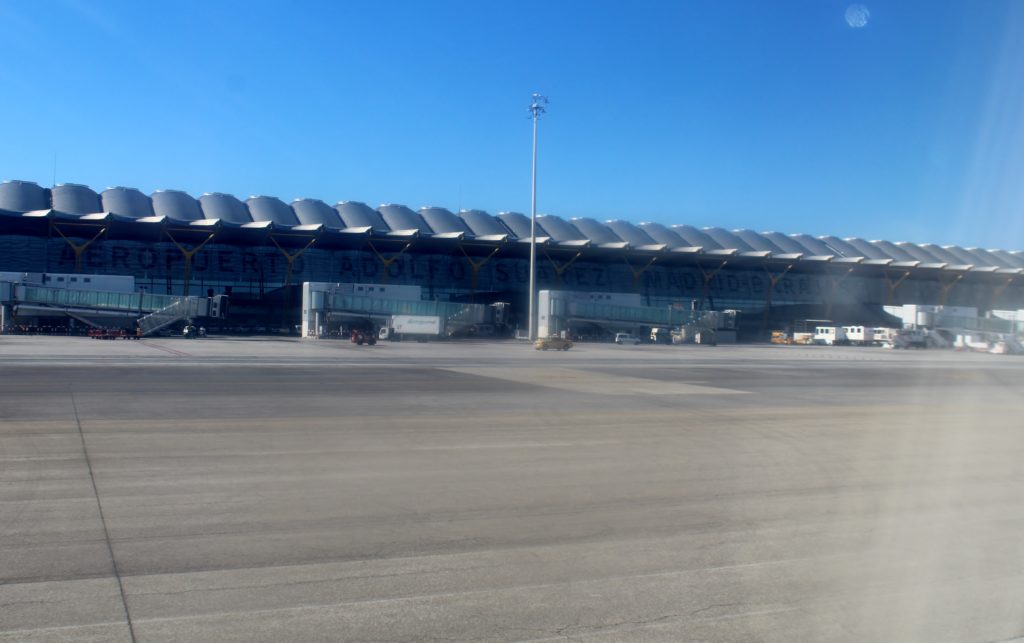 Final impression

A quick domestic shuttle flight with Iberia. Nice ground services in Barcelona with a nice domestic lounge, but the inflight service was very disappointing for business class, even considering the short flight time. I had expected more.