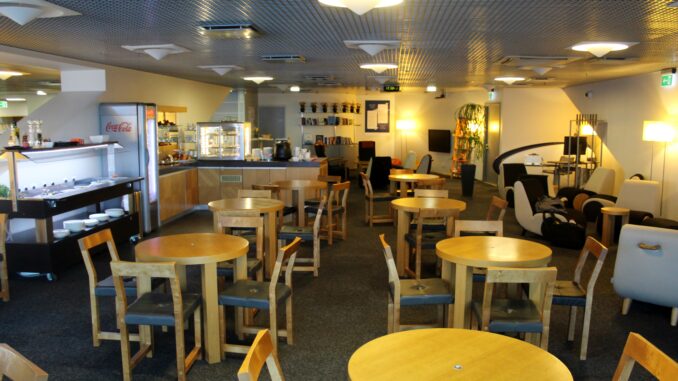 Where is it?

There is only one airport lounge at Tallinn Airport, the Tallinn Airport Business Lounge. The location is airside in the Schengen transit area. You will find the stairs for the lounge on the left hand side after passing through security control.
How do I get in?

The lounge is used by most full-service airlines for their business class passengers and top-tier frequent flyers such as LOT, Nordica, Lufthansa and Finnair.
What's it like?

The lounge is quite spacious, especially for a rather small regional airport like Tallinn. On top of that it is quite pleasant and generally in a good condition.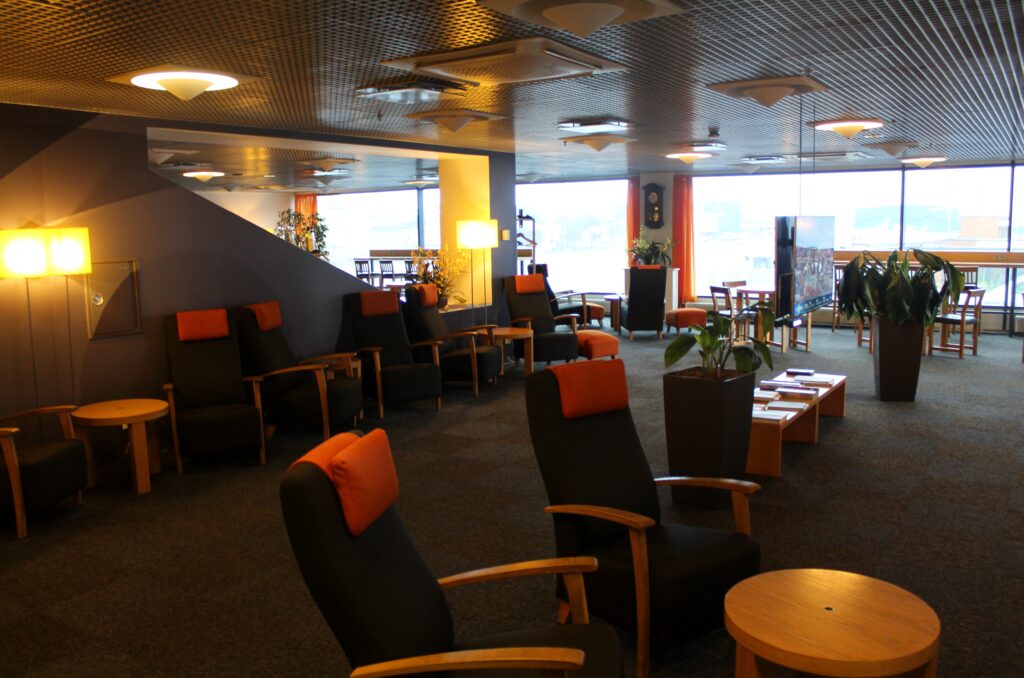 The design is relaxed and informal and feels more like a spacious living room than an airport lounge. Overall they have done a good job with the interior and there is also a view overlooking parts of the apron.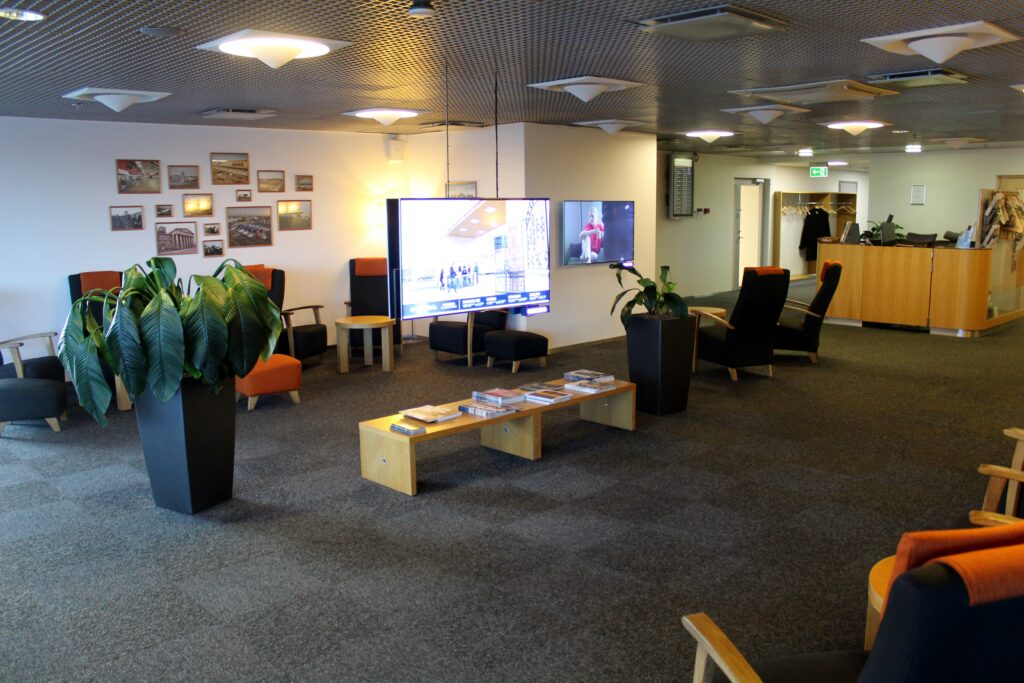 The lounge is divided into several different areas with mostly comfortable armchairs in different designs. There are also some nice pictures on the walls and even a fireplace.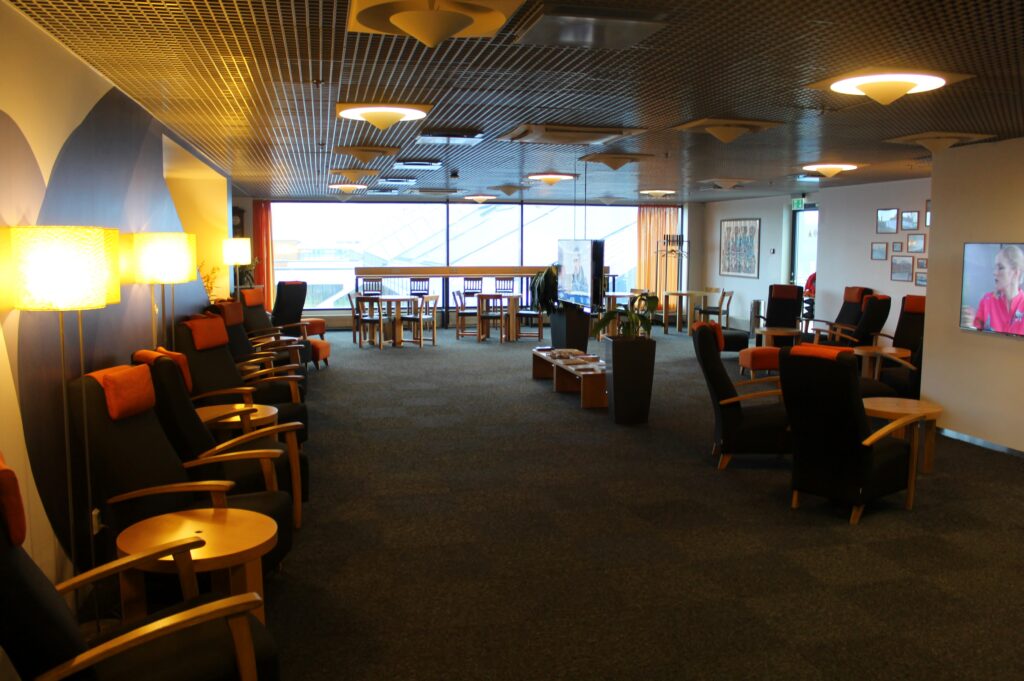 There are also some designer furniture such as the cool armchairs in black and white next to the buffet area.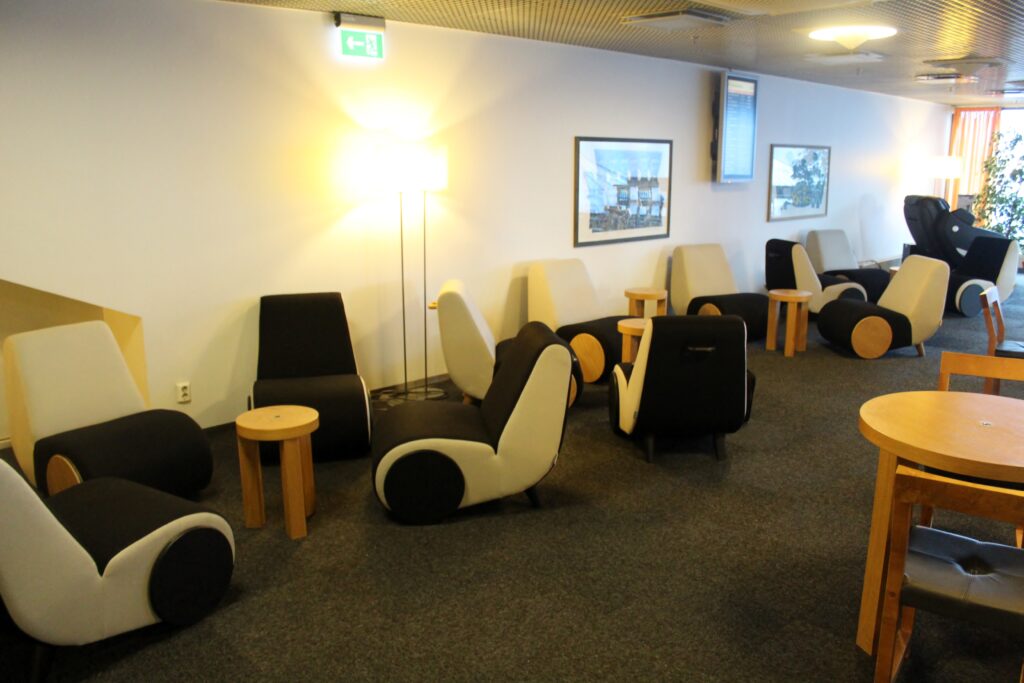 Food and drinks

Food, drinks and snacks are available from the self-service buffet area. Next to it there is a dining area for those who want to eat properly.
The selection of food if fairly decent for a small lounge. There is a cold buffet with cold cuts, salad and vegetables, however there is nothing hot available.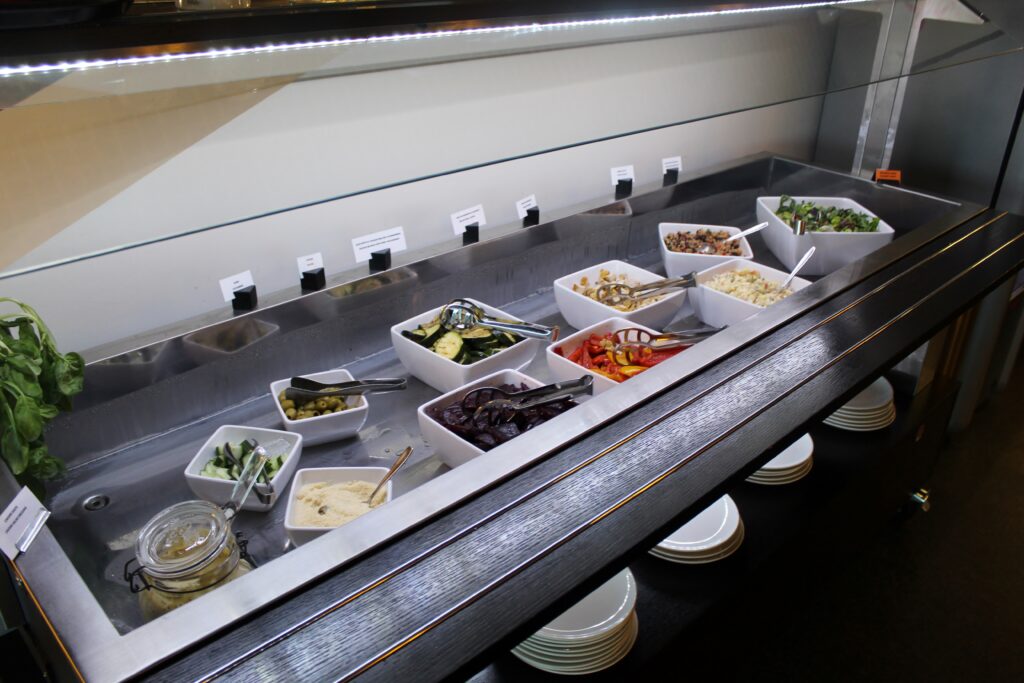 There is also a fridge with snacks, including some decent sandwiches, salads, croissants, pastries and desserts. The strange thing though is that there are no breakfast items in the morning, which is usually the case in most airport lounges. The selection of food looks exactly the same throughout the day. Although there is certainly nothing wrong with the sandwiches provided, some of them just feel a bit strange to have for breakfast.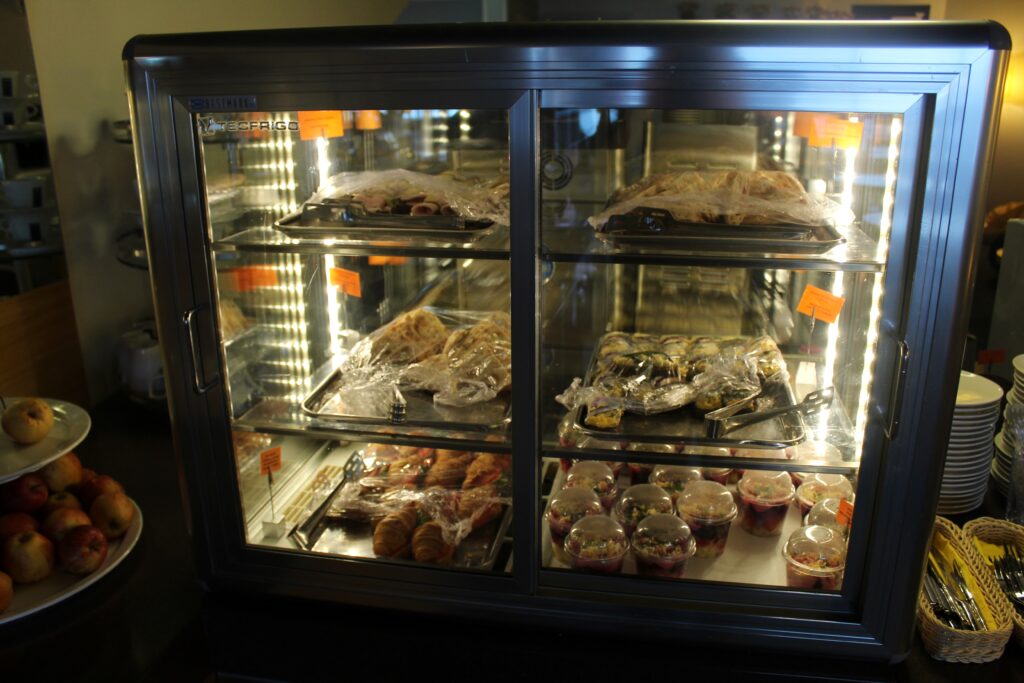 Estonian beer is available on tap and there is red and white wine as well as a standard selection of spirits for self service. Juices and various other soft drinks are obviously also available.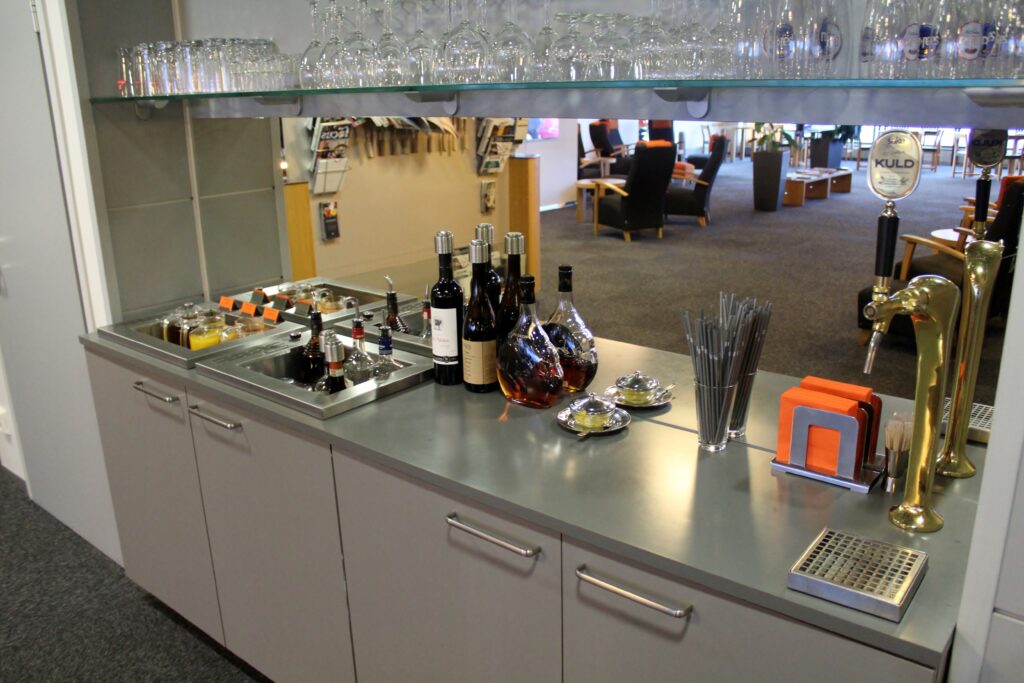 There is also a decent coffee machine and of course some tea.
Facilities

Newspapers and magazines are available from a rack next to the reception desk and there is a large TV. Free Wi-Fi is available.
There are showers and restrooms available in the lounge.
Anything else not to miss?
The lounge has a great outdoor terrace. The door leading to the terrace is to the right of the reception desk in the corner.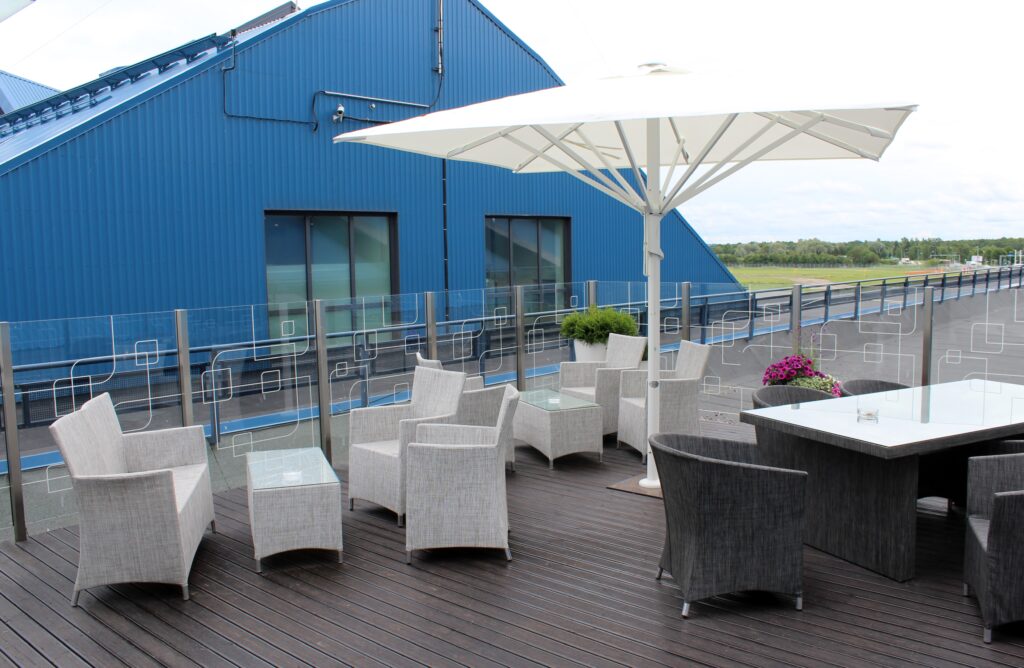 The terrace is surprisingly pleasant with seats and table and although Tallinn may not be the busiest of airports you do get a fairly good view of the apron. And there is even infrared heating available for chilly summer evenings (but they are obviously not in use during the winter).
Final impression

A rather spacious lounge for a regional airport, designed like a living room with a relaxed and informal atmosphere. Reasonable selection of food and drinks, a good apron view and a big plus for the outdoor terrace.