Back in one of my favourite lounges at London Heathrow, actually one of my favourite lounges in Europe. Almost half a year has passed since I was here last time, which is much too long really. Usually whenever I am here I tend to pass in the afternoon or the evening, but this time it is a late morning visit.
The visit to Heathrow terminal 3 started with a visit to the American Airlines Flagship Lounge, the first class lounge of American Airlines. It was packed to the limits and it was actually hard to find a seat, not to mention a seat with a power socket for the laptop. The selection of food and snacks was also disappointing. In the afternoon and evenings they have some great snacks, canapés and desserts but in the morning they offered a very standard English breakfast with nothing extra.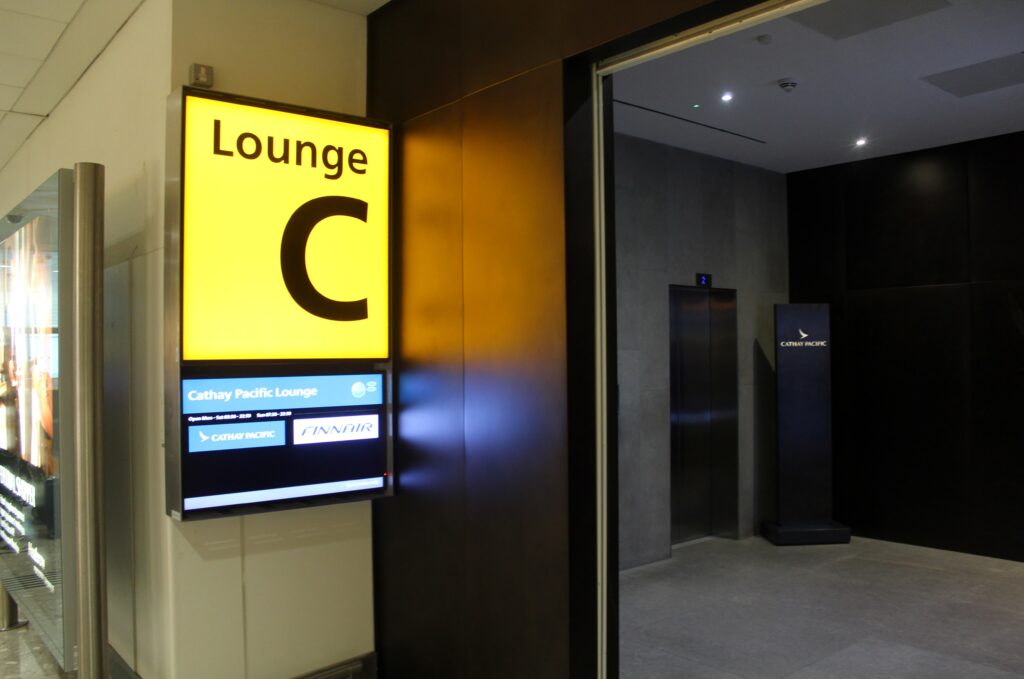 I arrived in the Cathay Pacific lounge around 11.30 am to have some lunch in the lounge. It turned out lunch starts at noon, sharp. The friendly man working in the restaurant told me he could arrange something earlier than that, in case I wanted something in particular, but not a full lunch. I told him I would take a seat and be back at noon.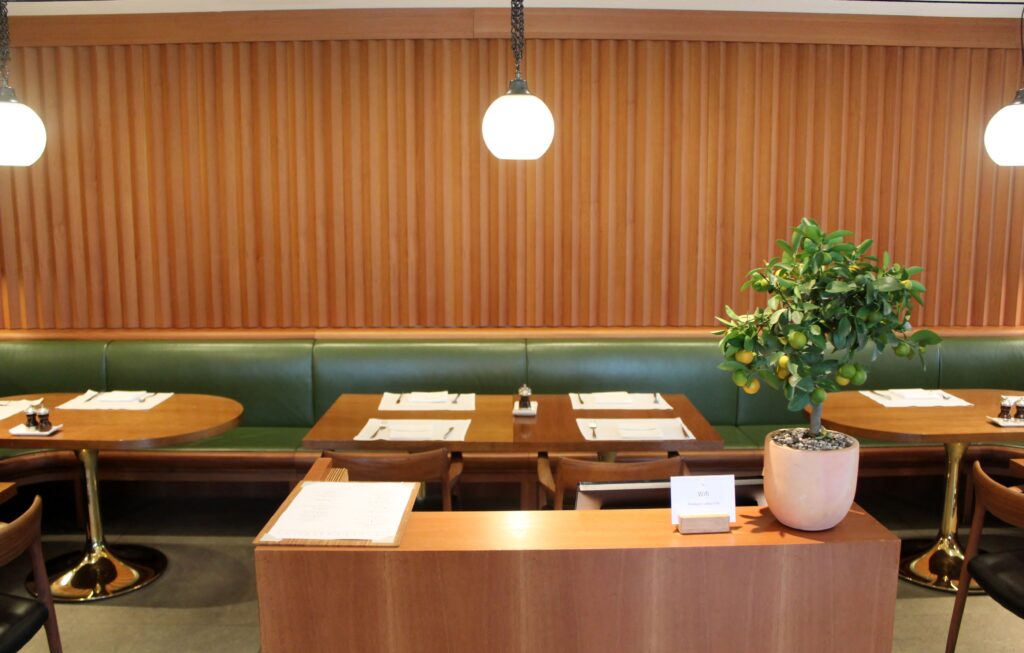 Three minutes before noon I returned to the restaurant, called 'The Dining Room' and had a seat at one of the tables. This was a wise decision. Ten minutes later every single table was taken. It also meant I was one of the first guests to place my order and consequently one of the first guests to get my starter delivered and it meant I had plenty of time to enjoy a full three courses meal, even though I had a flight leaving at 1.50 pm.
As a rule of thumb, if you want to have a proper three-course lunch or dinner in The Dining Room, without any rush, you should allow at least 45 minutes. This is generally the amount of time it takes.
A wide decision is also to order everything you want to eat and drink at the same time as you place your order, including if you want something else to drink with your main course (if you start with a cocktail for example) and also if you want a cup of coffee with the dessert. Of course you can order other drinks later on, but ordering everything at the same time will make the whole meal service so much smoother, especially at peak times when the staff are very busy. If you order a glass of wine at the same time as you get your main course it will probably take a couple of minutes before you get it and by that time the food will probably be cold, or you have already finished it.
The menu seems to change fairly frequently. Although I do not pass the lounge that often I can at least say the menu has never been the same on two visits, with the exception of the signature dishes such as the Beer burger and the noodle dishes.
On the menu today there were three starters, four main courses (and the signature dishes of course) and four dessert options.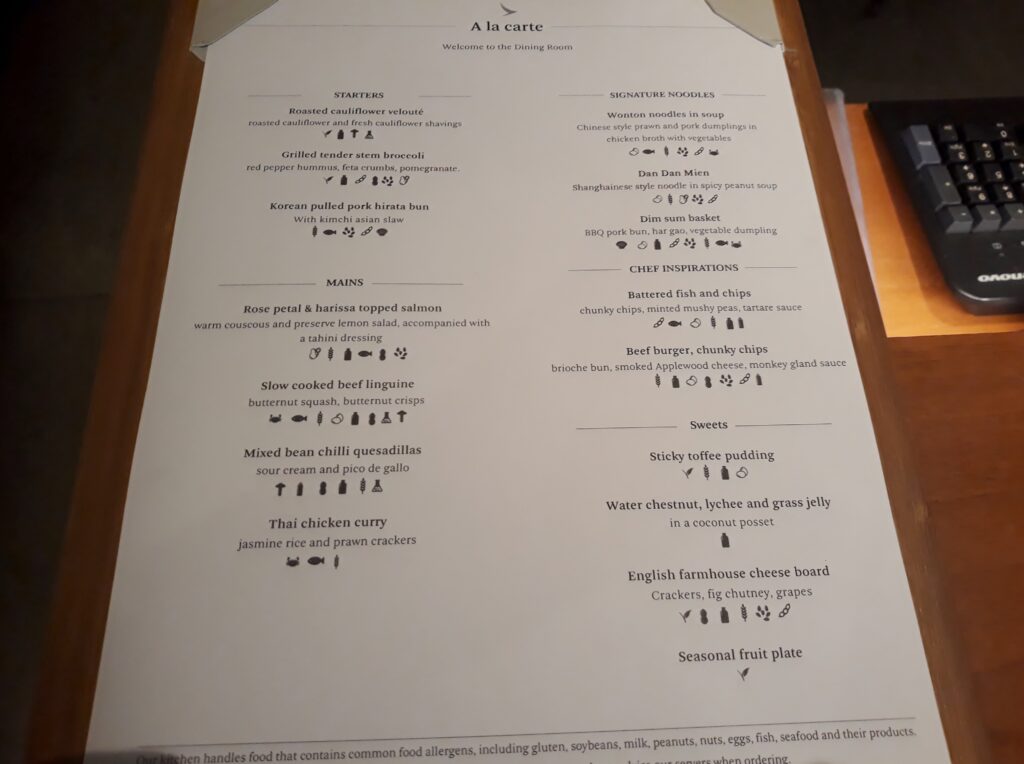 The drink list also seemed to have improved, now offering four white wines and four red wines. Two years ago there were only two whites and two reds to choose between. And you now have three champagnes to choose between, including a vintage one.
The wine list is still somewhat below standard for a first class lounge, but it has improved.
I started with a gin & tonic and ordered the Korean pulled pork hirata bun with kimchi Asian slaw for starter. It was rather spicy but also very tasty. I liked it.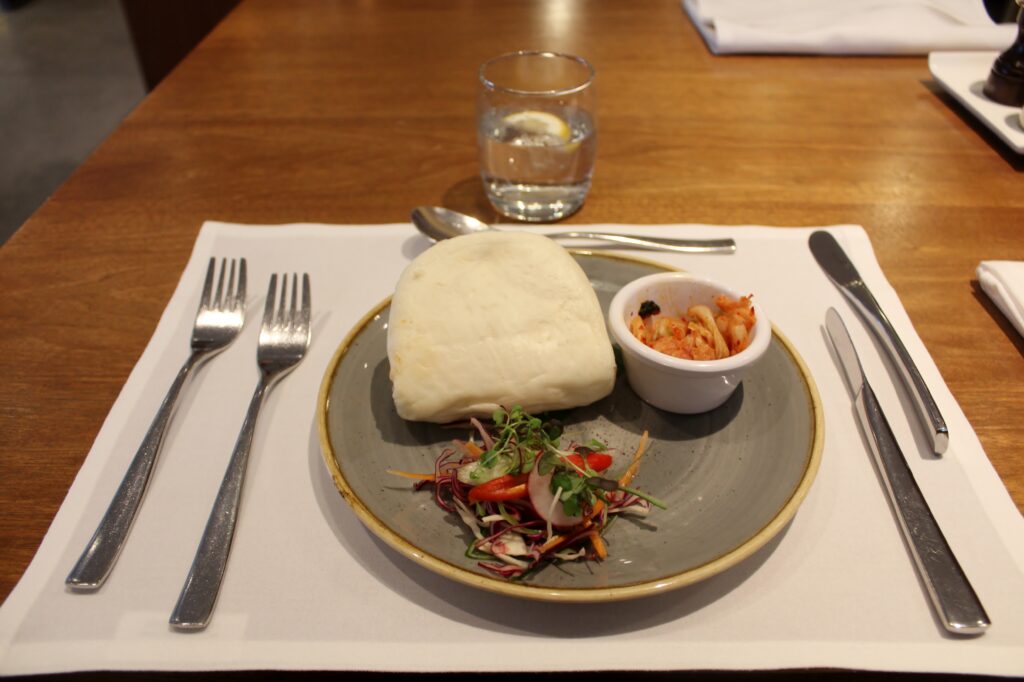 For the main course I had the salmon dish, the rose petal and harissa topped salmon served with couscous and preserved lemon salad, accompanied with a tahini dressing. Very tasty and nicely presented. And a glass of Sauvignon Blanc white wine to drink with that.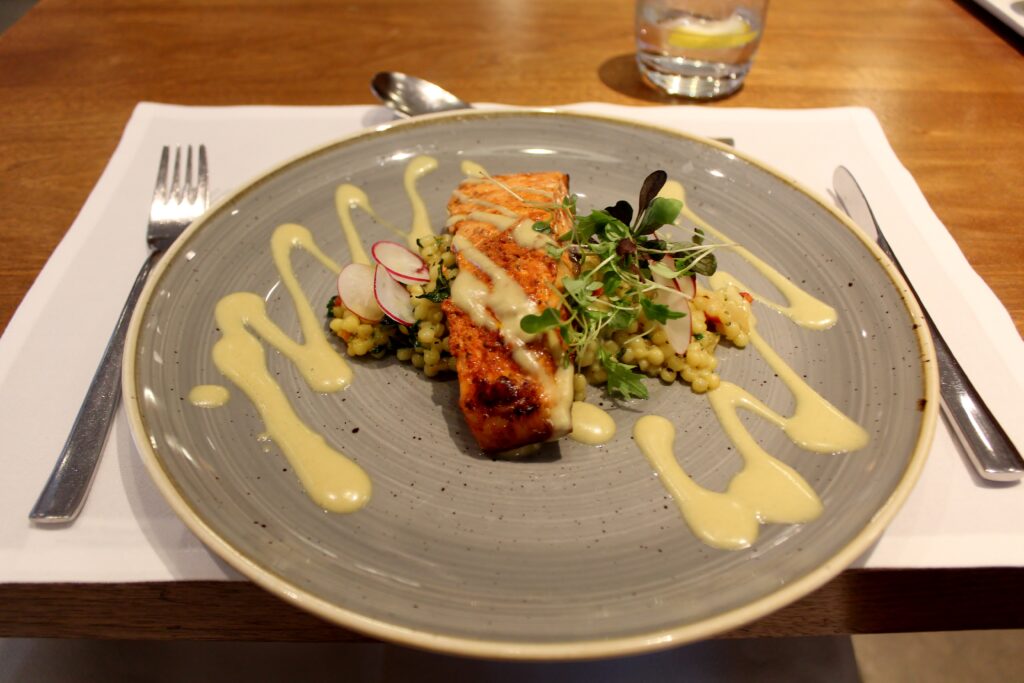 And for dessert I ordered the sticky toffee pudding, which was served hot together with custard sauce and a physalis.
And finally a double espresso to finish off.
Everything worked perfectly. The whole three courses meal took around 50 minutes and by the time I had finished my double espresso the screen indicated it was time to go to the gate. Most other guests who had lunch in the restaurant were leaving on the same flight and although they probably all had time to finish their meals, had I arrived at the restaurant a few minutes later it would have been rather stressful.
If you have some time to spare afterwards you can have a seat by the window where you get a fantastic view of the terminal 3 apron and the southern runway. A pure joy to sit there on a clear day, in one of those comfortable armchairs with a glass of champagne or a cocktail. If you do not want to mix something yourself there is always the cocktail bar in the business lounge.
Time to summarise another visit to the Cathay Pacific First Class Lounge at Heathrow. A lounge which is always enjoyable to visit and easily my favourite lounge in terminal 3. Very friendly staff, nice interior and an excellent a la carte restaurant.