Back in what has really become a favourite lounge at London Heathrow, the Cathay Pacific First Class Lounge in terminal 3. As a OneWorld Emerald member you have access to the first class side and you also have access to the a la carte restaurant, even when travelling in economy class and even if you travel on another airline than Cathay Pacific.
Very quiet in the lounge when I arrived just before 5 pm when there are no Cathay Pacific flights leaving. The interior is very similar to Cathay Pacific The Pier First Class Lounge in Hong Kong. In fact the London first class lounge is a miniature replica of The Pier.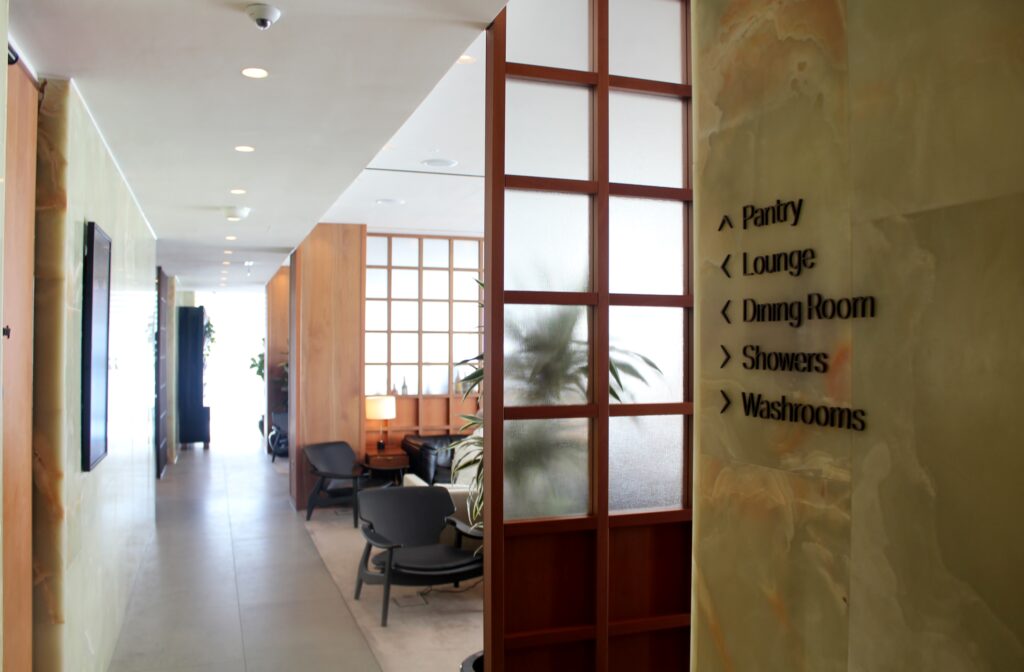 With a somewhat limited time I proceeded immediately to the a la carte restaurant called The Dining Room where I was greeted by the head waitress and shown to a table. Just like the rest of the lounge the restaurant was almost completely empty to I could sit anywhere I wanted. I very much like the retro-style interior of the restaurant.
I was given today's menu, which changes regularly. Three starters, four main courses and then a couple of signature dishes such as noodles, burger and fish & chips. And a couple of desserts to finish off. Here is the menu this evening.
I was also given the drink list which is fairly extensive nowadays and which seems to have improved with no less than three champagnes, four red wines, four white wines, beer, soft drinks, spirits and cocktails.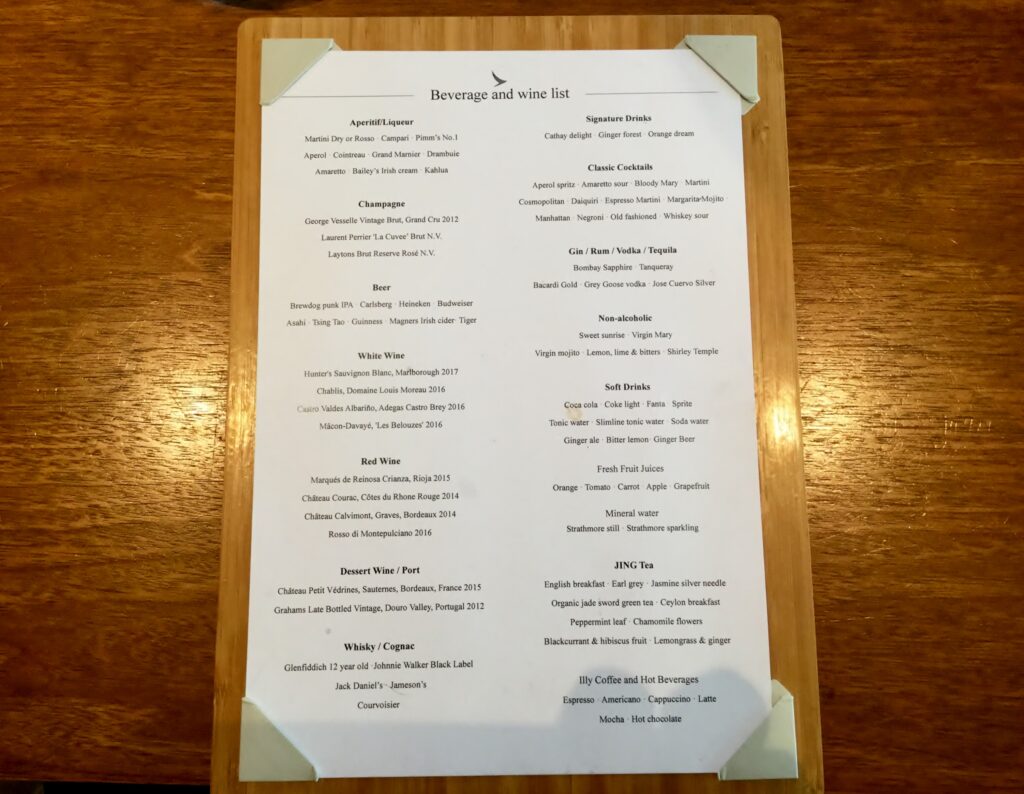 I ordered a gin & tonic to start with and the Five spiced duck and mango salad for starter. I always enjoy duck and the dish was tasty. And the presentation was rather nice as well.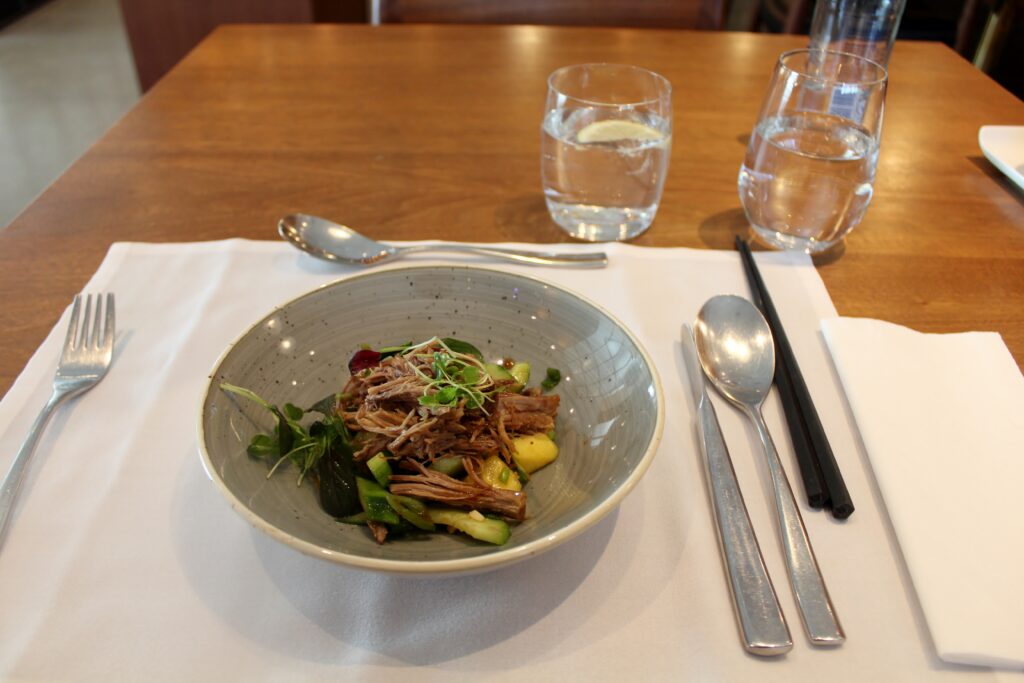 For main course I decided to try the Methi chicken curry with basmati rice and to drink a glass of Hunter's Sauvignon Blanc. Again with a rather nice presentation and I especially like the very colourful china they use.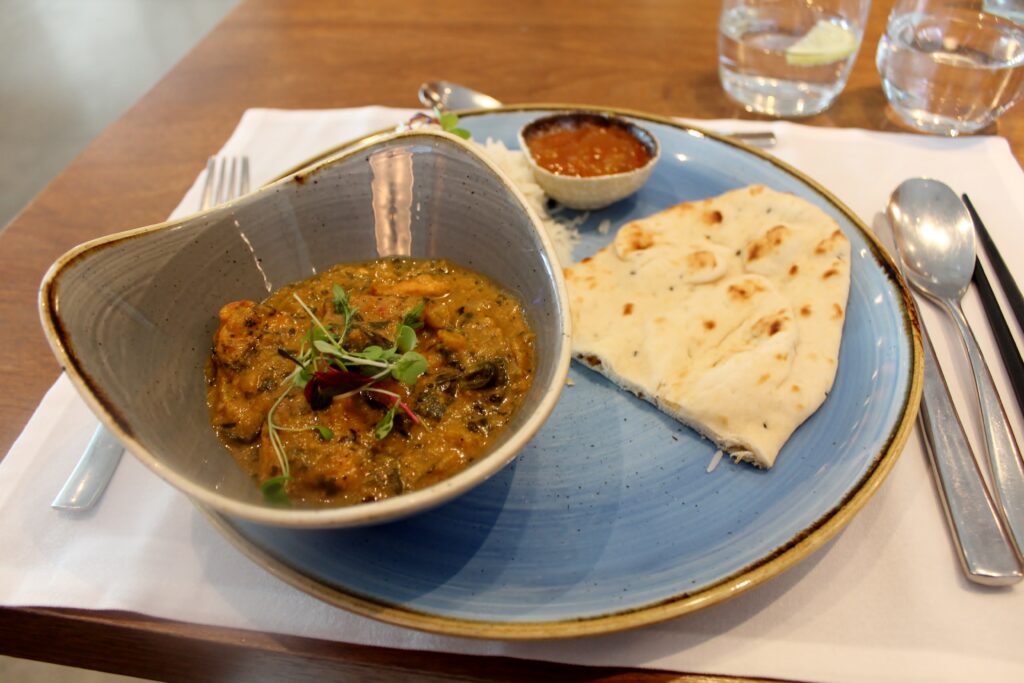 And finally for dessert I ordered a green tea custard dessert with a double espresso to drink. And for the third time I have to give my compliments for a very nice presentation of the food. What a colourful dessert.
The service was friendly and attentive but they really prefer you to order everything straight away upon arrival, including all drinks. I had a gin & tonic to start with but wanted a glass of white wine with the main course, which I did not order until later, and it took a bit of time before I got someone's attention and also got the wine delivered to my table, since they want to enter all the orders in the computer system. Something to think about if you have limited time in the restaurant.
After the dinner I left the restaurant and had another glass of white wine in the main lounge, which was still fairly quiet. I really like the interior of the lounge and you also have a fantastic view of the apron and the southern runway. The seat in the far left corner is usually referred to as 'the throne' as you have a magnificent view.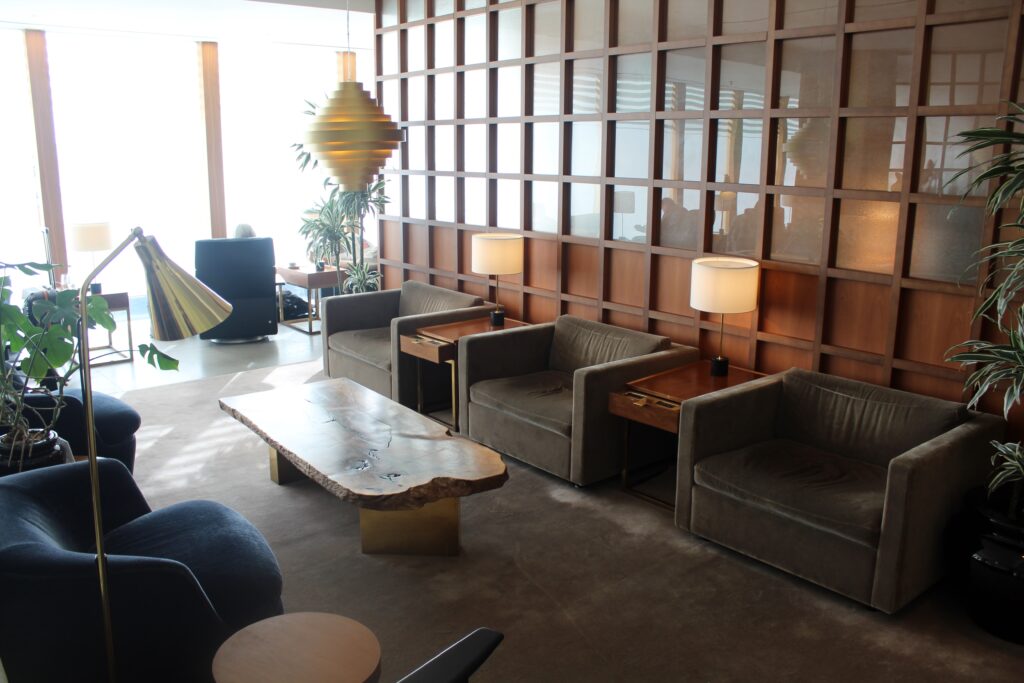 There is a self-service bar available in the main lounge where you can help yourself to champagne, wines, spirits, beer and soft drinks.
The Cathay Pacific First Class Lounge is easily the best OneWorld lounge at Heathrow terminal 3 and especially if you would like something proper to eat. The Dining Room is a very nice concept.
And overall Heathrow terminal 3 is an excellent terminal for OneWorld travellers if you have lounge access as you have no less than four different lounges to choose between – American Airlines, British Airways, Cathay Pacific and Qantas. If you have a OneWorld Emerald card or a first class boarding pass all lounges except for Qantas also have a first class section.