Where is it?

The Lufthansa Senator Lounge is located airside in the Schengen transit hall in Terminal A. The stairs to the Senator Lounge are located close to the Lufthansa Transfer Center, pretty much right in the middle of the transit hall.
The Senator Lounge is located one floor above the transit hall on the mezzanine level.
In contrast to many other airports the Lufthansa Senator Lounge and the Lufthansa Business Lounge are in separate locations, with separate staircases and entrances, so do not follow the signs for the Lufthansa Business Lounge.
How do I get in?
A Star Alliance Gold card or a Miles & More Senator or HON Circle card will get you in when you travel the same day on Lufthansa or Star Alliance from Düsseldorf. If you connect to a flight with Lufthansa or SWISS in First Class you should also get access.
What's it like?

The Senator Lounge in Düsseldorf is one of the lounges which still has the old Senator lounge design with the old leather armchairs in black. In most other Senator lounges these have now been replaced with newer furnitures in beige and brown.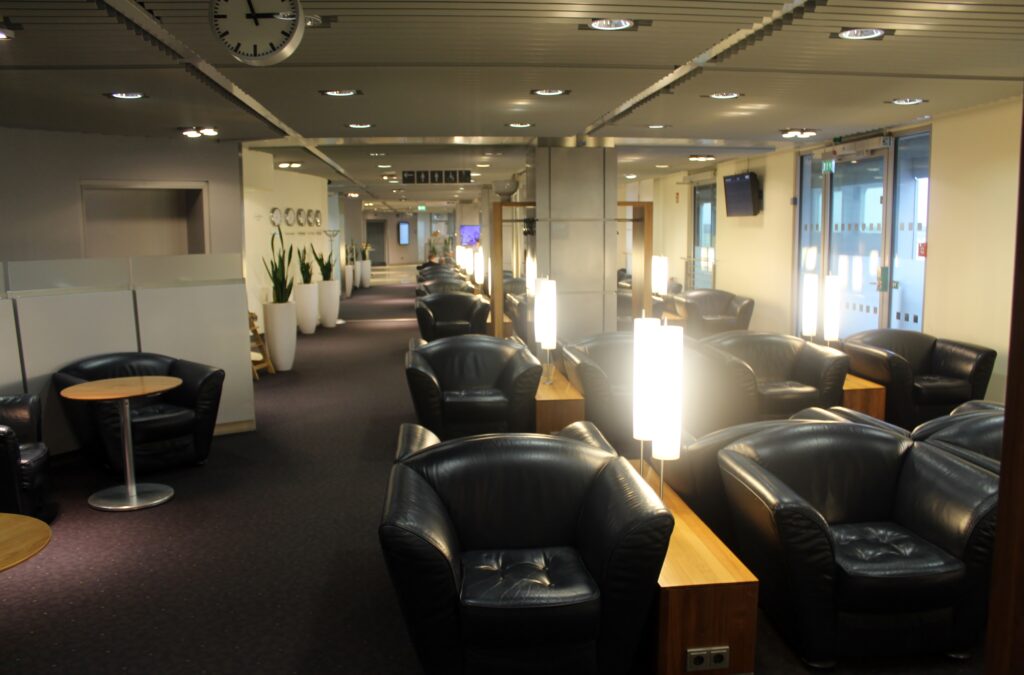 The lounge itself is quite long, stretching along the windows facing the eastern apron.
The interior is nothing to get terribly excited about in mostly white. There are also brown carpets, the signature Senator lamps and the standard black armchairs placed in various seating areas along a corridor.
Food and drinks

The self-service buffet area is located straight after the reception area with a buffet counter and a bar counter.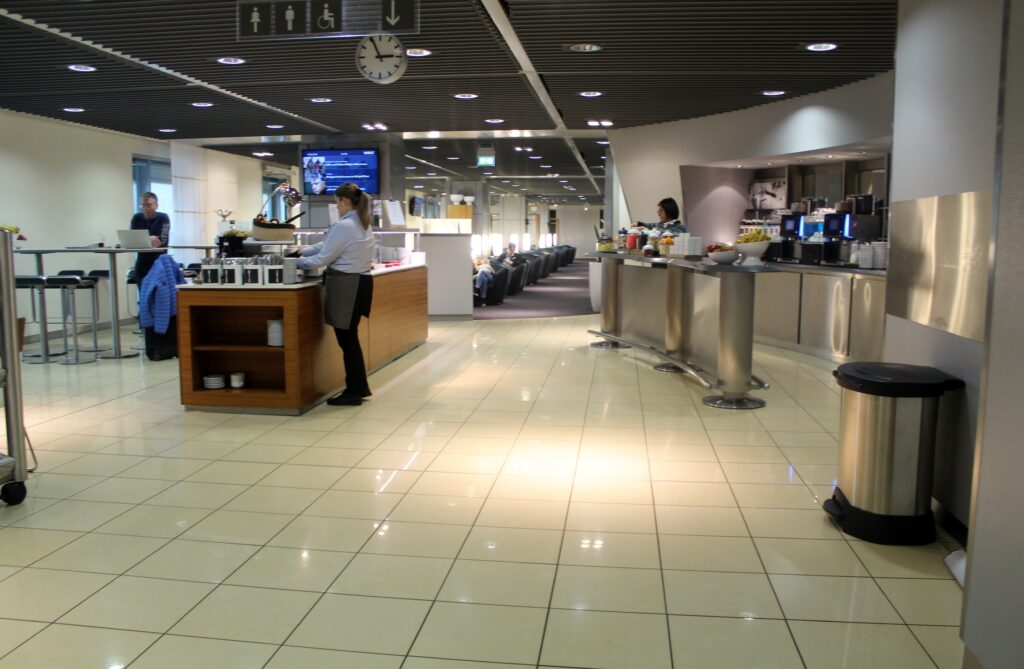 The selection of food varies depending on the time of the day but there is usually something hot to eat.
There are also bread rolls, cold cuts, salads, fresh fruits, pastries, cookies and usually also some desserts.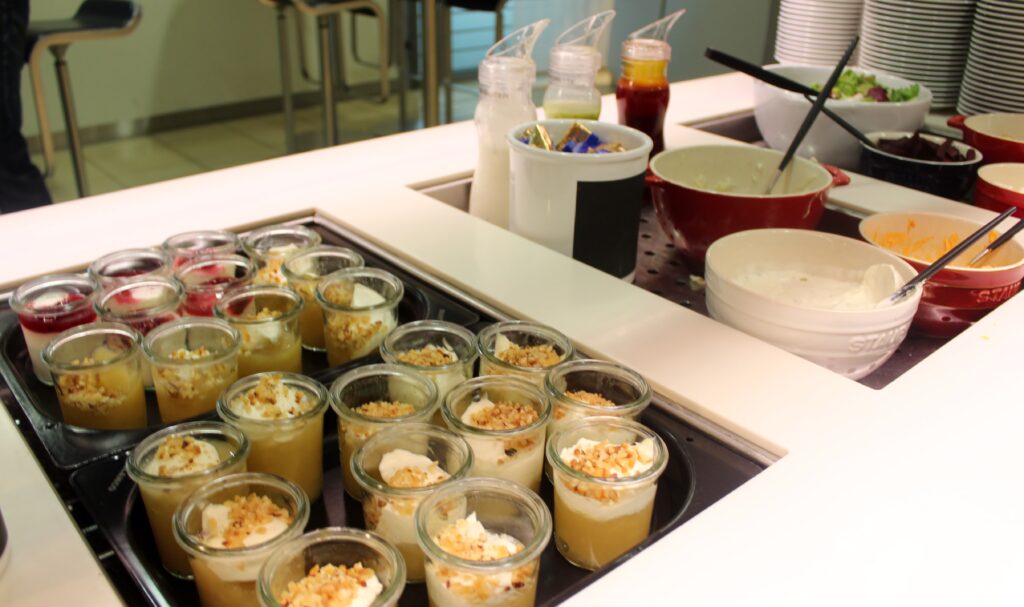 Drinks are available for self service from the bar counter with beer on tap, red and white wine, usually some German sparkling wine (sekt), soft drinks from a dispenser and two coffee machines.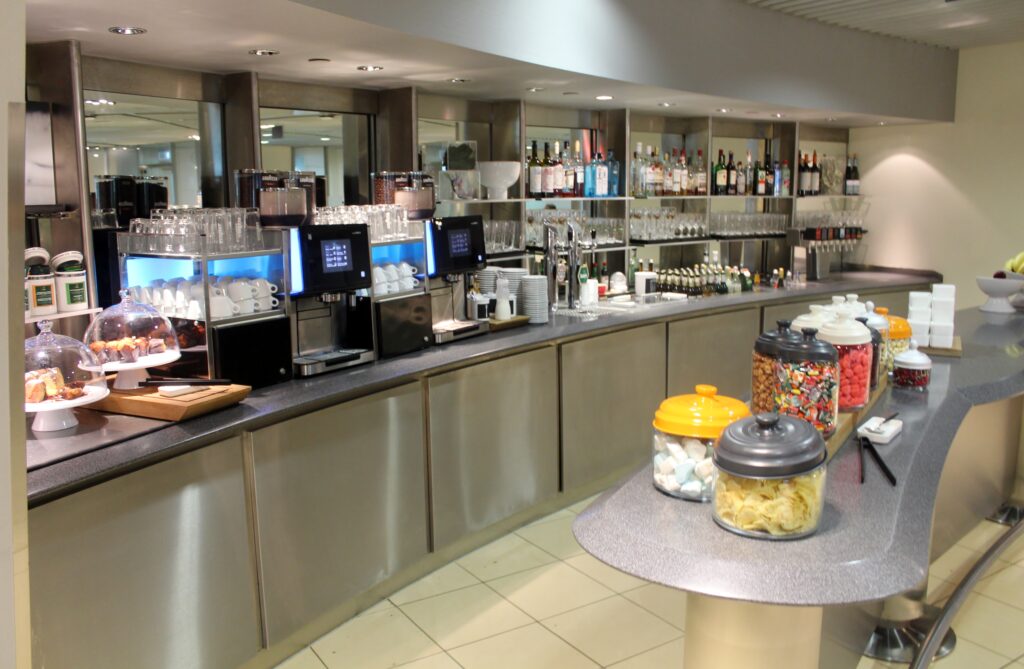 There is also a rather good selection of spirits.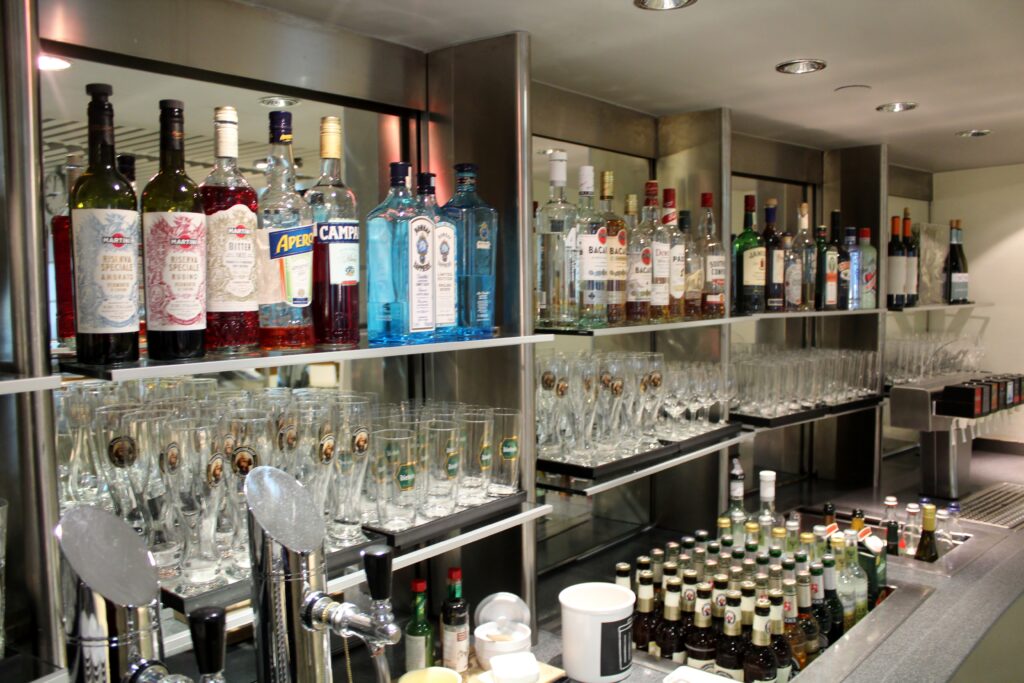 Facilities

Free Wi-Fi is available and there is also a business centre with work desks. Next to it there is a rack with a selection of newspapers and magazines.
There are both restrooms and showers in the lounge.
Final impression

A standard Lufthansa Senator Lounge with the old Senator lounge design with the black leather armchairs. The interior is nothing to get excited about but the selection of food, drinks and snacks is not bad and the staff are friendly and accommodating.