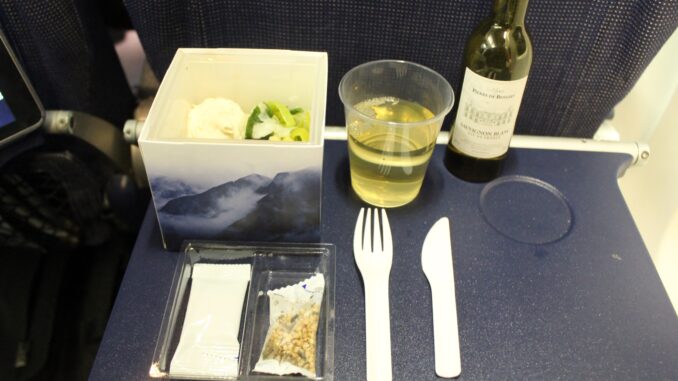 Departure experience

I arrived at Nice Côte d'Azur airport around 5.45 pm, well before the scheduled departure time at 8.35 pm. Given that this was a Saturday most businesses in Nice had closed for the day and as I was planning to have some dinner in the lounge it made little sense to stay longer in the city centre, especially as it was getting dark.
Check-in for the flight was done on the SAS webpage. This was a good thing as the airport check-in desks did not open until two hours and 30 minutes before scheduled departure time, and I was travelling with only hand luggage anyway. There was a dedicated check-in desk for SAS Plus, EuroBonus Silver/Gold/Diamond and Star Alliance Gold.
SAS uses terminal 1 at Nice airport. Although there is a fast track channel through security SAS has decided not to pay for it, so all SAS passengers are directed to the regular lines. However the security control was virtually empty with only two passengers in front, I was through in just about two minutes.
The transit hall in terminal 1 is small, fairly uninspiring, but adequate.
There are two lounges in terminal 1. The Library Lounge i located in the Schengen area while The Canopy Lounge is located in the non-Schengen area. The non-Schengen area (and hence the lounge) is also used for flights to Belgium, Greece and The Netherlands, even though these are Schengen countries. Most likely you will only need to show your boarding pass in these cases to get to this area.
Two years ago SAS decided to discontinue the use of contract lounges, which means that you only have lounge access at airports where there is a lounge operated by SAS or another Star Alliance carrier, such as when there is a Lufthansa lounge. At airports where there are only third-party lounges you will not have lounge access flying in SAS Plus or holding a EuroBonus Gold/Diamond or Star Alliance Gold card.
At Nice airport there are only third-party lounges which means no access flying SAS, however I could get access all these lounges using Priority Pass.
The Library Lounge in the Schengen area of terminal 1 is a lounge I had visited in the past but back then it had a different name and a completely different interior and concept. But the new lounge was a very positive surprise and a great improvement. A very nice and spotless interior and although not spectacular by any means, at least there was a decent selection of cold food, some snacks and of course plenty of French wine.  Since I was rather hungry after a full day in Nice I was happy being able to make myself a proper cold dinner.
And just like the name suggests there was a library in the lounge, a rather cool one with plenty of books to read.
Read the full lounge review here!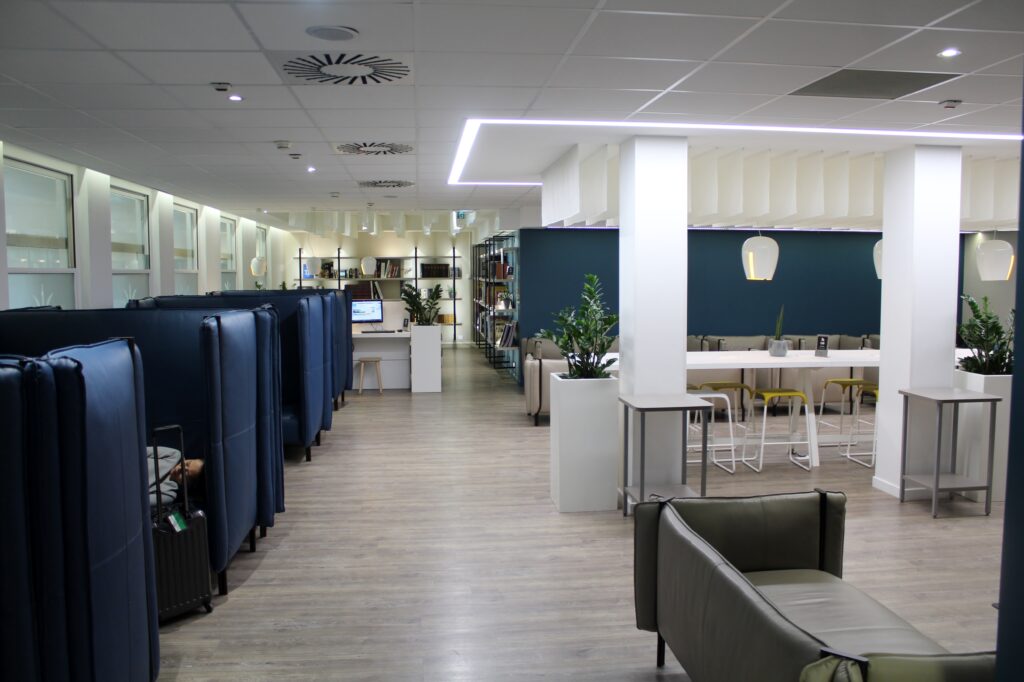 The flight
Nice-Stockholm
SAS flight SK 1828
Departure: 20.35
Arrival: 23.35
SAS Plus / Premium Economy
Boeing 737-600
Seat 03D

The incoming flight was early and boarding also started quite early, already 35 minutes before scheduled departure time.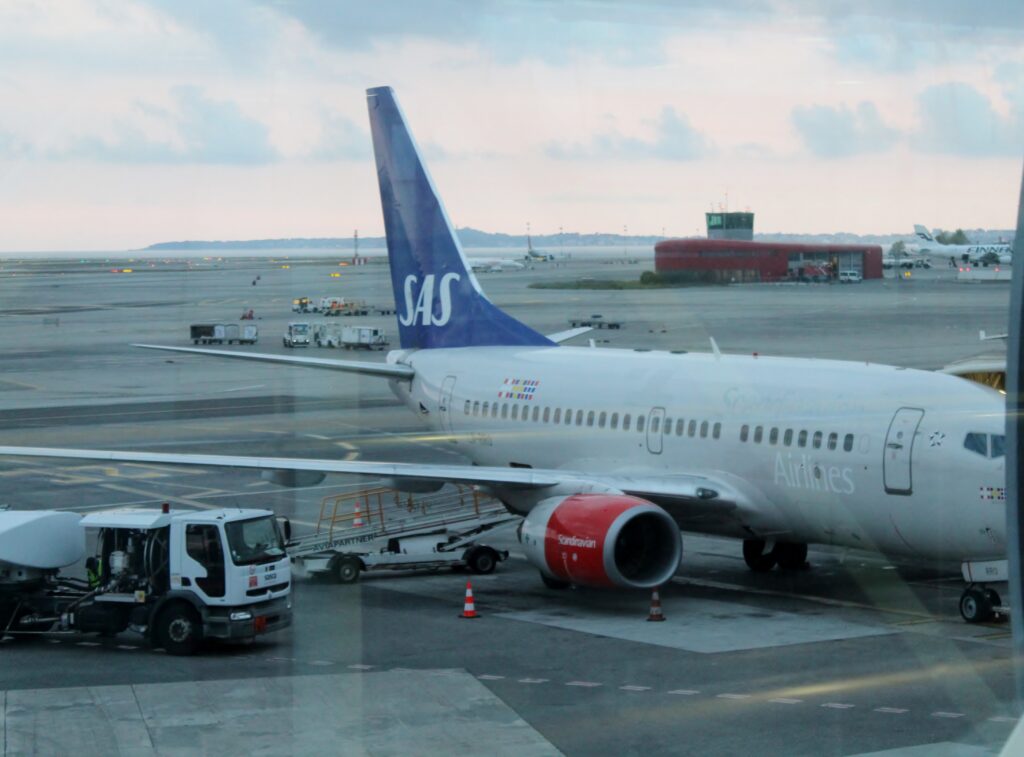 First impression

I already knew the load for the evening flight to Stockholm would be light, and it surely was. When I checked the seatmap for the flight 45 minutes before departure I could count to 19 passengers onboard. 5 passengers in SAS Plus (Premium Economy) and 14 in SAS Go (Economy Class).
I had selected seat 03D for the flight, on the third row, and interestingly they had arranged for a seat block for my seat thanks to my SAS gold card. Seat 03E was clearly blocked on the seat map. Not that it was needed though with no less than six completely empty rows in SAS Plus. I obviously got my own row and moved to the window seat 03F to get a better view.
It was rather surreal to see such an empty cabin on a Boeing 737-600. There were fewer passengers onboard than there are rows on the Boeing 737-600. 19 passengers and 22 rows. There were three middle-aged men in SAS Plus seated in 02ABC. They were thrilled when they noticed the number of passengers onboard and had a very entertaining and quite amusing chat about where and how they should sit when they realised they could sit pretty much anywhere on the first eight rows.
With so few passengers the boarding was completed in less than ten minutes, 25 minutes before scheduled departure time, and we actually pushed back a few minutes early.
During the taxi to the runway I realised we were to take off towards the east, which would provide a very nice view of downtown Nice and the coastline during the first few minutes of the flight, assuming you sit by the window on the left hand side of the cabin. As I was sitting on the wrong side, but had plenty of free seats available on the opposite side, I took a chance and very quickly moved to the other side. The purser noticed what was happening, had a quick look inside the cabin, saw me on my new seat with my camera ready, smiled, and took his seat again in the galley.
The initial climb provided a magnificent view of the city centre and the coastline. The afternoon had been lovely with a warm and sunny weather and so was this evening.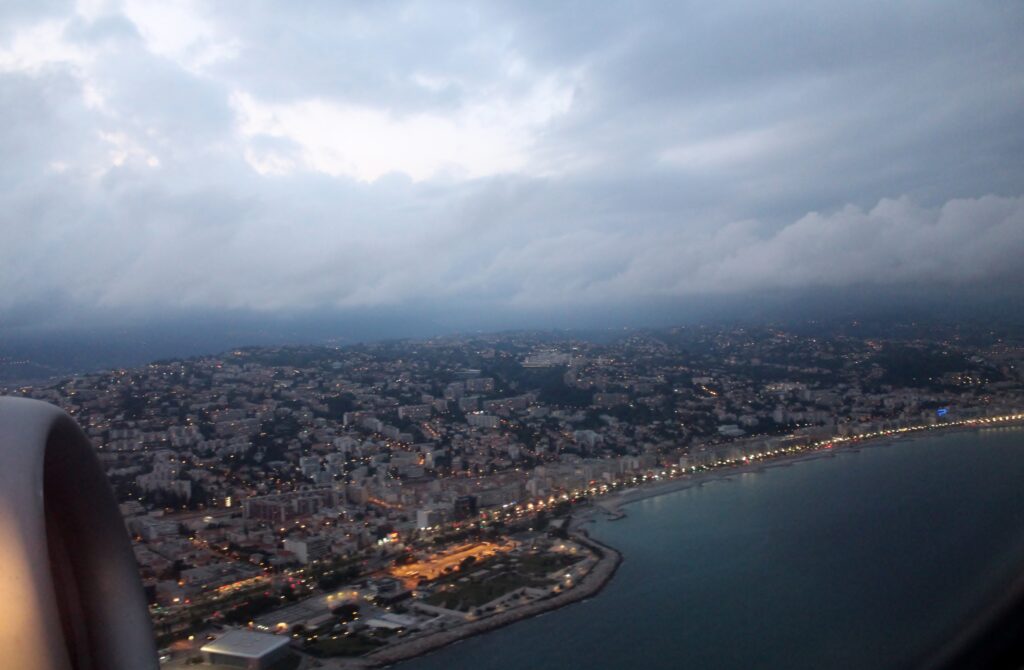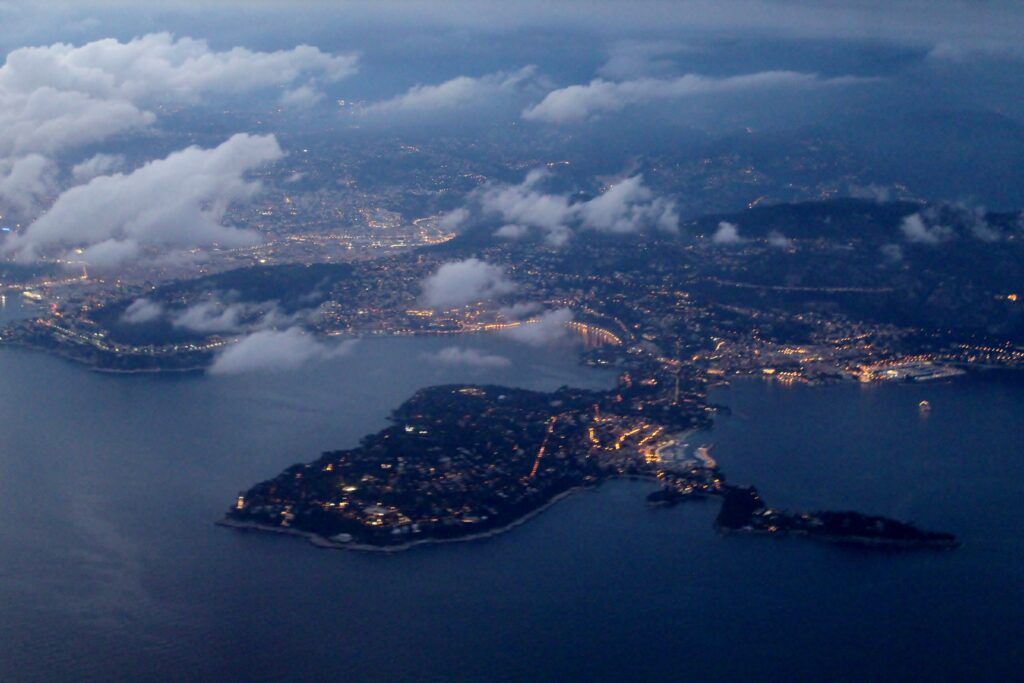 Seat and cabin

There was a standard intra-European configuration onboard with 3-3 seating in the regular dark blue SAS seats. Since SAS Plus is a premium economy product rather than a business class product there are no blocked middle seats. If the cabin is full there will be someone sitting in the middle seat, however they do try to block the middle seats for gold card holders whenever there is space, but this is never guaranteed.
With eight rows of SAS Plus and only five passengers none of this was obviously a problem. There was more than enough space.
Food and drinks

After the seatbelt sign had been switched off the meal service started and given a departure at 8.35 pm dinner was served to Stockholm and being a longer intra-European flight in SAS Plus 'the cube' was offered, a concept which was introduced about two years ago.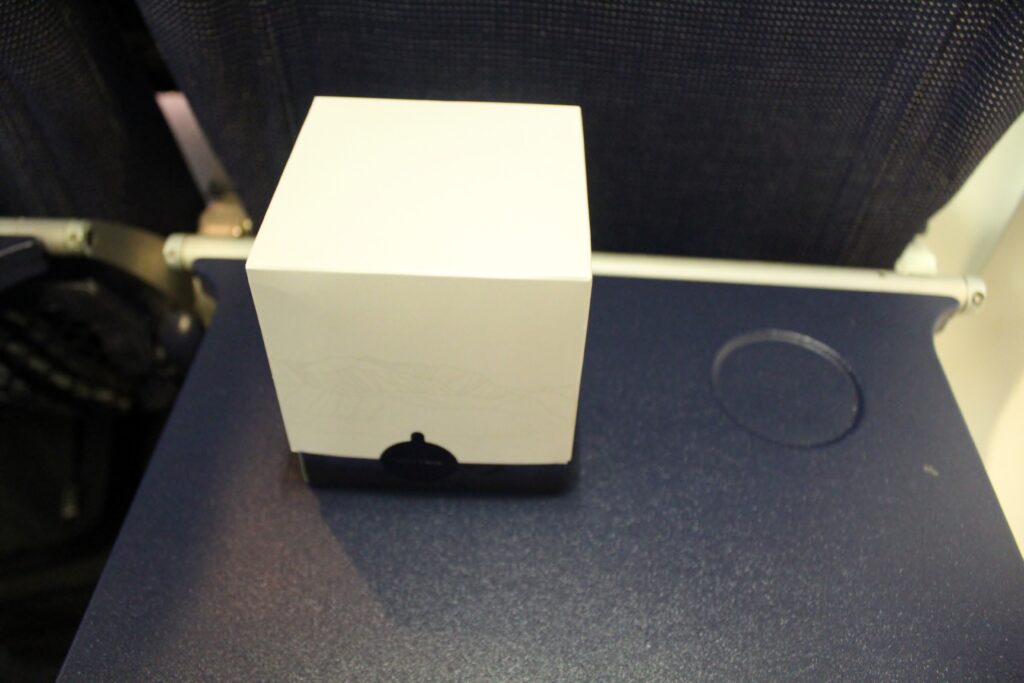 The cube this evening consisted of salmon from Norway and trout roe from Åland served with chives, potato salad and burnt cream. In a separate container there was chive vinaigrette and sugar kelp sprinkles from Koster.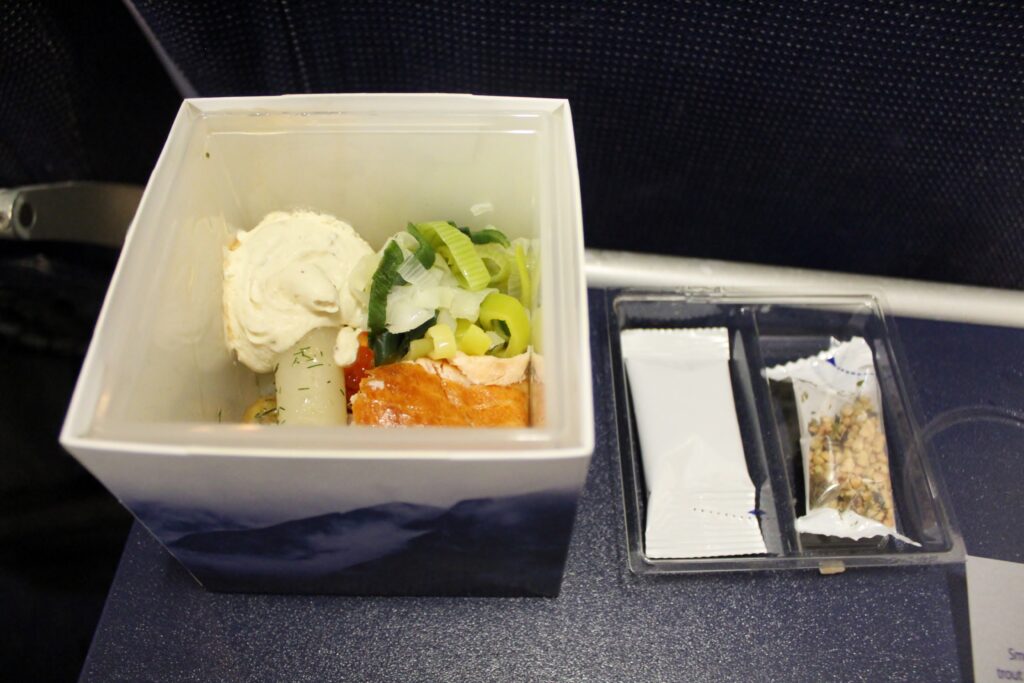 The contents of the cube were described on a small menu card placed inside the cube.
The idea with the cube when it was introduced was that it should take up less space on the tray table compared to a regular meal tray, which should give more space for a tablet or even a smaller laptop computer. So you should be able to eat while watching a movie or even getting some work done.
Personally I have mixed feelings about the cube. It is in some ways very functional, just like they intended it to be, and you do get more space on the tray table, assuming you do not have to unpack the cube (like you had to when it was also used for the breakfast service). But at the same time it does not feel particularly premium. And although it was rather innovative when it was introduced, two years later many frequent travellers are starting to get rather tired of it, even though the contents obviously change.
But of course the most important thing is what is being served and the salmon was tasty. I asked for a bottle of white wine to drink, a French Sauvignon Blanc, and also got a bottle of water. Sometimes you get a proper glass in SAS Plus when you order a bottle of wine or a bottle of sparkling wine (there is no champagne onboard in Europe) but this time only a plastic glass was provided.
Eventually the cube and most of the rubbish was collected, I was offered a refill of the wine and also coffee and tea.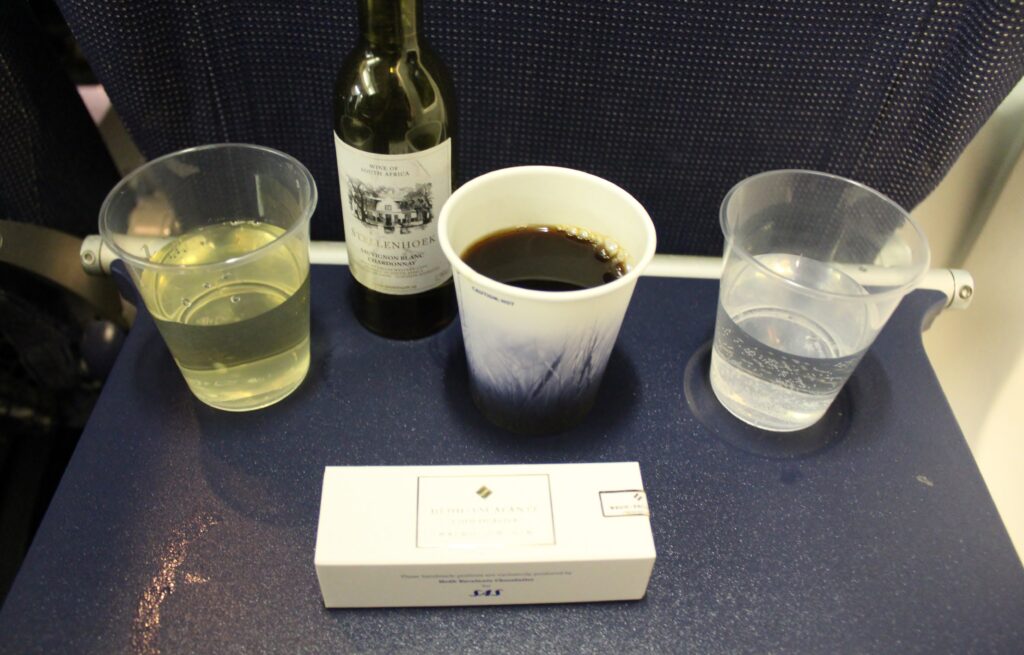 I was also given a box with Hedh Escalante chocolate pralines, which is standard in SAS Plus on longer intra-European flights. Just like the cube these have been around for some time but frankly I do not mind as they are delicious, and the exact chocolate pralines do change every now and then.
And to finish off, a gin & tonic. The Norwegian Harahorn gin is really not bad and neither is the Fever-Tree tonic water. With a long flight time there was even time for a refill.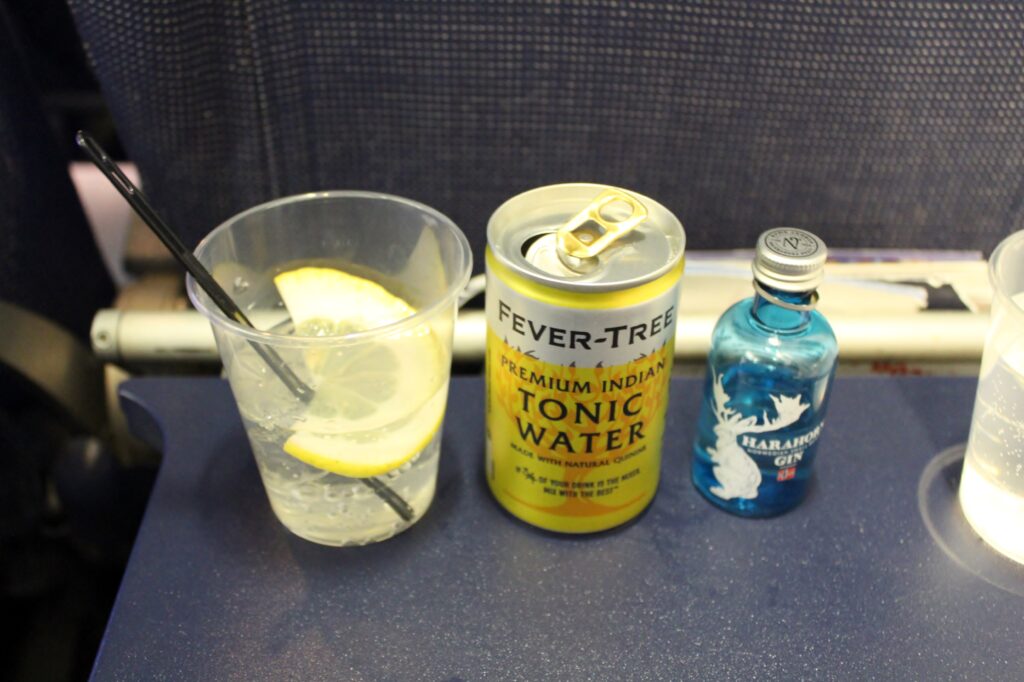 The service

The service from purser Alexander was phenomenal. The service on SAS flights nowadays can be a bit hit or miss. It is rarely bad as such but all too often just lacks some initiative, some proactivity and enthusiasm. But that was really not an issue on this flight.
When I saw there would be only 19 passengers on the flight I though that would mean a very long coffee break for the cabin crew in the galley, but it was rather the contrary. The purser did a fantastic job engaging in some small talk and proactively offering more to drink several times. He also showed some recognition of me as a frequent flyer with SAS and he was entirely flexible. Nothing was ever a problem.
Later during the flight when the meal service was over we started talking about SAS and my experiences as a frequent flyer and at the end he decided to arrange a small tasting session with some of the drinks and snacks from the trolley I had not yet tried. Most of my tray table was covered with different things from the trolley. It was a delightful end of a long day and a great flight and he was incredibly friendly and talkative, a person who seemed to love his job and meeting a passenger who was genuinely interested in the airline business and what he was doing.
Arrival experience

The routing from Nice took us towards Italy and then straight north over the Alps and towards Scandinavia. A very light load meant a very short flight time and as we also departed early we landed at Stockholm Arlanda Airport an impressive 40 minutes before scheduled arrival time.
I thanked the purser profoundly for a great flight and with only hand luggage I was on my way from the airport within minutes.
Final impression

A fantastic flight with a very light load with only 19 passengers and a superb service from the purser. The cube concept is not exceptional but this salmon cube was quite tasty. And there was certainly no lack of drinks.