There are two airports in Stockholm. Arlanda airport is the main international airport while Bromma airport is mainly a domestic airport while still offering a limited number of international routes.
Both airports are served by Finnair. On weekdays there are up to four daily flights Bromma-Helsinki and up to eight daily flights Arlanda-Helsinki, with a reduced service from both airports during weekends.
But what are the pros and cons of choosing to fly from Arlanda airports vs Bromma airports? Because there are a number of differences.
Stockholm Arlanda-Helsinki
The route from Arlanda is usually operated by an Airbus A320 or an Airbus A321 and occasionally by an Embraer 190.
If you have a business class ticket, flying from Arlanda is the easy choice as there is always a business class cabin on these flights. Although the inflight service itself may be nothing extraordinary, often no more than a rather basic sandwich, which you can surely survive without, you will get full business class miles and status points. If you have a business class and fly out of Bromma airport there will not be a business class cabin and even if you have a business class ticket you will only get miles and status points for economy class, since that is what you will be flying.
Also the lounge at Arlanda terminal 2 is significantly better than the one at Bromma airport. In the Menzies Aurora Lounge you can have a proper dinner with both hot and cold dishes.
If flying in economy class there will be no Sky Bistro available on the Arlanda flights, i.e. you will not be able to purchase anything onboard. Coffee, tea, water and blueberry juice will be served free of charge though. And as there is no Sky Bistro on these flights it means Finnair Plus Platinum and Lumo members and OneWorld Emerald passengers will not be able to order anything else to drink for free during the flight.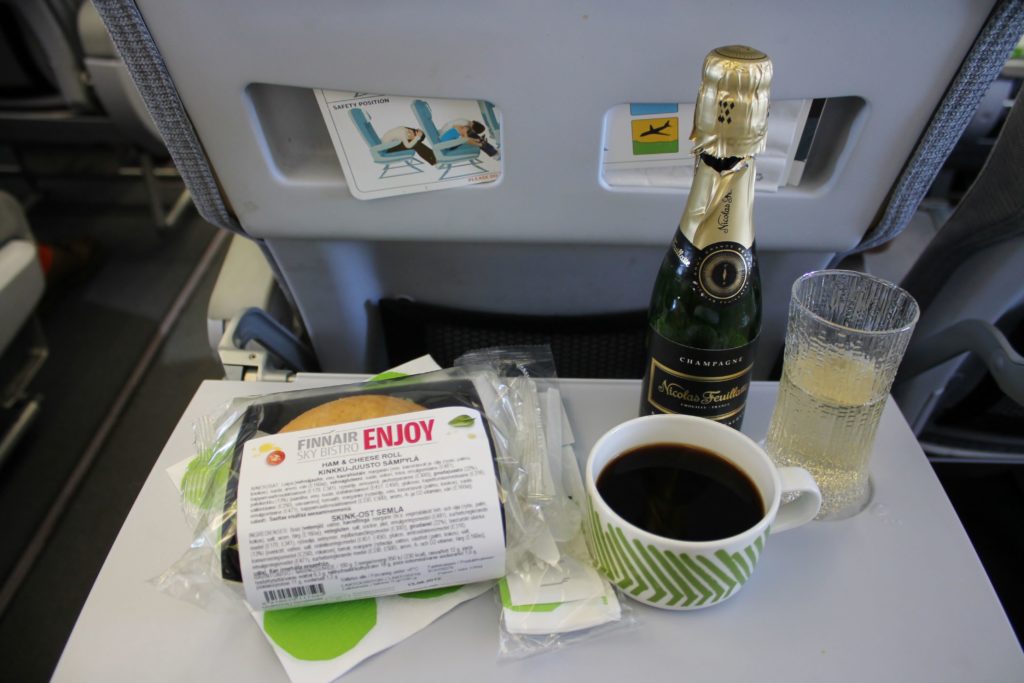 Stockholm Bromma-Helsinki
The main benefit of Bromma airport is the location and the short walking distances. The airport is just 10 km from the city centre, is contrast to Arlanda which is located 41 km from the city centre. You can easily arrive at the airport 30-45 minutes before the flight and make it with plenty of time.
The flights from Bromma airport are operated by the Finnair subsidiary Norra (Nordic Regional Airlines) using an ATR-72. Occasionally flights may also be operated by BRA (Braathens Regional Airlines) as a wet lease, with the BRA inflight service concept but flown as a proper Finnair flight with AY as the main flight number.
All these flights are economy only, so even if you have a business class ticket onwards to for example a destination in Asia you will still be seated in economy class, with economy class service and you will get points for economy class.
There is a lounge available at Bromma airport, the BRA Lounge, however it is vastly inferior to the Aurora Lounge at Arlanda with little substantial to eat and no alcoholic beverages. It is mainly a domestic lounge targeted at domestic travellers. If you have access to lounges, either because of your Finnair or OneWorld frequent flyer status or because you are a member of a lounge program, and you do want to enjoy a proper lounge experience before the flight, then Bromma is not the best choice.
However since the Bromma route is operated by an ATR-72, which is a smaller and slower aircraft than the Airbus aircrafts used to Arlanda, there is enough flight time to offer the Sky Bistro. Just like to Arlanda coffee, tea, water and blueberry juice will be served free of charge but there will also be the option to purchase sandwiches, snacks and other drinks onboard. And as a Finnair Plus Platinum, Finnair Plus Platinum Lumo or OneWorld Emerald frequent flyer you will be able to select something to drink for free from the cart, including a bottle of champagne or a cocktail if you want.