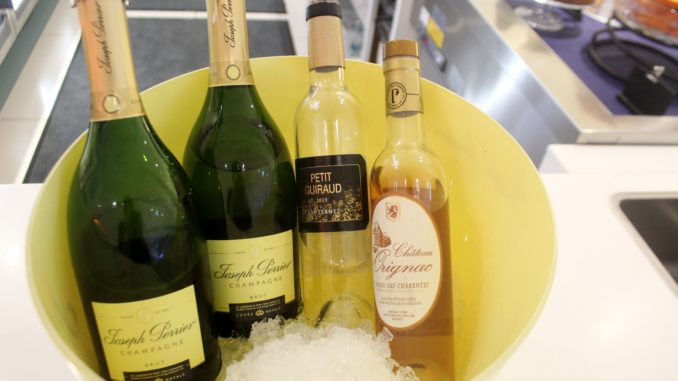 For premium travellers and frequent flyers finding a bottle of wine in an airport lounge is definitely nothing out of the ordinary. Most would expect it. Red and white wine can be found in pretty much every lounge in the world (of varying quality of course), possibly with the exception of a few smaller domestic lounges. Champagne, well now it gets trickier. But if one also includes sparkling wine, including cava and prosecco, then you can still find it in a fair number of lounges.
But how many lounges offer dessert wines? Actually not that many. Even among first class lounges this is fairly rare. A lounge like the British Airways Galleries First Lounge at London Heathrow for example does not offer dessert wines.
But a lounge which has recently introduced dessert wines is the Finnair Premium Lounge in Helsinki. It has not been offered in the past.
Two dessert wines are on offer – A Sauternes called Petit Guiraud 2015, and another French wine, Château Orignac Pineau des Charentes. Both of decent quality.
The Finnair Premium Lounge is located in the non-Schengen transit area at Helsinki airport accessible to Finnair Gold and Platinum members as well as OneWorld Emerald members (but not Sapphire members, or business class passengers without status) travelling on Finnair or another OneWorld airline from Helsinki.