Departure experience

I arrived in Düsseldorf on another flight from Manchester. The good thing about arriving in Düsseldorf from the United Kingdom and connecting to a Schengen flight is that you only need to pass passport control. They let you straight inside the non-Schengen transit hall, so there is no need to go through transfer security or even landside. There were E-passport gates available for passengers from EU countries and I was through in 20 seconds and ended up in the Schengen transit hall in terminal A, exactly the place where I needed to be.
I had already checked in online on the SAS webpage and had downloaded the boarding pass to my smartphone, and on top of that I only had hand luggage. According to the boarding pass though you get access to the fast track channel travelling in SAS Plus.
The transit hall was dead quiet this Saturday afternoon with very few flights. I had never seen it that empty.
With quick transfer formalities there was plenty of time for a lounge visit. Flying in SAS Plus gives you access to the Lufthansa Business Lounge however thanks to my Star Alliance Gold card I could also visit the Lufthansa Senator Lounge with a somewhat better selection of food and drinks.
I had visited the lounge in the past and it is one of the lounges which still has the old Senator lounge design with the old armchairs in black leather. The lounge was pretty much empty though, just as the rest of the airport.
There was a small selection of hot food available including pasta with some kind of hot stew as well as some hot bread rolls. There was also a small cold buffet.
And for dessert there was some kind of pineapple dessert and another one which was rice pudding with cherry sauce. Both of them surprisingly good. And there were of course all kinds of drinks on offer including wine, beer and a rather wide selection of spirits.
The flight
Düsseldorf-Copenhagen
SAS flight SK 1622
Departure: 15.55
Arrival: 17.10
SAS Plus / Premium Economy
CRJ-900
Seat 05F

The incoming flight was early so I also made my way to the gate quite early. The drawback about the departure monitors in Düsseldorf is that they do not show the flight status, so there is no such thing as 'Gate open', 'Go to gate', 'Boarding', 'Final call' and so on. The only thing you will see are two flashing green lights, which supposedly should mean that the flight is now boarding, or so I understand it. The problem is if you sit in the lounge you simply have no idea when you need to proceed to the gate.
Anyway, I already knew the flight had landed ten minutes early so I made sure to be at the gate already 30 minutes before boarding, just to be sure. The gate, A44, turned out to be a bus gate in the basement. This did not really come as a surprise with the flight being operated by an CRJ-900, but at the same time there were plenty of empty parking stands at the terminal building, which would have saved both the incoming passengers and the departing passengers a bus ride.
No priority boarding was offered but it was really not needed. We were no more than probably 30 passengers at the gate so it would have made little sense, especially as we all were to board the same bus anyway.
The aircraft was parked at a remote stand, a short drive from Terminal A.
First impression

The CRJ-900 was operated by Cityjet on behalf of SAS, pretty much as expected. However the cabin had the usual SAS cabin design with the seats in dark grey and the cabin wall in light wood with the blue SAS logo on it.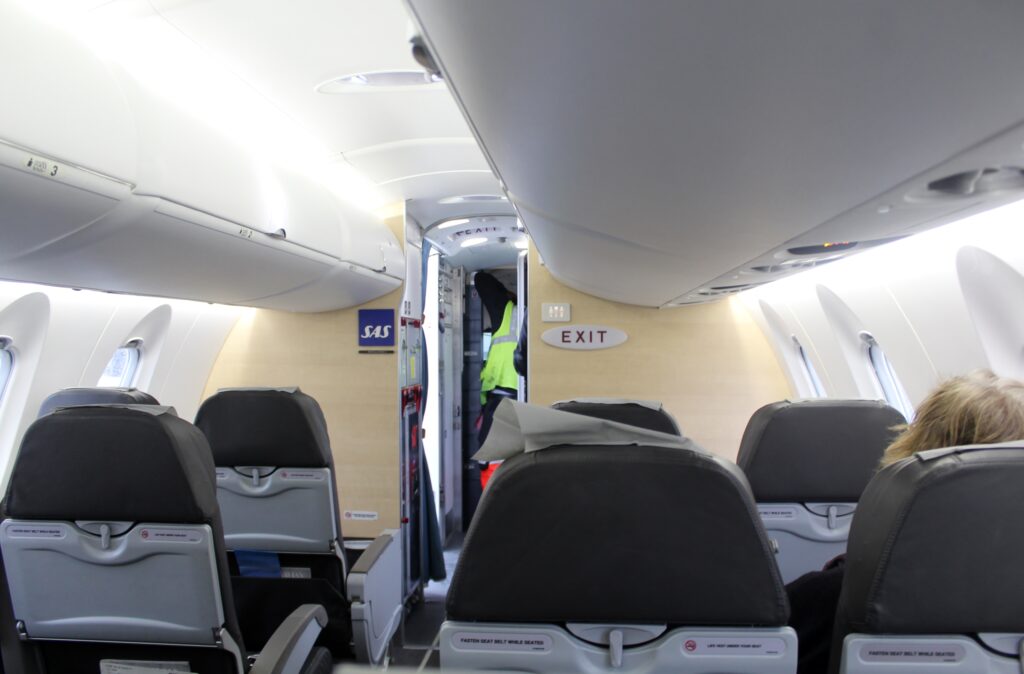 We were only two passengers in SAS Plus, the premium cabin on shorthaul flights. Me in row 5 and a woman in row 3. So there was definitely no lack of space. Also economy class, called SAS Go, was fairly empty.
After the standard pre-recorded security announcement we took off towards the west with an expected flight time of just under an hour to Copenhagen.
Seat and cabin

There were 88 seats on the Bombardier CRJ-900 in a 2-2 configuration. SAS Plus stretched all the way to row 7 with only two passengers on these seven rows.
The seats were the standard SAS regional seats in dark grey leather. They are fairly comfortable with an acceptable legroom for a shorter regional flight.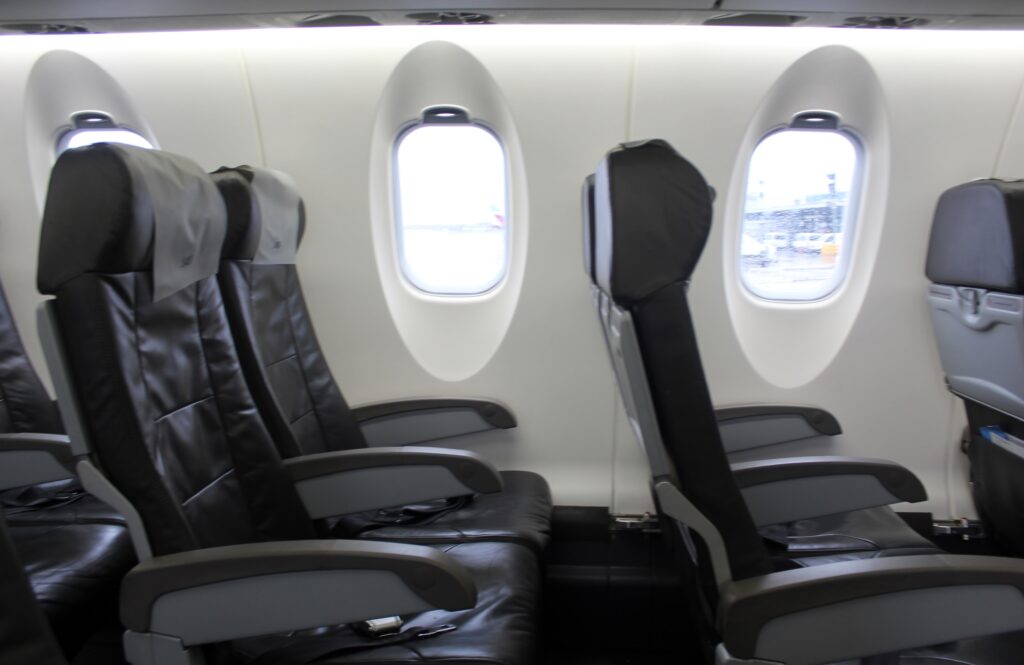 The configuration in SAS Plus is also 2-2, just like in economy class. SAS Plus in a formal sense is sold as premium economy and not as a business class product, which means for example that there is no blocked middle seat (or adjacent seat on the CRJ aircrafts). They do try to block the adjacent seat for gold card holders but if the cabin is full all seats will be taken.
But at the same time you will have the letter C printed on your boarding pass, C as an abbreviation for business class. This is to make sure you get access to all the Star Alliance-designated business lounges as per standard Star Alliance lounge access rules. You should also be able to use the Star Alliance Gold Track channel through security, whenever available.
Food and drinks

Given a scheduled flight time of 1 hour and 15 minutes and an actual flight time of just under an hour I was unsure if they would offer the 'cube', the same concept as on longer intra-European flights, or just let passengers in SAS Plus choose something to eat from the sales cart, as they do on intra-Scandinavian flights and shorter flights outside of Scandinavia. However I soon found out the cube was on offer.
However they do have a new design for the cube now. Or rather, it still looks exactly the same but it has a completely different colour in something that looks like carton. Warm bread rolls were also offered from a basket together with some butter.
As you open the cube you will find a small piece of paper explaining what is on offer. The cutlery, some rather small ones in plastic, are also available inside.
This later afternoon salmon was on offer together with potatoes and carrots from Skags Gård and with some condiments such as a cream of roasted sunchokes from Stora Tollby Gård. Both of these farms are located on the Swedish island of Gotland.
The contents of these 'cubes' do vary considerably from quite good to fairly average and so does the presentation, actually even more so. Sometimes you get a cube where the food might be fine but looks completely inedible.
However I always enjoy salmon and this one was quite tasty and looked, well, it looked as good as it probably gets with the cube concept. But all-in-all I very much enjoyed the early dinner and had nothing to complain about.
I asked for a bottle of white wine to drink. The wines seem to be new, probably a new selection for 2020. This time it was an Australian Chardonnay. I also asked for some still water and was given a full bottle. Water is served free of charge also in SAS Go but then you only get a glass. In SAS Plus you can ask for a bottle.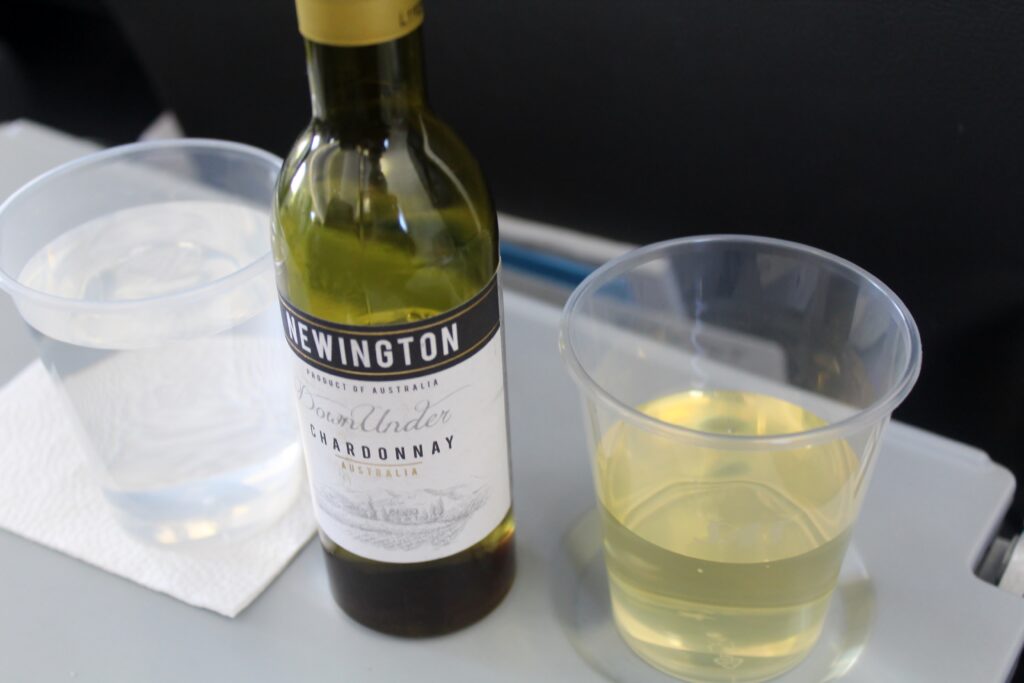 Eventually coffee and tea were offered and finally the Hedh Escalante chocolates, which are always served as dessert in SAS Plus on flights with the cube concept.
There are always three pralines inside and they do change. This time there were a Sea Buckthorn chocolate praline, a Palet d'or chocolate praline and an Apple & Calvados Breeze praline. They were delicious, as they always are, even though it would be nice with something new now. These chocolates have been around for quite some time now.
More coffee and tea were offered and since the flight took place during a weekend I ordered a gin & tonic with the tasty Norwegian Harahorn gin to finish off.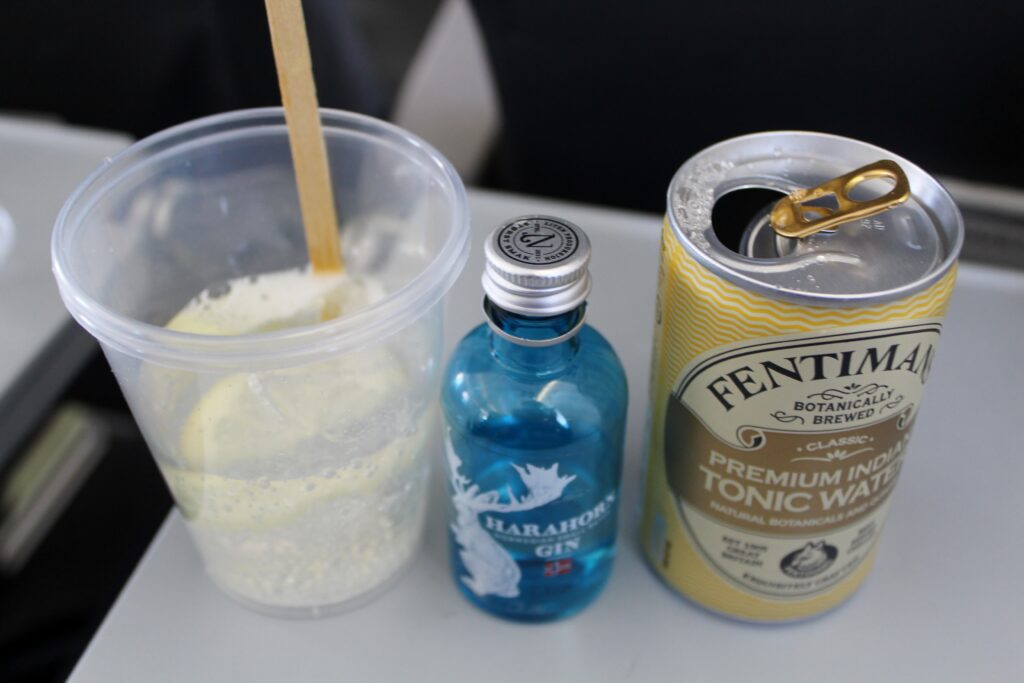 Inflight entertainment
No inflight entertainment was offered onboard other than the inflight magazine. Printed newspapers and magazines are no longer offered but can be downloaded using the SAS app, but this needs to be done on the ground.
On some Airbus A320 and Boeing 737 aircrafts (and the widebody longhaul aircrafts) there is inflight Wi-Fi, free of charge in SAS Plus, but not on the CRJ aircrafts.
The service

Two female flight attendants were working in the cabin, both employed by Cityjet but dressed in the standard SAS uniform. The purser seemed to be Polish based on her accent and only spoke limited Swedish, so we had most of the conversation in English, which was fine. Het colleague who mostly worked at the back in economy class was a young Danish woman.
The service was friendly and attentive but perhaps somewhat rushed, which was not really needed with only two passengers in SAS Plus and very few passengers to serve at the back. The chocolates were served at the same time as the cube and the coffee was offered well before I had finished my meal. And later I had to press the call button to order something more to drink.
Every request was taken care of without a comment though and with a smile, so there was nothing to complain about as such, but they could have offered the same things proactively with a better coordination.
Arrival experience

We landed ten minutes early at a grey and cloudy Copenhagen Kastrup airport. Even though there are few departures and arrivals on Saturday afternoons and evenings, meaning there are plenty of available parking stands at the terminal building, we were directed to a remote stand and taken to the terminal building by bus. Again with few passengers the process was fairly quick, but why use remote stands when you do not have to? Possibly the aircraft was taken out of service for the day.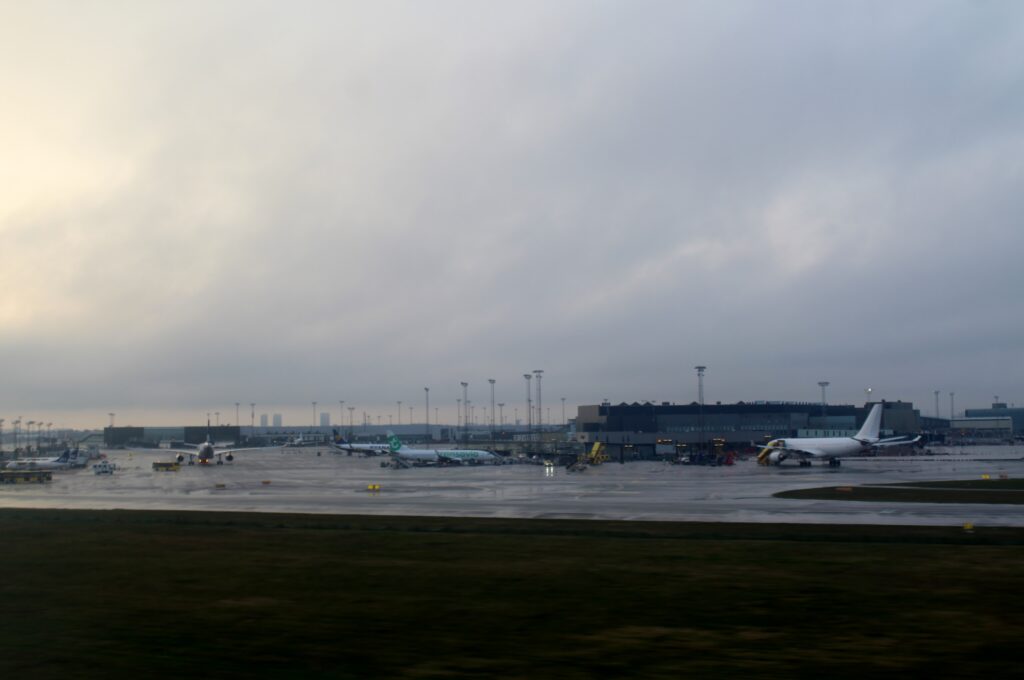 Final impression

A short flight on a CRJ-900 with friendly service and a surprisingly tasty salmon cube meal. However the service was fairly rushed, which was not really needed with a very light load onboard.