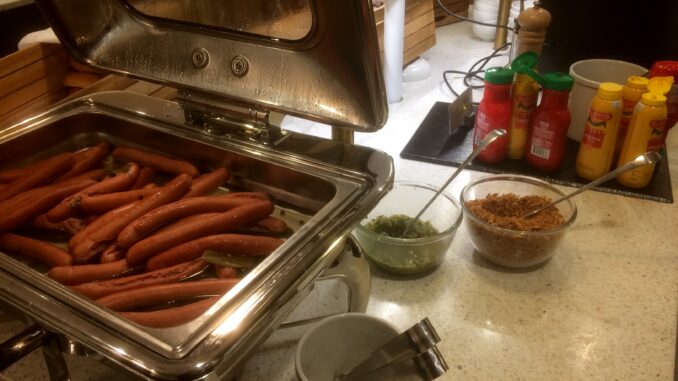 Since May 2016 there is hot food on offer in the SAS Gold Lounges in Stockholm, Copenhagen and Oslo and this is what it looked like on the very first day. Since that day there have been some changes though. Hot food is no longer offered at lunchtime, only in the late afternoon/evening, and the selection can vary considerably from pretty good to rather average. And although it was a novelty back in the days nowadays there are several lounges around Europe offering a considerably better range of food options than SAS does.
Thursday early evening visiting the SAS Gold Lounge at Stockholm Arlanda airport and Thursday means hot dogs for dinner in the lounge. Not really my cup of tea, I would have preferred something more traditional, but others seem to enjoy it much more. And of course there are all kinds of condiments. And other than that there is a cold buffet with salads and vegetables.
They also seem to have made some changes in the drinks selection now offering Gordons Gin instead of Bombay Sapphire for example, which they served for a long time.