Gotlandsflyg is a regional airline in Sweden with its base at Visby airport. The airline was founded in 2001 by local entrepreneurs to get more travel options and lower prices from the island of Gotland, especially on the important Visby-Stockholm route. As Gotland is an island located in the middle of the Baltic sea air travel is the only transportation option beside the ferry, and definitely the quickest option. Gotlandsflyg is part of the Sverigeflyg group. In 2016 all companies in the group will merge to become Braathens Regional Airlines – BRA.
Gotland is especially a very popular destination for holidaymakers. During the summer the population more than triples and there is a large number of seasonal routes, one of them to the Finnish capital, Helsinki.
Departure experience
I arrived at the airport already 90 minutes before departure as I had a rental car to drop off. 90 minutes is plenty of time for a small airport like Visby.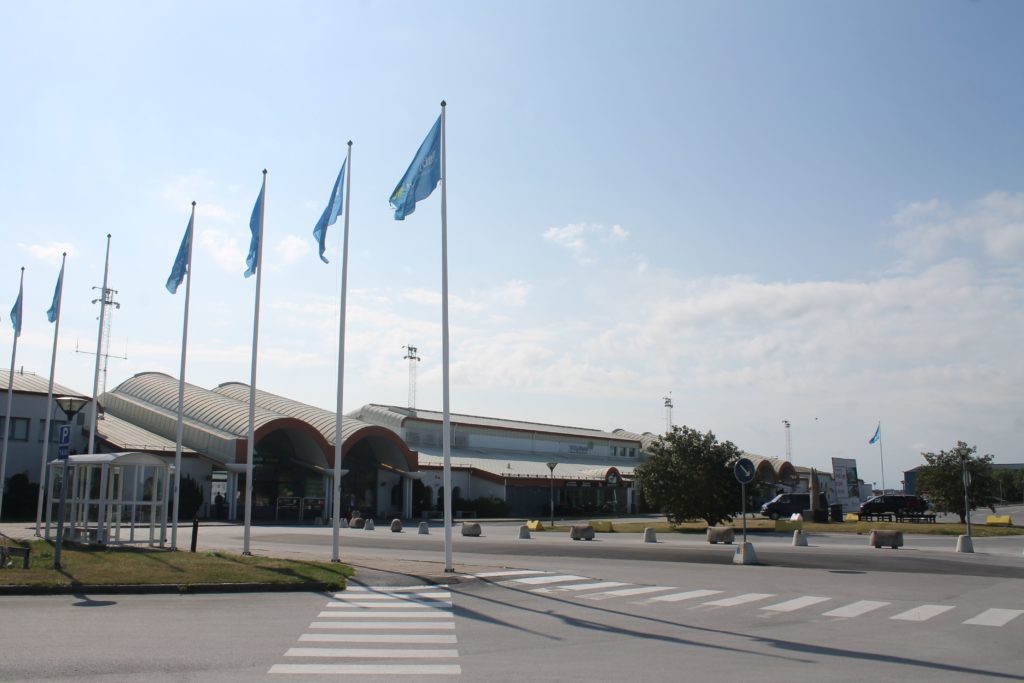 To my surprise check-in was already open for the 11.10 am flight to Helsinki and there was a long line of passengers queueing for the two check-in desks, number 5  and 6 used for the flight. There were self service check-in machines available as well but it seemed like you had to queue anyway to get your luggage tag, which I had to do. Nevertheless it all went pretty quickly. Most passengers to Helsinki seemed to be Finnish, the vast majority Swedish-speaking.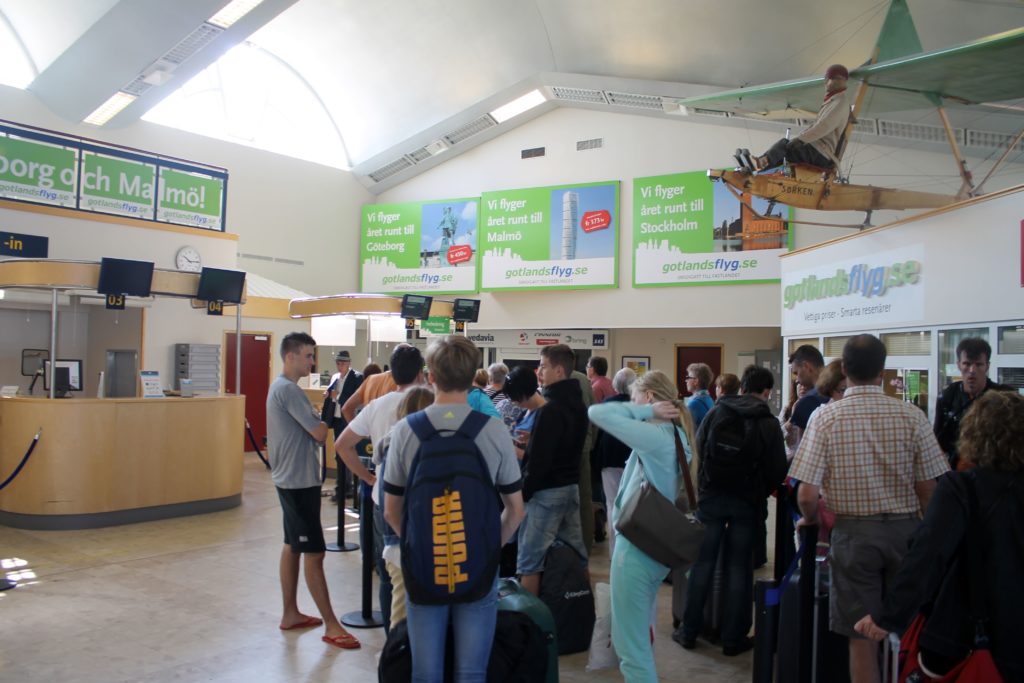 My bag was tagged to Helsinki by a friendly check-in agent who also issued a credit card sized boarding pass. There are no seat assignments on Gotlandsflyg, free seating is applied on a first come first basis.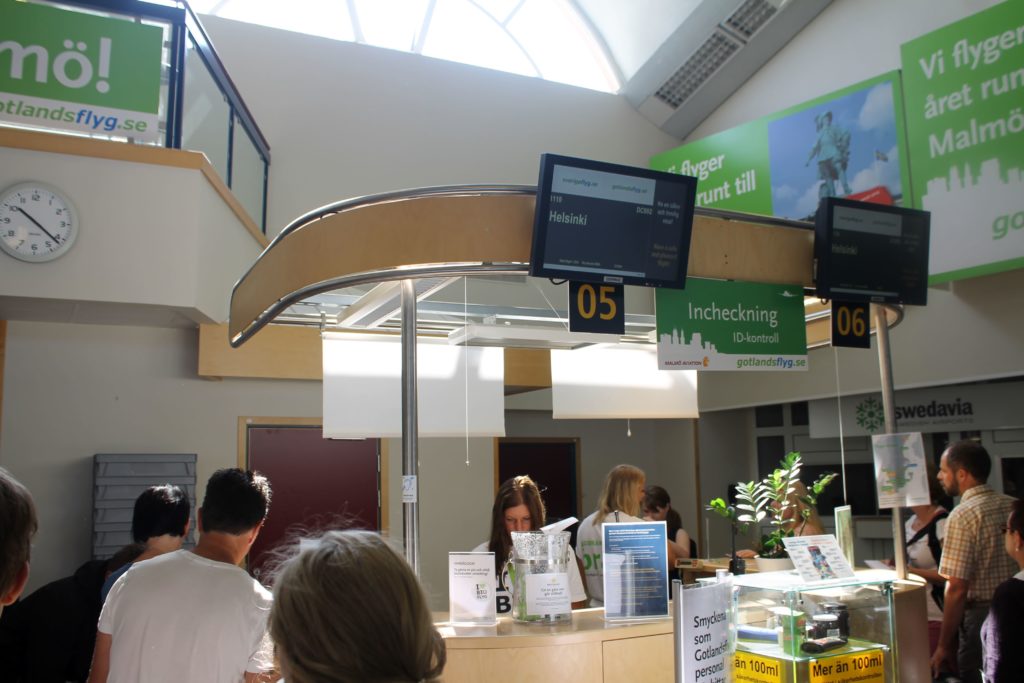 The security control was quick. In the transit hall there were three gates and also a cafe and a duty free shop. As there is monopoly on alcohol sales in Sweden alcohol can only be bought if travelling to a destination outside the European Union, however chocolates and cosmetics are available to all passengers.
The flight
Visby-Helsinki Vantaa
Gotlandsflyg flight DC 992
Departure: 11.10
Arrival: 13.30
Economy Class
ATR-72
Free seating
Boarding started 20 minutes before departure with pre-boarding for families and those in need of extra assistance followed by general boarding.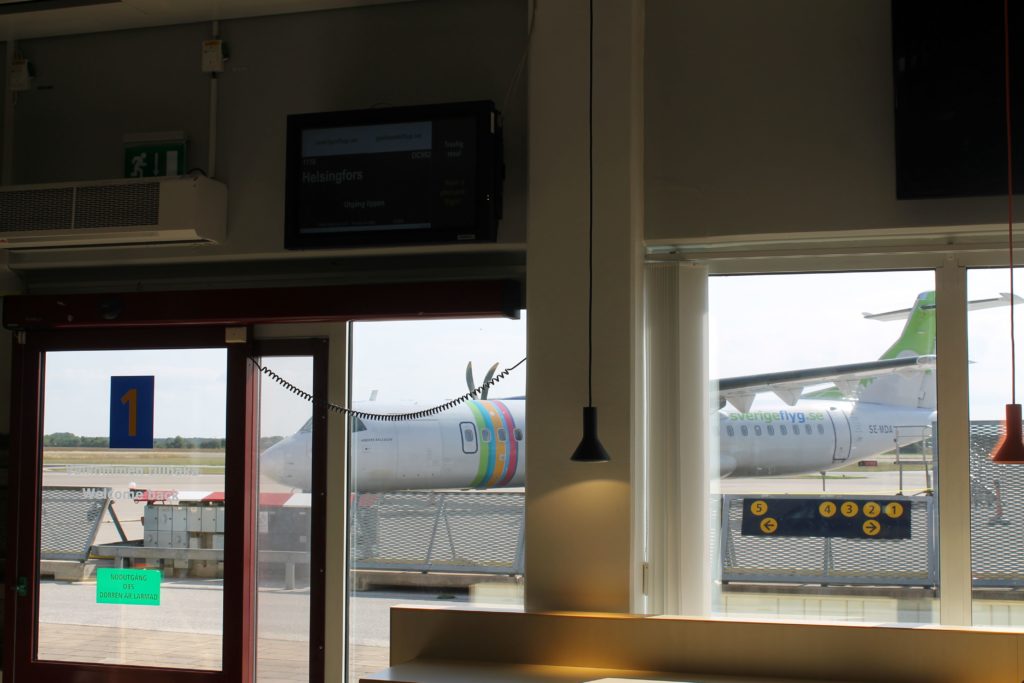 The aircraft, an ATR 72-500, was parked right outside the terminal, a very short walk from gate 1.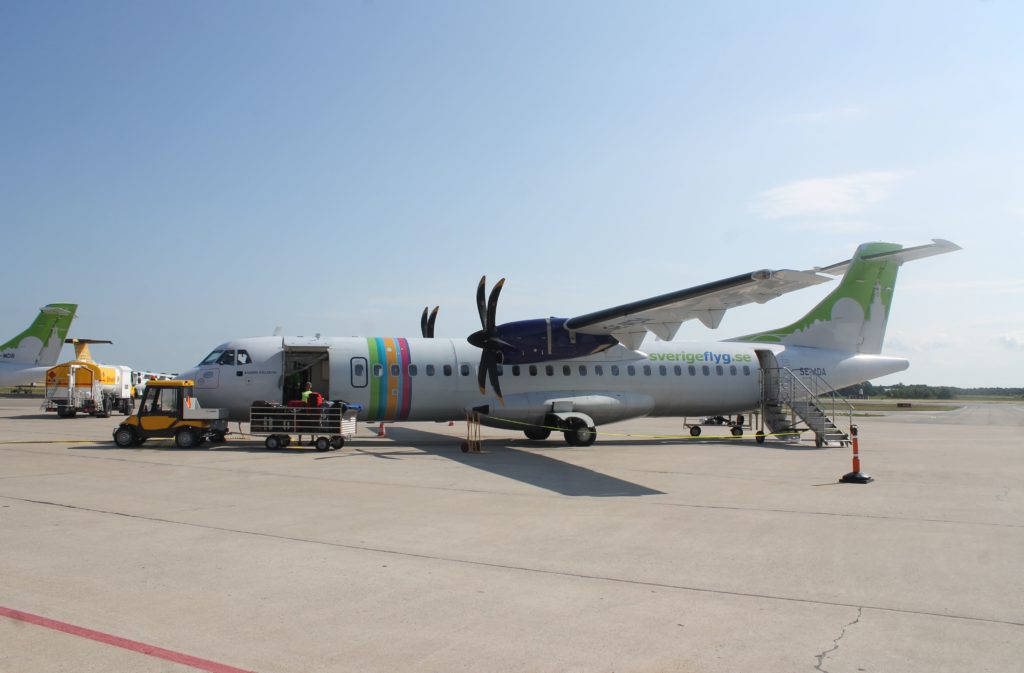 First impression
Free seating was used onboard. I managed to secure a window seat nearly at the back on the right hand side as I was hoping to get some glimpses of the northern part of the island after take off. The aircraft was nearly full but to my surprise the adjacent seat remained free.
Gotlandsflyg uses mainly two ATR 72-500 for their regular flights and this was one of them, however during the important summer months they sometimes also lease aircrafts from their sister companies to increase the capacity. The ATR 72-500 had 72 seats onboard, 18 rows in a 2-2 configuration.
After the aircraft doors had been closed a standard safety demonstration was performed by the crew. During most of the year Gotlandsflyg only operates domestic flights where the vast majority of the passengers are swedes. However on this international flight the safety demonstration also had to be performed in English and although both of the flight attendants surely could keep a conversation in English it was quite obvious they were not used to make announcements in English.
Punctual departure from Visby with a flight time of one hour and 15 minutes.
Food and drinks
As soon as we reached our cruising altitude the two flight attendants started the inflight service. Passengers with a travel pass can choose something to eat and drink for free (probably quite rare to Helsinki though). For all other passengers the same assortment is available for purchase.
The prices were reasonable, 10 kr (about 1 euro) for a cup of coffee, 20 kr (2 euro) for a smaller sandwich and 35 kr (3.50 euro) for a larger sandwich. Gotlandsflyg makes a big deal of offering locally produced products whenever possible. In fact more than 50% of the items are produced on the island. Interestingly there were also some locally produced alcoholic beverages like beer, wine and whisky.
When the trolley reached my seat I ordered a large sandwich, a cup of coffee and decided to also try the locally produced apple cider from Halfvede. The sandwich from the bakery Eskelunds Bageri in Visby turned out to be rye bread with some kind of salmon, very tasty. The cider was also very nice.
I also noticed just as the door was about to close that some newspapers were loaded, and this turned out to be the case, and best of all they were free onboard. The pleasant female flight attendant happily got me one from the galley.
The service
Very pleasant service from the two friendly female flight attendant. Especially the purser was very friendly and happily introduced the locally-produced assortment and later asked me what I thought about it. Perhaps the service got even better as I was pretty much the only Swedish passenger on the flight.

Arrival experience
The flight provided some nice views of the northern parts of Gotland and the island of Fårö where the famous movie director Ingmar Bergman shot many of his movies. Unfortunately the windows were rather dirty meaning it was hard to take some photos.

We landed at Helsinki Vantaa airport ten minutes ahead of timetable. The aircraft was assigned an apron position, which is standard procedure with turboprops in Helsinki, so all passengers were taken to the terminal building by bus. Gotlandsflyg uses terminal 1 at Vantaa airport, the smaller terminal used by mainly SAs and the Star Alliance carriers. However the terminals are only separated landside with separate check-in and baggage reclaim areas. Once airside both terminals are fully integrated.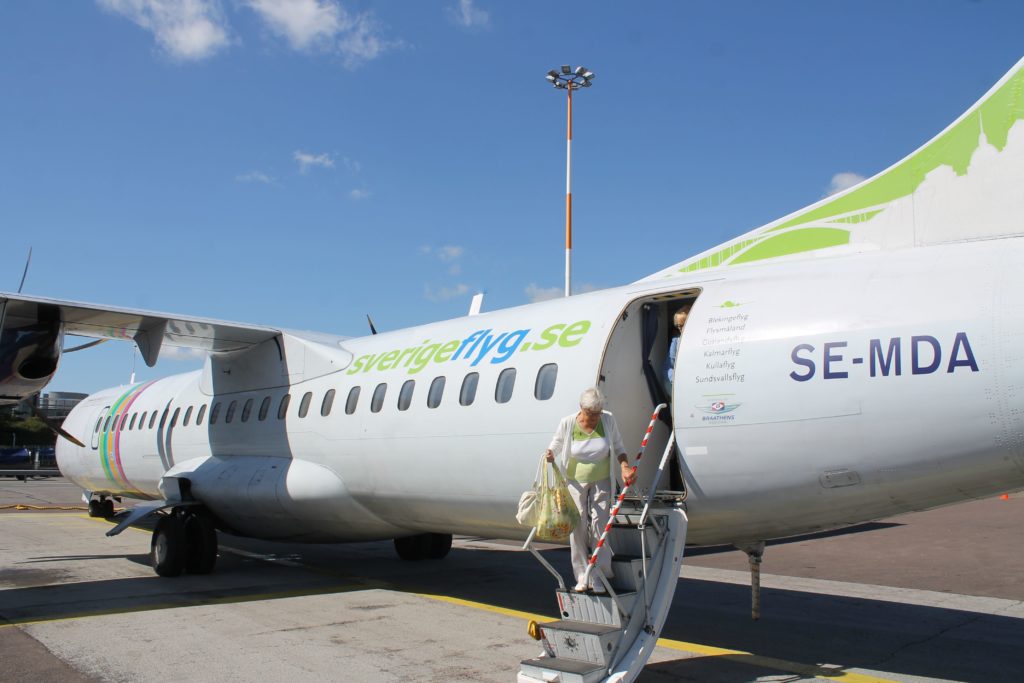 More surprisingly it took ages before the luggage arrived, we waited well over 20 minutes for the first bags to arrive. Very strange for a small ATR and no more than 100 metres from the aircraft to the arrivals hall.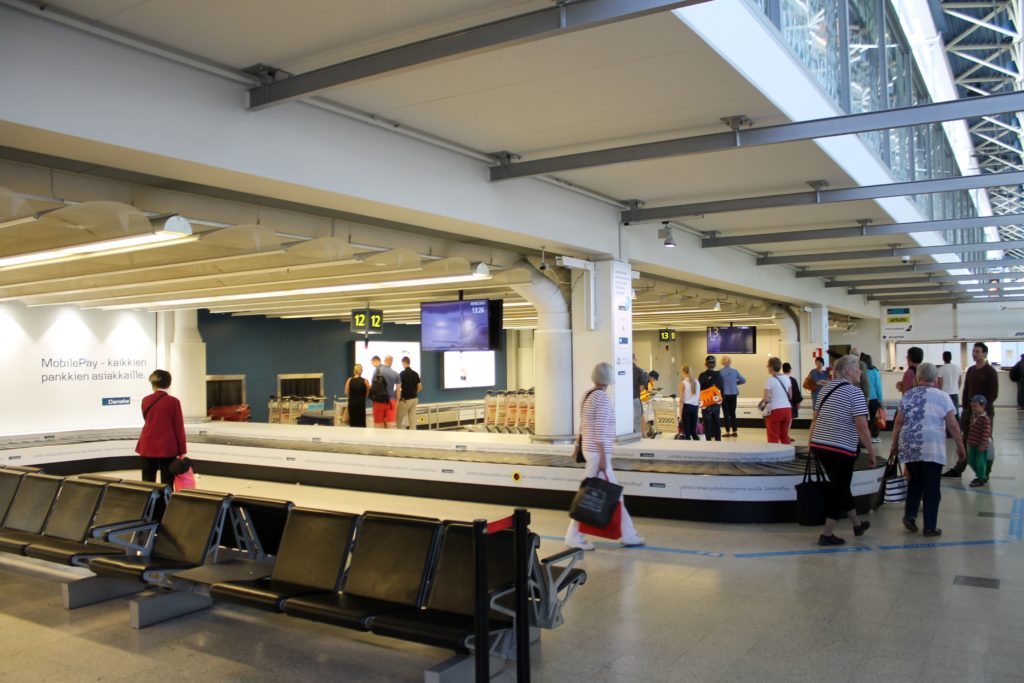 Final impression
A very pleasant flight. Although all food and drinks were available for purchase the prices were very reasonable and the food was of good quality. The cabin was in a good condition and the crew were very nice and friendly and I was well looked after. However they really need to clean the windows, they were very dirty.