There are currently 17 lounges in the SAS network. Most of them located in Scandinavia but also at some locations in continental Europe and North America. 17 lounges may sound like a reasonably low number compared to for example the very extensive lounge networks of Lufthansa or British Airways. However even with only 17 lounges these can be divided into as many as four difference lounge concepts – SAS Lounges, SAS Gold Lounges, SAS Cafe Lounges and SAS Domestic Lounges.
But what do they offer and what are the differences? Here are the answers.
SAS Lounges
The SAS Lounges are basically the standard lounges. These used to be called SAS Business Lounges but a few years ago SAS decided to drop the word 'Business' in the name since they no longer provide a business class cabin on intra-European flights. So nowadays these are just called SAS Lounges.
There is usually a selection of cold food and snacks available for self service in these lounges but rarely any hot food. Wine and beer are provided but usually (with some exceptions) you will not find any spirits in here.
The SAS Lounges are available at several airports in Northern Europe but also at for example Paris CDG, New York/EWR and Chicago.
To get in here you need an SAS business class ticket (if travelling longhaul) or an SAS Plus ticket (if travelling shorthaul). SAS EuroBonus Gold/Diamond and Star Alliance Gold will also give access, just like a Star Alliance business class ticket.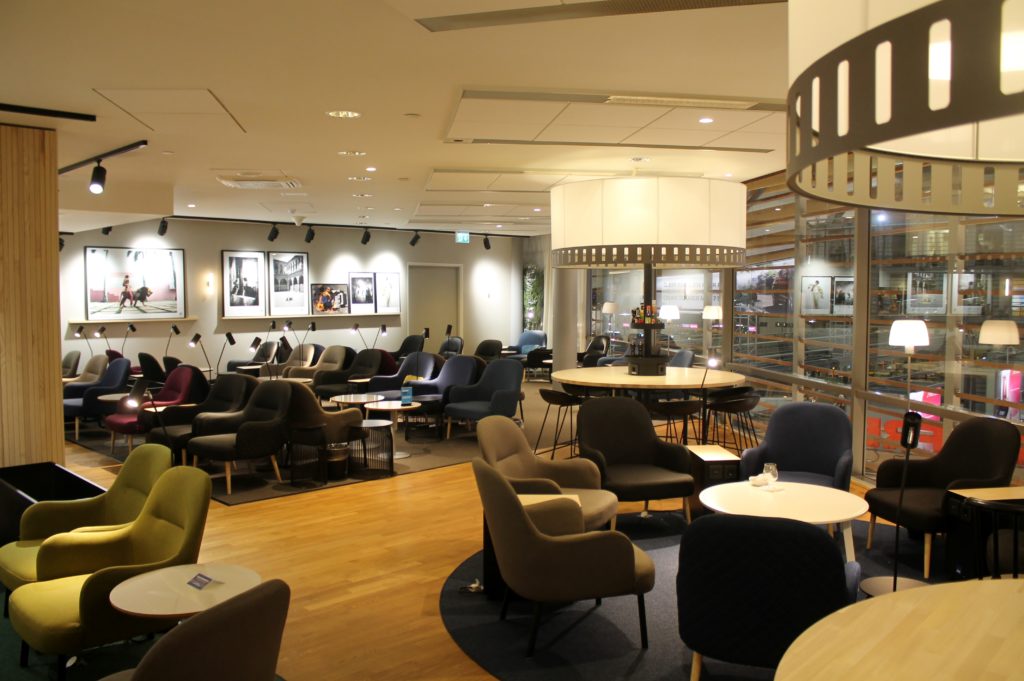 SAS Gold Lounges
As the name suggests the SAS Gold Lounges are the lounges for gold card holders and there are three of them in total, located at the three SAS hubs at Stockholm Arlanda, Copenhagen Kastrup and Oslo Gardermoen.
In contrast to the SAS Lounges the SAS Gold Lounges provide hot food in the afternoons and evenings. There are also wines in bottles (wine is usually available on tap in the SAS Lounges) and there will be a selection of spirits for self service
There are also different furniture in the SAS Gold Lounges with large and rather comfortable armchairs and loungers.
To get in here you need an SAS EuroBonus Gold/Diamond or a Star Alliance Gold card. A business class ticket or a ticket in SAS Plus will not get you in unless you also have a gold card.
SAS Cafe Lounges
This is a rather new lounge concept which is offered at smaller regional airports in Scandinavia where it would not be feasible to offer a full-service lounge.
The SAS Cafe Lounge concept basically means a smaller lounge with fewer facilities than the regular SAS lounges. The Cafe Lounges are mostly available at regional airports in the Nordics. A Cafe Lounge is a place where premium passengers can have a seat, grab a coffee and a snack and check the e-mails while waiting for the flight. But it is not the place to have a full meal, a shower or a nap. The lounges are usually rather small, rarely larger than 100 sqm. Many of them are unmanned at different times during the day and you will not find any restrooms inside.
To get in here you need to travel in SAS Plus (or Star Alliance business class) or have a EuroBonus Gold or Diamond or a Star Alliance Gold card.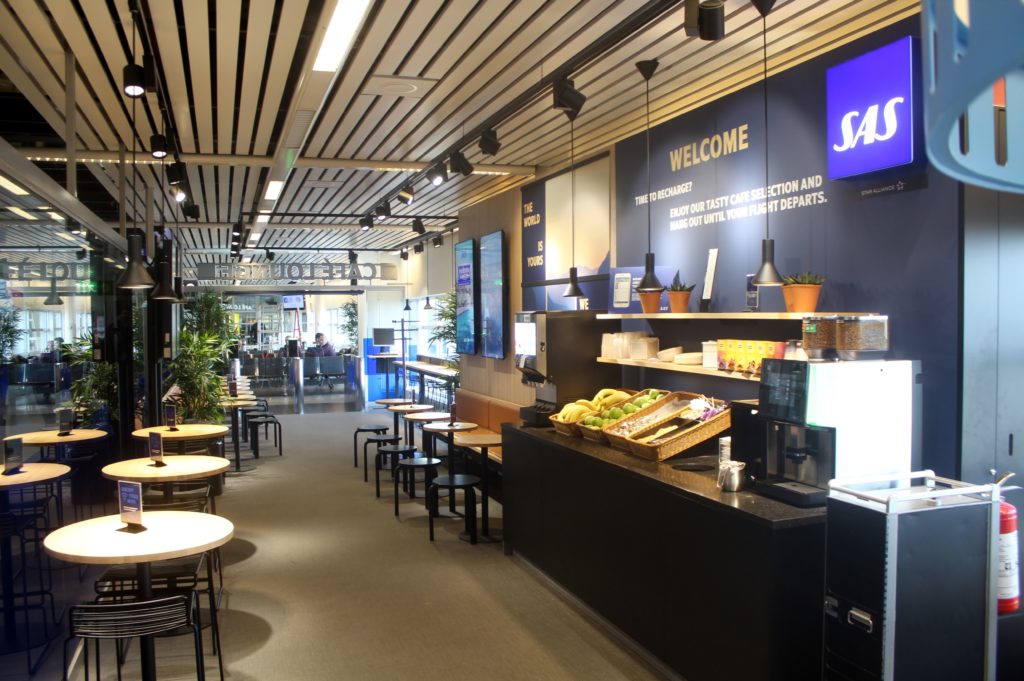 SAS Domestic Lounges
There are currently two SAS Domestic Lounges available in the network. One at Oslo Gardermoen, in the domestic transit hall, and one at Stockholm Arlanda terminal 4, the terminal used for all SAS domestic flights.
There is no standard concept for the domestic lounges. The new domestic lounge at Oslo Gardermoen is a 'next-generation lounge' which even has a gym and a barista. Whereas the domestic lounge in Stockholm has an older concept and is quite small and cramped considering the number of domestic travellers who have access.
Generally speaking there is something cold to eat, which varies depending on the time of the day, but there is nothing hot. The drinks selection consists of soft drinks, coffee and tea as well as beer and wine. But there are no spirits.
To get in here you need to travel in SAS Plus or hold a EuroBonus Gold/Diamond or Star Alliance Gold card.