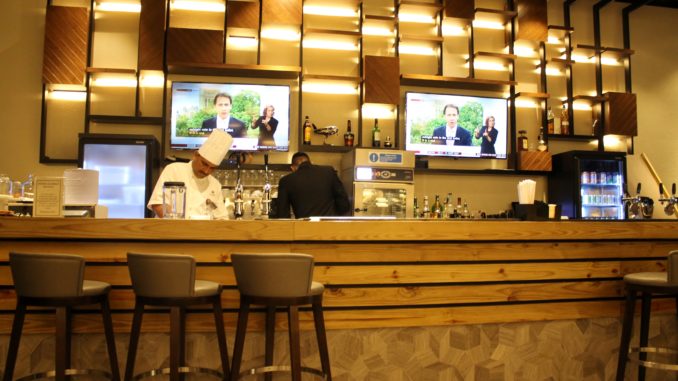 There are arrivals lounges at many international airports around the world, available to premium passengers and top-tier frequent flyers who arrive on an overnight longhaul flight and want to freshen up and have something to eat and drink before leaving the airport. However most of these lounges are for obvious reasons only open in the morning and close at noon or in the early afternoon.
The Plaza Premium Group runs an arrivals lounge at London Heathrow airport terminal 2, which opened at the same time as the new terminal building in 2014, but in contrast to most arrival lounges this one is open all day, from 6 am in the morning until 10 pm in the evening.
The lounge is also available to all passengers as it is contracted by a number of lounge card schemes or credit card companies. It is also possible to pay to access the lounge upon arrival at the reception desk.
And the lounge is definitely an oasis at the airport, a rather nice place to spend half an hour to have something to eat or drink before leaving the airport to head to central London.
In the evening a selection of rather decent (and complimentary) snacks are available in the lounge which can be ordered at the bar and which are prepared by an on-site chef. The selection includes for example a hot snacks plate and a fresh caesar salad. Alcoholic drinks are also available free of charge, including several beer brands on tap and different wines. And of course soft drinks, coffee and tea are available.
And the staff is very friendly and approachable and as few people visit the lounge in the evening the service is usually rather good and very attentive, with food and drinks delivered directly to the table.
The lounge is well worth a visit for anyone in need of something to eat in the evening before leaving the airport, an oasis at the airport many people do not know about. And it is possible to enter using for example Priority Pass.