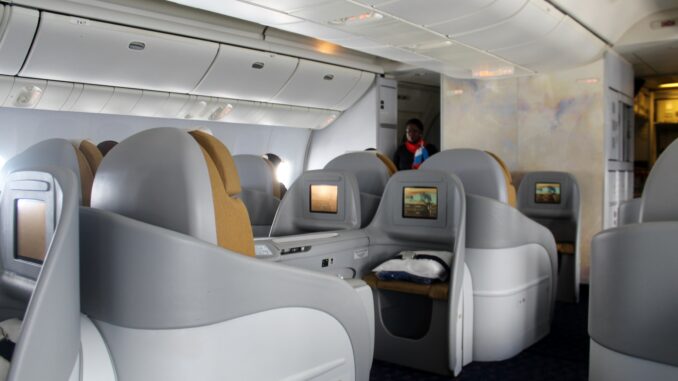 TAAG is the national airline of Angola with its base at Luanda Quatro de Fevereiro airport. They operate flights to destinations throughout southern and western Africa but also to some longhaul destinations, mostly Portuguese-speaking countries. For many years they were not allowed to fly inside the European Union but now they have two Boeing 777 aircrafts which have been licensed to fly to Lisbon, naturally one of the most important routes for TAAG given the history of Angola.
The ticket was booked on a third-party webpage, which turned out to be the cheapest way. However I was not able to select a seat, and it was not possible to select a seat on the TAAG webpage, there was not even a 'manage my booking' functionality. I tried to e-mail the TAAG London office to ask them to reserve a seat for me and also to send me a booking confirmation in English. In case there would be any issues during the trip, with two separate tickets and with Angola requiring a visa (which can be fairly hard to obtain) I thought it would be better to have the confirmation in English, which nearly all people would be able to understand. However no one ever got back to my from the London office.
I then tried to use the contact form on the TAAG webpage, which is what they advice you to do, and asked for the same things. No one ever got back to me there either. Travelling on a paid first class ticket I really had expected a bit more interest from the airline.
To be a bit proactive I had also taken a yellow fever vaccination. It is not required if you only connect between two international flights in Luanda and spend less than 12 hours in the transit hall, but in case of any irregularities, or in case I would miss the connecting flight, I would not even be allowed to enter Angola without the yellow fever card.
As there is hardly a single review on the entire internet of TAAG I was very excited when I finally left Europe and set course for Luanda, where I would connect to TAAG. The experience could be really anything, from world-class to bottom-low.
So here we go…TAAG Primeira Classe.
Departure experience

I was in transit in Luanda between Paris and Johannesburg with almost three hours between flights. Transferring in Luanda is an interesting experience. It definitely works, at the end, they just do it differently.
I was travelling on two separate tickets but as I had a rather long layover and only hand luggage I did not expect any issues as long as the incoming flight would be reasonably on time. I tried to check in online, which was possible on the TAAG webpage, and I could select a seat and get the seat I wanted (as no one from any of the TAAG offices ever got back to me) and as I always prefer a J/K seat I was happy to see that my preferred seat was still available. However afterwards I got an error message, the system was not able to generate a boarding pass which I could print or download and they advised me to contact TAAG at the airport.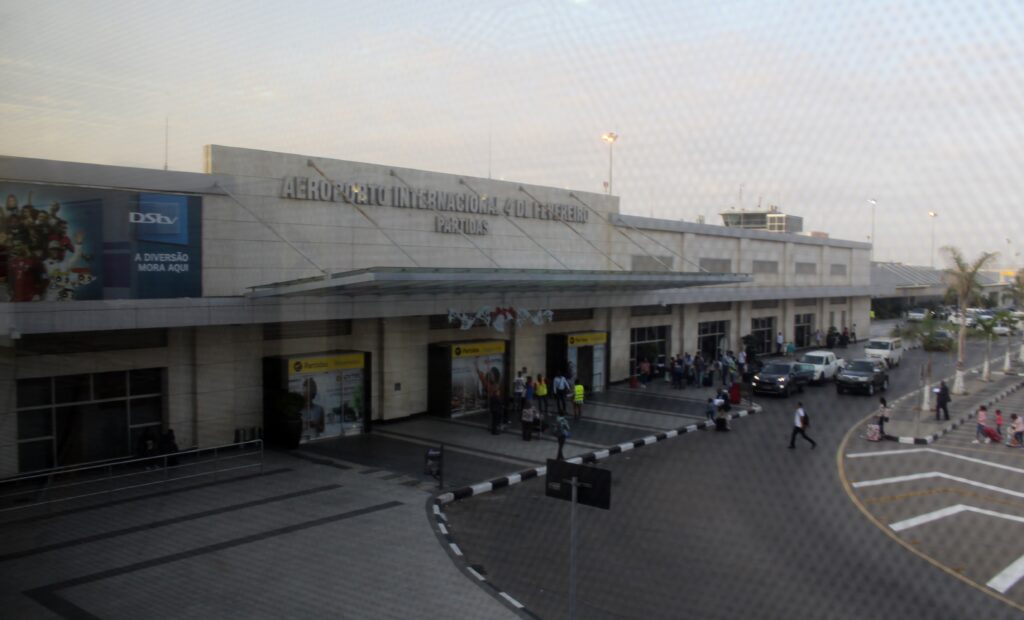 After arrival in Luanda from Paris the bus dropped me off at the entrance to the immigration hall. There was a sign there marked 'Transit/Transito' which led to an adjacent room with some kind of transfer desk, which was empty. There was a transfer security checkpoint right outside where the security officer was taking a rest. I tried my best in my best possible Portuguese to explain to him that I needed a boarding pass as I did not have one but he pointed back to the empty room.
Eventually an agent arrived and after a bit of confusion, trying to sort out where I and the other ten transit passengers had arrived from and where we were going to (we were all arriving from Paris and were going to either Johannesburg or Cape Town) she took a seat at the desk and started the computer. In the meantime her colleague asked all passengers who had checked luggage to show their baggage receipts and she took a photo of each one. As I was the first one to arrive at the transfer desk I was also the first passenger to be processed and once the computer was running it took less than a minute to check me in and print a boarding pass.
The sleepy man at the transfer security now eventually got some work to do and with not a person in line the whole process was very quick. A few more steps and another officer wanted to see my boarding pass. After a very close look he and his colleagues agreed everything seemed to be in order and I was allowed to pass.
TAAG has its own lounge at the airport for first class and business class passengers and top-tier members of the Umbi Umbi frequent flyer program. It even has a separate first class section which a much nicer interior than the business class part, however no one checks who enters the first class side so in practice it is open to anyone. Also there is no buffet in the first class section so there is no difference in food and drinks if you travel in first class.
But for an African airport the lounge was surprisingly decent. A good selection of breakfast dishes was available and a full bar for self service. Interestingly the spirits were available in miniature bottles, I think that is the first time I have seen that in an airport lounge as they could easily be brought from the lounge and taken onboard the flight. I usually do not drink alcohol in the morning but I could not resist trying a local Angolan beer, just for the sake of having tried one. Cuca was the name of it.
Read the full lounge review here!
The flight
Boarding was announced in the lounge already an hour before departure. The lounge attendant simply passed through the seating areas of the two lounges and announced boarding and to what destination. This was definitely needed since the monitors were not working properly.
At the gate both my boarding pass and passport were carefully checked and for some reason the gate agent also wanted to see my yellow fever card. Although technically I did not need the vaccination as I had only been in the international transit hall for about two hours it actually felt good having it. Nowadays the vaccination gives lifelong protection anyway, so once you are through with the rather painful side effects (one day in bed with a rather awful fever and aches) you have it for the rest of your life.
Luanda-Johannesburg
TAAG flight DT 577
Departure: 09.20
Arrival: 13.50
First Class
Boeing 777-200
Seat 03J

There are no passenger bridges at Luanda airport so all passengers are taken to the aircrafts by bus. There was a separate bus for premium passengers which was smaller and with seats for all passengers. A much more pleasant experience. As they were boarding two flights at the same time, and there are pretty much just two gates, both next to each other, the boarding passes were once again checked to make sure no one boarded the wrong bus.
First impression

The bus dropped us off at door 02L, which is right between first class and business class. A left turn for me and I found my seat 03J. Interestingly the seat had been indicated as 03K on Expertflyer, but once onboard it was called 03J.
The first class cabin gave a good first impression, or rather, it was pretty much as expected. Four rows of first class in a 1-2-1 configuration with proper first class suites. Not one of the latest versions and far from the advanced products offered by airlines such as Singapore Airlines, Emirates and Air France, with sliding doors or curtains, but still, you do get a proper first class suite, in every possible aspect, just one of the older versions and with rather small screens.
The rest of the cabin design was rather bleak though in grey and some kind of rather ugly orange-yellowish colour. Not the most attractive in the industry. But other than that the cabin was in a very good condition and there was nothing whatsoever to comment about.
The cabin crew were busy preparing the cabin for departure and there were several ground staff members onboard as well. Although both flight attendants serving in first class rather quickly came to greet me there was not much else happening in the cabin.
After a while I was offered a pre-departure drink though and I chose a glass of orange juice. I do not know if they had bubbles onboard, I was not specifically offered it and I was not too interested at 8.30 am anyway, but there was no mention of it. I was also given a cold towel before departure.
No amenity kits were handed out, but of course this was a shorter daytime flight. On the ottoman below the screen, opposite the actual seat, there were a pillow and a blanket waiting.
For quite some time I was the only passenger in first class but shortly before the doors were closed a group of four arrived and took four of the seats on the other side of the cabin. In total it meant that we were five passengers in first class on the flight to Johannesburg.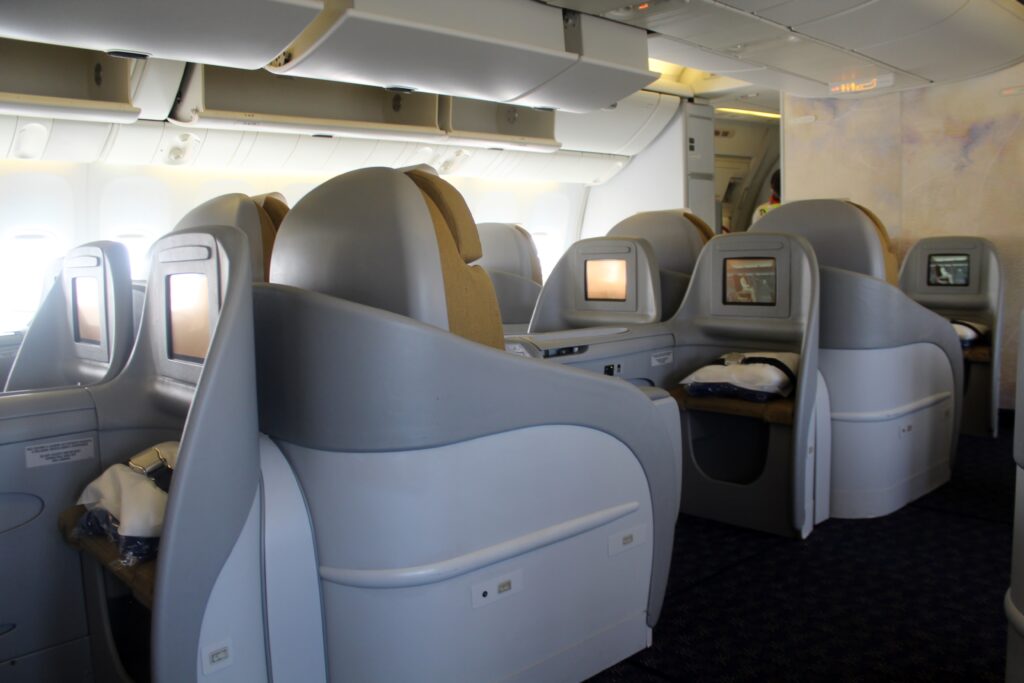 After a safety video had been shown on the screens we push backed right on time and took off towards the south. The initial climb provided a very nice view of the capital Luanda, the coastline and some of the suburbs. The weather was perfect. It was very nice to get a good glimpse of the city and the country where I had just spent three hours, but only as a transfer passenger.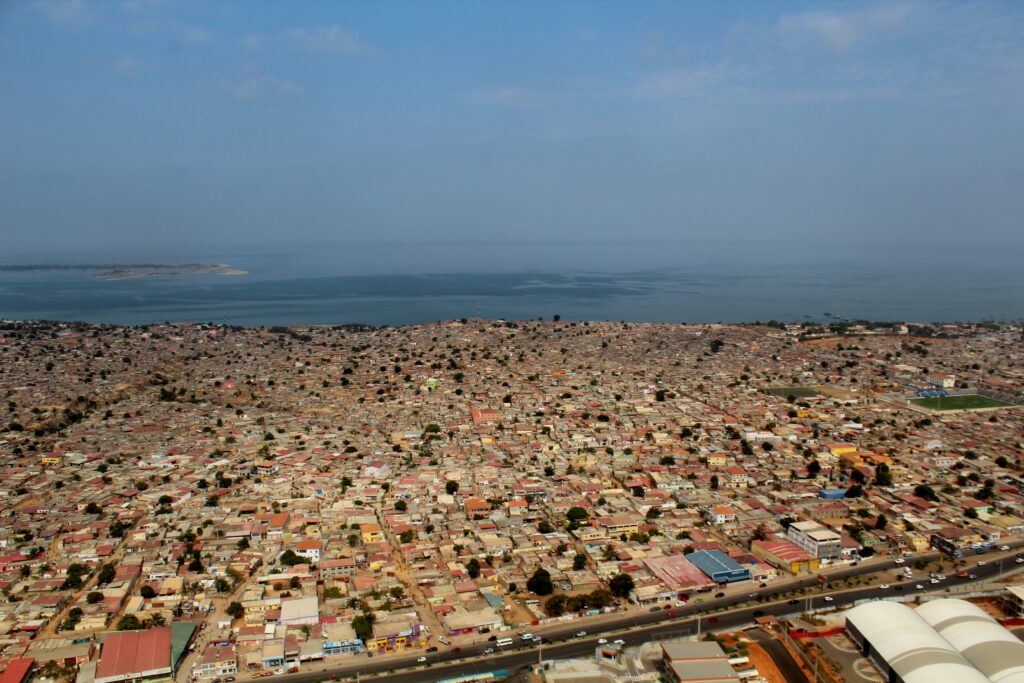 The flight time from Luanda to Johannesburg was expected to be just under three hours.
Seat and cabin

A Boeing 777-200ER was used to Johannesburg with 14 first class seats in total in a 1-2-1 configuration. Four rows along the windows with single seats and three rows in the centre with two seats. As mentioned we were five passengers in total.
The first class seat had plenty of legroom. Although I have not been able to find the official seat pitch for the product the legroom was well comparable to other first class products I have tried where I know the seat pitch is somewhere between 75 and 80 inches.
The seat also had an ottoman right below the screen which means that two passengers can dine together at the seat.
The seat was controlled using a control panel located next to the side table, with buttons both to control individual parts of the seat and to adjust the seat to various pre-defined seating positions. When fully reclined the seat becomes fully flat.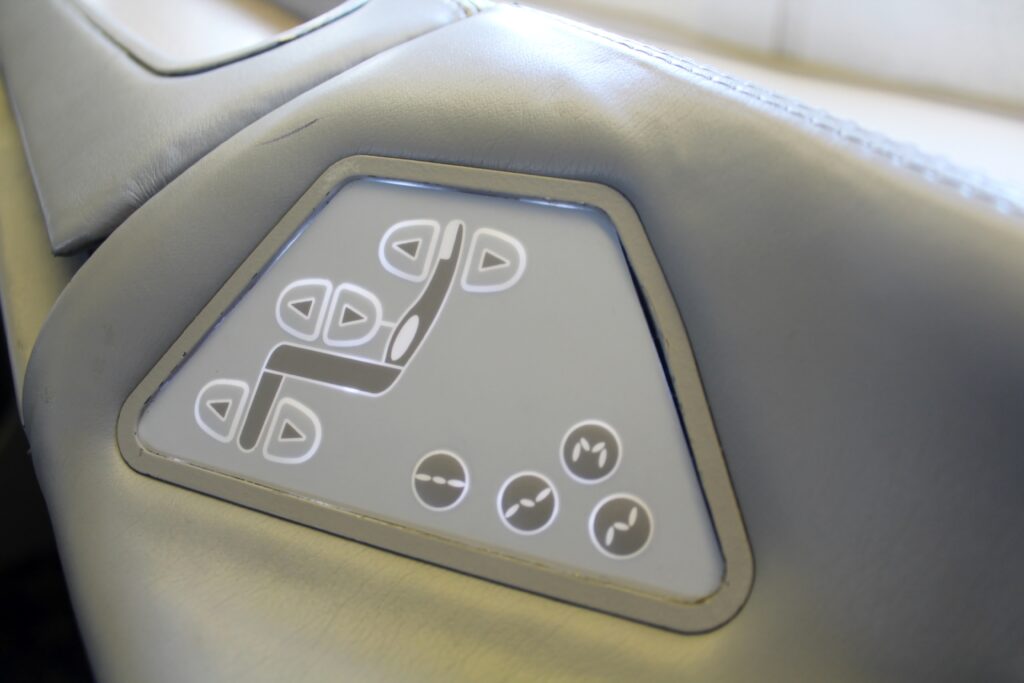 There was a storage compartment inside the ottoman and another one next to the seat, below the window, so there was plenty of storage space available. And then there were of course overhead bins for all seats. The seat also had a power socket and a reading lamp.
Food and drinks

With a departure at 9.20 am and arrival at 1.50 pm I kept my fingers crossed for a lunch service rather than a breakfast service, but of course breakfast it was.
As we reached our cruising altitude the two flight attendants working in first class started preparing for the breakfast service. Although the service was once again not comparable to airlines such as Singapore Airlines and Lufthansa they did everything first class-style with proper china placed on the tables, no trays, and all drinks and meal options presented on a table. It was just Angola-style rather than Western-style.
No menus or drink lists were offered, not sure if they offer them for lunch and dinner. But we got another cold towel after takeoff, on a nice plate.
A table cloth was laid on the table and various glasses, plates and cutlery were properly placed on the table, together with honey and jam, salt and pepper, butter and yoghurt. However for first class it felt a bit cheap to serve both butter and yoghurt from standard plastic containers.
To start some fresh fruits were offered, followed by some bread rolls and pastries.
There were two choices of main course, either a traditional Full English with an omelette, or strawberry crepes. I had the crepes, which were tasty and served with dried fruits and jam.
Finally coffee, tea and more orange juice were served before the table was cleared.
Overall there is not much you can do with a breakfast service and I really wish they would have served lunch instead, which is usually far more interesting, but at least I got a good idea what the first class service on TAAG is all about.
There were no more formal drink rounds during the flight, i.e. someone passing with a drinks cart or proactively offering more drinks, but there were no problems ordering something whenever someone from the cabin crew passed.
They had all kinds of drinks onboard although I never enquired about champagne. The wines were mostly Portuguese.
I ordered a gin & tonic to drink before dozing off after an all too short night on the flight from Paris and an exciting transfer in Luanda.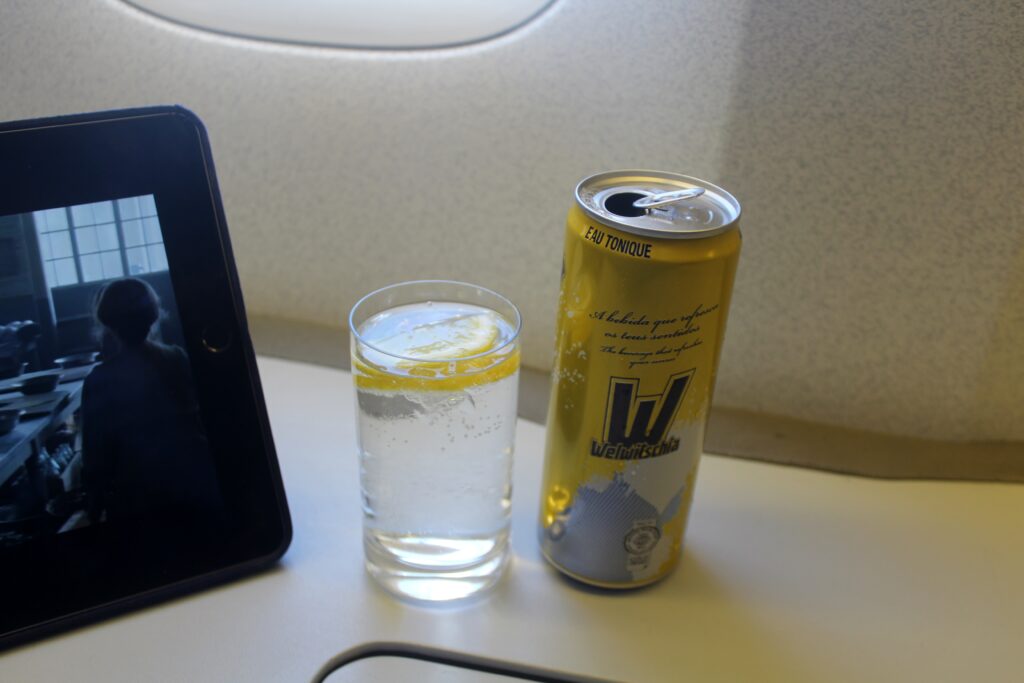 Inflight entertainment
There was an inflight entertainment system onboard called 'Palanca' which was Audio Video On-demand (AVOD).
The selection was perhaps not over the top but offered some movies, TV-series, games and a moving map. Noise-cancelling headphones were provided in first class after takeoff.
Unfortunately the screen was rather small, at least compared to some other first class products on the market today.
Sleeping

Since this was a daytime flight I never tried to sleep properly in the seat, but as I was rather tired after a very eventful evening, night and morning I reclined the seat and had a nap after the breakfast service.
The seat was actually quite comfortable. A large pillow and a proper blanket were provided but I never saw any signs of a mattress and no sign of a pyjamas. Not sure what they offer on longer night flights. This was after all a daytime flight of just three hours.
The service

The service was friendly and courteous from the two female flight attendants working in first class, one middle-aged woman and a slightly younger woman, and most of the time everything was done with a smile.
The slightly older flight attendant had a fairly limited command of English while the younger flight attendant spoke significantly better English. She was also the one who did all the announcements in the English language during the flight.
And just like on some other airlines, such as some Asian carriers, the language was probably the major barrier from providing a top-class service. If you want to provide a five-star first class service on an international flight you simply need a good command of English. Otherwise how are you supposed to present the food and drink options in detail? Or how are you supposed to be able to customise the service to each passenger at an appropriate first class level? It is just not possible. You will pretty much end up with an economy class service, "Would you like chicken or beef?", "Would you like red or white wine?".
I know a few basic words and phrases in Portuguese, the official language of Angola, and my efforts were surely appreciated, but I think the four other passengers in first class, who all seemed to be Angolans and who all spoke fluent Portuguese, got a better service.
But the cabin crew should get some credit for trying, because they definitely made an effort. But when comparing to some other international carriers there were a number of things they could have done better and differently. However if putting this experience into context, after all this was not a flight on a Gulf carrier but on the airline of Angola, there were fairly few things really worth complaining about.
From what I understand working for TAAG in Angola gives a lot of social status. You will not get a job at the airline without a lot of effort and probably without some connections. So most of the employees are probably rather proud of what they are doing.
Arrival experience

We landed 15 minutes ahead of timetable at Johannesburg O.R. Tambo International Airport.
Sitting in first class we were the first ones to disembark and I was the very first passenger to enter the terminal, way ahead of most others. Immigration was just around the corner from the arrivals gate and as 1 pm is non-peak hours at the airport the passport control was deserted. With only hand luggage I was landside within 15 minutes of touching down.
Final impression

Flying TAAG First Class is not comparable to flying in first class on one of the world's top carriers, and I never really expected it to be either. It would have been truly sensational if a small airline from Angola had provided a first class product at the best possible international level. But was this a bad experience? Absolutely not. I got most things expected from a first class experience including a proper first class suite, a nice dining experience with different options and two friendly flight attendants serving only five passengers, always with a smile. The main issue was really the language barrier, it is hard to provide a good first class service with a limited command of English.