The Air France La Première Lounge at Paris CDG is without any doubt one of the best lounges in the world and easily one of my top favourites. I just love everything about it. Unfortunately (or fortunately, depending on how you see it) very few people will ever get the chance to sample it. It is only available to passengers actually flying First Class/La Première with Air France, not on other airlines in the Skyteam alliance, and these tickets are usually very expensive. Award tickets for La Première are only offered to elite members of Flying Blue, so you need to be at a minimun a Flying Blue Silver member, and even if you are both award tickets and upgrade award are anything but cheap. But if you actually manage to get inside you are up for a treat.
I had the option of having either one hour at CDG or seven hours as there were not many connecting flights at Christmas time with availability. The choice obviously fell on the connection with seven hours and the idea was to have late lunch in the lounge upon arrival, then a nap, a stroll in the transit hall and then dinner before the onward flight to South Africa at 11 pm.
Upon landing at terminal 2F a La Première assistant was waiting by the aircraft door. Unfortunately this time there was no elegant introduction of me from the purser to the assistant, which has been the case in the past, but we quickly found each other and I was escorted down the stairs to the waiting car and driven from terminal 2F to terminal 2E and the small first class parking area next to the La Première lounge.
No security control was needed as I arrived on a Schengen flight, otherwise there is a dedicated first class security control for transfer passengers immediately inside. We took the lift from the parking which opened up straight inside the lounge. So convenient and completely hassle-free. There were just a handful of passengers in the lounge.
She asked me if I had visited the lounge before and I confirmed I had so she just gave me a very brief introduction what would happen during my stay and that I would be handed over to another assistant later on. She also asked for my passport and my exit formalities were taken care of by the assistant with me not even having to be present.
In the meantime a waiter came to greet me and asked me if I wanted something to drink. I asked for a glass of champagne. They had several champagnes to choose between and I decided to try the Alain Ducasse champagne, the famous French chef who is also responsible for the food in the lounge.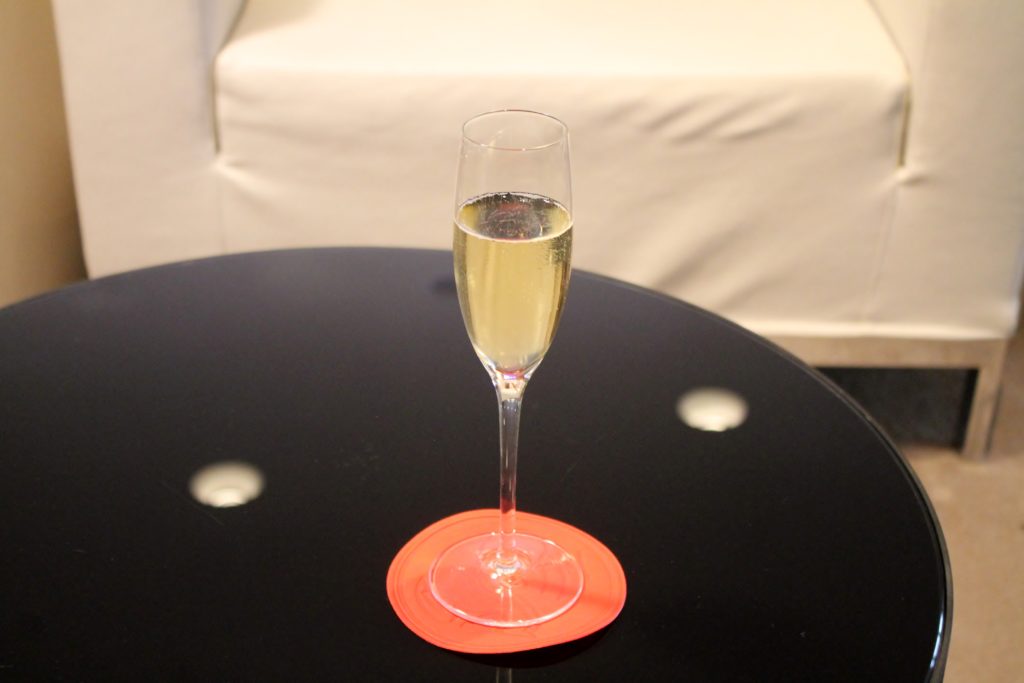 I was also given the à la carte menu with starters, specials, main courses, cheese and dessert. A lovely selection.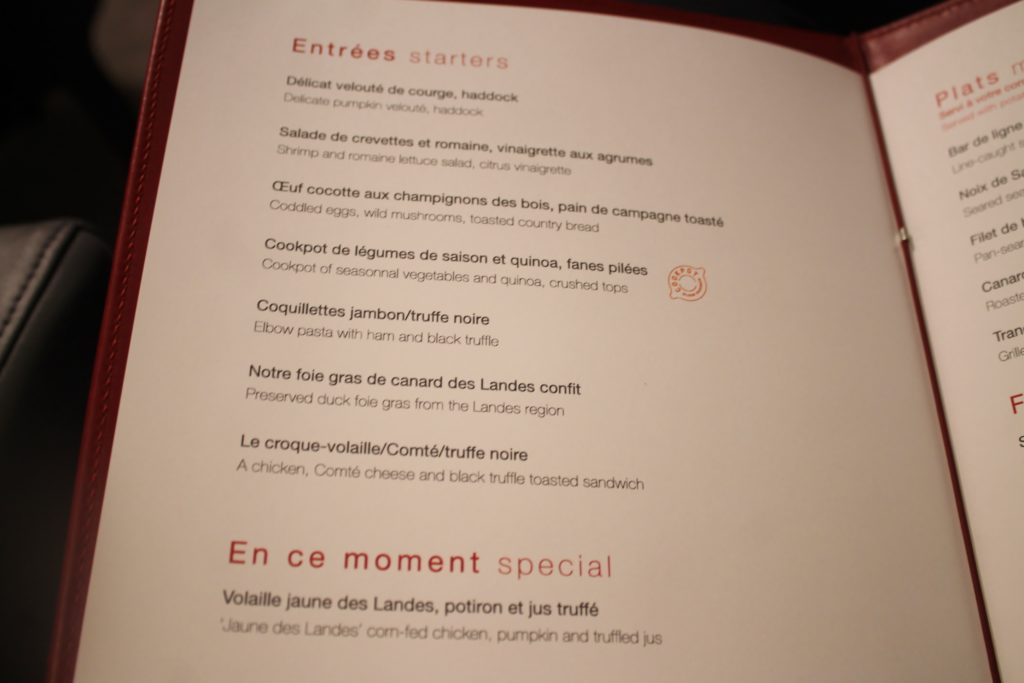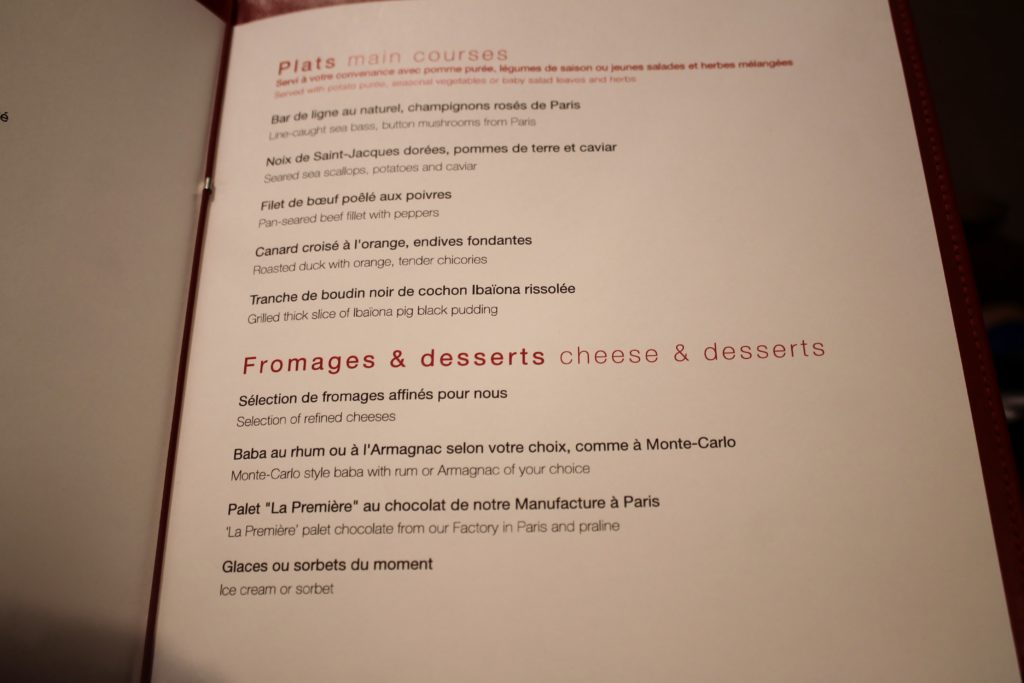 As I had lunch on the plane to Paris and was planning on having dinner later I just ordered a main course. The waiter confirmed my ordered and told me they would set up a table for me in the restaurant and inform me when everything was ready.
I decided to try the roasted duck with orange and tender chicories. I asked the waiter for a wine recommendation with the duck, something I know from previous visits they are quite good at. This time I was offered a Bourgogne wine with the meal, which matched perfectly.
I was also given a bottle of Evian water and a plate with some bread rolls. The table setting is really magnificent and I like how the sauce is served separately. And perhaps needless to say it all tasted perfectly.
After the meal I ordered an espresso to drink and also got a dessert from the self-service buffet, an apple and vanilla compote. Just lovely. I was also offered some petits fours with the coffee.
Although most dishes are available for order (and prepared while you wait) there is also a decent cold buffet in the 'bookshelf' in the restaurant. Here you will find bread rolls, cheese and sausages, yoghurt, small salad bowls, bottles of water, cakes, and a great selection of desserts. And everything is wonderfully presented.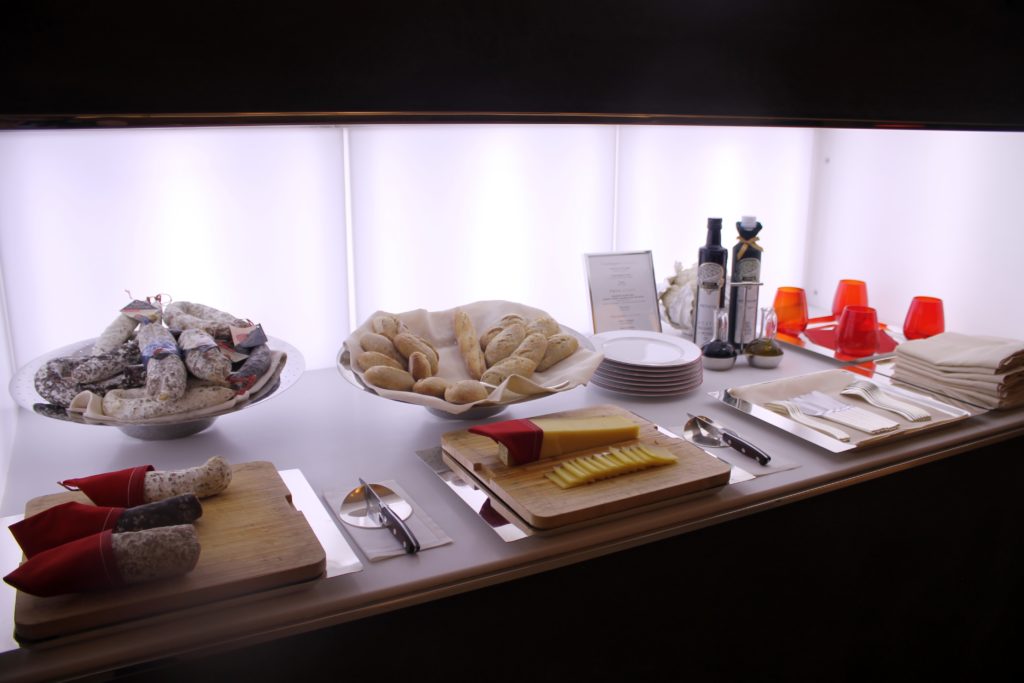 Read a review of the Christmas dinner during the same lounge visit here!