Air France has now finally reopened its business lounge at Paris CDG terminal 2E, concourse L. Terminal 2E is used for longhaul flights and shorthaul and mediumhaul flights to non-Schengen destinations within Europe and is divided into concourse K, L and M. Concourse L is mostly used for longhaul flights.
The lounge will be opened in two stages. 2180 sqm have opened now and a further 1000 sqm will open in July. This gives the lounge a total area of 3200 sqm.
The lounge has the same design as the new lounge at Paris CDG terminal 2G used for regional flights and according to Air France the design should be a balance between elegance, comfort and creativity and should reflect the Air France brand. The materials and furniture all have bright colours following the new brand image.
The lounge has a well-being area covering 550 sqm, which include an "Instant Relaxation" area to relax comfortably on loungers or in mini-suites for optimal rest, a detox bar to relax with a selection of fine teas, an area dedicated to facial treatments with two private cabins where customers can benefit from the expertise of Clarins beauticians, and two private saunas to freshen up between flights.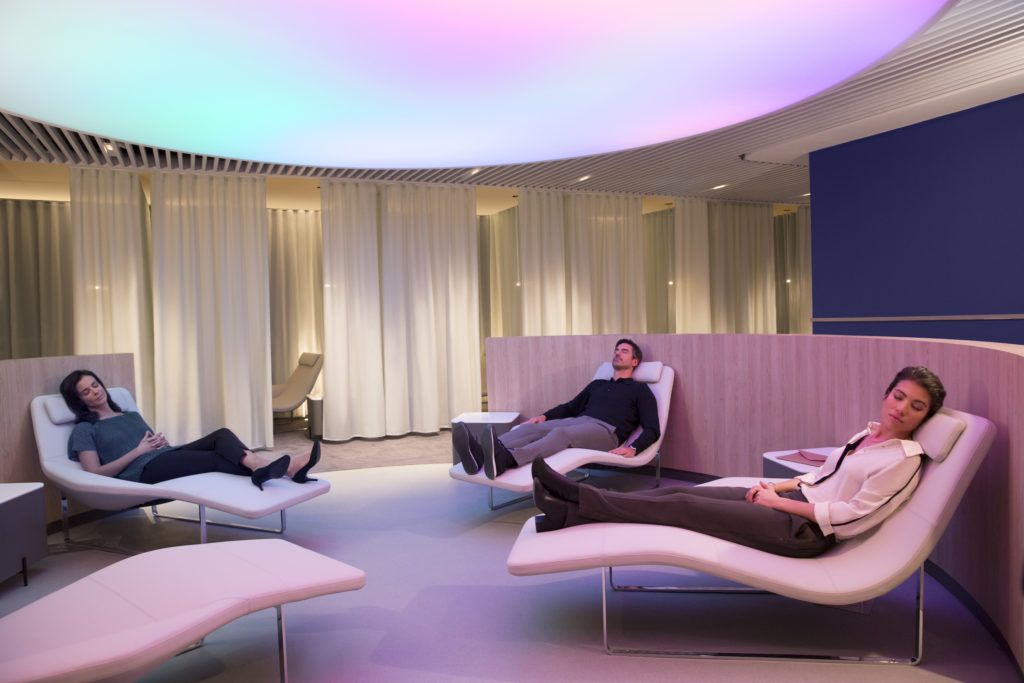 The dining option include the "La Table Gourmet" dining area, designed like a Parisian brasserie with an open kitchen where a Chef prepares hot dishes in front of guests and a self-service area with snacks, salads and pastries.
A selection of wines and Champagnes is also available and given the selection in the other lounges at terminal 2E the selection ought to be fairly good.
The other areas of the lounge include "Le Club", a private area, to spend time alone or with others in a warm atmosphere. "Le Petit Salon", to take time out in a place where all is quiet and smartphones are silent. An "At Your Service" area, to be assisted by Air France staff in the lounge to reserve showers and saunas, change seats or flights, etc. And "Air France Shopping", to discover and purchase a selection of unique Air France-branded objects.
Access to the lounge is provided to Air France and Skyteam business class passengers and passengers with a Flying Blue Gold, Flying Blue Platinum or Skyteam Elite Plus card travelling on Air France or another Skyteam carrier.