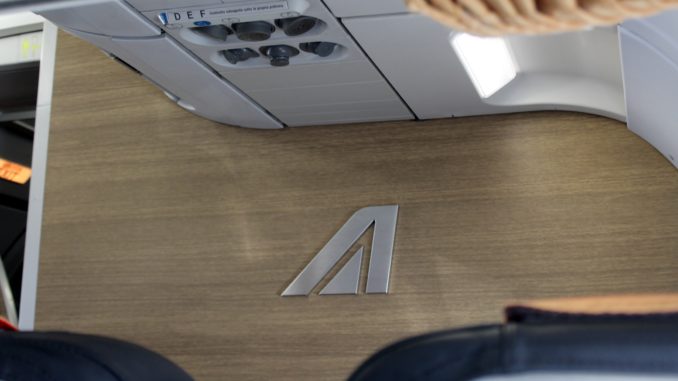 Departure experience

Check-in was done online on the Alitalia webpage and was very straight forward. I could select a seat myself from the seat map and decided to go for 03D, an aisle seat on the first row of economy class. The webpage also allowed me to download the boarding pass as a mobile boarding pass to my smartphone.
As I was in transit at Düsseldorf airport, arriving on another Schengen flight by Air Berlin, although on a separate ticket but with only hand luggage, there were no more formalities needed such as check-in, baggage drop or transfer security control.
Alitalia operates from terminal B at Düsseldorf airport, which makes perfect sense as it is also the terminal used by Air Berlin, another airline in the Etihad Group. The route Düsseldorf-Milan is operated by both airlines and they have a mutual codeshare agreement on the route. Düsseldorf is one of the hubs for Air Berlin and Milan Linate one of the hubs for Alitalia, so the route is most likely used by many transfer passengers.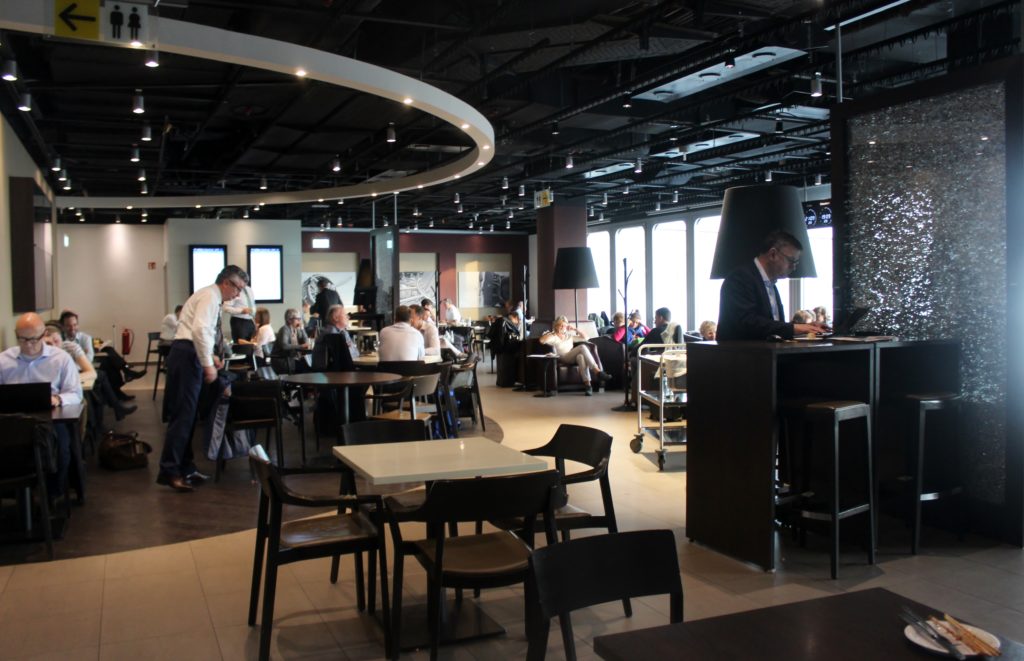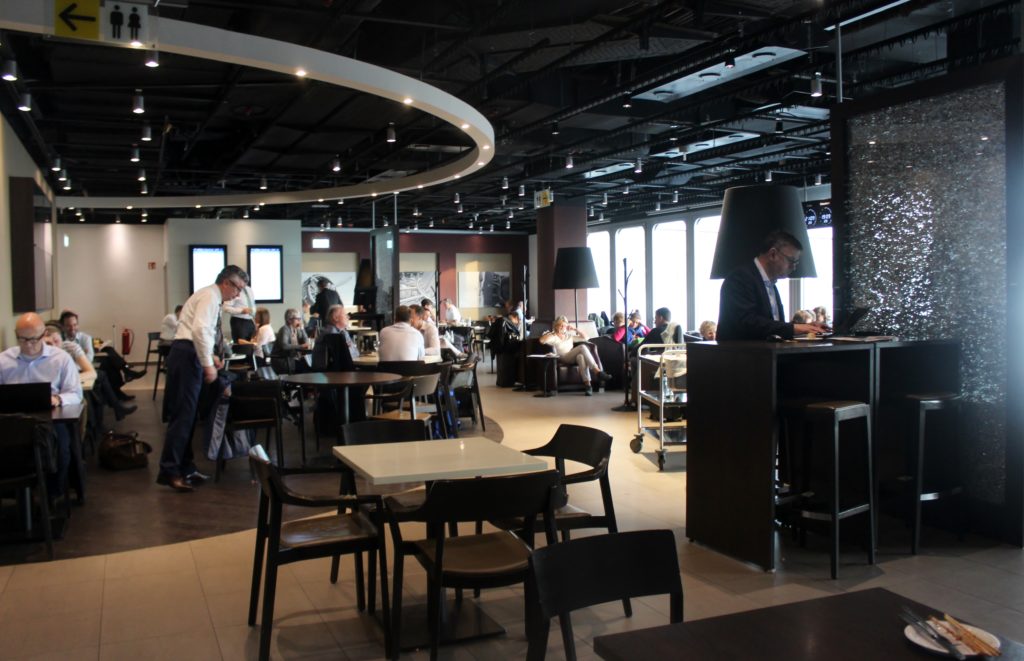 Alitalia uses the Hugo Junkers Lounge in terminal B, which I could access as Skyteam Elite Plus. A fairly stylish lounge with a great apron view but unfortunately it was fairly crowded at 9 am with many transfer passengers around that time, making it slightly tricky to find a seat.
The lounge is actually not that large, although it looks like it is being expanded. Breakfast was offered in the buffet area with sandwiches, yoghurt and pastries. And of course another cup of coffee is always needed in the morning.
Read the full lounge review here!
The flight
Düsseldorf-Milan Linate
Alitalia flight AZ 417
Departure: 11:00
Arrival: 12.30
Economy Class
Airbus A320
Seat 03D

The gate for the flight to Milan was right next to the lounge. The incoming flight arrived early and I could see the Airbus A320 taxiing to the terminal through the windows in the lounge.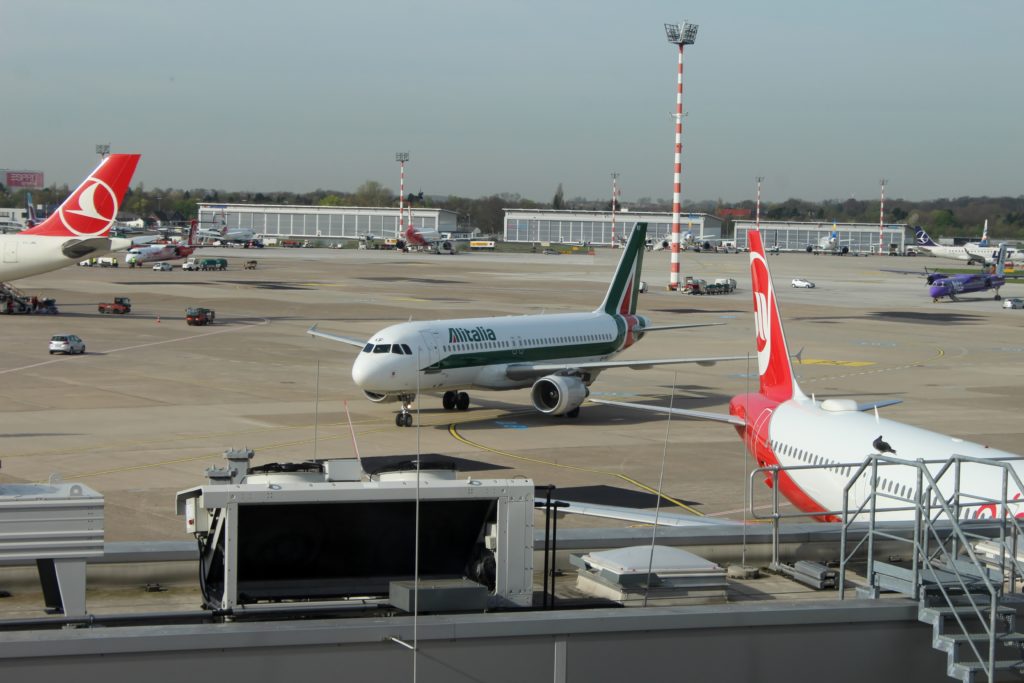 First impression

There were not a lot of people in the gate area, the load seemed to be very light for flight. Boarding started 15 minutes before departure. No priority boarding was offered but I ended up being the first passenger to board anyway.
The cabin gave a good first impression with the front wall in wood and comfortable seats in black leather with red headrests. Just as expected the cabin load was very light. There was no one travelling in business class and we were no more than about 30 passengers in economy class.
Punctual departure with an expected flight time to Milan of just over an hour.
Seat and cabin

Standard 3-3 seating onboard with comfortable seats and acceptable legroom. I had pre-booked seat 03D for the flight but got my own row to Milan and later moved to the window seat to enjoy the view over the Alps.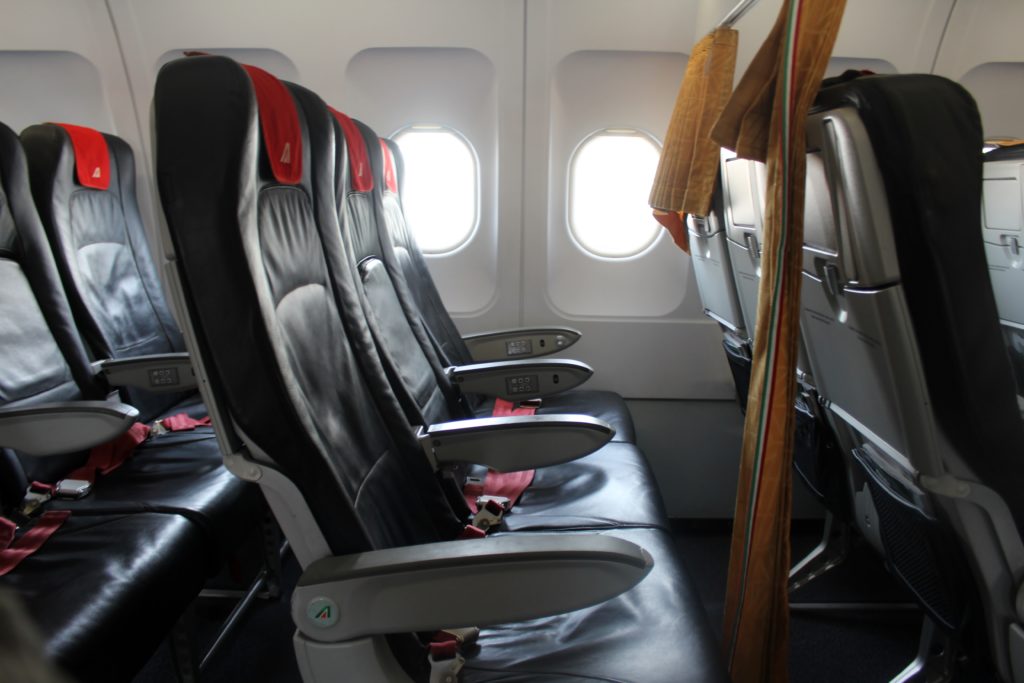 There were two rows of business class onboard, row 1 and 2, but these were empty to Milan and the curtain between business class and economy class remained open during the whole flight.
The Alitalia shorthaul business class product has the standard setup for most intra-European flights with a blocked middle seat where there is a cocktail table, giving a 2-2 configuration. The seats are also in a different colour in yellow with a different headrest.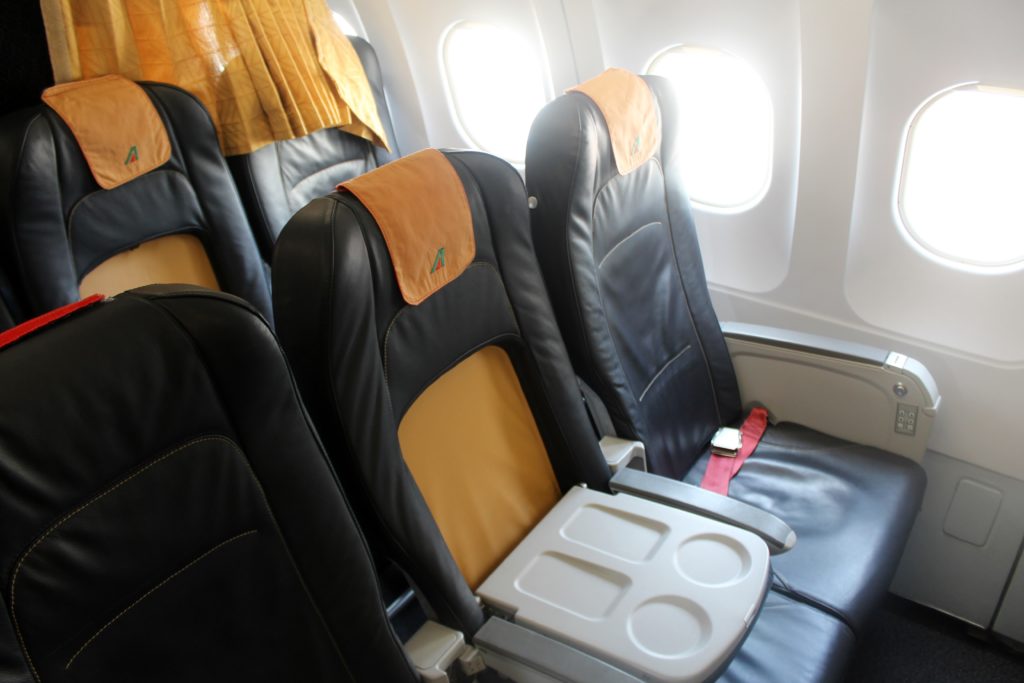 Food and drinks

Once airborne snacks and drinks were offered for free in economy class. Coffee, tea, soft drinks, juices and water were available and these were served with some Italian cookies. No beer or wine were offered and I did not see any bottles, large or small, on top of or inside the trolley.
Later during the flight refills were offered.
The service

Fairly standard economy class service, no more no less. There was no status recognition of me as Skyteam Elite Plus.
Arrival experience

The flight took us right over the Swiss Alps with some excellent views of the snow-covered mountains and the valleys. Magnificent.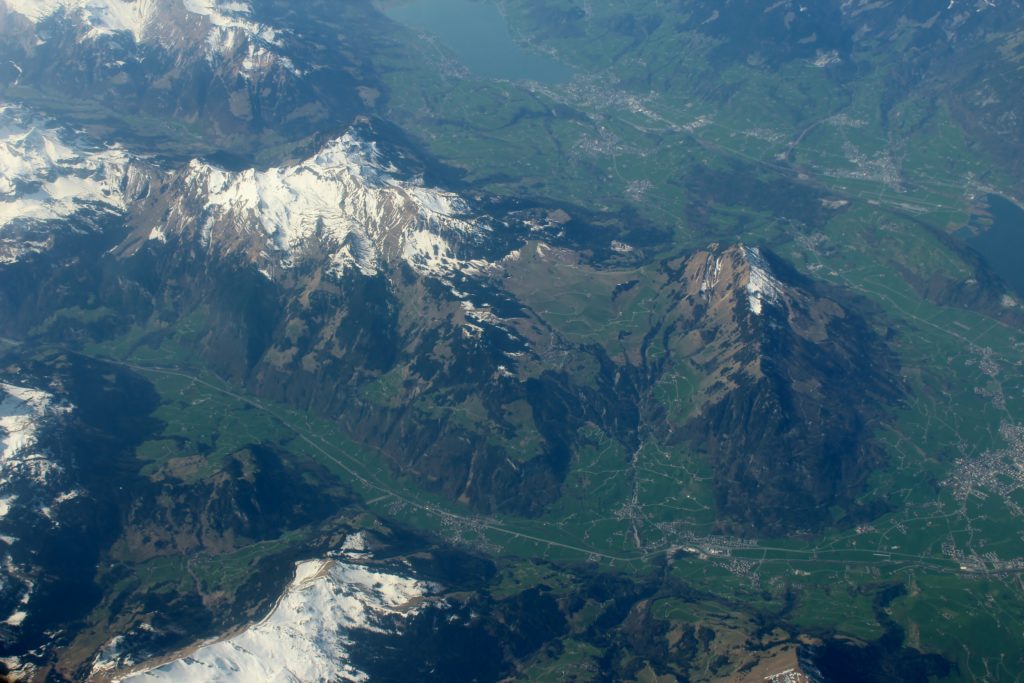 We landed at Milan Linate ten minutes ahead of timetable. The weather was sunny in Milan and as Linate airport is just a few kilometres from the city centre we got to enjoy a nice view of the city during the approach.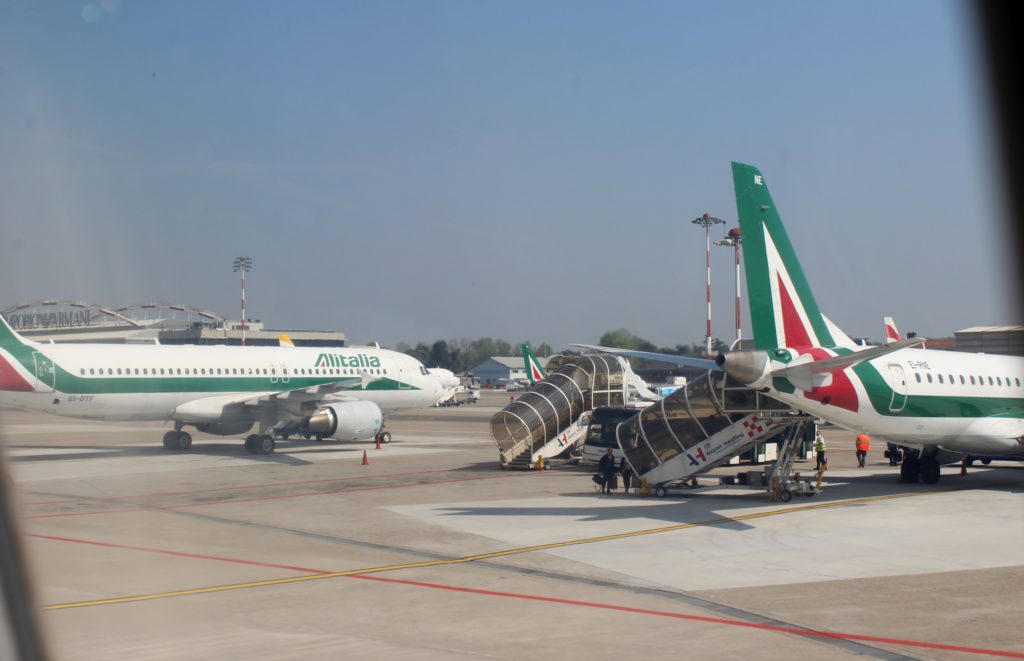 There are not many gates with passenger bridges at Linate, most aircrafts get an apron stand and passengers are taken to and from the airplanes by bus. This time we were fortunate to get a terminal stand and I was the first passenger off the aircraft.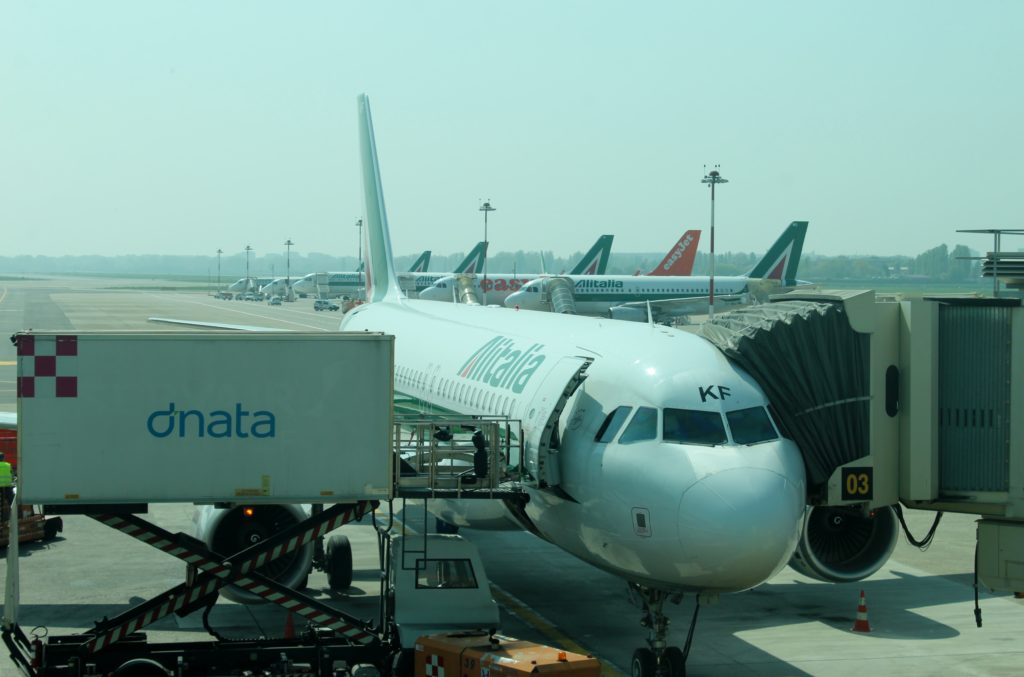 Final impression

An uneventful intra-European flight. Coffee, tea, soft drinks and snacks were offered free of charge but no alcoholic beverages. The cabin on the Airbus A320 was quite modern and in a good condition. All-in-all nothing to complain about but not a memorable experience either.