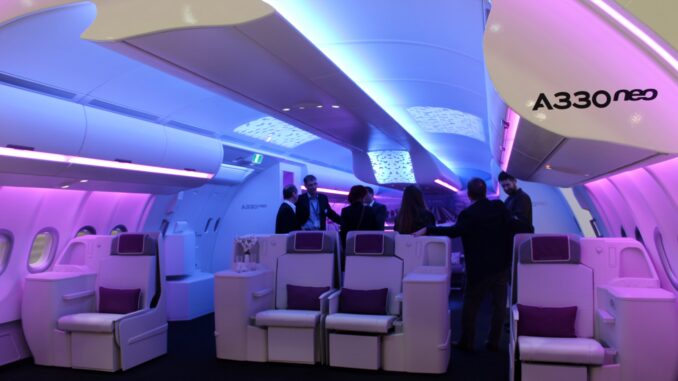 A full-sized mock-up version of the Airbus A330NEO with the new "Airspace Cabin" from Airbus, which was launched a year go, at the Aircraft Interiors Expo in Hamburg. It has a very modern and rather futuristic look with some cool lighting effects which will definitely help to create a nice ambience onboard many flights in the future.
The new Airbus "Airspace Cabin" is based around four key concepts – Comfort, Ambience, Services and Design.
Comfort is based around "Relaxing space" with flexible seating, bigger storage and more personal space.
Ambience is based around "Inspiring space" with a unique welcome, ambient lighting and a quieter cabin.
Services is based around "Living space" with seamless connectivity and entertainment, clean space and smart space solutions.
Design is based around "Beautiful space" with family design design quality and smart design.
The seats are obviously mock-up seats from Airbus and will be replaced by whatever seats the airlines choose to have onboard.
TAP Air Portugal will be the launch customer of the Airbus A330NEO with expected first delivery late-2018.