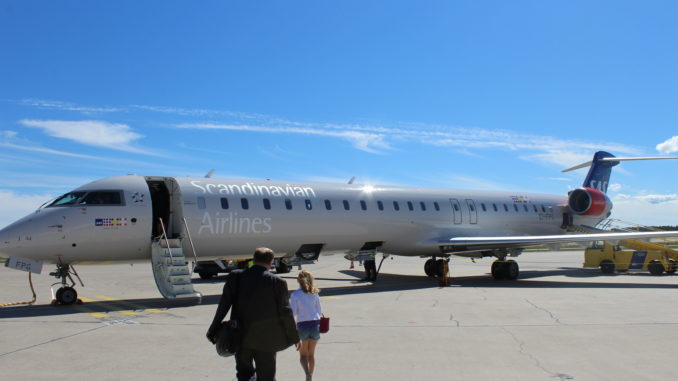 Last year SAS did a complete overhaul of its longhaul cabin products and introduced new seats and new cabin designs in all three longhaul cabin – in economy class (SAS Go), premium economy (SAS Plus) and business class (SAS Business). Now the shorthaul fleet is next with a new cabin design and new colour scheme to be gradually introduced.
The first aircrafts to get the new design (or at least parts of the new shorthaul cabin design, depending on what the final product will look like) are the Bombardier CRJ-900 aircrafts. The first of these have just been delivered to SAS this month. These are owned and flown by Cityjet "on behalf of SAS" but have the full SAS products, both in terms of cabin design and service concepts, and are also painted in the SAS colours.
And this is what it looks like.
The seats now have a dark grey colour rather than the blue colour which has been used in the seat design for several decades, in different shades.
The seat covers are still the same though, in white, as are the signs marking the partition between SAS Go and the premium cabin, SAS Plus, in light blue.
Another major change is the cabin wall, including both the wall at the front of the cabin and the one at the rear, which have the same design as the cabin walls in longhaul SAS Plus. Rather than a blue colour the walls are now made of some kind of light wood, with the blue SAS logo on the left hand side.
The next aircrafts to be fitted with the new cabin design will be the new SAS Airbus A320NEO aircrafts, to be delivered from Airbus to SAS in October 2016.