Where is it?

The lounge is located airside in the transit hall, to the right after the security control. It is located in the Schengen part of the transit hall and is available to both domestic and international passengers.
How do I get in?

Access is provided to passengers in SAS Plus as well as holders of EuroBonus Gold or Diamond or Star Alliance Gold flying SAS. There are also a few seasonal routes to Tromsø operated by Star Alliance carriers for example with Lufthansa to Frankfurt where access is provided as per standard Star Alliance rules to business class passengers and Star Alliance Gold.
The lounge is also accessible to passengers travelling on Widerøe holding a Widerøe Flex ticket or a EuroBonus Gold or Diamond card.
Access is through a turnstile by scanning the boarding pass which means passengers travelling in economy class must have their frequent flyer card properly entered in the booking. Although there is usually someone working in the lounge, cleaning and refilling the buffet and who can also provide some assistance, the lounge is unmanned at times.
What's it like?

The Cafe Lounge in Tromsø was the second cafe lounge to open in May 2015 after the cafe lounge at Trondheim airport. This was, and still is, a new lounge concept offered at regional airport in Scandinavia where there is not enough space for a full-service lounge or where it would not be economically viable to operate one. A Cafe Lounge is a place where premium passengers can have a seat, grab a coffee and check the e-mails while waiting for the flight but it is not the place to have a full meal, a shower or a nap.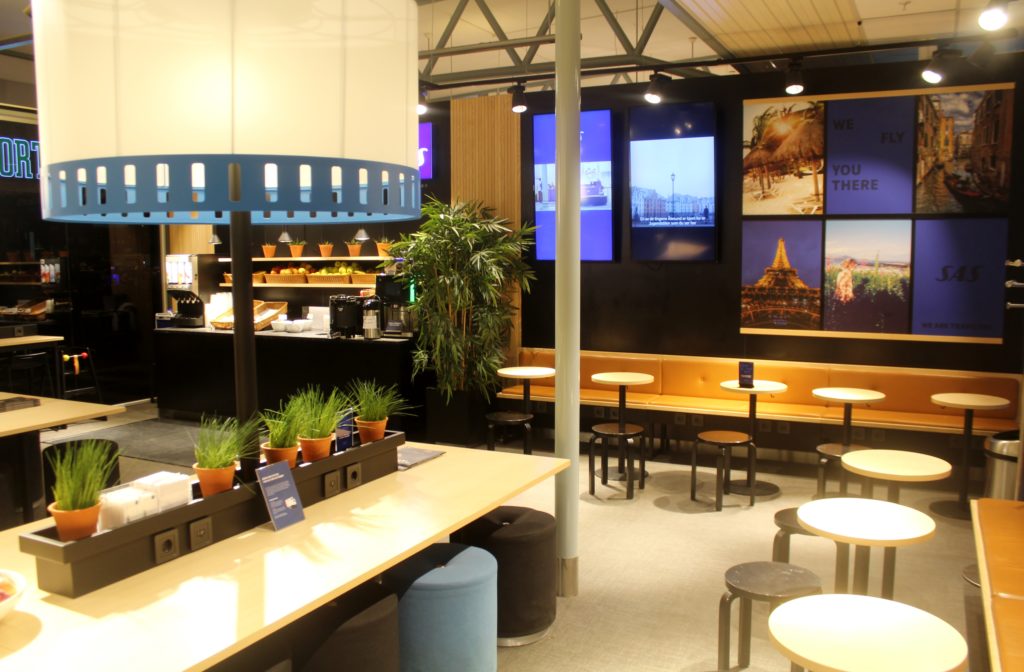 The lounge is 97 sqm large with space for 90-95 visitors. There are two large tables in the middle of the lounge with seats and also sofas along the windows with smaller tables. There are also a few bar stools and bar tables.
The design follows the standard SAS Cafe Lounge design in black, grey, beige and blue.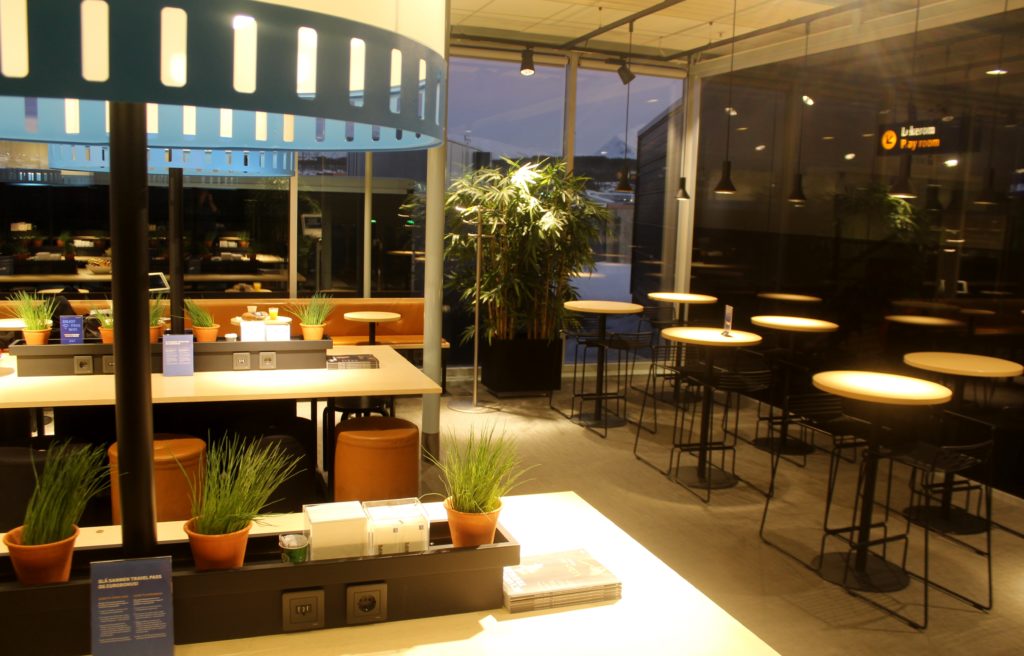 Food and drinks

The small buffet area offers snacks and drinks for self service.
There are muffins, cinnamon rolls, wheat buns and fresh fruits to eat. The drinks selection includes water, juices, coffee and tea. There is nothing substantial to eat, no sandwiches or cold cuts, no hot food and there are no alcoholic drinks.
Facilities

Free wireless internet is available in the lounge and there are plenty of power and USB sockets.
There are no restrooms in the small lounge but the closest ones are right outside in the transit hall just opposite the entrance.
Final impression

This is a small lounge at a regional airport and not comparable to a full-service lounge at a large airport. There is little to eat and drink and the facilities are limited. But still nice to see a lounge at a small regional airport like Tromsø.