Departure experience

I arrived at the airport around 90 minutes before scheduled departure time. Swiss check-in is handled by home carrier SAS at Stockholm Arlanda airport, however as I had already checked in online and was only travelling with hand luggage I just visited a self-service check-in machine to print a boarding pass. There were separate desks for business class passengers and gold card holders in case I had been travelling with checked luggage.
As Star Alliance Gold I could use the fast track channel at the security control, even when travelling in economy class. It saved quite a bit of time as the regular lines were long.
Swiss uses the SAS lounges in Stockholm with one section for business class passengers (SAS Lounge) and one section for gold card holders (SAS Gold Lounge). I made a visit to the latter where breakfast was offered at 9 am with porridge, yoghurt, bread rolls with cheese and ham, and of course coffee, tea and juices. Wine and beer were available already in the morning but spirits are not brought out until noon.
The flight
Stockholm-Geneva
Swiss flight LX 1233
Departure: 10.15
Arrival: 12.55
Economy Class
Airbus A319
Seat 06C

Boarding started 20 minutes before departure at gate 16, right next to another Swiss aircraft heading for Zürich. Priority boarding was announced for business class passengers and Star Alliance Gold and was properly enforced by the ground staff at the gate.
First impression

I was one of the first passengers to board and thus had the chance to take a few photos of the empty cabin. The aircraft used to Geneva was an Airbus A319 and the cabin gave a good first impression and felt fresh, modern and well-maintained.
In business class the seats are the same as in economy class but with the middle seats kept free for better comfort.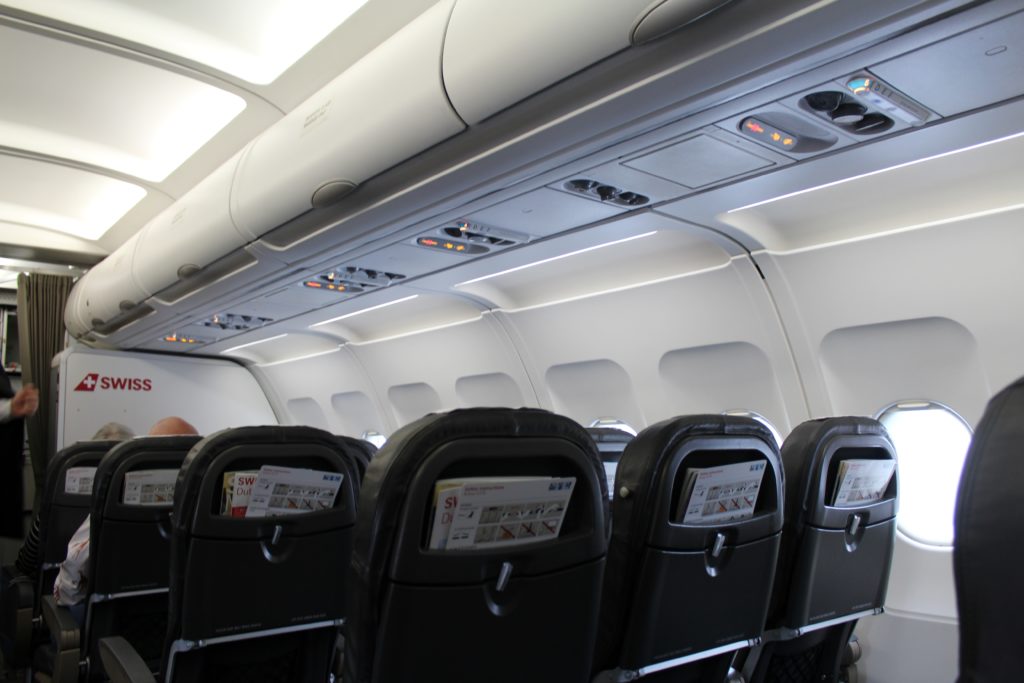 The route to Geneva was initially introduced mainly to bring holiday makers to the Alps, but despite being at the end of May the load to Geneva was pretty good with around 80 percent of the seats occupied.
We pushed back right on time at 10.15 am. After the standard safety demonstration in English and French we took off towards the south with an expected flight time of two hours.
Seat and cabin

The seats used onboard were the standard Swiss seats in dark grey leather. They are quite comfortable to sit in and offer a fairly good legroom for an intra-Europe flight, at least on row 6 where I was seated. It is becoming increasingly popular among airlines to use the thin Recaro seats in Europe and although they are lighter (reducing the weight of the aircraft and thus the fuel consumption) and also allow more seats to installed in the cabin, the traditional seats with a thicker seat back are simply so much more comfortable.
Five rows were assigned to business class with economy class starting at row 6. There were 18 rows in economy class in a 3-3 configuration which meant 108 seats in total. I had pre-selected 06C on the first row and had a seat neighbour in 06A but fortunately the middle seat 06B had been blocked, which was appreciated.
Food and drinks

Once in the air the inflight service started and the cabin crew passed through the cabin with the trolleys. In economy class a hot snack and free drinks were served, including wine and beer for free. I asked for a bottle of red wine, which was a Merlot of French origin served in a small bottle. I also asked for a cup of coffee and a glass of water.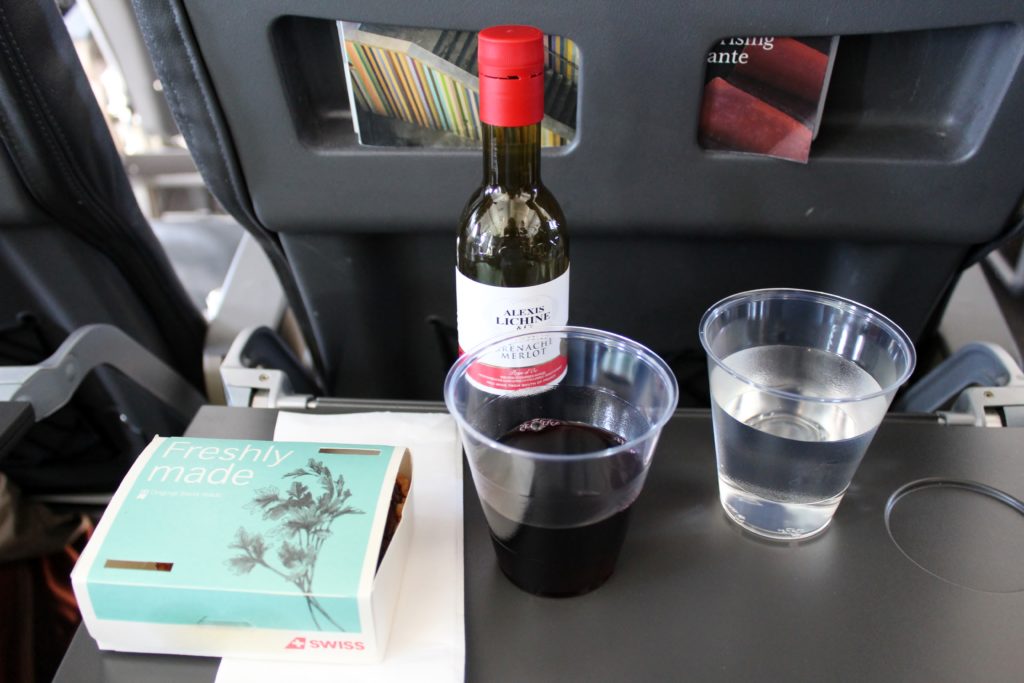 The hot snack turned out to be a quiche lorraine. Quite tasty. But I am not sure how you should it this as no cutlery was provided. Most passengers chose to use a napkin to grab the quiche and so did I. Not optimal, but it worked.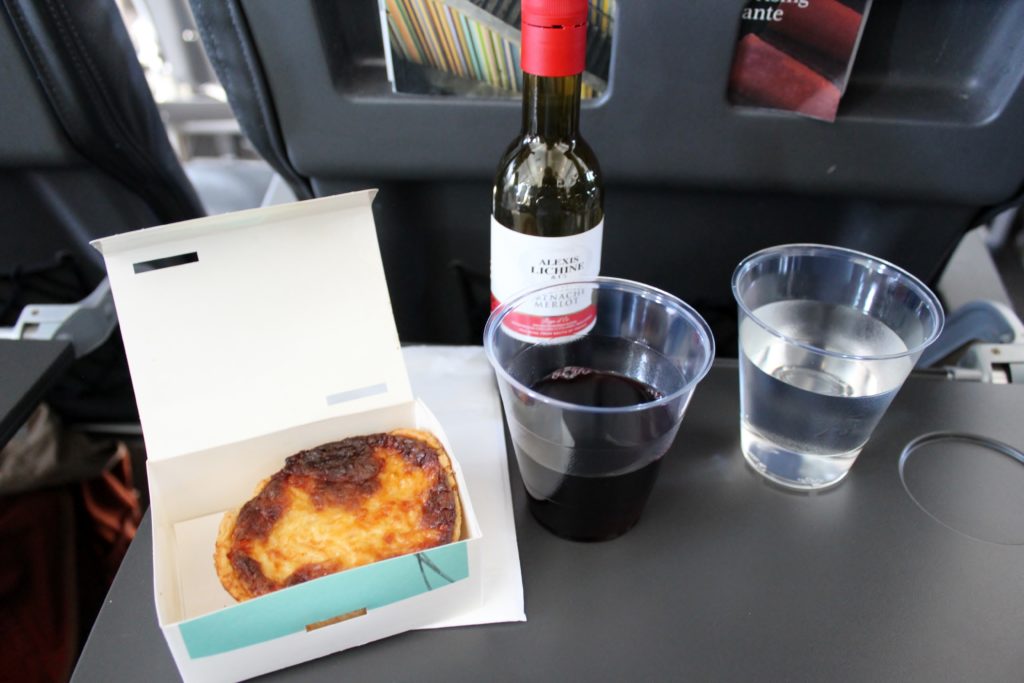 Later during the flight the trolley passed again offering more drinks as well as refills of coffee and tea.
The service

Being based in Geneva the cabin crew obviously spoke French as their first language but also spoke perfect English and one crew member also made some announcements in German, another official language of Switzerland.
All cabin crew members were very friendly but still kept a correct and polite approach to the service and the passengers onboard, much like the Swiss do. All-in-all it was a pleasant flight and and a pleasant inflight service with nothing to complain about.
Arrival experience

We arrived slightly early at Geneva Cointrin airport, enjoying a beautiful view of the mountains surrounding the city during the approach. We were assigned a stand at the main terminal building making my transfer very easy. However the setup at the airport is rather odd as arriving passengers are separated and have to follow a long tunnel to the central area of the terminal before taking an escalator up to the main transit area, even though Switzerland is now part of Schengen area and there is no transfer security when arriving from another Schengen country.
Final impression

A very pleasant flight. A spotless cabin, a very friendly crew and a hot snacks and a bottle of wine for lunch. Swiss keeps a rather good standard onboard, also on shorthaul intra-European flights in economy class.