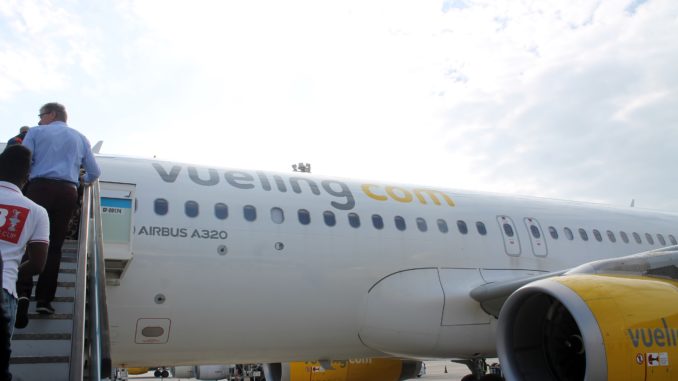 The Spanish low cost airline Vueling is owned by IAG (International Airlines Group), the company group also comprising British Airways and Iberia. However since Vueling is not a member of the OneWorld alliance they are not a partner of British Airways Executive Club meaning no Avios are earned when flying Vueling.
However in 2014 a new codeshare agreement was introduced between British Airways and Vueling. It was further extended in late 2014 and again in September 2015. This means that the vast majority of the Vueling flights now also have a BA flight number (BA prefix), and this means point earnings in Executive Club.
So to earn points you need to book the flights with British Airways and the flight must have a BA-prefix. If  you book directly with Vueling no tier points and no Avios in Executive Club are earned and the only two options to earn points are if you are a member in Iberia Plus or in Vueling's own frequent flyer program called Punto.
The number of Avios and Tier Points you earn as always depends on the fare basis. The fare offered by British Airways is generally treated as a Vueling Optima fare meaning you can pre-book a seat free of charge but you cannot choose a premium seat. Unfortunately there seems to be no British Airways fares that will seat you in Excellence, the premium economy product of Vueling.
Booking a British Airways ticket on Vueling will also give you one piece of checked luggage for free, however most other status benefits are not honoured such as priority check-in, fast track and priority luggage.
If flying Vueling from London Heathrow and London Gatwick, on a ticket booked with British Airways, technically gold card holders with British Airways should get lounge access to the BA lounges, but not all staff know about this.